032c Cosmic Workshop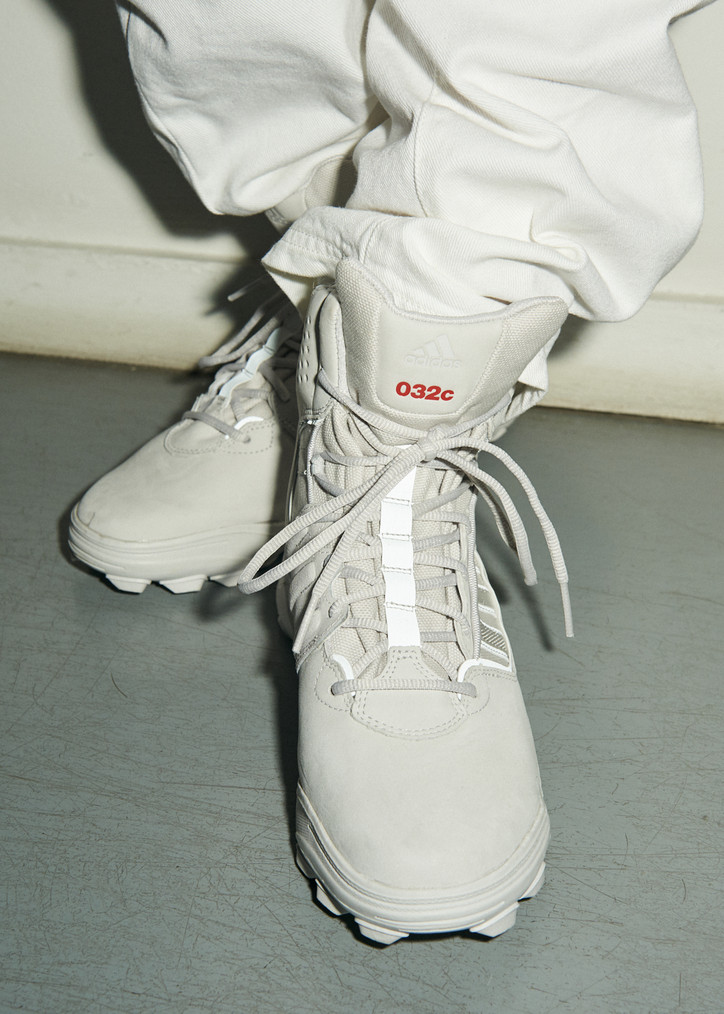 As for the clothes, designer Maria Koch demonstrated that like Berlin, itself—not to mention its music scene where even in 2018, places like Berghain still reign—industrial is still synonymous with beautiful. Inspired by '90s rave wear, the color palette was an austere but elegant mix of muted greys, pinks and monochrome, with textures ranging from heavy leathers to layered tulles and chiffons, finished with sequins and fetish-inspired accessories.
Mixed in with the womenswear looks were male models dressed in the label's trademark streetwear, demonstrating that whilst moving towards high fashion, 032c still has its eyes firmly set on the street.
After the show, office spoke with Maria about the roots of their new RTW line.
Throughout the collection, you seem to focus on the interplay of strength and sensuality. What do these themes mean to you?
I think it's more about sex.
032c has long been in the streetwear game with their merch line. What made it feel like the right time to move into ready-to-wear looks?
As I come originally from a womenswear background [Maria previously worked with Jil Sander and Marios Schwab], it was always clear to us that our next step would be developing a womenswear line. We have created the production and textile sourcing infrastructure for the line, and everything is produced in Italy.
Do you think streetwear will continue to rule fashion? Or are we moving towards something new?
As in most other areas of life, there is no way back. There won't be a return to fashion before street fashion.
What does the 032c woman look like? What's her vibe?
She is the one who fits the garment and is smart enough to buy them.
If you could dress anyone in this latest collection who would you choose?
Dakota Johnson and Lea T.
The inspiration for this collection references '90s clubwear and rave gear. Why do you think fashion is so influenced by that era?
I think it was the last decade before the big flat now took over. There were clear distinctions between groups. You had clubwear (which we are referencing in our collection) that was not interested in luxury fashion brands—you had to go out to explore subcultures. It wasn't oversaturated. I grew up in this decade, but I look back cold-blooded. It's not about warm nostalgia.
What do you think is the role of luxury in today's market?
I feel that how we work at 032c is a luxury—independence and freedom to work with the people we want to work with on topics which are meaningful to us.