Sign up for our newsletter
Album Premiere: MERK - 'Safe In Sound'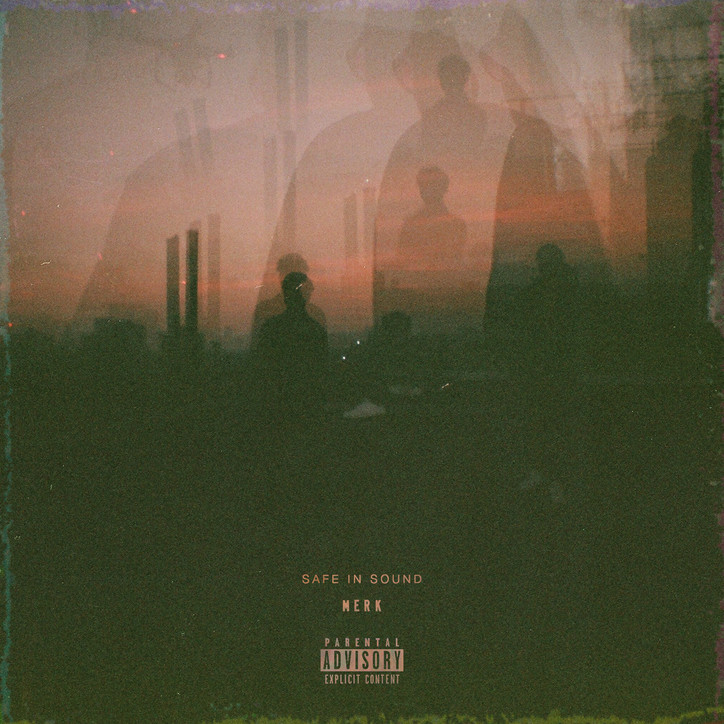 Stream Safe In Sound exclusively on office below. 
Get to Know Sons of Raphael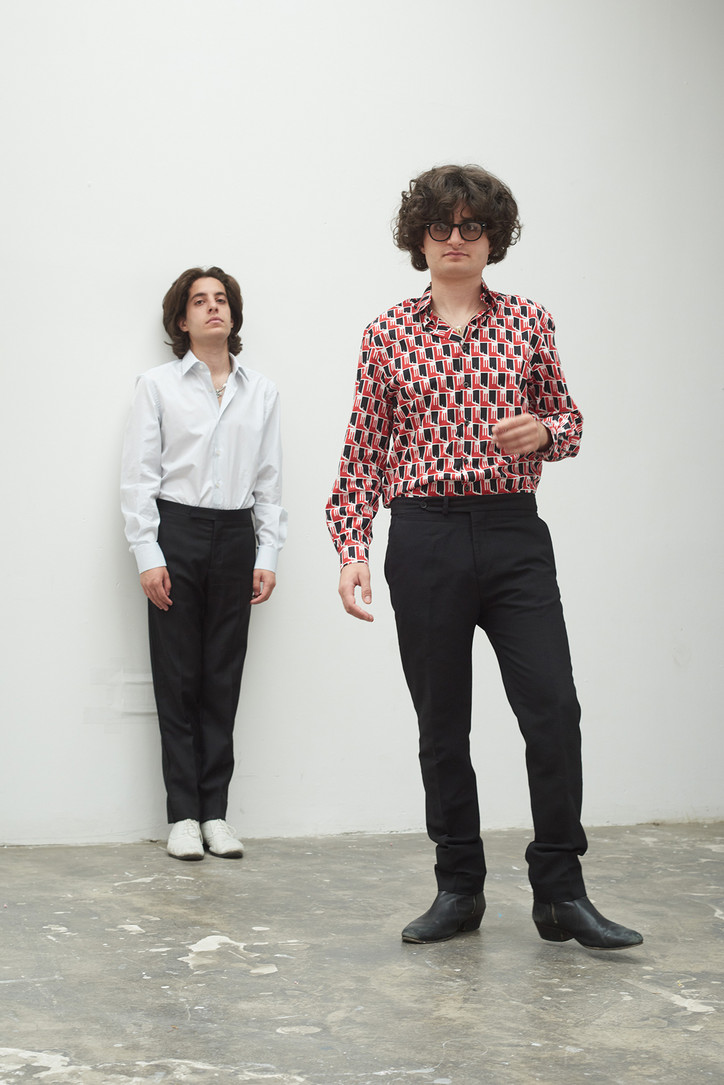 Sons of Raphael have been on our radar for quite some time now. Between the magnetism of their disposition and the instinctive nature of their sound, office couldn't resist the opportunity to ask Loral and Ronnel some questions; questions that began rather innocently about soup but somehow ended with all of us trading twisted pet stories... 
Ronnel—I'm the mayor of my neighborhood, the neighborhood watch.
You guys should get some suits.
R—Well, we have soups!
Loral—No she said suits, not soups.
I feel like soups are like your power-ups
R—If you buy the place next to us, you can have the soups all the time too. You could spend the money eating soups every day, but if we buy that Japanese place it would all make more sense. That is one of the reasons why I think we're doing this. Once we really get involved in the music business we will be able to go to the Japanese place three times a day, for breakfast, lunch, and dinner.
L—Also it's the most expensive restaurant. It's very expensive, but fortunately we like to indulge.
R—We almost exclusively eat soup. We only really eat the other dishes when we celebrate. You have to reward yourself, you can't just be a pig.
I agree with that. You guys probably have to take like multivitamins then because only eating soups probably has your bodies' lacking nutrients.
L—Well we're very healthy you know, because we wake up at five in the morning, we go to the park and we workout.
R—Every morning we will not miss our walk.
L—Well when it's winter we don't wake up at 5, we wake up with the sun.
R—Winter, it's six!
You guys wake up early.
L—Well yeah, lots to do.
R—We have to make sure we have time to go to the Japanese place. We have to plan.
Which one of you is adopted?
L—Honestly I think we were both adopted.
Give each other a celebrity doppleganger.
L—Ronel reminds me of the Tasmanian devil.
R—I think he would Speedy Gonzales.
Who would die first during a zombie apocalypse?
R—We would both survive.
Do you guys know the game MFK?
Both—No.
Basically I'll give you three people or things and you have to choose which one to marry, which one to fuck, and which one to kill.
Both—Ok!
Do you guys know Whoopi Goldberg?
Both—No.
Do you guys know Tony the Tiger?
L—The guy from Wisteria?
Haha ok so this is a no-go. Let me switch it up..would you rather be an elf or a hobbit?
R—I would rather kill myself, yeah.
Ha! What about if it's only for a week?
R—What kind of week! That's a lot of time!
L—I think I would rather be an elf for sure.
Do you guys have any pets?
R—Cats?
Pets. Dogs, cats?
R—Cats? Nah, nah, no.
I feel like you guys are more dog people anyway
R—Ah, yes! We don't have a dog, we don't have it. We want a chow chow.
I had a chow chow growing up! A black chow chow with a purple tongue named Maximus the Third.
R—What! Show me.
I don't have any pictures on hand, but I grew up with him and then he passed away when I was a sophomore in college.
L—I'm sorry. Such a beautiful dog.
Yeah, but I used to have nightmares that when I was sleeping, Max would stand up on his hind legs and walk up the stairs with a knife and try and stab me.
R—That's so crazy you say that because Elvis, he had a chow chow, and he was scared that his dog would attack his wife!
Wow, I didn't know that! Chow chows are beautiful dogs but sometimes they can look a lil 'spicious. I see you guys having tiny really funny looking chihuahuas.
R—Nah!
L—We don't like small dogs!
Or a great dane, like Scooby-Doo.
R—I had a goldfish but he killed himself.
L—Yeah he killed himself.
Oh shit, how did that happen?
R—He just jumped out. And I stepped on him when I got out of bed.
Growing up I had this fish named Oscar, and we put him in a container with a bunch of smaller fish, which he systematically ate over the course of a week and then died.
R—When we were younger, we actually had a dog for a week until he decided to eat our turtle. He pulled it out of the shell. It was a turtle that we found laying on the road and adopted.
Damn yo! That's a determined dog, that shit is hard to do!
L—Yeah, we don't have much luck with pets.
Check out their new EP premiering tomorrow, A Nation of Bloodsuckers.
Roy Blair's Nostalgic Happiness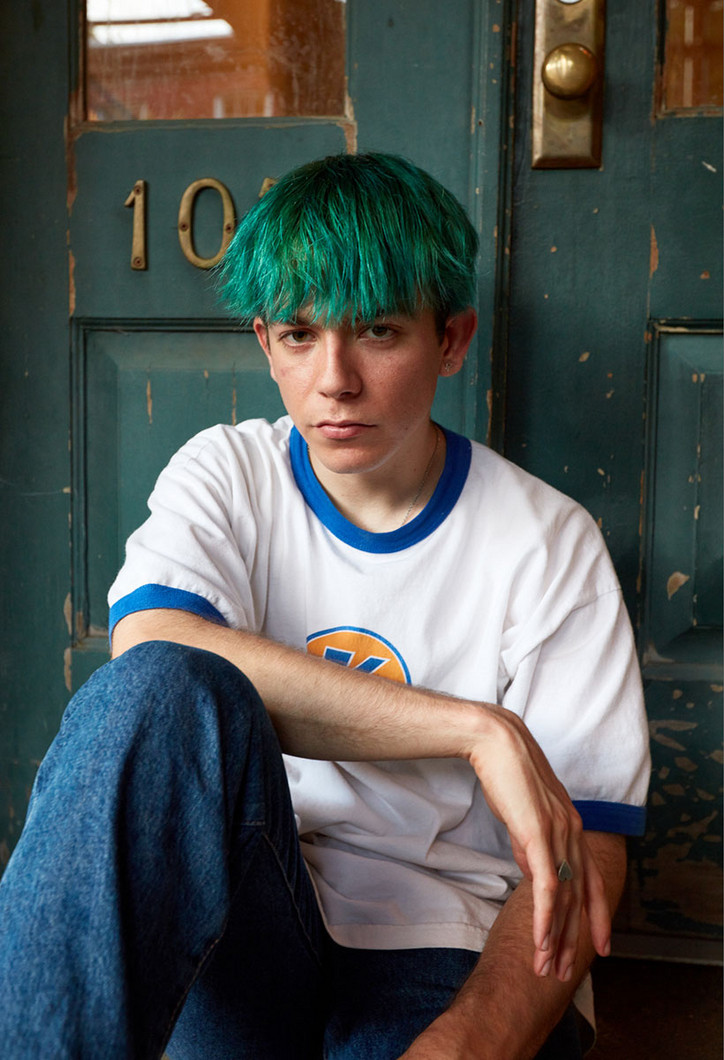 This comes as no surprise: the native West Coast crooner cut his teeth working alongside Brockhampton's Kevin Abstract, who he sang backup for on his American Boyfriend tour. Blair's promising debut, Cat Heaven, and recently released single "Dennis", show an artist with the willingness to evolve. When we sit down to talk, Blair is quiet at first, eyes seemingly hidden behind his green hair—it takes some prodding and a cup of coffee before he starts opening up. After a while, he reveals himself as a deeply sensitive and humorous soul with a myriad of surprising influences floating around his head: Acne, Alanis Morissette, Oasis, Michael Jackson. He's a Scorpio, which would explain the initial silence and the reflections on nostalgia, great joy, and making great art that would comprise the entire conversation. 
What can you tell me about "Dennis?" It sounds a little different from Cat Heaven in that you give yourself more freedom to freestyle and be loose. There's definitely a shift. 
I think the sound goes a little further, for sure. 
Why did you decide to go in that direction?
It just felt natural. It wasn't like "oh, I need to do something different." It was just what I did for the album, it's how it came out. 
Is the lead single for a new record? 
It's a one-off. 
I love the cover art. 
Thank you. 
I wanna ask you about the show at the Bowery Ballroom on the 24th. How did that go?
It was good! It was my second show ever as a solo artist. It was like twice the size of the first show. The first four or five rows were my fans and then the other people were just kind of standing there...it's pretty terrifying when you're dancing and moving around onstage and everyone's just standing still watching you. It's really weird, and there was a light on the crowd. The people were just standing there and could make eye contact with me and it was freaking me out. 
Sounds like a New York crowd. 
I was told that's a New York thing! The first few songs I was the most on edge and things were kinda weird, but then it got better because I just got more comfortable on stage. I think the performance was good. 
How does that compare to the crowds in L.A. ?
I think they just want to move a little bit more. There definitely are people who just like stand there, but I guess I just feel, like, more warmth. That might be because I'm from L.A., but it's definitely a thing. 
Before I heard "Dennis," I watched the video for "Perfume." I was thinking a lot about the kind of dreamy L.A. aesthetic it evokes. It's beautiful imagery; why choose to draw on that nostalgic, vintage look? 
I think the album just reflects on childhood and stuff. I think the best way to sort of represent that was going back to what my parents were playing in the car growing up, which was a lot of 90s stuff. Bands like Oasis, Alanis Morissette...their visuals and branding and taste played a part in how I was overseeing that video's creative direction. 
I feel like a lot of people of our generation have a muscle memory with VHS, but since we grew up in the digital age we're all very much...nostalgic? We crave those colors and that style because it's familiar and slipping through our fingers at the same time.
I think we're into nostalgia as a society right now. There's cool things and not-so-cool things about it. I think for the kid coming of age now, it does come from a place of us not knowing how to cope with the world changing. 
It's harsh, to realize the world's always changing. 
Each generation's going to deal with it differently. I think nostalgia is how our generation is dealing with it. 
As far as sonically, I know you've done a lot of work with Brockhampton, who are so particular. 
I worked with Kevin [Abstract] on this record. We worked on his last one before Brockhampton really took off. It kinda came together at the right time when we both wanted to play with guitars. He was always like, "Oh nobody's using guitars, I want to use guitars, I want to do something weird." When we met I was doing a lot of like weird guitar and rap stuff, and then it started just working itself out in a really cool way and I think we both taught each other a lot...he taught me a lot. I definitely think it was both ways with how we handled the sound for both Cat Heaven and his album. 
So I know I already asked you about the differences between "Dennis" and Cat Heaven, but your music pegged me as...not pop, but kind of? I think it's annoying to put music in a box because right now everyone's inspired by everything, but it has a strong pop sensibility. Where did that come from? 
I think like all the music that like I've been into since like day one—like when I was a kid—has been really accessible but hasn't been afraid to do something challenging. I think you can have a good hook and make it in a way that isn't conventional. You can have an unconventional pop song, and I think that's what separates the best music from the rest. It's a family tree type of thing where everything is connected, but it's your footprint in time in the bigger picture. That's what makes great art: taking something so common, like a great hook, like a Michael Jackson song, and making it weird. Rough it up a little bit. 
Do you like Michael Jackson?
I love Michael Jackson. 
What's your favorite Michael Jackson song?
"Baby Be Mine" or...I like "Girlfriend," off Off The Wall alot. I like "Rock With You," too. The video for "Billie Jean" was always a favorite of mine. It's still really cool today, with the lights. 
It's extremely dynamic. 
For sure. 
Are you making any new videos in the future? 
There's the one I'm making for "Happy." And after that, I don't know what I'm gonna do next, but it turned out really cool. The video to me really encapsulates the feeling I was trying to convey with the song. It's sort of a "day in the life" type of story with a horror/sci-fi twist. I thought it would be crazy interesting if the mood of the video didn't match the song at all, just like the lyrics to the sound of it. Juxtaposing emotions is something I'm probably always gonna do in my career. 
Vapid question, but what color are you gonna die your hair next? I'm digging the green, I must say.
I don't know. I might go back to blonde and then from there I might go like purple...like a real deep purple. 
What's your favorite color? 
For the past year, it's been green. But when I was little it was pink. I was into orange for a few years. 
Since you're focusing on your solo career, and you're so young with so much ahead of you, what's the end goal? Is there an end goal?
I was having this conversation yesterday with some friends in New York. I really want to make records that would have inspired the 14-year-old version of me, the one who wanted to be big one day and thought he couldn't have it all, the 14-year-old me thinking "I can't be a big artist." I want to inspire kids who were like me when I was 14, who thought they couldn't be big enough or weren't good enough…you shouldn't think that.
Kanye West x Lil Pump
Now, back to the video: it all started at 2 Chainz's wedding, where Kanye wore two size too small Yeezy slides with his suit. Naturally, the internet decided he was cancelled—again. But because no one's a bigger troll than Kanye himself, the rapper shared a photo of his feet, this time in super oversize Yeezys, with the caption, "Are the slides big enough?"
In the "I Love It" video, both he and Lil Pump proudly rock the same oversized slides as they shuffle around in boxy ass suits that seem to reference the old video game "ROBLOX," a character whose noises sound almost exactly like Lil Pump's "Whoops."
Like Kanye, Lil Pump have been meme'd to death. So, "I Love It" is the duo's chance to get ahead of the action, and go straight to trolling themselves.
That's a whole lot of self-reflection for Kanye. Maybe he'll make it off the cancelled list—though, knowing Kanye, probably not. Only time will tell. And in the meantime, watch "I Love It," below.