Amen Dunes is Finally Free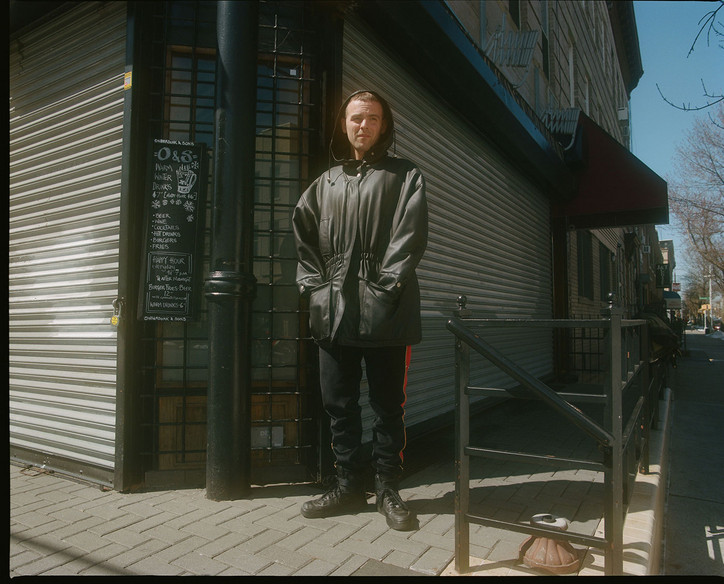 Back then, he admits, he didn't really like people that much. But as time passed, McMahon grew tired of playing on metal bills for small, avant-garde noise crowds and decided to fully open himself up to the world. With his face front and center on the cover, he's let a bit of light in on his new album, Freedom, and has become more generous with his listeners in the process.
Each of the 11 tracks is a small world with fully fleshed-out characters, storylines, and a very real source of inspiration. "A lot of the characters on this record were pulled from my life," McMahon tells me. "My history and lineage and obsessions"—his dying mother, "stereotypically macho" father, larger-than-life childhood role models. He extracts these obsessions from private meditation and translates them into vigorous, "mathematically crafted" rhythms that, unlike earlier Amen Dunes records, you can dance to.
"Believe," the most vulnerable track on the album, honors his mother and her tenacity in the face of terminal cancer. Yet it manages to do this with levity, whispering reverence, even humor—"When I was a kid I was afraid to die/ but I growed up now." He tells me, seriously, "her approach to being sick changed the way I thought about being alive."
"Miki Dora," the record's standout single, is a reflection on the eponymous surfer legend whose radical, aggressive style turned him into a punk-pioneer of the sport. And it's a perfect example of the evolution of Amen Dunes. Like previous records, it's a meditation on the broken fantasies and role models of his childhood. But this time around, it's less introspective keening and more of an upbeat narrative, with "tons of micro-movement" stitched into the story.
Even the intro track contains a dizzyingly complex array of emotions, placing a kid's spirited, hokey-inspirational speech from 2004 hockey movie Miracle next to an Agnes Martin quote ("I don't have any ideas myself; I have a vacant mind") recited by his terminally ill mother. It's dark, weird, and perversely funny.
As we're both finishing our coffees and I'm running out of questions, I see something scribbled in my notes that I'm not sure if I should ask him. But, of course, I go ahead anyway. "Do you think," I ask, "that this is pop music?"
"Yes!" he says, pleased.
"Dance?"
"Yes," he says. "I consider this record dance music. It is when you listen 100% to the rhythm."
This makes sense when he tells me his inspirations for the album's sound: Michael Jackson, Bob Marley, The Beatles, Nirvana, Tom Petty. "I always thought, Tom Petty is such a self-centered guy. Everything's always about him. But it dawned on me that it's not true. It's actually very generous of him. He was like, I'm gonna give this to you so you can fucking love it."
In a real way, pop is the most generous sort of music. It gives incessantly, is effortless to listen to, and doesn't demand anything more from you than to keep consuming it. Whereas Amen Dunes' earlier albums required real work on the part of the listener, Freedom is ready to serve, constructed with skillfully polished beats and hooks that almost take a physical, pulsing shape as you listen to them a second or third time. This is a tough feat to accomplish, and was done with the assistance of musicians like bass player Gus Seyffert of Beck and producer Chris Coady of Beach House.
The underlying strength, and ultimate success, of Freedom lies in its unguarded interrogation of deeply personal subjects—adult reality vs childhood fantasy, masculinity, family, illness, etc.—all while testing the borders of Amen Dunes' sound. Mixing pop into dark noise music. Dance rhythms into lonely, ruminating guitar. In the end, the vivid framework of pop doesn't constrict these songs, but elevates them.