Angel Olsen's Revelations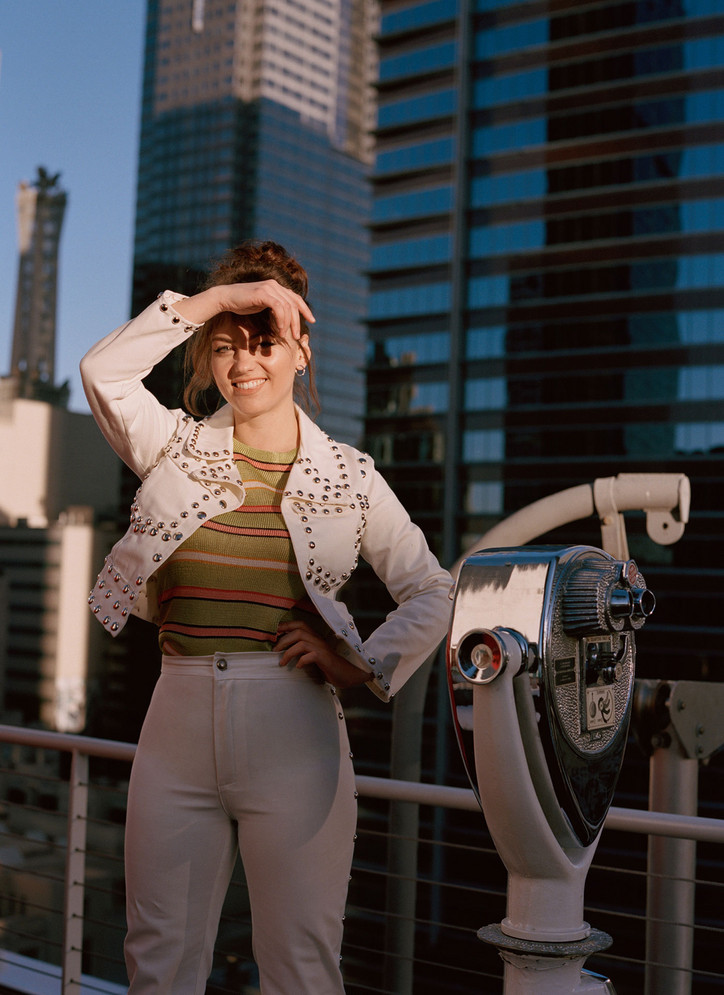 Suit by The Creatures, Shirt by Calle Del Mar, Earrings by Gabriella Artigas
Crying is not an abnormal reaction when listening to Olsen's music, though. In fact, the delicacy in her voice often gives off the impression that she herself may be on the verge of tears, wavering like a dubious thought. I tell her how her debut LP Half Way Home was one of the only albums saved on my phone for a good two years, meaning that I would listen to it on plane rides, eyes closed and in the clouds. I also tell her how, in preparation for our interview, I sprawled out on my bed and listened to the first few songs of the same album in a sort of meditative state. It's my preferred method of consuming Olsen's early brand of acoustic storytelling—being able to hear every word, each subtle intonation.
Shirt by Shaina Mote, Scarf by Gentle Thrills; Dress by Christopher Kane, Shoes by Milin
She labels this earlier work as "the crying music," an enlightening entry point for listeners looking to relish in the weight of her introspective sadness. And there's a reason why this music is so gripping—her oft-vintage lyrical and sonic palette not only translates so effortlessly into the modern age, but transcends context as a whole. "It doesn't say, 'This is my sex,'" she says of her neutral stance when writing. "It says, 'I'm a human being and these are my feelings, but I also watched myself going through them, removed.'" 
Angel's sepia lens existed long before Instagram. And in a world where social media posts often romanticize sadness to the point of over-saturation, she has struck such a powerful chord by being profoundly human. Whereas her cult-like fanbase may dub her a musical messiah of sorts—an apt narrator for frayed feelings—she comes across on the phone as your favorite girl next door.
"I don't usually do on-camera interviews," she tells me, pacing throughout her relatively rural home in North Carolina. "Maybe I would come off as charming, maybe not, but I just don't want to be seen or speculated in that way." She would rather insert this charm into her work, and as of 2016, this once hidden spunk has made its way to center stage. Her most recent full-length album My Woman started off with a bang: in a silver tinsel wig and roller skates, she whimsically parades about in an empty roller rink, shooting hyper-aware glances and kisses at the camera, and even breaks the fourth wall at the end—"Do I need to give more attitude, or?" 
Dress by Chloe, Earrings by Hanut Singh
It's a pop video in every sense of the word, and also the very first time Angel self-directed one of her visuals. "I found it really funny because people were like, 'You're wearing a wig, you're not yourself now,' and I was like, 'Actually, this is me—I edited every fucking thing here, so that is actually me you're seeing." She tells me about the revelatory act of taking the reins of your own work, a shift that can also be heard in the alt-rock leaning and stadium ready sound of many of My Woman's deep cuts. "For me, I'm so intentional about my work and lyrics and songs that it just feels wrong to not be intentional about the whole package. So I was sort of like, fuck this. I'm gonna do this myself, and if I do something weird, at least people know that it was intentional." Critics and fans raved. 
After last year's Phases, a collection of covers and B-sides, Angel is currently in a transitional writing phase and potentially on the cusp of another career revelation. If the next album is a crossroads, Angel simply needs to choose which way to turn. Having recently completed an extensive and tumultuous touring phase, she's going back to the drawing board with a shift in attitude: "I never really think about it as though I just completed a long ass tour and made a great record," she says of the almost-dissociative kind of shock that comes right after completing an album cycle, one that is quickly replaced by a gnawing expectation to continue to reinvent herself as a newer, better performer. "It's always kind of like, well, now I have to do something again that is better than that, that is more precious to me, and somehow make my livelihood off of it, which is a weird thing to think about."
It is an interesting place to be in, but Angel's had no trouble keeping things fresh in the past. I ask her what she's been doing with her free time.
"I'm like an old person who, right now in life, is listening to a lot of Nat King Cole and watching Humphrey Bogart movies," she says. "I'm almost romanticizing when I was seventeen, revisiting all this stuff that I pretended to be intellectual about, but now I've lived longer and can actually understand some of these things." When she tells me about how she actively journals, she seems less concerned with the cathartic aspect of writing down her thoughts and more so with the form. "I asked myself, how am I going to do this in a fresh notebook? I don't want to ruin it. So I just started in the middle of the notebook where I keep my grocery lists to feel less pressured."
The intimacy intimidates her. "'Dear diary, this is my first journal entry…' Like, how do you start?" Ironic, considering the discography she's created thus far reads like a series of unapologetically raw diary entries—her complex emotions laid bare across each page, flourishing and expanding once listeners press "play."