Are You Hungry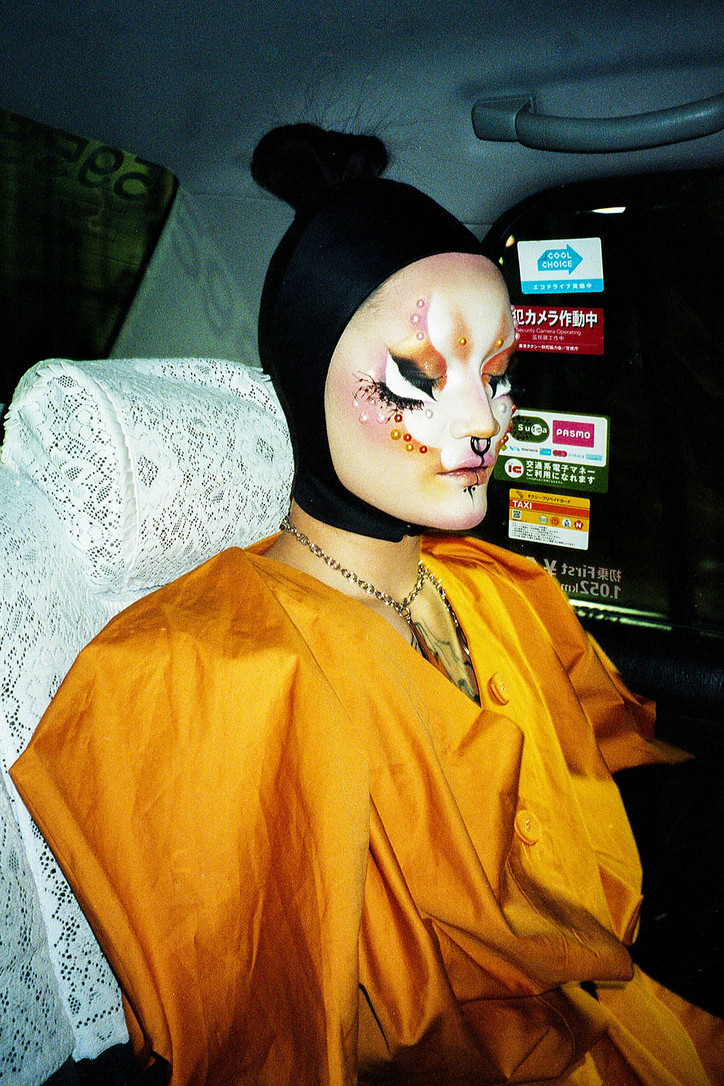 You have such an otherworldly and unique artistic style when it comes to makeup. Describe your style in your own words.
I usually describe my work as distorted drag, as a lot of how I paint is still derived from the classical drag paint. Some characters are more abstract than others. Some have a very literal inspiration. I like to play as much as I can in the framework that I created for my brand.
Do you have a complete vision for your looks before you begin creating them? Or is it more that you go where the process takes you?
Everything, head to toe, is planned out, starting at the outfit and then, as a last step, is followed by the makeup, which I consider as just another accessory to complete the vision.
So many of the looks you create are packed with intricate details. Do you often practice creating one look a couple of times before you create it for a shoot?
I rarely practice a new look. My work is a constant process of building a catalogue of shapes and makeup concepts that work well together as a whole character. Whenever I come up with a whole new design, I might test it out on paper beforehand, but only as a rough sketch. This also means I ended up with somewhat less successful or slightly incoherent makeup looks for some shoots and events, but I think by now I do have quite a good understanding of balance and detail in makeup.
How long does it take to create one look? 
Starting with the outfit, usually a month. The face alone then takes two to three hours from start to finish. I do work quite fast on myself, but I like to go back in a few times to get the details right and sharp.
Your work has these wildly ethereal elements within them, like graphic irises or blacked-out eyeballs. Do you combine digital editing with cosmetics to bring your visions to life? 
Most of my makeup is dependent on the lenses I use and the negative space they leave in my eyes. I wouldn't consider it such valuable work if the shapes and illusions I create so delicately were just digitally edited. Makeup is still a physical craft to me. I'm happy about general cleaning and retouching, but most photographers wouldn't understand the intention of the specific things I paint, so I wouldn't allow just anyone to go into the actual paint work. 
Are there any other artists, makeup or otherwise, that you draw inspiration from?
I still don't know how to answer the big question of where my inspiration really comes from. I am as inspired by the artists and people around me as anyone in this day and age would be. When I was younger, I didn't really have a way to find artists or art that inspired me, so I read a lot and tried to build the imagery in my mind. Now, whenever I find someone really inspiring, I try to reach out to them to see if a collaboration was possible, or I do a look dedicated to them.
Left - Pastel rainbow dress by Hungry and Alexandru Plesco.
What's the biggest challenge you've had to overcome since you began working with makeup?
Working with other faces would be the number one challenge. I went into makeup thinking it'd just be a fun hobby, then a great tool to use for my creative vision, but I'd never considered it as a career path. I do enjoy working as an artist behind the scenes, and after doing the proper training, I am also secure in working on models, but I'll always be most comfortable working on my own skin.
What are three makeup products you can't live without?
Number one would be glue. PROSAIDE is my weapon of choice and something I couldn't do without in many of my designs. Secondly, my black and white INGLOT liners are my current obsession, as I went through quite a lot to find gel pot liners of that quality. Picking a third is quite difficult, as I'm using so many products regularly, but at the moment I am adding my STILA liquid eyeshadows and glitters to everything. Simply beautiful product.
Left - Dress by Vivienne Westwood.
Right -  Shoes by Dior.
Many of your looks channel an animalistic aesthetic. What animal would you be if you could be any animal, and why?
A squid. No actual reasoning. Just... a squid.