Attention Whore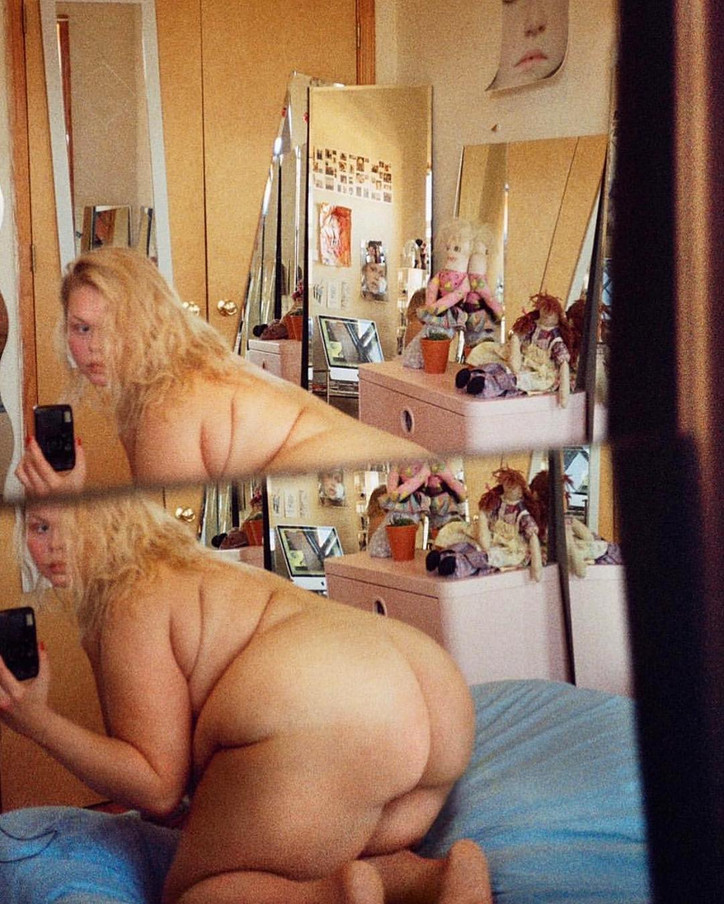 It's no wonder the London-based artist, director and model with No Agency—obviously—has caught the attention of photographers and brands like Ryan McGinley, Sharna Osborne and even Michael Kors.
Naturally, she caught our eye, as well. Office Beauty got to know Ágú and picked her brain on selfies, social media and what it means to be an attention whore.
Could you give me a little background on yourself? How do you describe what you do?
I'm an artist, director, model and creative from Iceland. Throughout the years, I've also lived in Miami, Iceland, Germany, NYC and now, London. My goal with my work is to take the viewer into a new world, for however short or long a piece is. To be honest, I'm a cute fatty who loves herself and memes.
You call yourself an attention whore artist. What does that mean?
I had a little disagreement with a family member who got upset with one of my posts where I was "FaceTiming" Putin with my ass out. She alluded to me that I was using nudity to get likes. We resolved the issue by saying you do you and I do me. But that conversation has been engraved into my brain, especially when it comes to my work. I think in today's age of likes and followers a majority of us are attention whores. It also might also stem from the helicopter parenting where we got praised for everything and nothing. We thrive on attention, whether it's on Instagram, or even for me, sometimes when I get catcalled, it's just what I need to boost my day. I know that sounds sad and gross and most days I hate it, but we all have those days. Right?
What role does sexuality play in your work?
Sexuality has been one of the main [themes] in my work for the past few years. It's helped me deal with traumatic issues throughout my life, some with men and others, like discovering and getting hooked on porn when I was 7—it helped me discover myself and truly feel confident sexually and just in general. Also, being fat and sexy was something I never saw as a child or even as a teen—it's not until the recently on Instagram, where us fatties are allowed to, for the most part, be sexy and feel good about ourselves.
I'm obsessed with the videos you make. What lead to you becoming a video artist?
I started doing video when I became bored with still imagery when I was at the School of Visual Arts. I found myself just staring blankly at everything I was doing and not being challenged enough. After I started making videos, experimenting and wanting more, it was just what I needed to be excited about art again and make my own work. When I started to do animation and 3D stuff I felt like I finally settled on something I was really proud of and excited to do everyday.
How would you describe your relationship with Instagram? Does it play a role in your creative process?
For a long time, Instagram was just another creative outlet for me to let go of any projects I was working on—a place where I could fuck around and not care. Now, it's become a place where I form ideas for new projects because I've let loose.
How would you define beauty in the age of social media?
I think Instagram and YouTube have opened up a huge section of creativity and a new outlet for people to express themselves. They have made the beauty industry what it is today—a multi-billion dollar phenomenon.
Who are some of your beauty icons?
Amanda Lepore, Isamaya Ffrench, Rihanna, Barbie, my sister Elisabet, Life With Mak and Jeffree Star.
Walk me through your beauty regimen.
My regimen is pretty simple to be honest—I've always had pretty good skin and my skin usually looks the best when I don't take my makeup off at night. I recently moved to London and had my most intense regimen in a while, but my skin got worse. So, the simpler the better for me. I usually start off by using Bioderma Sensible H20 Micellar Water to take off my makeup, then I use Fresh Soy Face Cleanser. I exfoliate twice a week with Lush's Angels on Bare Skin. After that, I use this Icelandic cream called Penzim that is made using Icelandic cod enzymes. If my skin is dry, I usually top off with some vaseline to help seal the moisture. I repeat in the morning and before I do my makeup I use Fresh's Skin Brightening Peony Moisturizer and top off with sunscreen when I remember it.
What is your must-have makeup product?
I'd say either mascara or MAC 'Peaches' blush—it's my fave, I've been using it since I was like 14. I love how it looks on my skin—I have pretty translucent skin so often you seen my veins. I just love how the peach tone blends with the blue color of my veins.
How do you take the perfect selfie?
This is a funny question. I mean, I think as long as you know your angles you can take the perfect selfie, but good lighting and a cute background always helps. If you don't have either handy use FaceTune to add a light to the face and change the background.
Follow @officebeautynyc for more interviews with our favorite makeup artists, Instagram beauty gurus, club kids and inside info from our office Beauty Committee.