Back to the Book Fair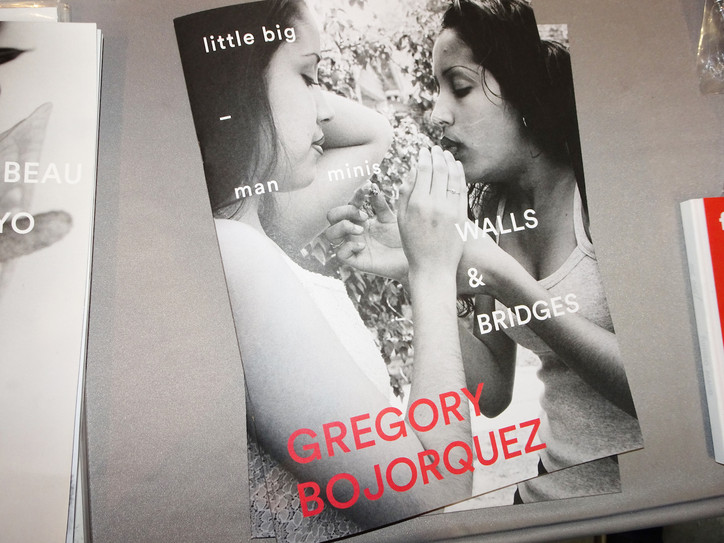 In its 12th year, Printed Matter's New York Art Book Fair at MoMA's PS1 is as busy — and as hot and humid — as ever. (I always wonder how teachers were able to keep their students focused on their studies within these walls). 
I stopped by the emporium on Friday evening to check out what some of my favorite purveyors were showcasing and to hopefully discover a new publisher or two. Here's some of the best of what I found within the mere two hours I allocated to the great maze...
You Get Me
The cover of You Get Me? is an attention grabber. The man in the photograph has such a look of pride and strength, and his eyes seem to just look through you. He's also a total babe. The book is a collection of images that British photographer Mahtab Hussain shot over the course of nine years. Published this month by Mack Books, it focuses on the everyday lives of working-class British Muslim men. At an incredibly divisive time for Muslims in the West, Hussain was surprised to find a lack of representation of the community within galleries and institutions in the city. With this project, he sought to remedy that and insert himself into the historical narrative. 
Like a Fresh Pack of Newports
Like a Fresh Pack of Newports is a colorful offering by artist Devin Troy Strother. Launched in time for NYABF by Coloured Publishing, his publishing company with buddy Yuri Ogita, the book presents the usual satire and visual vibrancy that Strother is known for. 
Portrait of a Generation
Portrait of a Generation, published by Anteism for The Hole Gallery, is a flashback to the summer of 2012. The book includes imagery from over 100 artists and creatives, including Clayton Patterson, Lizzi Bougatsos, Erik Foss, Eric Yahnker and Leo Fitzpatrick, who created the likenesses of their peers with paint, pencils and cameras. My favorite was writer and gallery owner Bill Powers by his wife, fashion designer Cynthia Rowley — who knew she was such a talented painter? 
Walls & Bridges
In anticipation of photographer Gregory Bojorquez's upcoming show Walls & Bridges at Little Big Man, the gallery published a hand-numbered run of 350 copies of the series for their mini line of affordable collectibles. The book is comprised of images that Bojorquez shot in East LA between the early '80s and 2000s that are part an ongoing series called Eastsiders. Growing up and beginning his career in Boyle Heights, a neighborhood troubled by gang violence, many of the subjects in his photographs that were involved in these nefarious networks were friends and family to him. The show is slated for this upcoming spring at the Downtown Los Angeles gallery. 
Preston Bus Station
Over at Dashwood Books — my favorite stop — among many exciting items was Jamie Hawkesworth's upcoming title and first monograph Preston Bus Station. The Brutalist station first caught the eye of Hawkesworth back in 2010 when he was living in Preston. After hearing about the demolition of the building, he later returned and spent every day for a month capturing portraits of various train-goers. The anticipated volume will be released mid-October at Dashwood … previous plans to print the book with London-based Loose Joints back in 2015 were cancelled by the artist. The book was "pulped in early 2016 at the request of the artist," according to LJ's website.