Back to London for Paria Farzaneh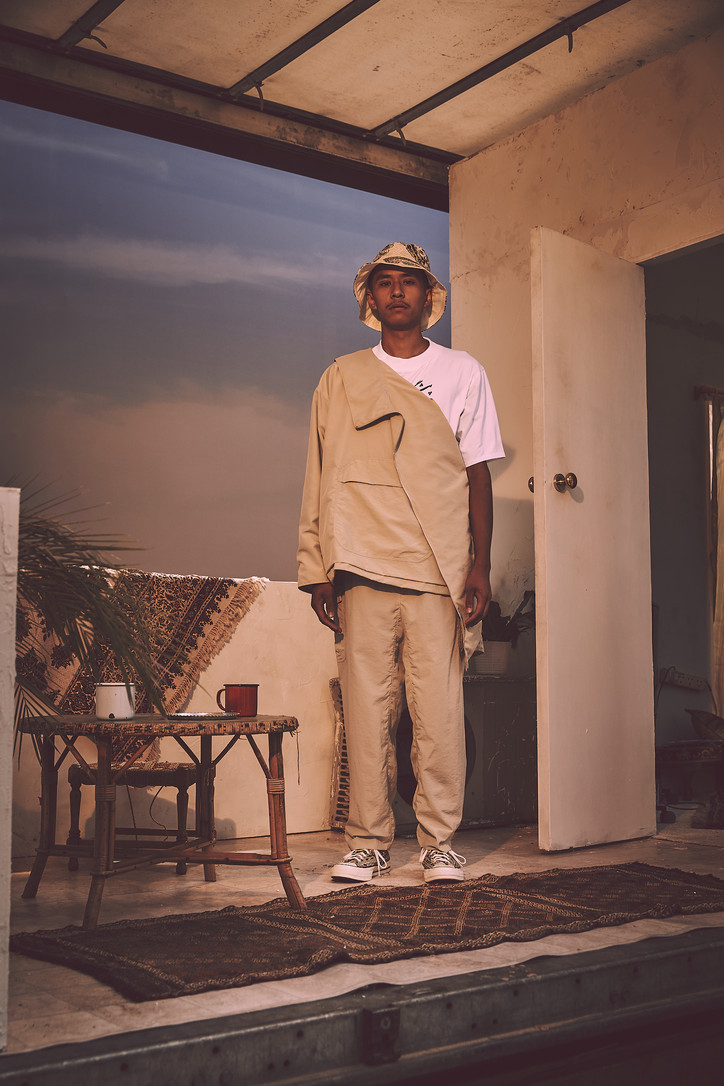 Tell us a bit about yourself - how did you end up doing menswear?
I was born in Devon, but grew up in Hull, in the North. I spent most of my time growing up there and going back and forth to Iran, where my parents are from, for really long periods of time in summer. Even way before I started university at Ravensbourne, going to Iran was just a really good source of inspiration, to get to know a different culture and be really educated on a completely different part of the world. I got into menswear because as a person myself I'm more interested in men's clothing and I wasn't really fazed by womenswear. I was interested in the idea of a woman dressing a man because there's not a lot of women designers who do menswear. The menswear industry has really grown in the past couple of years, but back then when I started, it wasn't as popular, so I decided to go into menswear as I thought it was time for something more disruptive and that had a story.
How do you bridge your London surroundings with your Iranian roots?
It's about trying to mix both cultures together. It's about having silhouettes and the use of prints that are common in London, or technical fabrics, and bringing all of this together and trying to create something new. I think it's really important that people see something different, rather than just digitally-made prints as usual: all my prints are made by hand in an Iranian city called Isfahan, and I get them shipped over from there. They're really special because each one of them has slight imperfections.
Where do you think the concept of masculinity stands today?
In 2018 you can't really say there's a fixed concept for masculinity. I feel you can't really say 'a suit is something a man would wear'. There are many designers breaking the boundaries of menswear and there are no definite silhouettes, shapes, colour ways or prints that you would say are masculine.
What about in Iran, how do you think masculinity is perceived in comparison to here?
Definitely in Iran it's a lot more conservative in terms of what they wear, so a lot of the fashion that we think as 'loud' here, would be even more so over there. Fashion is not even a practice that's so supported in Iran, and same thing goes for a lot of Middle Eastern countries actually. They don't really delve into fashion as much as the West does.
How is your reaction to the depiction of Iran in the media translated in your collections, if it is?
I think it's just the fact that a lot of people don't have information and knowledge about a certain place or country, or the Middle East in general. The media perception of the Middle East is always skewed - media always has to say how something should or shouldn't be. But you know, only the people that are from these countries or have experienced them are the ones that tell you the truth, so I feel that the message behind my current collection is not necessarily political, but more about sharing the culture and something that people just don't know about.
What about your previous collections?
Iran has always been such a big inspiration for me. Being in London and having two different cultures as part of my DNA is great because it's like having a pot to mix all these ideas up.
Let's go back to your SS19 collection - '7' - why did you choose to represent the Iranian New Year?
The New Year is something that I kind of didn't understand when I was younger. I was just confused on why I would have to miss a day from school and be asked to go and participate to this event. As I grew older I started to further appreciate what the whole celebration was about - it's more about family and community coming together. It's about celebrating the first day of spring, and it's about renewal and doing things differently from how you did them in the past year. The Iranian New Year occurs when the sun hits the equator, and that can happen at any point on the 20th or 21st of March. That is the time when you have to wear all your new clothes, so you wear new socks, new underwear, new everything. Then you have to leave the house like you're taking the last year with you, you have to stand outside for a couple of minutes and go back in and welcome the new year. The same way, in my presentation I had the two lorries and the whole presentation covered by the curtains, and when we revealed it you saw the renewal, you saw the collection, and that was me presenting the new year with my very own interpretation basically.
What about the seven S's, the haft sin, what do they stand for?
They're the same as having a Christmas three for two weeks. In Iran, you'll have scenes set up in your house to symbolise different meanings of our culture. So there's the mirror for reflection, candles for light, fish for life, vinegar for patience, the grass was there too, it's kind of wheat that you grown and stands for renewal. All these words in Iranian begin with S so that's why they're called the seven S's, and why all the sets of my presentations were split in seven parts, to symbolise all these characteristics.