Backstage at Wood Wood F/W 2017 Milan + Q&A with Creative Director Karl-Oskar Olsen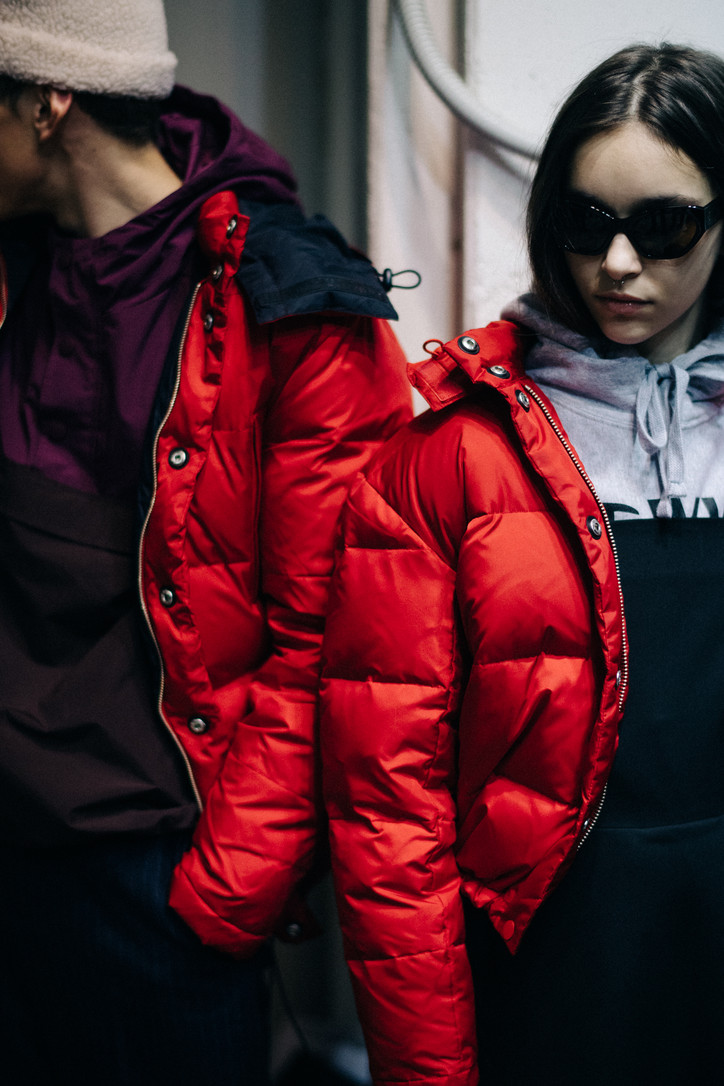 You just held your first show in 3 years. Why the long pause?
I think we needed some time to reflect on our brand and adjust the business side of the company. We felt there was so many things going on that we didn't have the amount of time to create a presentation, additionally we knew that we had to move our show away from Copenhagen when we returned as we really focus on being an international brand and wanted to reflect that within our presentation. Since then we've grown and now it felt like the moment was right.
With a tight packed Men's fashion week schedule in January, why did you choose to have the Wood Wood show in Milan?
Great city and fantastic food! When we were invited by Camera de la Moda to show on the official schedule as part of a collaboration between White tradeshow and Camera de la Moda I didn't hesitate to accept. Showing in Milan for Wood Wood is quite unpredictable, but I really like that. The brands you normally see on the calender is very different to ours, but I believe that is what Camera de mode was looking for. Another thing in my concerns if were showing in London or Paris instead was that a brand like ours would not have as strong an impact as in Milan, for that Milan is ideal to me and I really like its the first week of the season too, all eyes is on Milan. 
You are continuing your collaboration with Champion, why are they unavoidable in today's fashion market?
Fashion reflects the time and society we live in, the whole '90s look is still very present in todays trends and certainly picked up by the coolest kids. Champion is in my opinion one of the strongest brands of that style and period and very honest and likeable as a brand.  
How would you describe your FW17 collection in your own words?
I would describe it as formal sportswear. But when that is said I try to focus more and more that Wood Wood remains street. Its who are and how we work. When I styled the show it became clear to me that the sets that was most streetwise the ones that appealed strongest to me.
That Asics sneaker is looking fresh as fuck, tell us all we need to know - when can we get our feet in them?
They will drop Spring '17. But since we are celebrating our 15th year anniversary this year we have 9 collaborations in the pipeline so there will be a few more things to look forward to!
The absence of logos in this collection was clear, why have you toned them down?
As part of a larger distribution plan we have segmented our collection so logos are only used certain places, there are still logos but as you say they are now used more subtle and additionally i did feel it was relevant to show to many logos on the runway, I wanted to style it so the collection could stand for itself.
Is this a first in a steady return to doing shows again?
Yes now we're back and I'm already looking forward to next show in June!  
This year you're celebrating 15 years of Wood Wood - tell us one of your most treasured memories?
Building the brand has been fun, hard but fun. When we started back in 2002 in a basement store with a fax machine all was very handheld, and with absolutely no strategy at all. Building a network and transforming this into a real business with likeminded people that reflected who we are and represent have been a key for our brand, so many great names and influencers have played a part of who we are and overall i just feel privileged to have experienced this journey at the forefront.