The beautiful Katie Moore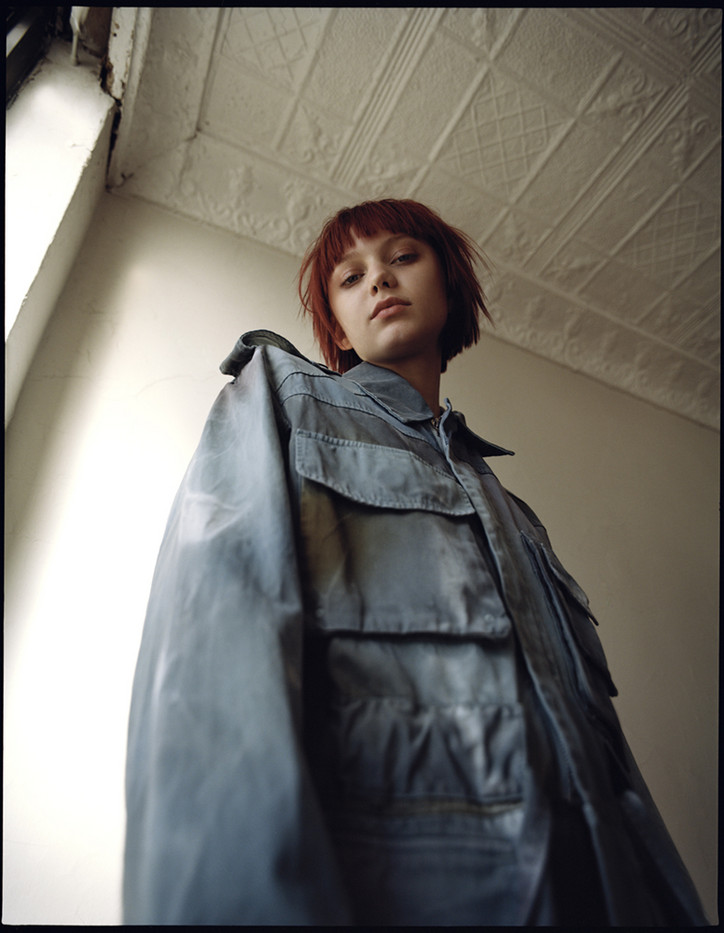 But what are her secrets? We sat with Katie to talk all things beauty, including getting rid of a hickey, YouTube beauty tutorials, and "As Seen On TV" products. 
Polo and Top by MIU MIU, Jacket by Coach
I did some lurking and saw that you did theater in high school. Are there any beauty tips from theater that you still use, or are just funny?
Doing my makeup for theater is so different from what I do now. Back then, I didn't care about skin prep or anything. I just started going to town and caking it on. Now I'm very much about wearing as little as possible but still having it be effective.
What kind of things did you do in theater?
I was a stage girl. Never did crew, really. I was definitely a musical theater kid and some straight plays. I was such a nerd about it.
Did you compete?
Yeah. We had UIL. We submitted a 40 minute play in UIL, and one year I student-directed one, so that was fun. We also competed at Thespian Convention.
If you had to do your makeup all by yourself—no makeup artist—and you could only use three products, what would you use?
That's easy. For skin prep, I would use the Caudalie Beauty Elixir because it evens out your skin tone and tightens up your pores. It really sets your face. I would also use Milk Makeup's concealer duo. It has a roll-on, and they have this technology that's "marshmallow" technology. It's really soft, and it literally blends in with your body heat. It's incredible. Then I would just use Too Faced's "Better Than Sex" mascara. It's so good. Some days, I have only worn those three things. Does the job.
Have you ever put anything weird or questionable in your hair? If so, did it work?
No, because I'm scared of ruining the color. I use this sea salt spray, but that's not really that weird. I've put tea tree oil in my hair because it kills lice. I had a lot of lice in my hair as a kid because it was so clean. Now that it has been bleached and dyed, I feel like I'll never get lice again.
You're 19. So you were growing up when YouTube beauty tutorials became a huge thing. Were you into them? What do you think of them?
Eh. It's very intense for me. Contour! Highlight! Kardashian! Eyebrows! I did the first campaign for Milk Makeup, and we did video shoots of editorials. That's the kind of stuff I like because it's like, "How can we get a Milk girl to do their makeup as fast as possible?" It's really easy. I'm not into the whole step by step by step thing.
Ever had to get rid of a hickey, and how did you do it?
Oh my god, yes. Concealer and turtlenecks.
Let's talk food. Ever made any home remedies using food products?
I literally just got my first facial ever two weeks ago, and it was this old Russian lady, and she was like, "So you have dark circles." I was like, "Yeah, it kind of runs in my family." She was like, "Take a cotton ball, soak it in milk, and then put it on your eyes for ten minutes a day. It'll help." She also said that since I get red around my nose and on my cheeks, I should peel a potato, steam it, and put it on your face. I should try it.
You can make mashed potatoes after. How did Alexander Wang chopping off your hair change your routine?
Oh my gosh. Day-to-day, it's not really that high maintenance. I will say, though, that since it's so short, it does get oily really fast, so I'll use more dry shampoo. But I don't do anything to it. When I had long hair, I had to straighten it and, bleh, it was horrible. Now I have to go get it dyed at least twice a month. It fades so fast. Every time I shower, the shower is red. For some reason, blonde just doesn't want to take the dye.
Are you going to change it any time soon, or is this the signature?
We're letting it grow out, but the color is going to remain the same. That's kind of how I debuted, and it's the person I've become. That's just how everyone knows me.
Sweater by Stella McCartney, tee by Coach
You wake up on the morning of a casting with a huge pimple on your nose. What do you do?
I ice it to reduce redness. Then I just try to cover up as much as possible. I normally get them on my forehead, though, so thankfully my bangs cover it up.
Do you use any products that are meant for one thing, for something else?
I literally only wear Milk Makeup, and that's kind of what all of their stuff is about. I use lipstick on my eyelids, lipstick for blush, highlighter and bronzer for eyeshadow, all of that. Depends on how I'm feeling.
"As Seen On TV" products. Do you own any?
Oh my gosh. I don't own any, but there's this thing called NuFACE. It has two little balls, and it massages your skin. It gives you a primer that you have to use because it uses electrolytes, so sometimes if I use it on parts of my skin that I didn't prime, it shocks me. You know if you wake up and you're puffy? It literally makes your cheekbones and jawline stick out. It's so good.
Do you think celebrities answering questions about their beauty routine with, "I just drink a lot of water," is a copout answer?
Yes and no. It's easy to say because everyone says it, but it's true. I'm bad about it some days, but I find that my skin looks the best on days that I've had a lot of water the day before. So I would definitely say that's part of my routine, but it is a basic answer.
What is beauty to you?
Beauty is being comfortable in your own skin, and confidence. I had dinner with a really good friend of mine last night, and he said, "Katie, the days you look most beautiful are when you walk in with a huge smile on your face, standing up tall." That really struck me. You don't look as beautiful when you are sad. It's also just having your own style and not trying to be somebody you're not. Deep thoughts with Katie Moore.
Keep up with Katie on her Instagram.
TEAM CREDITS
Photographers WARD+KWESKIN
Styling LOUISE BORCHERS / Office
Makeup MAKI H / The Wall Group
Hair NATHAN ROSENKRANZ / Honey Artists
Fashion Assistant JOE VIOLA