Becoming Bria Vinaite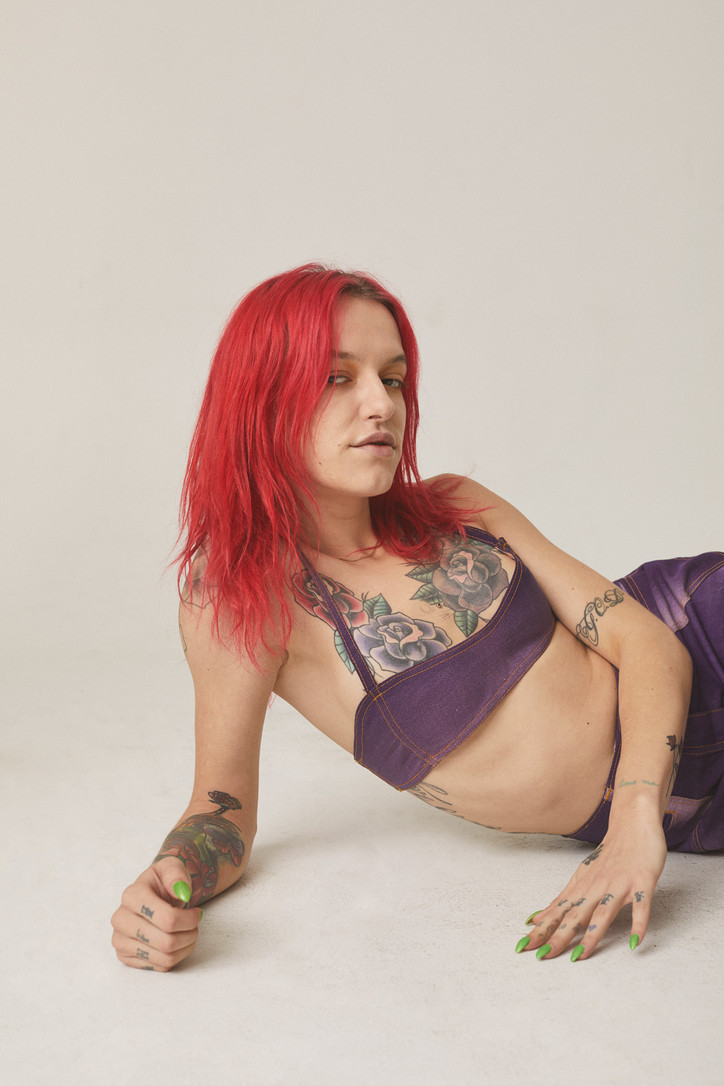 It's been a big year for Bria— bearing opportunities one could only dream of, and they seem to keep coming. From the viral rumors of her romantic ties to Drake (they're just friends, but still) to having been optioned for a Harmony Korine film, call me cliche— but there's no other way to put it: Bria is one to watch. While she won't disclose the projects she's working on at the moment, we can confirm whatever they are will be much better with Bria. 
office caught up the actor a few days after the Academy Awards— which her co-star WIllem DeFoe had been nominated for— to find out about her foray into film, and how that first taste of fame feels.
Dress by Eric Schlosberg, Dress by Gucci, Shoes by Nike
So, as the story goes, you were hit up on Instagram, out of the blue, by Sean Baker— having not acted previously. What do you think the draw was for instigating that initial connection? Do you see something instinctually similar about you and the character or concept of the film?
I was posting the silliest videos at the time. I was just having fun and I think Sean saw a carefree element that he wanted represented In Halley's character. When he initially told me about the film, I was really nervous but also really excited to be considered for the role because the film seemed unlike anything I had ever seen before!
Had you been to Disney World before?
Yes! I went once when I was 12, I think.
What was the first experience you had in Florida?
I grew up in New York City, but had spent eight months living in Miami before I had moved back to NYC. I love the weather in Florida but it's too slow-paced for me. I didn't even last a year.
Top by Eric Schlosberg,  Jacket by Gucci, Top and Skirt by Hardeman, Shoes by Alexander Wang
How was it working with a child actor? Did you guys get along?
All the kids on set were so special! I had never really had such close bonds with kids until I met Brooklynn and Valeria. They literally became my mini best friends and we hung out every single day on set. I still keep in touch with both of them! I was just on FaceTime with Brooklynn the other day and I saw Valeria two weeks ago. It's been so special to watch them grow and to be able to experience all these new places with them. They're both really smart and talented girls and they've made me want to be a better person because I want to be a good role model to them both.
What are you working on now?
I've worked on a few things since TFP that I'm not allowed to talk about yet! It's been really exciting to get to pursue a new career that is challenging and something I never thought I'd be doing.
Do you have specific goals for acting, or having been pretty much thrown into the industry without notice, is that hard to gauge?
I definitely want to learn as much as I can and be able to take on roles that I would have never imagined being able to do. It's really interesting being a completely different person for each role, and I never truly realized how hard it was and all the different aspects involved in filming something. It's definitely a dream job to be able to tell special stories.
Top and Pants by Paco Rabanne, Shoes by Gucci, Dress by Gucci, Glasses by Planet.i
What do you think is the most important message instilled in the film?
Definitely empathy. It's important to be aware of similar situations that are going on in your own communities. This isn't just going on in Florida and making people aware is definitely an important message of the film.
What do you think the role of actors is in society? Did this change before and after the film?
As an actor I think it's really important to put your platform to good use. Especially now, that people are aware of what's going on in the industry, it's important to stand up for the voices that aren't being heard. I never really thought of the social responsibility it gives you, but now having a platform has definitely made me aware that I have a voice and I should use it.
Dress by Acne, Shoes by Nike, Glasses by Planet.i, Earrings by Concrete Collective, Top and Pants by Eric Schlosberg, Jacket by Gucci
What is your guilty pleasure?
My guilty pleasure is definitely kinder chocolate. (laughs) It's kind of not healthy how much of it I can eat at a time.
What was your favorite movie as a child?
Girl Interrupted and Spice World.
Worst hairstyle you've had?
Probably side bangs. Ew.
Dress by Eric Schlosberg, Gloves by Collina Strada, Dress by Gucci
Finally— one weird talent, hobby, or interest you haven't told anyone in an interview yet?
I can make my tongue touch my nose. And I really want to get a job narrating Planet Earth on BBC. That's probably my biggest dream.