Behind the Beauty: Ganni S/S '20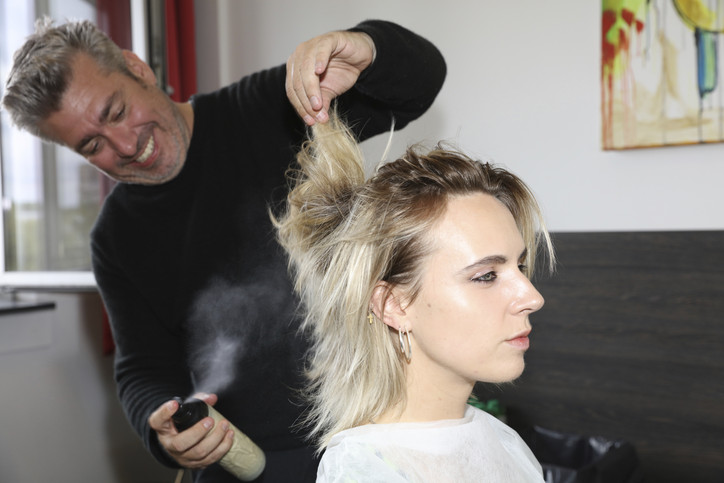 The hairstyles employ little to no product, so the texture of the hair is left untouched. Then, the hair is brought back into a loose, low ponytail. Overall, the look will allow for a uniform silhouette in addition to preserving the natural essence of each person's hair.
Read our interview with Mahony below.
How did the creative process looked like for this look?
I have worked very closely with Ganni on their shows for quite a few years now, and we usually start the process with a casual meeting a few months before showtime. I'm briefed on the theme, and then we discuss directions for the hair in a very loose fashion.
How would you describe the aesthetic you were going for?
The hair for the Ganni S/S '20 show is building on previous seasons' explorations of the quintessential "Ganni-girl." Adding to the natural and individual themes of the past this season, we worked with a bit more control by tying the hair back in loose and low ponytails. We allowed the girls' natural texture to shine through, keeping singular characteristics while the tie backs created a uniform silhouette. Creating these looks, we cross-referenced the tennis court location and the famous Jurgen Teller book Go-Sees. A 90's girl with a natural look, a great attitude and a subtle sporty feel. We used very little or no product in the hair at all. By simply just adding a fine mist of water and then gently manipulating the hair with Dyson's brand new "Gentle Airflow" attachment (for the Supersonic hair dryer), we pushed the style without disturbing the cuticle, achieving a directional, yet natural style.
Where do you get your inspiration from?
My inspiration comes from many places, but often not the obvious ones. I have a very extensive library of books at my studio in Copenhagen. I've always thought of this as a source of inspiration. In later years, I have found that books, gallery visits and other things that I originally sought out for inspiration are more general knowledge-forming tools, used as reference points. True inspiration that materialises into creation is often much more spontaneous, sparked by collaboration with other people or from unexpected experiences of the senses. Textures, colours and smells often ignite productive or creative thoughts.
For those of us who aren't Ganni models today, what is the best trick for a bad hair day?
Accessorize or put a hat on it. No reason to force it! That's the quick fix of course, but as with anything in life, preparation is key. The simple steps are in order of importance …
• Healthy hair starts with a healthy lifestyle. The quality of your hair, at its core, comes from within.
• Use a good Boar bristle brush every night before going to bed, like you do a toothbrush. It stimulates blood flow and carries oil into Lengths for shine. Mason Pearson makes my favorite brush.
• Use products free of harmful chemicals. And when shifting, remember that it takes time to work—just like a detox.
What is the most unexpected item you have in your show kit?
Most people think it's quite funny that we carry around a leaf blower to create wind in the hair.
Have you ever been star-struck from someone you worked with? If so, then who?
I have a very pragmatic approach to the way I work; I focus very much on the job and that keeps me grounded enough. Coming away from working with people who have impressed you can have a lasting impact. I have been fortunate to meet a lot of amazing people, and it is part of what makes the job so special.
If you could only create one hairstyle for the rest of your life⁠, which would it be?
Fundamentally cutting a great bob will make pretty much anyone look great, as it can be varied in length to suit most heads. A great haircut is the foundation of everything.
Who or what has made the biggest impact when It comes to finding your style as a hairstylist?
I think my biggest direct mentor was the guy who really taught me how to cut hair: X Vidal Sassoon Art Director Lance Lowe. The foundation he gave me as a craftsman is one that I still use every day and am forever thankful for.