Benny Mails, England's Emcee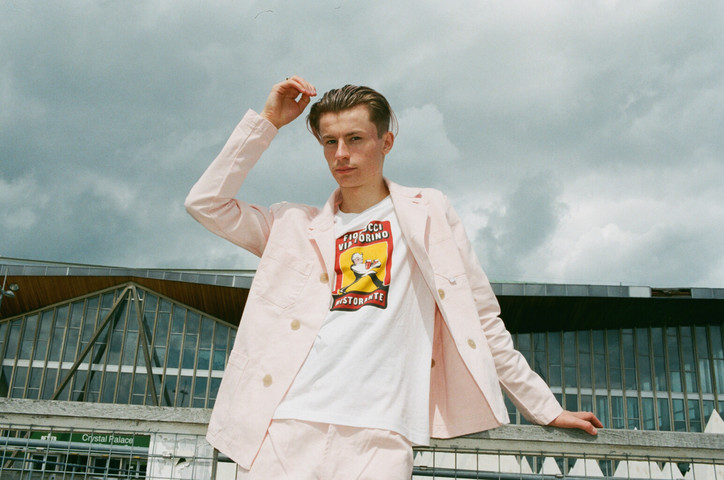 On a cloudless July afternoon, we meet the budding artist in Crystal Palace, a borough South of the river where he has spent most of his life. Sat in the local park, Benny opens up about his approach to the craft and working with the Places + Faces crew.
Take us through you story, how did you first get into this?

It happened on a drunken night. I went to a party with one of my friends from the Brit School who happened to be a producer. Embarrassingly, I ended up freestyling in front of the whole crowd. When I showed up at the Brit the next morning, he told me that I had to join him in the studio.
How do you choose the producers you work with?
I am very, very picky about the beats. Very often, I choose to work with producers who are happy to make bits of music from scratch. I much prefer producers that play live instruments.
And thus approach music differently! But does it not limit you to London-based artists, exclusively?
Surprisingly not! I work with a guy in Leeds and some in Brussels.
It seems that there is a lot of pressure on acing each and every studio session in that case. Do you always come prepared, with bars?
Often, I have lyrics prepared for my sessions but the majority of the time we build from scratch; start with a drum loop, then freestyle for half an hour, maybe an hour, saving it into my voice notes until I am mentally there. From that point, it seems really easy.
How did the P+F project come about?
I was in the Alps and Ciesay texted me, saying he wanted me on this tape. I got back a week later and recorded with Wize, Kasien, Crave (Moore), Darq (E. Freaker), my boys, you know what I mean? And then we had a party at the Studio spaces.
What do you view as the main London exports at the moment?
Jazz is a big thing in London right now. A lot of bands blend jazz with hip-hop and rap. Hence, I'm interested in producers who make their own beats from scratch, someone like Yusif Kamaal whom I grew up with.
Have you really blocked your dealer or is there a new man in the picture now?
Everyone looks at me and thinks I'm an indie kid, aesthetically. When I put out a song with that title (Blocked My Dealer), people assumed that I had gone down the wrong path. But I have way too much anxiety to take drugs!
That song is actually about a day in Whitechapel when these guys just blew smoke in our faces, randomly. You're from London, you know you just kind of get on with your life in these types of situations. My boy Connor said it didn't smell like weed and right after that I just felt these needles going through my body!
The feeling that gave me, sparked the energy that track carries. Hence, it's so hard to listen to, it's heavy.
Do you see the final product as the residue of the process, or vice versa?
The making is always the main thing for me. I don't write until I feel like I can really write to a certain beat.
Do you make the music for yourself?
It's a way of release but I don't allow it to be a way of release. When I'm stressed, I just do some activity. As I grew up as a dancer, it's still my my main thing. I need to let music to be that, too. But I'll never make a song for anyone else.