Berliners in bed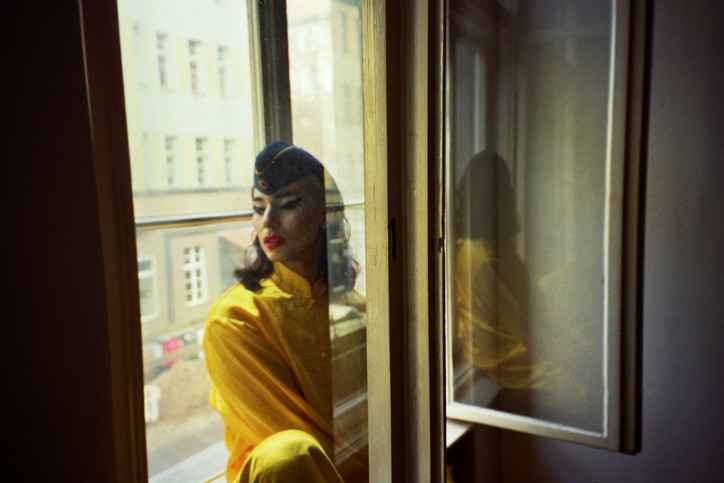 _________
BUNNY TSUKINO
When we first met, you told me a bit about your ethnic background. Can you please share?
My parents are from Afghanistan, which is a really diverse country when it comes to ethnicities. We belong to an ethnic minority, called Hazara. They are persecuted because of their ancient Mongolian heritage, which is often still visible in the facial features of Hazara people. Many different ethnicities live in Afghanistan, this is one of them and there is no such thing as a particular Afghan look or face.
Tell me about your style. What's your favorite outfit to wear dancing?
It always changes or evolves, but what actually has always been the same is me being femme and embracing that through my clothes. Especially at the parties, since the queer or gay party scene in Berlin mostly celebrates masculinity and toughness (fem-shaming is actually a thing here!) my friends and I feel the need to embrace femininity even more.
Berlin does appear to be a liberal haven for queer people. But with political tides changing around the world, have you noticed or experienced changes in attitudes towards minorities?
Berlin is often portrayed as a liberal haven but that is not the reality, at least not the reality for minorities. A wave of right-winged motivated attacks in Berlin is taking place at the moment, mostly in left-winged places such as the K-Fetish [a left-wing bar and cafe] and all of them in the area of Neukölln, which is considered to be the hip, young, racially diverse, and of course gentrified neighborhood in Berlin. Portraying Berlin as a utopian queer place will not improve the heated situation.
JAKE INDIANA
How has your experience with the queer community in Berlin differed from New York?
My experience with the queer scene in Berlin is one that has demonstrated a level of freedom of expression and acceptance that are light years beyond what I found in New York. Back in New York I felt very constrained by the modes and trends that dominated the scene there, in addition to feeling constantly judged (even ostracized). Here I have a true community, one where we support and look out for each other with constant encouragement. There are of course a unique set of problems that face the community here, but it is overall a delightful improvement to the one found in New York.
It is important that the rest of the world knows that not all of America has been brainwashed in the racist rhetoric of a demagogue.
You perform at a "trash drag" night every Friday called Real Housewives of Neukölln. Can you tell us more about this?
The Real Housewives of Neukölln is our humble attempt at honouring drag's trashiest roots. It is very much in the vein of John Waters' early films, in that it takes pride in its crass humour, unprofessionalism and anything-goes showmanship. Yet we also aim to be a platform that is approachable and judgment-free, one where anyone, regardless of gender, sexuality, and creed can come experiment in drag with us. Our arms are open. Inevitably, all of these qualities represent the neighborhood of Neukölln itself, which is why we've been able to find a faithful audience in the six months that we have been performing.
As an American living in Europe, how do you feel about what's happening in the U.S?
Frankly, it's horrifying. When Trump was elected I experienced something of a crisis in that perhaps I should return to America to fight on the front lines. But I decided that there is just as much (if not more) work to be done as an American abroad. It is important that the rest of the world knows that not all of America has been brainwashed in the racist rhetoric of a demagogue, and just as important for Americans to maintain a direct line of communication with the world outside its closing borders. I have no intention now of returning, particularly given that Europe's fight with the rising far right has only just begun.
MIKEY WOODBRIDGE
What's your earliest memory of wanting to make music?
The desire was always there inside. I remember growing up secretly wanting to be a pop star like Britney or Usher [laughs]. I gave up music all throughout my teenage years, and would only ever sing in secret when my parents were out, or while walking on a deserted beach after school. I was so scared of what other people might think of me just for doing music and wanting to dance. Those years when I wasn't doing music, I was the saddest; I lost a whole part of me. But I look back now and even though I may have lost a part of me then, I gained such an important lesson that really shaped who I am and what I want to say in my own music now.
My favorite song of yours is "Genitalia." Can you share the meaning behind it?
It came from the idea that it's taken my entire life to know who I am and build this self-love, and I feel like I finally have 100% acceptance for myself. So I thought I was there. Then you happen to fall for a boy or two, who you have the most amazing time with. You develop a strong connection. He'll tell me how beautiful I am and how much love he has for me. He'll tell me I'm the hottest girl in the club right now. How much better of a person he's become because I've come into his life.
But, I'm just the super hot comic book character fantasy. I'll never be real enough as this guy identifies as straight so of course he has to live up to society's expectations of being straight. He's been taught to never be allowed to love me because I was born with a certain genitalia. And feeling that was unfair. So it fuelled a hate in myself in ways I never thought possible or could happen to me.  Realizing that I'm going to be in this place of "in-between" gender and existence where no one dares to love, I'll be in that place for the rest of my life. So it's a song that questions hetero/homo normative relationships and challenges the way we are taught to love and what is accepted.
FA' EMPEL
Tell me a bit about your eyewear brand, PAWAKA. 
PAWAKA is something I hold very dear and close to my heart. After a few trial and errors on previous labels, I finally got to a solid place and decided to start my new label here in Berlin after making the move here. The name itself was a name that was given to my grandfather as his secret code during World War II. He then survived the war and adopted it as his last name, so I am a third generation Pawaka. In Sanskrit this name means Fire. PAWAKA is a platform where I share my stories with you.
What's the best and worst thing about being an artist in Berlin?
Berlin is the perfect spot to dream, manifest, create and nurture your craft. There is an undeniable creative force that floats around the city, and so much space still for everything, and to me that translates to freedom.  The living quality is also really high; this somehow contributes a lot to my well being, and gives clarity for lots of inspiration. The bad part is the lack of motivation that I often experience. My motivation comes from sunlight, and I don't get much of it especially during the colder days. But this is a minor problem, and I am adapting, evolving whilst constantly trying to juggle my perspectives around this.
What should we all be paying more attention to at the moment? 
I think we all need to start paying more attention to ourselves, and try to go inside and really see through and challenge ourselves. What's happening in the world is a reflection of us as a human race, and at the moment the picture isn't pretty. Lots of self-reflections in order to heal, let's re-evaluate our values. Be less greedy and be nicer to each other. Letting go of ego and being happy is a full time project.
BERNARD JOLICOEUR-DUGRÉ
I love that you only wear a jockstrap and harness out dancing, but always in your own unique, elegant way. What about this type of fetishwear appeals to you?
It's hot, and sexy. I spend a lot of time fetish shopping to find matching accessories. To me, fetishwear is also about fashion. I want my outfits not only to inspire sex, but also to express who I am. I have a quite high sexual drive, but I also like looking beautiful. I'm a cute boy with a dirty mind. When I wear fetish accessories, I don't only want to look ready to jump in a sling. I also want to be pretty and somehow elegant. I want to catch people's attention. And what is better to catch attention than showing off your butt?
Sex is beautiful and full of love. Everyone deserves to fuck and get fucked.
People seem to be a lot more open minded when it comes to sex in Berlin. What's your experience like dating here?
I don't date. I'm single by choice and I plan to stay so. I could say that I am in an open relationship with myself. I am open to romances and to adventures, but I don't need anyone to take care of me. I love falling in love but seek no commitment. My experience of sex here is all about giving and sharing. Most of the people I meet are quite open and we all just want to have a good time and share those good times with everyone. Sex is beautiful and full of love. Everyone deserves to fuck and get fucked.
Aside from the obvious, what's the secret to having stamina when it comes to partying? 
Well, a proper session of sexual intercourses in a club always motivates me to keep on going, of course. But the real secret is being surrounded by friends that won't suck up your energies and will boost you up with love. I never want to stop partying when I'm having so much fun and laughs with the most important people in my life. 
GUILLAUME LA DARDENNE
Where did you grow up?
I grew up in a tiny village, in the southwest of France, surrounded by forest and fields. I was a country boy and learnt a lot from my grandparents and other elderly people around me. I now realize how my roots have helped me during my adulthood living in a big city.
Why do you think people are so much more open to experimenting sexually and creatively when they move to Berlin?
Before WWI, Berlin was already an artist and a gay hub, I guess there is somehow a tradition here to let you have your own space. There is still a lot of space to share here even if gentrification is bombarding us with the mainstream white hetero culture. There is still the will to fight this as an open-minded multi-culti group and once you arrive in this amazing city you get to choose if you care about protecting this safe zone or not. It's also sexually very free, there are a lot of sex-positive parties and the phobics are kindly asked to go back home and educated themselves. The party scene is a nice place to expand your consciousness but we need you to want it.
Tell me about micro-dosing. I know it's getting some positive attention and you've helped out a few friends through this practice.
Micro-dosing mushrooms or LSD means taking a sub-perceptual amount of the substance every two to three days and letting your mind access a wider awareness and deeper consciousness. I have used micro-dosing since last summer, having grown my own mushrooms with my partner and some friends. After reading a detailed scientific protocol we started the experience and got some amazing results. Four of our friends who tried this stopped anti-depressants within a few weeks. Another close friend of mine has found the strength to come out as a transgender boy, helped also by deep meditation and lots of self-questioning. This is what micro-dosing can bring to you, both a prism of different perspectives and a lightness to the thinking of your problems. 
ODE MILK
When did you move to Berlin and what prompted you to live here?
After I finished my studies in Sweden I decided to hitchhike around Europe to find my place in the world. The first stop was Berlin and after two days it was pretty clear I didn't need to look any further. It was just me letting the universe guide me to where I was suppose to be and it turned out just right. That was about four and a half years ago and my love affair with Berlin has been the longest and steadiest relationship of my life so far.
I really find it strange that a piece of fabric depending on how it's sewn can be seen as either for men or women.
You're the only female in the Real Housewives of Neukölln. It's so compelling watching you add your own flavor to this drag show. Tell me more about this.
Yes I am the only female but I don't feel any different from my fellow queens. I never identified as a woman, or what is maybe seen as typically female, so in Housewives I see myself not as a faux drag queen, but a non-binary performer playing around with gender and stereotypes, sometimes as a "man" dressed as a "woman", sometimes as a "woman" dressed as a "man", sometimes as both, sometimes as neither. I really find it strange that a piece of fabric depending on how it's sewn can be seen as either for men or women. I feel every human has a right to any kind of expression what ever it might be. 
You also make your own music. What do you like to sing about?
It usually evolves around feelings, relationships, heartbreak and those juicy emotional states that love, desire or infatuation can put us through which we all can relate to. There is something so intense in the power someone else holds over you when we give them your heart and the feelings those situations can force us to experience.  Through my songs, I would love to show the power of being confident in that vulnerability.
CATALIN JUGRAVU
What was your first time doing drag like?
It was terrible. I could barely stand in those 20cm heels, the wig had too much hair, the dress was made of linoleum so I could barely move, the place was small, no ventilation, and everybody kept smoking in my face, but it was also very full. I guess two years later, I am still doing it.  
I've also seen you dance and direct plays. What's the common thread throughout all your performances?
Most of the time, I address themes that are personal, which I encounter or struggle with in my daily life. Berlin is the ultimate platform of inspiration for me because it offers a very clear view of the dystopian characteristics of my generation. Fear, terror, disappointment, decadence, failed love stories but also acceptance, hedonism, endurance, and self-love are some of the themes I am currently looking into and integrating into my work.
Have you experienced a certain degree of sexual liberation since moving here?
Abso-fucking-lutely. There is this amazing layer of sexual liberation floating in the air of this city 24/7. Berlin has definitely changed my view on sex and sexuality, thus allowing me to widen my knowledge. And from there, my life and consequently my art. Sex is a very important component in my life as a young adult and I can only be happy that this city is so diverse in its practices. It keeps me inspired.