BFC One to Watch: Bianca Saunders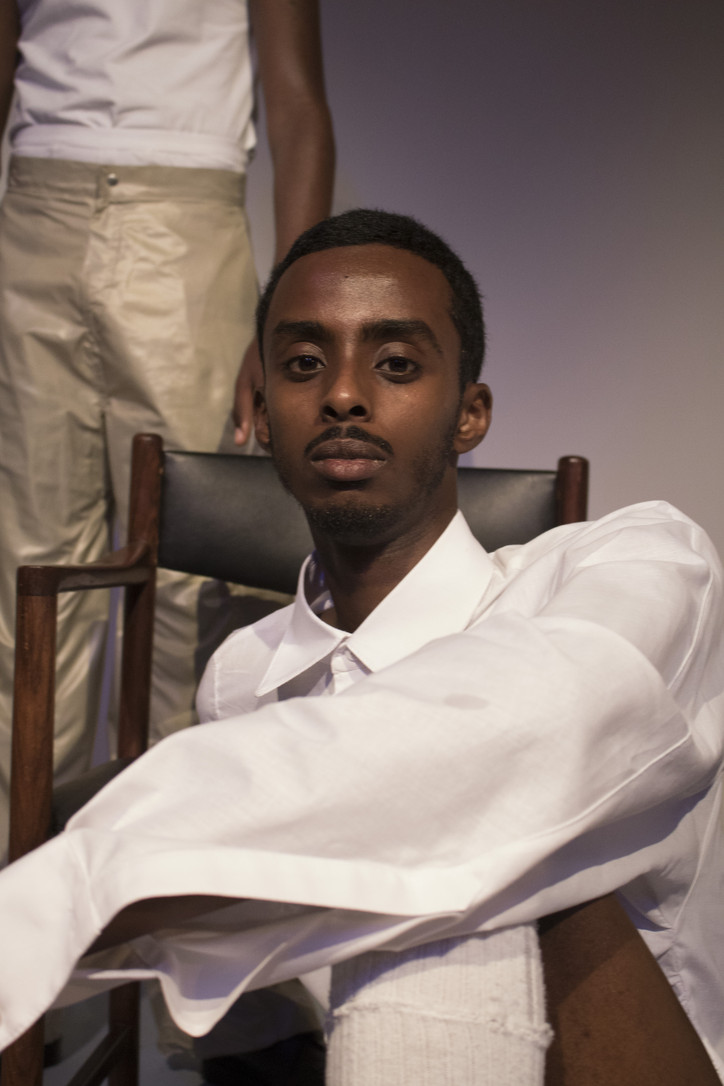 Let's go back to your first collection - London is the place for me - what was that collection about?
When I went to see Return of The Rudeboy exhibition, it really opened my mind. In my second year of my BA at Kingston University I was doing womenswear and a lot of my concepts were abstract, but I became interested in that exhibition because it related to my culture. I didn't think I was related to the fashion industry at all, more so I didn't think my culture was valuable enough to be brought up as a concept, or even to be a conversation. So I thought I needed to start utilising what was around me and from that exhibition I started interviewing my mother's cousins and go through old photographs. I just made a collection based on that, I was talking about the rudeboy style and I guess it was relevant to the time.
Why did you find yourself exploring masculinity, in what way is it related to you?
I'm doing menswear because I find it more as an escape way than womenswear, I find that I overthink less. With menswear I don't have to consider certain things as much, like body shapes. But then I like the idea that menswear has its own rules, in terms of tailoring, I found that really fascinating when it was new to me.
Personal Politics - Why is it called this way, whats the creative process around it?
During my MA I started exploring identities, male identities in particular. As most of my friends are black I started to explore their masculinity, since it's perceived a bit differently compared to different races, and more influenced by patriarchy, stereotypes of certain ways of living or proving yourself that you are 'that guy'. Personal Politics is focused on a certain type of black masculinity: I found that people perceived the black man to be either over-masculine or over-feminine, and I thought there was a type of guy that sat in between the two and wasn't really spoken to, and I think that a lot of guys of that type are my friends. I got my friend and stylist PC Williams to come and give me feedback, and she said to me 'why you ignoring your friends and the people around you?', so I thought about interviewing them and I choose five of them to focus on. Film became a very important thing for me because that's then that I found out how many people are uncomfortable with the conversation about masculinity. I spent a lot of time just going out and observing people. The interview with Urbain really inspired me, whenever I saw him out he always used to wear masks attached to his face, and I found that really fascinating.
You're a multidisciplinary artist - where do you get the most inspiration from?
Sometimes I draw inspiration from everything. At the moment, I am really influenced by artworks and photographs by artist Lorna Simpson, especially by her Guarded Conditions photo-series. What I'm more interested in is the research part - I like to mix up things that I am doing, between poetry, film, photography and arts, so it's good for me to support my creative process with different disciplines.
You showed at Pitti in January - how did you find that different from London? And how do you think London is different to other fashion capitals in terms of supporting young talents?
Obviously Pitti is a trade show, so people really look for quality and consider how clothes are made. It was really different, as Pitti is all about menswear and tailoring. With London theres more of a variation, but in Pitti the street style is crazy and very fascinating. For what concerns young talents, I think London is just known for being a busy, creative city, it's got a lot of fashion schools that are well known for producing amazing designers so it makes sense how it draws international attention to the first steps of new designers.
Gestures— SS19 collection, what is it about?
Gestures is more focused on a certain part of the previous collection that I just wanted to develop further. It's inspired by the body language, gestures and mannerism presented in my research films, and by Paul Maheke's Unwritten Hand Book performance, that reflects on the movement and awkwardness of being in your own clothes. I'm really excited to show it at LFW Men's: Gestures include things that I want to wear and I can see guys wearing. I would say I'm trying to dress a character I have in my head, that represents all my friends I spoke to to inform myself about masculinity.
How are these gestures going to be translated into actual clothes?
A lot of it is about the fabrics I choose to use. I'm using a fabric that's quite elasticated, so it creases very easily. I like to think the creasing represents an idea of being sexy but also shy. It's all about creating a feeling of intimacy: tops are quite tight on the chest but then they loosen up. It's about being comfortable in your own space, and the gestures of how you're feeling in that space, and revealing a bit of yourself. Comparing to my last collection, where I had a lot of pieces you could change, this has got less movement, and I want it to stay how I present it. I've kept most of the fabrics similar, so I still use nylon and jersey. That's the way I relate it to my characters around me.
How has your concept of masculinity evolved?
Well the starting point was 'Ok, Im a woman and I'm speaking about masculinity, what do I know about it?'. I thought It would be a bit typical at the beginning, but also I feel like I have a sense of empathy to not extort people and how they feel, because sometimes it can become that. And I guess that's why I got quite a few people involved in the process, to understand different perspectives. Theres a few other female designers doing menswear and reflecting on black masculinity at the moment.
How do you think masculinity relates to women of colour?
I think we all have very different approaches to fashion and masculinity in general. Mowalola's work is all about her culture, Grace Wales Bonner's is more historical, and I feel mine is more London and very much about the people around me. But I think it makes sense for us to reflect on black masculinities because the closest person to a black man is the black woman.