Bloodmoney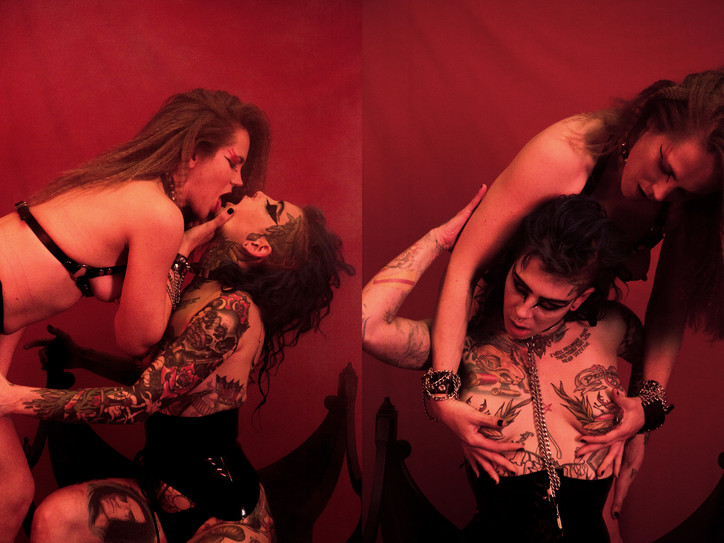 'Bloodmoney' at Lucas Lucas is a fascinating cross-section of art and sex work — and the "interactive openings" are sure to be a delightful mindfuck. office had the choice privilege of chatting with Mistress Sybil and Mistress Niko, two of the Dominatrixes in charge of tonight's performance piece.
How did this show come together?
It started with the vision of an art show that did sex work. There are so many parallels between being a sex worker and an artist. You sell intimate parts of yourself for money — your experience, your style, the fantasy of you. As Pro-Dommes and artists, we wanted to merge these worlds. We knew the only way to do it was to make a show that was as intimate as possible. We wanted the audience to feel it in their bodies, and the plunge them into the intersection of money, sex, and power. 
Another goal was to shatter the idea that all sex work is either inherently exploitative or inherently empowering. There are so many reductive narratives about sex work that don't capture its nuance, and we thought it would be interesting to communicate that nuance vis-a-vis the sometimes weird, sometimes intimate, always complicated interactions sex workers have with our clients. By implicating the viewers in these exchanges, we could challenge their preconceived notions of what sex work was. When the show was still a pipe dream, the only thing we knew was that it would have real clients and real sex workers, and make real sex work happen. That was the starting vision. Once our good friend and artist Caroline Caldwell joined our team as a co-curator, the show gained legs of its own. There are so many creative, badass sex workers who have helped us turn this vision into a reality. We're so blessed to be part of a community like this.
It's interesting to call sex workers a "marginalized community," since it's part of its allure that it is by definition on the margins of society.  How do we change this and what is the end goal?
Niko and I are both pretty new to sex work and we are both coming at it from a position of privilege. We can't represent the broader sex worker community, although we are extremely proud to be members of it. This show is represents the perspectives of a few sex workers, and although it is political to the extent that all our actions are political, Blood Money is not on a political mission. 
Yes, sex workers are marginalized and stigmatized. This is a real danger. Not only is our labor not protected, but doing it is actively criminalized. We're also subject to censorship from social media, financial institutions, payment processors, and other internet platforms, thanks to the recent FOSTA/SESTA bill passing into law. It's black and brown folks, trans folks, and street workers or survival sex workers who bear the brunt of the violence, police brutality, and stigma, and it puts their lives in danger.
As to your political questions, we would like to direct you to some of the industry's leading activists who've been working towards exactly that. Akynos, the founder of Black Sex Workers Collective, Ceyenne Doroshaw, founder of GLITS, Lysistrata, and Support Ho(s)e are among a network of leaders and groups fighting whorephobia and criminalization on all fronts. Some of their strategies include changing the broader narratives of sex work, establishing informal financial and social networks, and electing candidates running on a pro-sex worker platforms.
Tell me about the art, and also "interactive opening."
What's so exciting to us about the show is that the majority of the pieces are about the work of sex work — the relationships between hoes, the physical and emotional costs of performing intimate work, the gendered personas we don for our clients. It's a creative job. It takes imagination, cleverness, emotional depth — it is an art, and many of the artists we're showing speak to that.
The interactive opening is performance art in the same way that sex work is a performance art. Real clients and subs will be serving as furniture, mounting the art work on their bodies. Just the act of viewing the art implicates attendees in a relationship with our clients, who desire to serve us, and to be used by you. Is the submissive a tool through which viewers see the art, or is the viewer a tool for the submissive's desire? Oops, did we turn you into a sex worker?
How do you feel about Craigslist shutting down its personals section?
This question is directed towards the effect of a bigger problem, which is what we'll address. Craigslist personals (along with Backpage, FetLife pro-domme boards, Reddit sex worker forums, and other online platforms) shut down earlier this year in response to FOSTA/SESTA. FOSTA/SESTA is a bill whose only purpose is to further criminalize and endanger sex workers; primarily queer, trans, sex workers of color, and street and/or survival sex workers. We see through its purported purpose to support sex trafficking victims, since not only does the bill further endanger those victims by preventing community organizations from accessing those people, but the Trump administration has since updated USCIS policy to directly target victims of human trafficking by chilling potential trafficking visa (or T-visa) applicants. Accordingly, we are engaged in fighting FOSTA/SESTA and are  pushing for policies like decriminalization, police reform, immigration reform, and anti-censorship measures that would protect all sex workers, victims of trafficking and voluntary sex workers alike.
'Bloodmoney' will be on view through August 19th. Interactive openings are tonight, August 10th, from 7-10 pm and tomorrow, August 11th, from 5-8 pm at Lucas Lucas, 57 Conselyea Street, Brooklyn.