Brooke Candy: Bound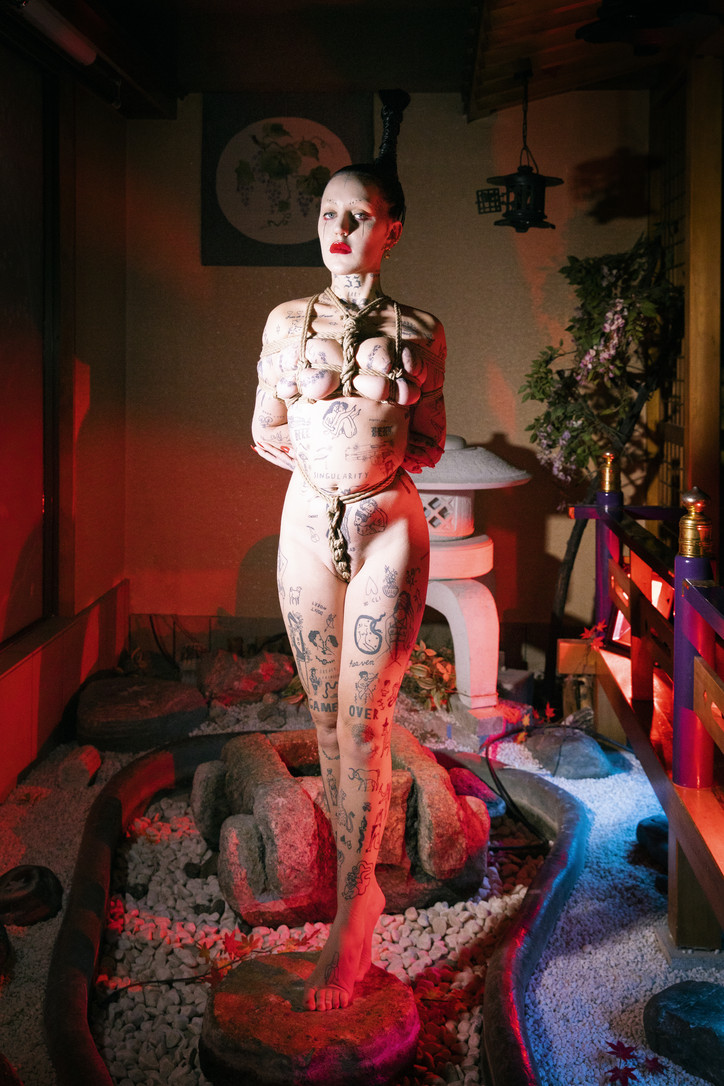 Having practiced the ancient art for over 20 years, Kinoko views Shibari, and bondage, in general, as something far different than a sex act. For him, it's an art, and a means of empowering his subject, rejecting the typical slave/master, dominant/submissive relationship you usually find in BDSM.
"Many people have master and slave relationships in Kinbaku," Kinoko told office when he spoke to us after his performance a the Museum of Sex last year, "but in my case, the model and I have an equal relationship, or if anything, I am the inferior—the woman is the main subject, and I am just a supporting role. [...] I do Shibari because I like to make women feel beautiful in that form."
Taking a few minutes away from filming another forthcoming music video, Brooke told us about her experience with Kinoko and what it's like to lend one's body to the art form.
Read our interview and see photos from Brooke's Shibari session, below. You can also watch the 15-minute documentary about Brooke's experience, here.
 
Did you have an interest in Shibari before you met with Hajime? How did you get in touch with him?
Yes, I did. I've always had an affinity for pain and things that seem impossible, and to me, Shibari, and certain shapes, and ways of being tied up, feel that way. I love to push my mind and body to the limit and Shibari is perfect for that.
I got in touch with Kinoko through Yulia [Shur], who shot these photos—she said he was the best in Japan, if not one of the best in the world!
Tell me about the experience of giving yourself over to Shibari.
It's a bit dissociative. It's painful, but also in a weird way, arousing. It's like you're becoming completely submissive while at the same time you feel so powerful, because you're choosing to endure an enormous amount of pain. I'm finding I'm addicted. I'm trying to weave it into every music video and every photoshoot—just everything I do.
Shibari began as the martial art of restraining captives. Did you feel trapped, liberated, or something in between?
 
I feel liberated and powerful while bound—definitely liberated and powerful.  
How did your mind and body feel after the experience?
A bit high—at ease, like my mind was clear and relaxed.
Would you recommend the experience to others?
Yeah, actually I would. I mean, I'm a sucker for pain, so I like things to be really extreme, but I think there are more simple forms of Shibari that everyone can enjoy.
Could you ever see yourself becoming a rigger?
No. I love the submissive element, that's I guess where I feel most powerful or sexual. So, rigging or doing the opposite would make me feel less high and horny.