BRUJAS In Conversation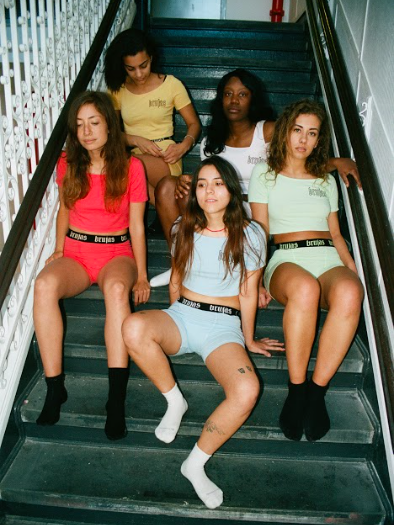 So to catch us up, what issue does Bring Down The Walls respond to?
The reliance on incarceration for social order under capitalism.
Creative Time is an awesome non-profit, how did they approach Brujas to be a part of this?
So we have a reputation of being an anti-carceral organization because of our project called 1971 which was our first successful collection, where all the proceeds after costs went to materially support prisoners and people facing criminalization in New York state. Creative Time approached us through our good friends at Mask Magazine, an anarchist lifestyle magazine based in Brooklyn. We began talking with Creative Time about our collection coming out named "SEIZE BELLEVUE" which is about the carceral nature of psychiatric care. The idea behind the line came from a conversation between BRUJAS as a group about addressing the three main institutions/structures of domination in society: the school, the prison and the asylum which later became ... the clinic or psychiatric facility. So that is what is really linking us to this concept of "bringing down the walls". SEIZE BELLEVUE brings a unique perspective to this Creative Time project because it asserts that mental health crisis system is apart of the cycle of incarceration, is a form of incarceration. So we actually have an extremely special timing with this collection coming out, it's basically the exact same time as our project with Creative Time.
You note that the emergence of house music coincides with rising rates of incarceration? 
House Music is a Black art form. I would say that the origins of house music are Black. It comes from blues which is about slavery and incarceration and it's an extension of the blues. I've always understood the way blues has extended itself into every Black American art form and I think it's just super evident.
What role does music play in freeing people?
I mean it's hard to say. When you're in jail (well prisons that I've visited or what I know of jail) you have your headset, your radio. Even in hospitals, the lack of physical sharing and sound in incarceration is very much intentional because it's something that allows you to emote in ways that words can't. I mean it combines words and lyrics and such. But I don't know it's such a hard question. Music is like everything. Donny Hathaway has that song "Everything is Everything" You know that song? Yea, music is literally everything when it comes to people's ability to communicate emotionally.
You're working with Creative Time, Phil Collins, Prison-to-College Pipeline (P2CP) What is the importance of partnering in dealing with such pressing issues as mass incarceration?
Yea so building coalitions is the political tactic that we employ. So obviously if our tactic is coalition, working with other groups who maybe don't have the exact same tactic but similar ideas about what a better humanity looks like, is really important to do. We have a bail fund and take a very strong stance against mass incarceration but our particular involvement in this is to contribute to the conversation by expanding our understanding of incarceration: it's not just in prison. You know also understand how it exists within schools, how it exists in hospitals and these institutional surveillance structures. That's exactly why it's important to participate in conversations with other groups because our contribution to the conversation in this particular moment is about people not understanding incarceration. We have used the term "open-air prison" before. We can't just look at prison as the only place where bodies are controlled and their liberties are being taken away and injustices are being served and like racism is alive and slavery is alive. There's the same kind of ideology present in so many institutions that are by-products of a cultural state. The internet and like social media, like data mining, seems to be arising as one of the stronger institutions of discipline and surveillance. And I would argue that were gearing towards the internet as a carceral apparatus as well. Which is why it's so important for us to create those relationships with press outlets like office and pair with organizations like Creative Time because we want in real space, communication on ideology. We don't want to just blog stuff on instagram, or make a caption on Tumblr. This is all about creating a realtime space for expressing these ideas, so it's all very very connected and intentional on our end.
What do you want people to take away from this?
I want them to support BRUJAS as a design house AND a political organization. I want them to buy BRUJAS. I think that we are some of the most hard working designers In New York City right now and we just don't get the same kind of material support that brands like Urban Outfitters receive, who steal our ideas and aesthetic for their corporate benefit. So it's just a real time and space issue. We're all New York City kids, predominantly of color and queer, under 26 years old in complete control of the influence that we have on other major brands, just be representing our own ideas! I also want them to take away a new idea about mental health. Like I said SEIZE BELLEVUE is about psych self-determination for marginalized people: black and brown kids, queer and gender nonconforming kids, and kids from New York City. Our project calls for compassion for those who suffer from mental illness. And that is such a huge part of our cultural ideological fabric: how people are crazy or how people don't fit in and THEY lock US up. That's the same ideology the people in prison face.
Is there anything else you want to say about Brujas or the event?
BRUJAS brings our best work to the table with SEIZE BELLEVUE. It may be the first time that you will be able to really digest what we've created in person because you can see and touch the products: our handmade garments. It's gonna be such an amazing experience for everyone who attends, to actually be able to live and breathe the work that we have been producing over the last six months. Performance art, original handheld costumes, a 360 degree virtual reality video. You know how streetwear brands always drop a collection every spring and summer, well this isn't just a collection: its performance art, its critical and analytical thinking, its fashion. It's the most exciting thing we've ever worked on.
Located at Firehouse, Engine Company 31, a historic, decommissioned fire station in Lower Manhattan, Bring Down The Walls will be free and open to the public each Saturday in May.