City Girls Rule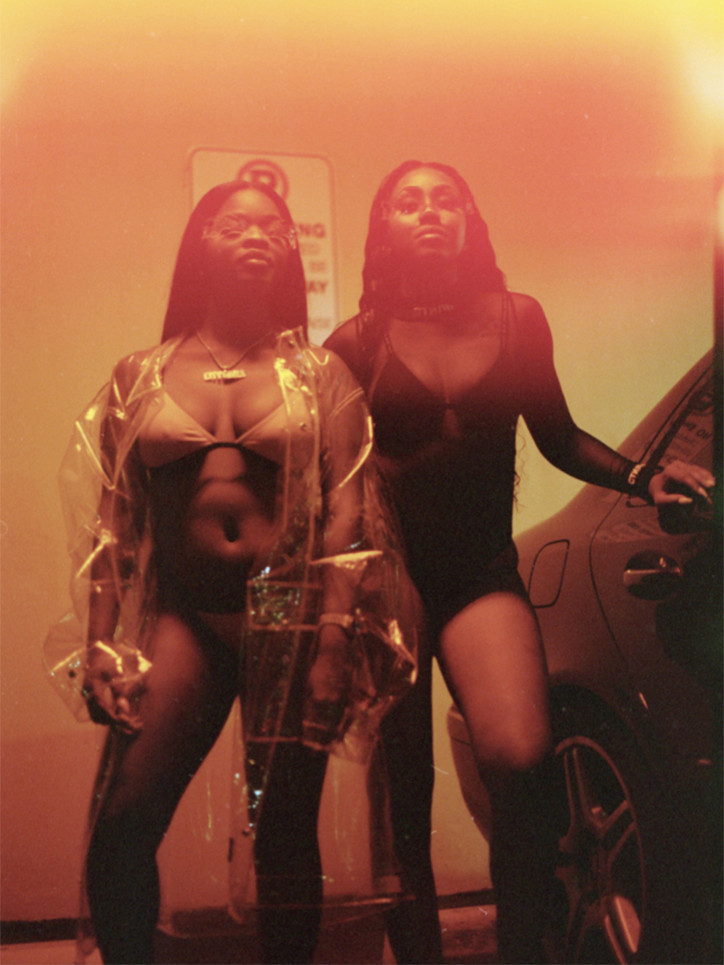 Full look by Heron Preston, sunglasses by Planet i
In interviews, J.T. and Yung Miami (real name Caresha) punctuate declarative statements with a spoken "PERIOD," a tagline the girls say has naturally become part of their personal vernacular. Period also happens to be the name of City Girls' debut album, a fitting title for the assertive collection of outspoken statement songs. On the high-octane title track, the girls introduce themselves over an infectious drumline—"City girls from 305 / Ghetto booty, pretty face, thick thighs / Period!" Album standout "Millionaire Dick," on the other hand, is a ticking, percussive advice column advocating that you seek out 14 carat cunnilingus, and settle for nothing less. "Ain't no dick like millionaire dick / y'all bitches just scared, ain't tryna get rich." 
"Period" is not an intentional allusion to menstrual cycles—the girls aren't really the type to actively encode deeper feminist messages into their work—but it almost is. Whereas recent sex-positive female rappers like Cupcakke make an overt effort to assert their sexuality by miming deep-throating on stage or moaning through hooks, for example, City Girls are more nonchalant, as if spitting about spitting on the dick is the most natural thing to do. Duh.
J.T. and Yung Miami fully embody the spirit of their Florida hometown, but their ambitions target a vastly wider reach, which, judging by the assuredness with which they describe their plans to me, is well within their grasp. In a post-Khia world where females rapping about sex isn't so shocking anymore, City Girls sit snugly at the point where filthy flow and saccharine marketability meet.
It's exciting to watch City Girls gun for the throne, but on J.T. and Yung Miami's terms, they're already sitting pretty.
What do you think about the current state of female rap? There are so many female rappers right now—all of the "Dolls" and more.
JT—I don't know. Everybody has their own sound, honestly. I don't really think of people at all like that. I like them, but I don't think about it that much.
How are City Girls contributing something new to female rap? Why is your work important?
JT—I'm guessing it's because we're a group, and we have different types of beats. And we're from Miami. We're bolder than most, I would say. We just unapologetically talk.
What is the process like in the studio? Do you toss ideas back and forth? Come in with an idea beforehand? How does that dynamic work?
JT—It's more so I do my part, Yung Miami does her part.
Yung Miami—I'd say it's more of a back-and-forth thing. We go back-and-forth a lot. We probably have a topic before going into the studio, an idea of what we want to talk about. And then we go back-and-forth. 
What song from Period would you say goes over best with crowds? 
YM—"Tighten Up," "I'll Take Your Man," "Where Da Bag At." All the songs, really. The crowd reacts good to the whole mixtape. The other night we performed "Not Ya Main," and the crowd went crazy. Honestly the whole mixtape. 
What's your favorite song to perform? 
YM—"I'll Take Your Man."
Tell me what it's like being on Quality Control. How did that happen, and how have the past few months been? You guys seemed to have blown up only within the past six months or so. 
YM—Our manager knew Coach K, and he had reached out to us wanting to meet with us. Then we met with Coach in Miami at this studio called Circle House. He was just telling us that he had been watching what we were doing, that he loved us and loved our energy, he loved what we rapped about, he loved that we come from the hood, he loved our personality. And then he wanted to sign us. We started off in August, and then in November they signed us. We got signed on November 30. 
I would say being on Quality Control is, like, fun. We love the Migos, we love Lil Yachty, we love Lil Baby. Every time we see them, they talk to us and give us advice. We can call Lil Baby, and he'll help out in the studio with any issues. It's fun. 
So it's more like a family thing. 
Yeah, it's definitely a family thing. They're our brothers. 
Do you have any thoughts on the recent death of XXXTentacion? It's definitely controversial, but he was still a huge up-and-coming force in rap nonetheless. 
YM—I find it sad being that he was from South Florida and he got shot. He wanted everybody to be on the map, he was doing charity events and doing positive stuff. He wanted everybody to be peaceful. He was like Tupac in a way. So for him to get killed, it was just sad. He was 20 years old. It made me feel more conscious of my surroundings, and it just made me want to move differently, being an upcoming artist. People on the outside think you're so famous and that you got all this money, and they're so envious that they want to take it from you. 
There's a huge discussion about his past and his abusive relationship with his girlfriend. It brings up this argument of, can you separate the artist from the music? 
YM—We don't know what they went through in their personal life or their relationship, and it has nothing to do with his music. If I had a boyfriend and I was getting abused, you know, my relationship doesn't have anything to do with my music. That's something that the media will use to take away from his talent. I personally don't feel like his relationship with his girlfriend should affect his music or his legacy. Everybody has a past, and everybody has been through stuff, but that doesn't take away from the fact that he was a great artist. 
Do you think that you fit within the Miami music scene, or is what you're doing bigger than that? 
YM—I think it's both. We definitely have a Miami sound, the way we talk is very Miami. The things we rap about, people compare it to Trina, but we're trying to go bigger than that, not just go with the "Miami sound." It's more of both. 
Recently there's been an influx of Soundcloud rappers making it big. It feels like every week there's a new Soundcloud rapper with a Billboard hit. Do you think it's easier for male up-and-coming rappers to "make it" than it is for young female rappers?
YM—Mmm, I don't know. I really don't know. 
JT—Yes, I do. Of course. Boys kind of got it easier with music. Girls lately have been doing really good, but it's still male-dominated. We do good, but we're also surrounded by powerful men, you know? It's hard to be a female rapper coming up on your own nowadays. Boys will blow up with one song, and you'll hear about them all over the place. And for girls, it's harder to get support from girls. Girls are more competitive than boys. 
Boys support us. Girls think boys are cute, so they down for them, and so boys have boy and girl fans. We got girl fans, too, but I'm just saying, like.. you know? 
In the making of this mixtape, were you guys inspired by any music people would be surprised that you were inspired by? Do you listen to any pop stars?
JT—I listen to a lot of different music, but on PERIOD, I always went for the "Miami sound" and it ended up being all over the place. I wanted to stay sounding like Miami, you know, but still universal—everybody can listen to it. Not so much Miami local, but hyper, fun, stuff like that. 
What's next for City Girls? Are you releasing anything in the last quarter of 2018? 
JT—Yes, we are actually working on our new mixtape right now. We're doing a lot of new stuff. We're doing a video right now, we're getting ready to shoot the "One of Them Nights" video. So we're just shooting videos, putting together a project. We have a lot of songs that didn't make PERIOD that will probably roll over onto this new mixtape, and we've been recording a lot of new music as well. 
Is there anything you can say about the new mixtape? 
JT—The new mixtape is still fun, it's still us. People like what we're doing, so we don't really wanna change it too much so we can please the people. You know? It's the same thing. Relatable.
#FreeJT