CommuneEAST x Selfridges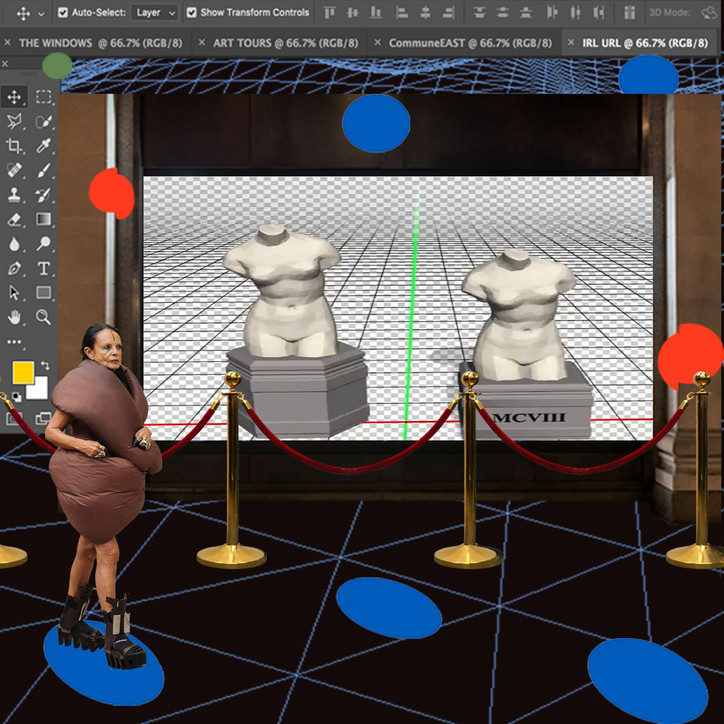 Guiding visitors around the Selfridges' iconic windows, each tour leader will be joined by an art world expert, such as director of the Whitechapel Gallery Iwona Blazwick. Together they will discuss the displays and how these engage with wider cultural questions around public art. The tours themselves will function as an ironic take on the "private view" gallery scenario, with guests being invited to drink champagne, eat canapés and contemplate the artworks, whilst essentially standing in the middle of the street. Red ropes are employed for pomp and status, and 'in resident' artists Sola Olulode, Dominic Myatt, Shadi Al-Atallah will be on hand creating portraits of the scene whilst the tour is in action.
"It's the idea of a private view in a public space," details Elliott, who will be acting 'curator' to guide proceedings. "So we have a rail, we have these art handlers, we have champagne, and we talk about all these different nuances that are involved in a private view; the exclusivity, the nepotism. We bring into play all these individuals that have an extraordinary role in London, specifically around public art." As such, the tours function as a performance piece, with the audience members also becoming part of a work of public art.
As for the windows themselves, Selfridges continue their longstanding patronage of the arts with new displays by major artists such as Yayoi Kusama, Chantal Joffe and Turner prize winner Richard Wright. Each of the artists has also been commissioned to create work for London's new Crossrail stations, which will be unveiled later this year. A major public development, the Crossrail will be a new network spanning the city, further facilitating movement and accessibility across London.
Fusing themes of public vs. private, IRL vs. URL, commercial vs. creative, the aim of the tours is to incite discussion about what public art means in the context of today. "We got individuals that not only had different opinions on public art, but also had different opinions of public and private landscapes of the internet and real life, so public and private in that way," says Elliott.
"Selfridges were really interested in not just having the Crossrail artists there, but how they could bring it into the public realm and talk about the experience and role of public art. What that means to cultural community; what that means to London."
Learn more about the CommuneEAST x Selfridges tours here.
Photos courtesy of CommuneEAST.