Danielle Cathari at NYFW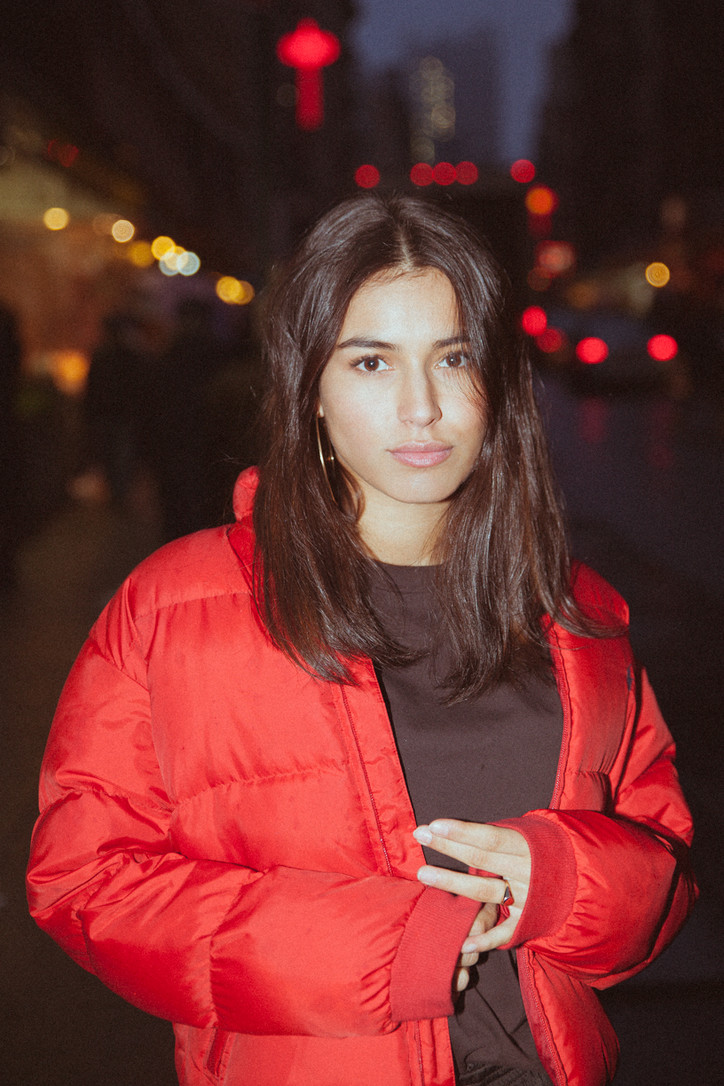 Is this your graduate collection?
No, I haven't graduated yet. This is my third year collection, and I did it through the Honors Program at my school. It's a program at AMFI where top students are selected to follow the program through summer break where we have to develop our signature style. I was selected for that, and this is the outcome.
Did you have to make a whole collection for VFILES? How many looks?
I only had three outfits for this concept, but for VFILES I had to add extra looks to create a collection. They show around 12, so I had to add eight more looks. Yesterday night I was still working on the outfits. I still need to do some hand sewing tonight after dinner!
What was your inspiration?
For this collection, it was to find a balance between the rational and the emotional, which is also very personal. This is also a balance between perfection and imperfection. Being rational is about achieving perfection and being emotional is all about embracing imperfection. With my collection I wanted to give something for your mind to think about, by combining different elements that at first sight don't make sense rationally but feel right emotionally. The wool coats on top and the materials used are contrasting, so that's also part of my inspiration.
Where did this idea come from to deconstruct Adidas tracksuits and make it into something new?
Actually at first I just wanted to make a collection of tracksuits. I couldn't find the fabric of the Adidas tracksuits anywhere! The other options, which were similar, were too heavy, or too thin, and it didn't have the Adidas shiny finish. So I'm like, why not get some adidas vintage tracksuits, tear them apart, and do new outfits? And that's what I did. Collecting the right colors was harder than making them. I had to find several of the same color, since most are monochrome looks. It was especially hard to find the orange vintage Adidas pieces. 
Is there a specific moment in your life when you decided to do Design and Art?
At first, in high school, I really just wanted to make nice clothes for myself and thats how I started. I learned to sew from my mom and from YouTube videos, and later I realized that fashion is the best way to express myself.
You also do photography? How did you get into it?
I do that with my boyfriend as a duo. Mostly, we do editorials for other students at our school. It's a fun hobby.
Was it photography or design that caught your attention first?
Both came along at the same time. They're very closely tied together—fashion design and photography. If I have a vision for a collection, it's a whole mood. I'm always thinking about the look-book, the location, and the styling.
Do you work well together as a couple?
We have the same thoughts and aesthetic. We do have two cameras and we do mostly digital. It works well, we edit together. We do shoot at the same time, but it works because we can also direct as a duo. Its good that we have two cameras because I can be in the background, getting more dynamic and natural shots and we have more options when editing.
Who would you like to see wearing your designs?
I don't know about who exactly, but I do know that I'd like to see both sexes in my clothes. I always like to have both women and men in my collections. I design womenswear, but my inspiration comes solely from menswear. I do have some unisex pieces in the collection, and my clothes can be worn by everyone, even the skirts!
What are your plans after graduating? Are you staying in Amsterdam?
I'm starting an internship next week in London at Marques Almeida so I'm moving there for five months. It's part of my school course. My boyfriend is coming with me and he will work on the side. We do a lot together! And after I'm done with school, I have no idea. Let's see what comes my way, a lot can change in a year.
Do you have any expectations for the show? How have you been feeling about it ?
This will be my very first big show ever, and it's also New York Fashion Week! I do expect a lot, but I also don't know what to expect. I have no idea! [laughs].
How did you feel when you found out you were selected?
I was like, "Me??? I'm just a student!" They had a live stream. I got a Skype call and then they announced me. They were like, you're one of the three chosen designers! I was so overwhelmed. And then I got happy. I feel so blessed to have this opportunity.
You're just a student and you were selected! The other two are established designers.
I feel really honored! I didn't tell my school because I like to do my own things on the side. It's good to collaborate and do your own thing. I think that's really important. School is very important and I do want to finish, but I also want to work on myself and my portfolio and take chances like this one with V FILES. I could also have said no because I do have school, but I really wanted to branch out and be a bit out of my comfort zone and do this.