Digging Into Marilyn Minter's First Retrospective, Pretty/Dirty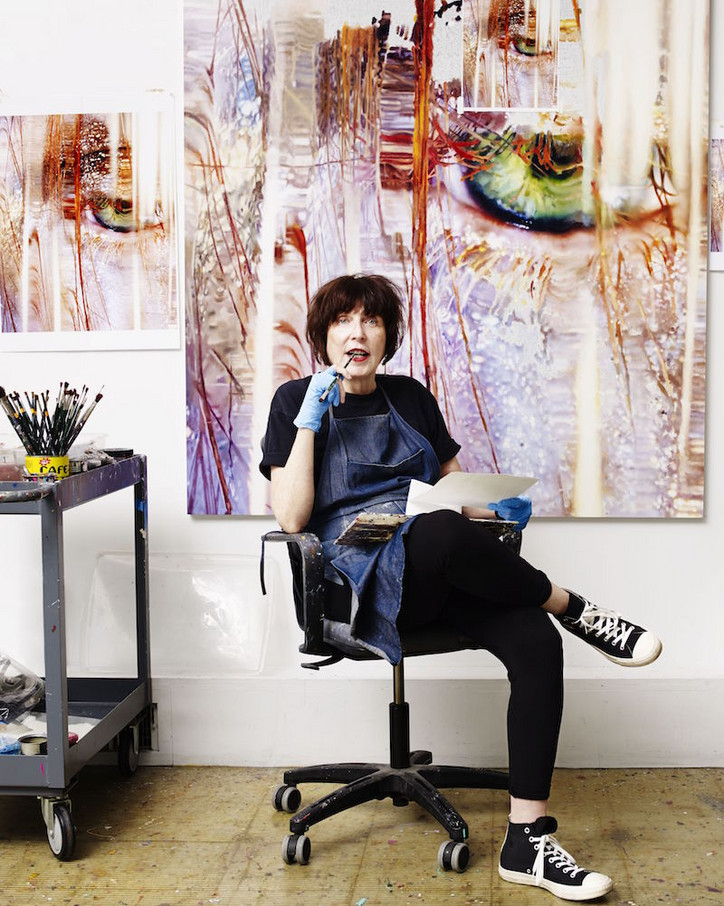 Minter's retrospective comes at a time that's almost too perfect; it's part of A Year of Yes: Reimagining Feminism at the Brooklyn Museum, and the official opening comes four days before we vote in an election more focused on gender politics than any that have come before. And of course, Minter has always been focused on gender politics, on subtle misogyny, on the joys and horrors of desire. The exhibition tracks her years of grappling with portrayals of feminine beauty and sexuality, beginning with portraits of her mother, an addict, and concluding with her most recent body of work, which coincides with yet another Minter exhibition at Salon 94.
The work, which yes, is both "pretty" and "dirty" in every iteration of both of those words, tends to zero in on the parts of women that society would rather toss out—consider Minter's images of purposefully unwaxed pubic hair, all of which are stylized as decandently as an Italian Vogue editorial. The artist also described her mother as "a Southern belle who refused to be thrown away," and works like "Blue Poles" and "Dirty Heel" purposefully glamorize imperfections—a pimple, an unwashed foot—that most would Photoshop out (Minter does use Photoshop in her work, but for artistic purposes rather than airbrushing ones; she calls the program "manna from heaven"). She reminded us to check for the chipped toenail polish in her video "Smash." It is beautiful.
Here I was, going to an abortion clinic defense. And I'm a traitor to feminism?
None of Minter's work embodies the Pretty/Dirty idea more than her infamous "Porn Grids," which inspired an outcry from mainstream feminists and scandalized reviews when she first showed them in the early '90s. She was inspired by Mike Kelley's 1990 show at Metro Pictures, in which he played with the iconography of an adolescent girl's bedroom—Minter thought that she could similarly mine the imagery of something that wasn't meant for her, and thus change its meaning. It's a concept that certainly translates in 2016, but not one that went over well during the height of the Culture Wars. "Here I was, going to an abortion clinic defense," said Minter. "And I'm a traitor to feminism?"
"Pornography and the fashion industry are engines of the culture," she declared a few minutes later. "So why don't we, as artists, examine them?"
Today, of course, things are far different. "The millennials don't even know why I got any pushback at all," Minter told me. "You guys saw porn by the time you were eight years old." Fair enough. "I think [millennials] are the most tolerant of any age group," she continued. "I think I made my work for them, and the art world was just catching up."
It was kind of pleasant to hear the word "millennial" used in a positive way as opposed to how people usually say it: as a synonym for "trash." But I do wonder how Minter would be received if she were an up-and-comer today. She'd probably get a load of press. While the artist maintained that she thought her career was over after the horrified "Porn Grids" reception, raised eyebrows from the establishment usually lend credence to the rise of a new star. Imagine what would have happened if a lesser-known Minter's pubic hair photos were reported on Instagram. 
Text by Jocelyn Silver
Image credits, from top: Marilyn Minter in her studio, 2015, photo by Nadya Wasylko. All other images by Marilyn Minter: Coral Ridge Towers (Mom Making Up), 1969. Gelatin silver print, sheet 16 x 20 in. Blue Poles, 2007. Enamel on metal, 60 x 72 in. Rouge Baiser, 1994. Enamel on metal, 48 x 48 in. Still from Smash, 2014. HD digital video, 7 min., 55 sec. All images courtesy of the Brooklyn Museum.