Disco Baby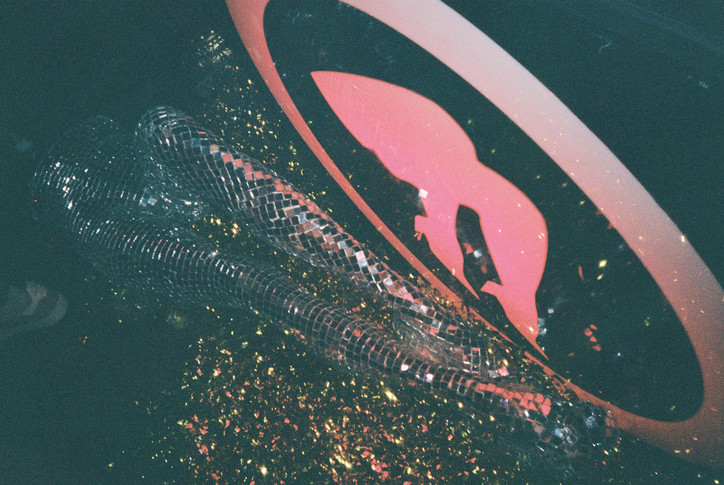 office chatted with co-creator and resident DJ Loren aka GODDOLLARS to find out just what Coachella-goers can expect this year and how the dynamic duo has managed to make their legendary mark on LA nightlife.
Who is GODDOLLAR and what is A Club Called Rhonda?
GODDOLLAR is me. I am the co-founder of A Club Called Rhonda, which I started a very long time ago with a friend of mine, The Gregory Alexander. Together we've actualized what would we describe as a pansexual party platform that exists for the exaltation of faithful dance music and for the progression of self-expression.
How and when did the parties start?
Gregory and I had been living in a loft downtown at the baby stages of downtown's gentrification, so we were still able to do some crazy things down there. We had a unit that was basically on top of a rooftop so we'd have these parties where we would fill the entire space with a bunch of people dancing. That got us evicted from that building, unfortunately, but we caught the bug and we knew that this is what we wanted to do. Eventually, we found a venue in east Hollywood called Guadalinda. It was like a dilapidated Guatemalan disco-tech of ill repute. It looked like a drug dealers den from like the 80s. It had checkered floors and fake Grecian statues and we went in there and started doing our thing.  We were trying to bring the concept of bridging various communities that wouldn't normally party together to life. Gregory is part of the gay community and I'm straight, and we're best friends, but we found that our separate friends weren't interested in partying together - we wanted to create a place where everybody could hang out. We certainly weren't the first people to do that but it definitely resonated at the time and it still resonates today. So after the first event, it was something that we could obviously see was very special because it just seemed to have clicked right away, people seemed to get it right away, and we haven't stopped since.
Who is Rhonda? Is it a person, a personality?
We always consider Rhonda as this prototypical, mythical party person who exemplifies all of the best qualities of who Gregory and I want to be. Rhonda is the ultimate example of an epicurean kind of party diva who would be accepted and honored at any party throughout history, from ancient Greece to now. We created the kind of person that we wanted at our parties, and from there it became a really fun creative outlet for us. It became less about us and more about her.
Rhonda is the ultimate example of an epicurean kind of party diva who would be accepted and honored at any party throughout history, from ancient Greece to now.
Are the parties still as good as they were when they first started all those years ago? Do you have just as much fun?
I have so much fun! I think I'm having even more fun now. It's gone through so many phases. It's hard to keep riding this crazy pony ride, but we stuck with it. The party went through a lot of different, subtle changes, and a lot of people that came at first aren't the same people that come now. We may have been through everything and have made every possible mistake along the way, but we've managed to find our groove while maintaining our original ethos, which is sustainable magic. I'm very happy that we're still able practice what we've been all about from the very beginning.
How did your parties become so big in the LGBTQ community?
The queer community in LA is such a beautiful thing and that's where we come from. There's such a robust queer nightlife scene and we're just honored to be a part of it. It seems that we're not gay enough to be a gay club and not straight enough to be a straight club, we're somewhere in between. We're also a place where people that might not know who they are yet to become - we're apart of people discovering their identity, whatever that identity might be. So us being able to be a platform for that kind of self-discovery and self-expression is kind of what distinguishes us from the rest within the diverse and colorful landscape of queer clubbing in LA. 
For someone who has never heard of or been to one of your parties, how would you describe them?
I would describe it as beautiful, controlled chaos where you should never be afraid to be who you are or afraid of who anybody else is, and you should always expect to meet beautiful people and have sex with them. I just want people to feel free, but also confident and beautiful. Someone might be shy or they might be afraid to wear a certain thing out or to interact with certain types of people, and this is the place where you can discover and be all of that.
Coachella is in a couple of days, are you excited?
I'm always excited about Coachella. I always say that everything that people say about Coachella is true, no matter what it is. Its gigantic, it's full of fake-ass people, it's also full of real-ass people. It's full of people that want to be seen and it's also full of people that want to see the music. I think that no matter what is going on or who's playing, I always have a really good time because they do such a good job at making it so beautiful - it's in one of the most beautiful places on the planet to me. I've never had a bad time. 
Tell us about the annual Rhonda Queen of The Desert party.
Coachella is a big part of Los Angeles. The young and the relentless make their way out once a year to have a really nice time together. Because we're from LA and we love to party, we've always been really drawn to the desert during this time, so we started throwing our Rhonda Queen of the Desert parties. The name is a throwback to one of our favorite movies Priscilla, Queen of the Desert, and we do it at a lot of different places. We've done big pool parties, we've done private villa parties where Chaka Kahn has played, we've done a party inside of a big airplane hanger in Palm Springs with like 4,000 people, and now we have our party this year at HITS, a place where they do equestrian competitions. It's located very close to the festival and it has very beautiful grounds. We have a big, beautiful, artful rave and it's quite a beautiful thing.
How will this year's event differ from previous ones? Any surprises?
I'm so stoked about the lineup because Nina Kravitz is one of the most genre-bending DJ's I know. She's not really afraid to take chances and do wild things musically-speaking. She pushes the boundaries. She personally requested to have Virgil on, whose reputation in the fashion world precedes him, but the way he gets nods from DJ's I really respect like Nina and DJ Harvey makes me very very excited to see him play. I can't wait. Our party has the best sounds and the best lights and the best DJ's so that you'll be able to dance your ass off. We take the art of party-throwing very seriously, so all of those technical aspects will be on point. It will be as close to a club as you can get in the desert, next to the Yuma tent of course. I am very excited for a completely juicy weekend. 
We take the art of party-throwing very seriously.