Don't Be Scared: YG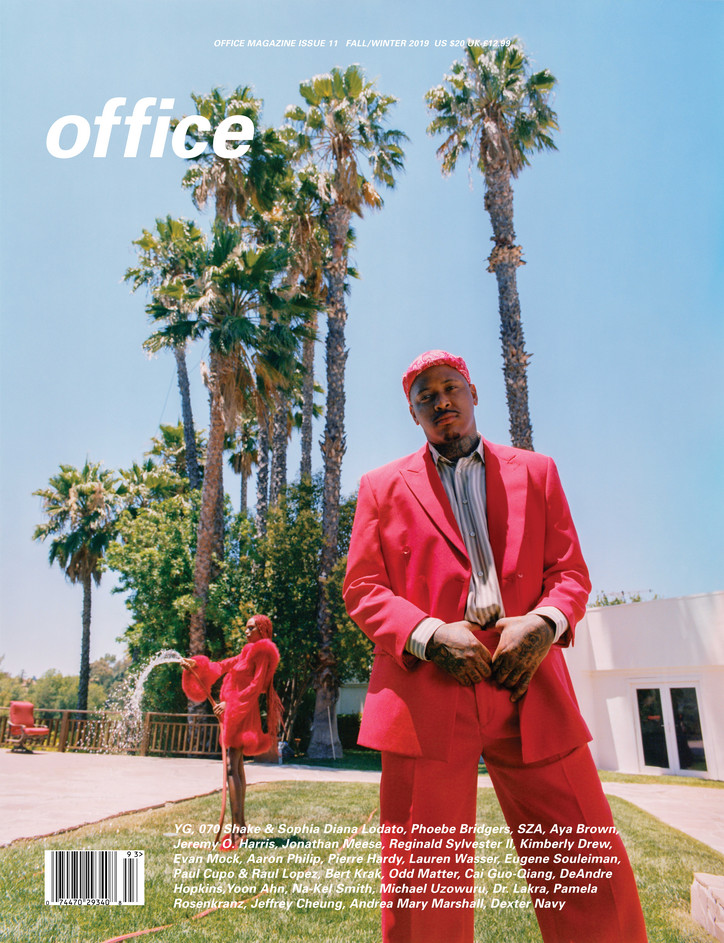 It was nearly 100 degrees outside of a mansion in Calabasas, California, when we met. He did not have an entourage, just his bodyguard, Gloves, and his managers. Big-ish in stature, the right amount of sweat, a gait that summoned attention. I thought back to when I first learned of YG. His music set the stage for many ratchet teenage moments. "Toot It and Boot It" and "Up" were beloved hood songs that made me and my girlfriends move our assets. YG was (and still is) very LA. He is often politically incorrect, violent, misogynistic, colorist and raw as fuck. But when you are a young person with minimal cares, all that matters is the bassline and the chorus. When you are a grown woman with knowledge from experience, educational aptitude and a daughter, caring goes beyond a catchy hook. As I watched YG approach, I knew I was going to have to meet him at least half-way.
I deciphered, within the first few minutes, kindness in the respectful way he greeted my mother, professionalism as he met the staff, and also an innocence to his mannerisms.
Left: YG wears hat by GUCCI, jacket by BALENCIAGA
Right: YG wears coat by MOOSE KNUCKLES, top by N°21
Left: YG wears coat and hoodie by LOUIS VUITTON
Right: Jasmine wears lingerie and shoes by TRASHY LINGERIE HOLLYWOOD
With YG being a platinum-selling rapper who has made his entire career in the guise of a turnt-up, hardened gangster, my judgement of him seemed oxymoronic, like a sweet thug.
Our conversation was nonlinear, and took place intermittently throughout the day. As he was dressing for his first look, I asked: "Are people intimidated by you?" "I mean, probably," he replied "But when they meet me, that changes. I'm a nice guy. A message to the world: don't be scared." Moments later, my one-year old daughter, Nomi, was snuggled in YG's huge, tatted arms for a picture. He smiled, sincere, loving— another rare glimpse of his domestic side. He is a father of two girls. It showed, but just for that moment, because YG is the hood of all hoods' representative—a strong, silent type, always proceeding with a degree of caution. All this bewilderment begged the question: Who is YG? I tried to go deeper.
YG grew up in the infamous neighborhood of Compton, California. The city was inundated with crooked cops, gang culture, repressed generational trauma that went (and will most likely continue to go) unchecked and hundreds of other social ills. YG was still able to write his own ticket out, and that took exceptional resilience.
Left: Jordyn wears underwear and bra by TRASHY LINGERIE HOLLYWOOD
Right: YG wears top by N°21, pants by STELLA MCCARTNEY
Growing up acclimatized to death and murder, YG has had his share of losses. But none hit quite like losing his close friend, Nipsey Hussle. The fated day of March 31, 2019, shook his community and hip-hop culture as a whole, and the rest of the world followed closely. Nipsey was a sensitive topic for YG that day in Calabasas. The wounds were still fresh. They had not scabbed over, and perhaps never will. Nipsey was murdered, and YG was still grieving. The two were family. They referred to each other as "brothers from the other color"—a reference only the culture could recognize.
YG (sitting on an all-white king-size bed with two models) pulls up photos of a massive, garish, framed photo of Nipsey that will be hung on a dedicated wall in his new house. "I'm really only listenin' to Nip," YG told me, and I felt his pain. It was impossible not to. I imagined "Last Time That I Checc'd" bumping in YG's ride, "All Birds" playing in his headphones and "You Broke" on repeat at the crib, while the bigger-than-life portrait of Nip head bobbed to his own cadence.
Left: Jasmine and Jordyn wear shoes by TRASHY LINGERIE HOLLYWOOD
Right: YG wears hat by GUCCI, jacket by BALENCIAGA, top by N°21, pants by ALEXANDER WANG, shoes by GRENSON, socks stylist's own, jewelry YG's own
In mourning the death of his friend, YG is finding that life still goes on. In the course of our conversation, he even displays his sense of humor. In what I learn is his trademark deadpan expression, YG states, "I want to be like him when I grow up." But the rapper wasn't referring to Nip—he was talking about the Keanu Reeves character John Wick. "He's a fire actor. He don't do too much. He has a lane," he explains. "He doesn't have to be Denzel Washington. Denzel's gonna play an old man, a bad cop, a sniper, a doctor, a drunk pilot. I mean, Denzel goes," YG laughs. "But Keanu doesn't have to do all that."
In retrospect, I understood. Much like Keanu's character in the eponymous trilogy, YG is principled. They are both poised in thought and over-the-top in action. Just check their catalogs: The Matrix and John Wick; "Go Loko" and "Stop Snitchin." These are highly theatrical works executed by extremely composed men. And like Keanu in two of his most famous roles, YG lives in honor, for honor and with honor—he lives by a code.
Left: Jasmine wears lingerie by TRASHY LINGERIE HOLLYWOOD, sunglasses by GENTLE MONSTER
Right: Jasmine wears lingerie, sunglasses by GENTLE MONSTER, shoes by TRASHY LINGERIE HOLLYWOOD. YG wears shirt by GUCCI, denim by MARTINE ROSE, hat by ROD KEENAN, shoes by GRENSON, vest stylist's own. Jordyn wears sunglasses by GENTLE MONSTER, lingerie and shoes by TRASHY LINGERIE HOLLYWOOD
I thought to myself: What a trip! YG has a Martin Luther King, Jr. tattoo. He is a Keanu Reeves fan...and he's a devoted Amazon user? "A table, a bookshelf, a beach cruiser, tools, baby stuff," he lists. "I order so much shit on Amazon, one day I checked and I had $8,000 in store credit." YG pulled up his Amazon app to show me the endless scroll of orders. He reads: "Out for delivery today, arriving tomorrow." The room was laughing. After bonding over Amazon, YG took a FaceTime call from his girlfriend, R&B star Kehlani. They were not a public couple at the time (they've since confirmed their relationship), but their energy was palpable. She was busy recording at the studio, something he clearly admired and respected. It was a short but tender exchange, only adding to the dichotomy of the YG persona.
So, what's next on the Young Gangster's horizon? He's touring and working on the next collection for his brand, 4Hunnid. "I want to get more into fashion and runway shows," he says, clearly excited. YG also has some acting roles and script ideas in the pipeline. And of course, music. His work ethic is second nature—a through and through hustler.
As we sat under the beaming hot sun, between watching him pose and complain about some missing hot sauce packets from The Cheesecake Factory, I was reminded that in a crazy, opinionated world, it's important to evaluate people not based on other's words or even by their own complicated lyrics. In reality, the only way to really know someone is to let them show you. With YG, it might not have been the most effortless exchange, but in the small, subtle moments on set and the few words we did share, I got the message—loud and clear.