Don't Mess With Tess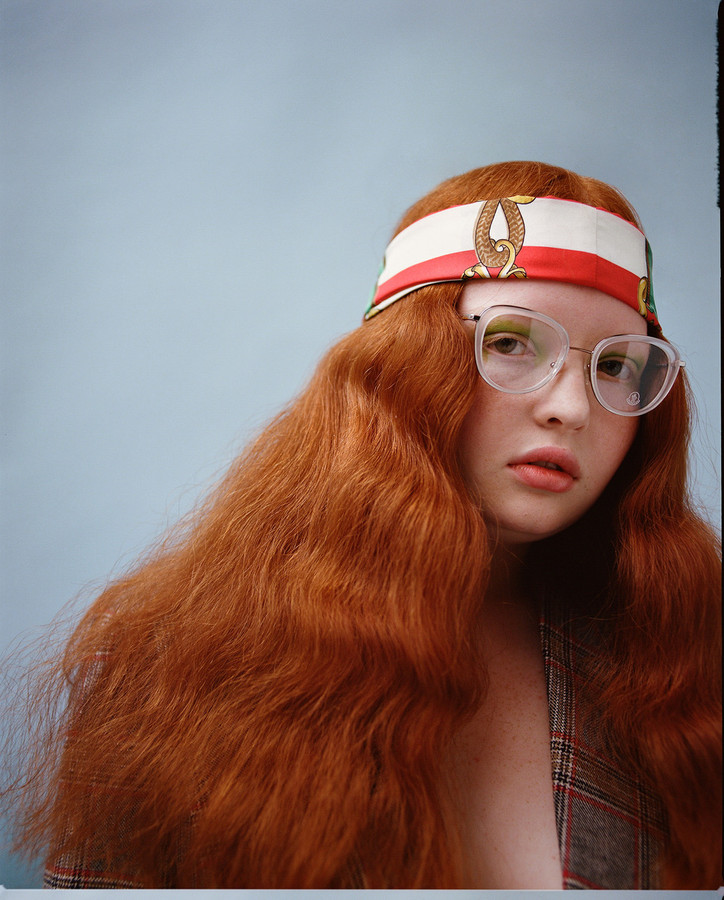 And while some may try to pigeonhole her into the 'curvy model' category, Tess couldn't seem more disinterested in being boxed in, instead filling her resume with jobs that supersede labels. She's not 'plus-size,' or a redhead, or even just a Texan—she's Tess McMillan. Everything else comes second.
In the midst of Fashion Month craziness, office Beauty sat down with the model to talk about her beauty regimen. If there's one thing we learned from our time with her, it's that Tess knows exactly who she is and what she wants—anything anyone else has to say is just gossip.
Read our interview with the model, below.
Top by CDLM, shoes by DROMe, veil by Eugenia Kim.
You're from Texas—what commonalities surrounding fashion have stuck with you? What have you left behind?
Growing up in Texas, I was always taught to be super polite to everyone, so I try to bring that with me into every work space that I go into. Also, lots of older Texas women are really 'done up' and iconic with big hair, and that was an inspiration to sometimes go all out with fashion and beauty.
Some say 'a beautiful thing is never perfect.' What's your take?
I definitely agree with that. My fascination is always with people and things that are beautiful, but never in a super perfect way. I'm never into that glossy idea of beauty—it holds no interest for me, and it doesn't feel real.
How has your experience with the idea of beauty changed throughout your life?
When I was younger, I always wanted to look a very certain way. Especially in Texas, it sometimes felt like, in order to be pretty, I should have long shiny blond hair, be shorter, be less opinionated, less loud. [It was] an image of myself that didn't exist, but I really wanted to live up to. Recently, though, I've become confident in more of the less than perfect parts of myself.
Dress by Kim Shui, sleeves by Shay Galla.
What prompted you to get into the modeling industry?
It's honestly been kind of a crazy—but super fun—snowball effect. I started out working with small photographers in Austin, and it just grew from there.
In another life, what would your occupation be?
I think I'd either be a portrait artist or an interior designer.
What makes you feel most confident?
I don't know if this is kind of a basic answer, but I feel super confident when I'm wearing an outfit that I've put a lot of time into constructing and that I'm super into. It makes me feel like a boss.
I'm never into that glossy idea of beauty—it holds no interest for me, and it doesn't feel real.
Earrings by Janky Jewels, dress by Shay Galla, shoes by Gucci; dress by Miaou, top by Luar, shoes by COS, bag by Staud, scarf by Gucci, glassses by Moncler.
Do you think social media influences beauty trends, or is it the other way around?
This is like a modern day chicken or the egg question. I think they work hand in hand, but I would say mostly social media influences beauty trends. I know if I personally see someone do something really cool on instagram, I'm going to try it out for myself.
What beauty trend do you wish would go away?
I'm not super into heavy contouring. But at the end of the day, if people feel good about what they're doing, that's really all that counts.
What are the most vital elements of your beauty regimen?
Sunscreen all day, every day. I use a ton of moisturizer in the morning and at night. And non-foaming face wash! A lot of people don't know that foaming face wash dries you out.
Veil by Eugenia Kim, dress by Kim Shui, sleeves by Shay Galla.
What's your biggest pet peeve?
Chewing with your mouth open.
What's the best piece of advice you've been given since starting in the fashion industry?
I think just all the people who have reminded me the importance of authenticity in this industry [have been the most important].