Dreamdoll's Dynasty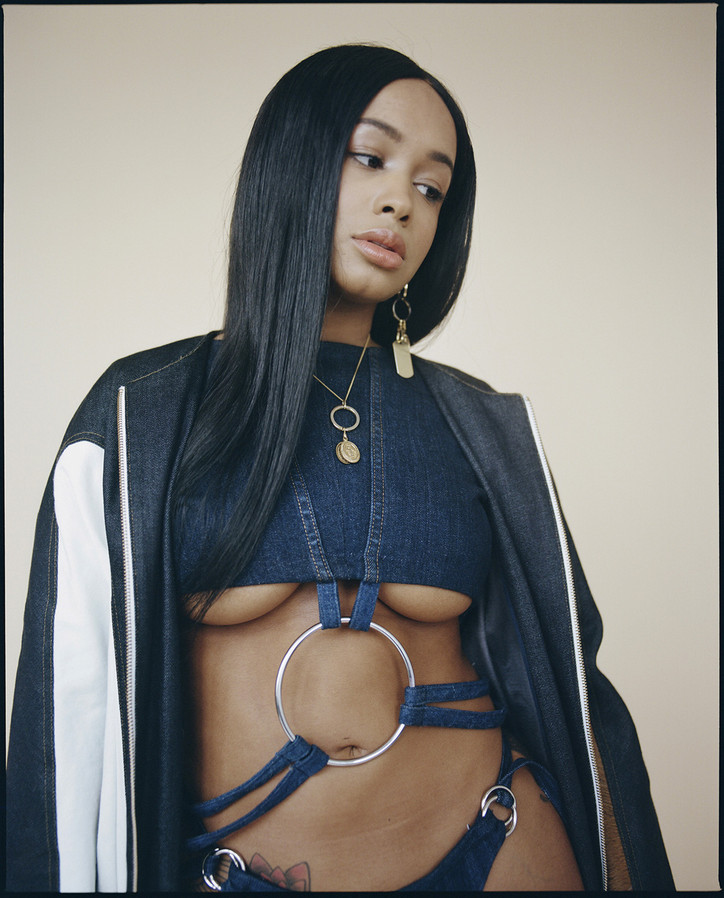 The day before, Dreamdoll was forced to unexpectedly cancel on the photoshoot we had planned, the reason being that Love & Hip Hop called her in last minute to shoot. Dream makes it a point to live stream during radio interviews, and she consistently posts lengthy Instagram stories of her day that sometimes take hundreds of taps to get through. If she's not hosting parties in the wee hours of the night, she's doing photoshoots or popping off in the studio. She says "days off" aren't really a thing for her anymore—if she does have days off, they're spent prepping for the days to come. Dream is living the fast-paced lifestyle that we've all lusted over at one point or another and has achieved it in a way that seemingly became possible only within recent years.
Denim two-piece by Chromat, Jacket by Luar, All Jewelry by Martine Ali; Coat by Adam Selman, Bra Top and Bottom by Linder, Shoes - stylist's own
Having first been introduced to the public as the rowdy troublemaker who got kicked out early on Bad Girls Club: Season 16, Dream seems no stranger to going all out for the sake of entertainment. "When I was on Bad Girls Club, everybody was just super Kumbaya," she says about her controversial time on the show, with a dignified sense of calmness. "At the end of the day, we're there for people to watch a TV show, we're there for the views." And it's this very understanding of outrageousness and attention-seeking as a calculated method for success that sets Dream apart from her season 16 peers and launches her into this ever-growing pool of "TV personality-turned-mogul," whom the general public love to watch stir the pot yet feel guilty for taking a taste.
Although Dream's last minute cancellation was unfortunate and a bit frustrating, when she showed up the next day in her bubblegum pink Range Rover and walked through the door singing, "TALK TO ME NICE, OR DON'T TALK TO ME TWICE," you couldn't help but lean into the madness. Whether you fall in love with Dream's charisma or you are simply just paying attention, she understands that in today's age of celebrity, attention and love are pretty interchangeable.
Jacket by Arthur Avellano, Earring by Martine Ali; Jacket by Luar, Bodysuit by Alix, All Jewelry by Martine Ali
There are definitely comparisons to be made, specifically to current it-girl Cardi B who also gained fame through Love & Hip Hop and has gone on to flourish within the music world. "God is definitely on her side," Dream says about her fellow Bronx sister. "She opened a lot of doors for me." For this new female archetype that celebrities like Cardi and Dream represent, it's the overwhelming feeling of authenticity that the public seems to latch onto most, as well as the fact that these women built themselves up from nothing to some degree of ubiquity. "There's money in the world for everybody," she says, explaining her come-up with a delightful charm that makes it seem as easy as pressing "Share" on your new Insta pic. "Everybody can get record deals, everybody can do anything."
She uses this openness as a means for attack, it seems. Whenever she drops a new song or has even the smallest announcement, it's inevitable that she'll blast it on every social media account she has, just in case someone might've missed it. "I take full advantage of my following, it's very important." And while she is currently focused on her music career, which seems to be going pretty well so far, it's the utter willingness to excel within this openness that will push Dream to new heights. "I want to do movies, I want to be able to put on a Comme des Garçons runway piece and fit into the Japanese vibe." Why not?
Towards the end of our interview, Dream harks up memories from her teenage years. "I was always on social media, and I was always fly," she recalls. "You know how they say, 'She got a Chanel bag with no money in it'? I was that. I was up in the labels." Now she is working on expanding her horizons with a number of exciting music collaborations that go beyond the sometimes limiting female rap genre, and even has her own line of cosmetics dropping soon. "They're going to call it The Dream Collection, and some of the lipstick names are 'Wet Dream,' 'Nightmare'—it's going to be super dope."
She says that the origin of her moniker comes from her high school posse, in which all of the members would have "Doll" at the ends of their names. "I called myself 'Dream' because I would sell guys dreams," she says with triumph. "I will sell you a dream if I'm dealing with you." Fitting, then, that she's living it, and taking names with every sale. "Checks is good," Dream says, munching on another finger's full of potato stix.