Easy Money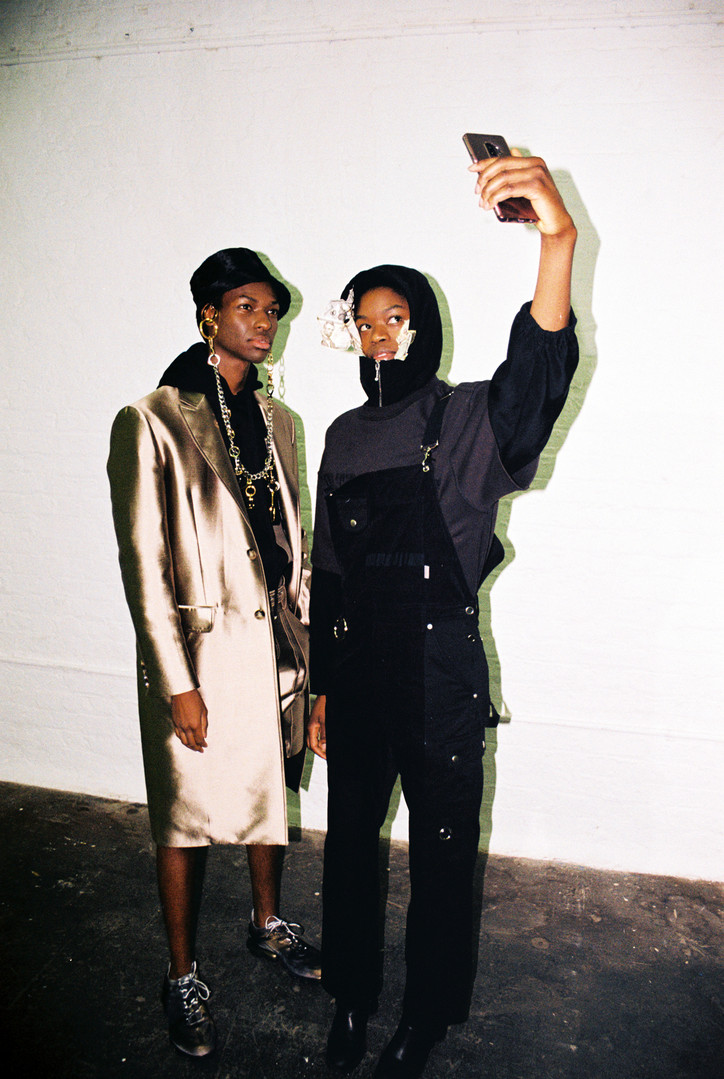 Read the interview and view some of our favorite pieces from the collection, below.
What made you want to address the theme of money in your latest collection?
All of this actually started when we were here last season with GQ Presents. After the show we were like, 'We have to go see the British Museum,' and while we were there, we saw this money exhibition. It was really cool because we've never thought about money in depth, but the exhibition showed how it all started—how we as humans started with trade, then we went on to using seashells as currency, and then coins, followed by paper money, credit cards, Bitcoin, and scanning QR codes for payment. We realized that money is really a part of human history. Then we looked at the moden day—how money is such a part of our lives and can drive us crazy—this obsession with money really got into our heads. Each season, Private Policy talks about social and political issues that we think are worth it for the youth to start a conversation. So, this time we thought, 'Why not money?' and really approached it from different angles and built a story around it.
It's a perfectly universal theme—I often wish we could ignore money completely.
Yes! And it's so much more intense these days with all of the international trade, pop politics, and economics. It's all so intense in our political environment, so we thought it was quite important to talk about.
What kind of currency will we see on the runway today?
You'll see a lot of American dollars shredded, and also we have these Chinese coin details that we made with inspiration from Qing Dynasty coins. The coins are engraved with letters that originally translated to 'More Money,' so we thought was a perfect example of humanity's obsession with money—always like, 'We want more!'
We also thought it was amazing to have our heritage incorporated into the season, and it's a continuation of our last collection where we did a full Asian casting, and talked about the diversity of Asians, and how the youth has really evolved to more than a stereotype. All of that is something we really want to continue playing with.
Do you think humans are ever going to evolve beyond money?  
Who knows? We feel like it's really part of human history and also part of human nature, with greed and ambition, depending how you look at things. We were also really inspired by a New York City street artist [named Acool55] who did this artwork that says, 'In Nature We Trust.' We were in contact with him about his concepts, and he was talking about how we are humans, and a lot of the decisions we make globally, politically and socially are based on money; but they actually affect our environment and other animals on the planet which, ironically, don't give a shit about money. That made us think, 'This is something we really need to be conscious about'—let alone the stress that is gives us sometimes.
What's the best thing you've ever spent money on? Or the silliest?
Siying Qu: The best for me is experiences. I think that's really something that will live on in your memory. The silliest thing? That happens all the time.
Haoran Li: [I spend on] silly things all the time. But I think the best thing for me is donations. Even a one dollar donation at CVS—I do that all the time and feel good about it. It's small, but every time you do it, it will help.
I appreciated the sentiment in your press release where you said money is not always a bad thing—money can be used to help people, as well.
Definitely. We're really thinking about it as part of our design process and to open a discussion—we don't want to label anything as good or bad. It's a complex topic—we just think it's worth talking about.
Your previous collections have addressed issues like diversity, classicism, globalization... Is there anything floating on your radar right now that you'd like to address in the future?
There a lot of things going on and we always stay conscious of things in the news and on social media. We're staying as aware as possible. I think that's how we're able to make each collection so on point for the current time. Like when we talked about globalization, it was due to all of the global tensions surrounding the separation or conjoining of countries, and when we talked about war, it was around a time when a lot of tension with North Korea was happening. So, with money, there's a lot of tension with the government shutdown going on in America right now, and all this money talk that's affecting taxpayers globally. We just have to keep up, and stay aware.
See our favorite looks from backstage at the show, below.