Embedded History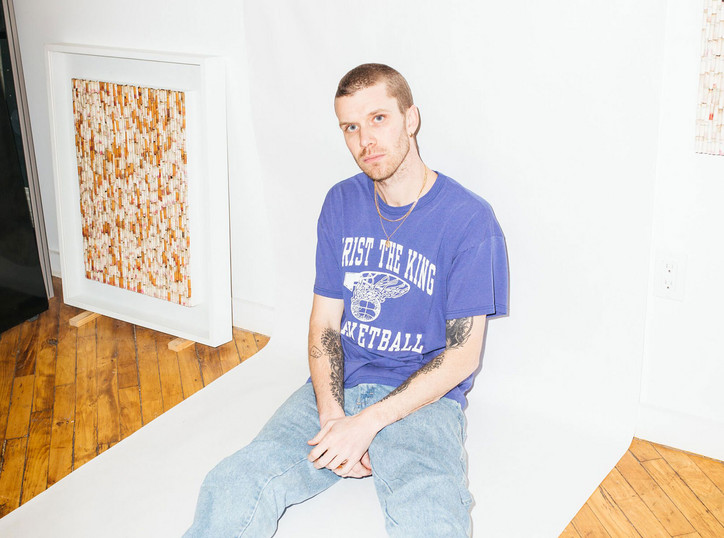 And what's the connection to basketball? The focus seems to be elemental: air informs both objects. The inflation of a basketball activates its primordial purpose, breathes this object of play, of joy and movement, into life. Air made deliciously toxic by the fire of tobacco brings a darker kind of joy, one connected to self-destruction, consumption, death. 
Things meant for destruction always tell such curious tales, and it is these things and their tales that find beguiling articulation in Winston's debut show at Ed. Varie.
If you had to choose one, which would it be: basketball or cigarettes?
Cigarettes, without them I probably wouldn't be working with basketballs.
How did you begin incorporating found objects? How did you choose which ones to use?
I didn't have money for art supplies so I'd go around the streets and collect used/discarded paper for collages. Gradually, I began working with cigarettes, dice, colored trash, aquariums, basketballs, etc.
I get the sense that you like to wander. What's something fun you've come across? Any specific locales that are good for aimlessness? - either in New York or elsewhere?
I wander all of the time. There isn't one item in particular that stands out as a fun find. I get stoked when I find a patch of cigs with lipstick or a deflated basketball. It's the accumulation of all of the pieces that matters to me. I like industrial areas in Bushwick or in Manhattan that are kind of remote. Trash seems to sit around longer out there. I also love/hate waking up super early and collecting cigarettes in front of bars. It allows me to see the city through a different lens.
Where do you picture your artwork hanging, and what do you imagine people's reaction to it would be outside a gallery?
I picture the work hanging in galleries, museums, people's homes. No matter where the work is people have a range of reactions — some see beauty, others history, some see themselves, some are sad, happy, angry. I'm not aiming for a specific reaction — I want my work to create dialogue.
Garbage has a major presence in art. Why?
It has embedded history in it, other people's lives were involved in the work that have nothing to do with the artist.
Do you smoke?
Not anymore.