Everybody Hates Linux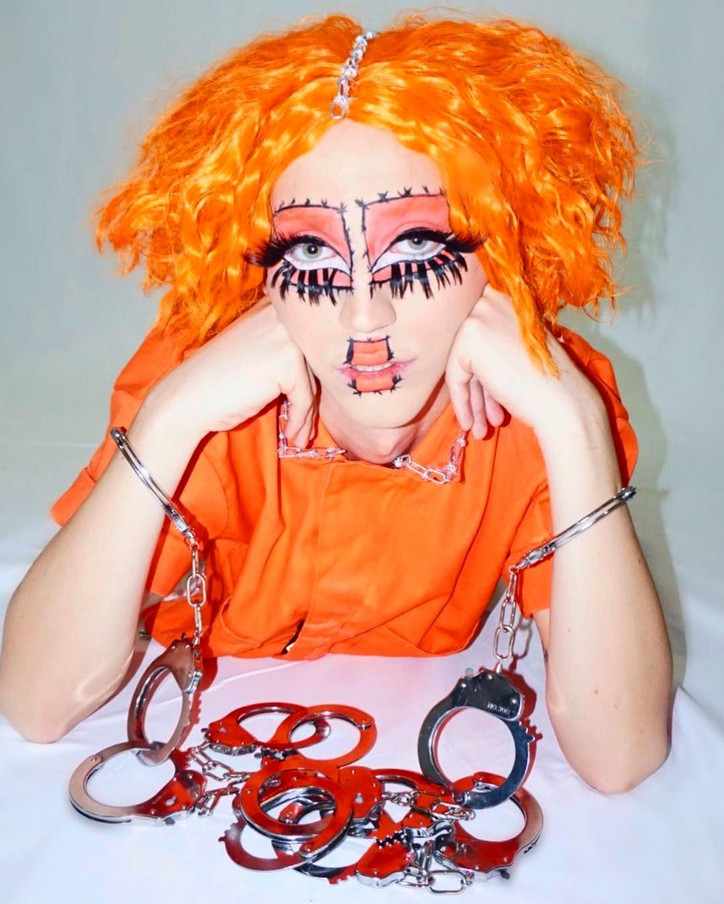 Whether she's dressed up as a used maxi pad or a bottle of poppers, she's consistently fierce from head-to-toe. Read our interview with Linux, below.
Let's start from the beginning. How did you first get involved in the club scene?
Growing up in Wisconsin, all the kids in my high school were straight edge and Catholic. At age 16, I got a car and a fake ID, and started driving to the nearest city, Milwaukee, and going to gay clubs downtown. I made friends with a bunch of Milwaukee drag queens who I performed with at nightclubs on school nights, and when I finally graduated high school we moved to LA together. I lost my fake ID and the only way for me to get passed the bouncers was by dressing up crazier and crazier every week, so they would just assume I was somebody and wouldn't check my ID. I fell so in love with the looks I created when I was going out, and it was a high I had never experienced before. After a few months in LA and a summer in Chicago, I hopped off a bus in New York City and the rest is history.
You have created some pretty major looks. Which have been your most memorable?
Thank you! The most memorable looks for me have been whenever I do collaborations with brands I love—my Louis Vuitton, Fendi, Chanel and Fruit of the Loom looks are my all time favorites.
How do you come up with your designs?
When I create a look, the concept always comes from a childlike version of myself, and then the adult-me crafts it. I'm really inspired by the cartoons I would watch as a kid as well as what a child's perspective of 'fashion' is (see: the RuPaul supermodel montage in The Lizzie McGuire Movie). To a child, the idea of fashion is just so silly and extravagant and never taken seriously—and I love that.
What's your number one rule when it comes to navigating your way through the New York City nightlife?
Have good intentions with everything you do.
In 2016, you released your album Everybody Hates Linux—what do you think people love to hate the most about you?
That album was a big moment for me. I wrote it when I just moved to New York and I still felt like a freak, even at the places I was told I was supposed to fit in the most. The other girls were really mean to me when I first moved to NY and making the album was a way for me to reclaim their hatred for me and be like, 'You know what? I hate her too!' I think the thing people love to hate the most about me is how outspoken I am. If you don't wanna say it, LINUX WILL!
I love your song "FUJIWM (Fuck Jesus I Want Makeup)"—what are some of your miracle products?

It's so funny, I made that song in 2016 before the makeup industry was what it is today. If I could rewrite the chorus now it would be: "Ben Nye. Nars. Jeffree Star. Pat McGrath. I heard Chanel has great foundation!" Anything by those brands—beyond.
Asking for a friend—tips for fabulous lashes?
More is more is more is more! The longer, curlier, thicker, blacker, the better, bitch! My favorite lashes to wear are Beauty & The Bartsch lashes in "Bush." A reminder: lower lashes are your friends—use them.
What are your guiltiest pleasures?
I'm obsessed with hydrating oils. My ideal day of beauty is covering my body, hair and pussy in every organic oil known to woman and just slipping and sliding around the house while my pores drink up.
What's on the horizon for you in 2019?
More music, more looks and more parties. Right now, I'm throwing a monthly porn-video-game party "PLAY NOW!" with nightlife legend Susanne Bartsch on the second Saturday of every month at 3 Dollar Bill in Brooklyn. As far as music, I know everyone is begging for me to release something and I'm close, I promise! I've written a few second albums and every time I show one of my friends a song they totally hate them or think it's a PR nightmare, so I scrap it all and start over. I think I'll just release an EP called All The Songs I Was Begged Not To Release instead of a formal album, but we'll see.
Follow @officebeautynyc for more of our favorite club kids, beauty gurus, makeup artists and inside info from our office Beauty Committee.