Everything Under the Rainbow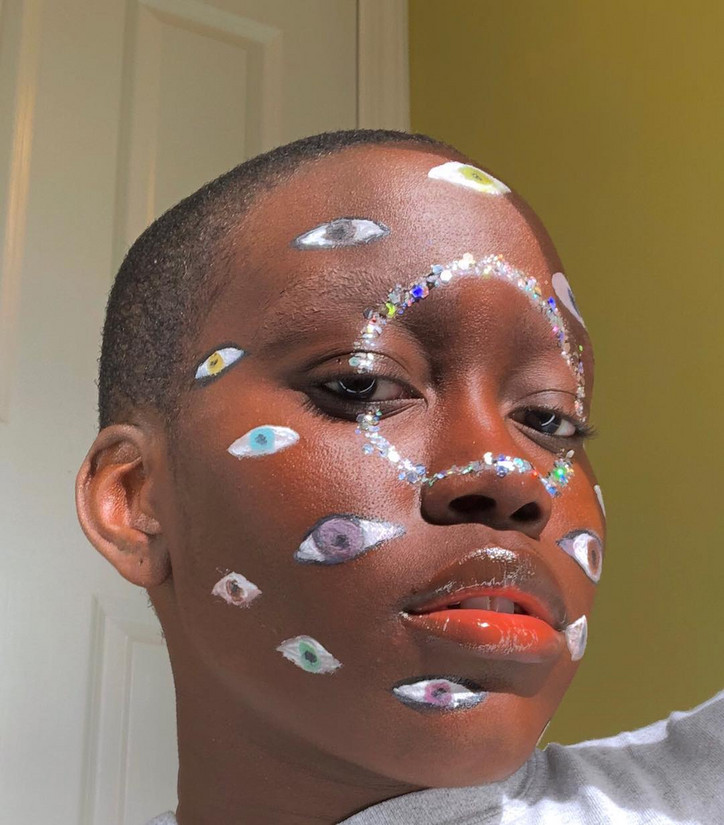 We sat down with Ali to talk about her role models and, now, her role as a model. Check out more below.
How and when did you get into art?
I've been interested in art since I was a child. I drew on everything I could, even one of the walls of my house. Art fascinates me, it teaches me how to be patient with myself and is very soothing.
When did you begin painting works on your face? Did you start with makeup?
I started when I was about four years old, smearing on my mother's MAC lipstick all over my face before I went out. I started to do "traditional" makeup in the summer of 2018. I would watch Nikki Tutorials and try to mimic what she was doing, with my limited items. I, being a beginner, was not good at it, and therefore decided to turn makeup into art. I bought a Mehron Makeup face palette and never looked back.
What song is at the top of your playlist right now?
This is the hardest question yet. "Like Mariah" by HOMESHAKE.
What to you is the importance of more inclusion of black people, through models, wider shade offerings and space for black-owned products and lines, in the beauty industry? When you think of the word beauty what do you see?
For me, as a child, I saw a white girl or me with straight flowing hair. I want to show that the word beauty applies to everyone, but my community is the last race to know of its beauty and strength. I believe that we are JUST now starting to love ourselves! I want black children to look at me and feel beautiful. I want black children to look at me and feel inspired to create their own businesses, and feel like they can become models, or even run for president! It is so important for ALL types of black people to be represented in the beauty industry because when people can look at themselves to feel beautiful, they have someone who looks just like them to remind them.
Who were some of the black women in media who inspired you growing up? And who inspires you now?
Beyonce. Beyonce was my childhood. I feel like I learned how to feel and be confident because of her. She was and still is a black woman breaking boundaries. Today, my mom inspires me. She is a superwoman, there is nothing she can't do. My mom does everything in her power to make sure I am both safe and happy. She is determined and hardworking. I want to be like her when I grow up.
Who is your favorite artist?
Vincent VanGogh is a huge inspiration to me. Art was his only friend. Art helped him feel happy and like he was a part of society. Art helped me in more ways than I imagined and because of him, I feel like I can create anything.
What is your favorite beauty product?
Colorpop So Juicy Lipgloss in the shade "Princess Cut." Couldn't catch me without it.
Face paint brand of choice?
Mehron is my holy grail!
How and why do you use Instagram as a platform to represent black beauty?
Everyone has Instagram. It is the way people interact with each other. People not only use it to keep up with friends and to look at dog videos, but they also look to find inspiration. I use to inspire my race. I post a selfie of me with a makeup look that I created, simple right? But in reality, I did more than that. I gave someone confidence, hope, and understanding of beauty. I let someone in the black community know that they are limitless.
How has social media helped you present yourself and your work?
It is my portfolio. All my work is right there for anyone to look at. I don't have to create my own website, fill out a resume or anything. All my talented is right there to be reviewed.
What do you do to keep your canvas' (face) fresh?
I start by using Earth Girl Natural's 'Oil Cleanser'. I rub it into my face and then press a hot towel up against my face. I wipe it off and then go in with their 'Anti-Aging Eye Serum'. Next, I go in with Go-To's 'Face Hero' face oil. For sunscreen, I use Earth Girl Natural's 'Everyday SunCare Lotion'. Lastly, I use Go-To's 'Very Useful Face Cream'!
If you could recreate any famous painting on your face, which one would you choose?
Michelangelo's Sistine Chapel Ceiling.
Which look from your Instagram page represents your mood right now?
My "Babushka" look. We love a classy look.
What other art forms do you want to explore?
I really would love to learn how to play the harp!