Exclusive: Collina Strada's "Daughter of One"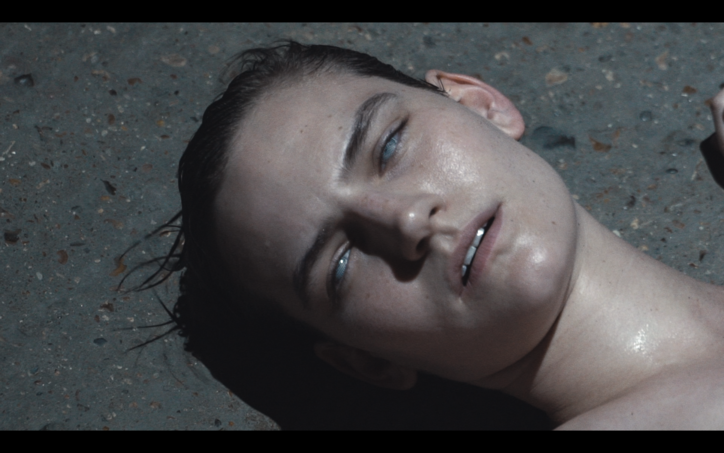 And while we wait to see the full futuristic collection at Collina Strada's show next week, she's shared an exciting, exclusive preview with us. The office-exclusive campaign offers a glimpse of Collina Strada's creepy-chic collection, fashion steeped in science-fiction, and robots hit the runway. Featuring model Hirschy Grace, and directed by Jaron Albertin, the film follows a fashionable cyborg with an epiphany-cum-existencial crisis. Cool and uncomfortable, creative and cerebral, amd overall... beyond on brand for Collina Strada—obviously, Taymour's brainchild has hit new heights. 
How has your relationship with technology changed over your lifetime?
Jaron Albertin: I was born before it existed.  It used to be science fiction, now it is reality. Something that was faceless only circuits, now it's indiscernible from reality. It's gone from help us as a tool, to now changing the way we think.  
Hillary Taymour It went from being a playful fun new world, to an addiction. The Mavis Beacon years had a beautiful naivety to them but we have to embrace the changes technology has created and go with the flow. 
Do you feel more fearful or accepting of drones/robots/"the system"? 
JA: I think drones are smart machines, they are the beginning of more integrated machines into our lives, autonomous machines.  Soon most things will just work autonomously, while design progression increases with it.  When it comes to monitoring, I don't fear that because it won't be long until we are all completely self-monitoring.  It is inevitable - there will be no escaping the system, because we will be integrated with it.  We won't be able to see or understand what life would be like without it.  Evolution.    
HT: I accept it all, I cannot wait to have a robot seamstress.
How does your work hold onto the concept of humanity, aesthetically?  How is your product, your practice, and medium, meaningful in discussing the idea of a dystopian future?
HT: I try to design in a very back to basics way. Everything is relatable to the human brain of what it is and how it functions. I just like to tweak a few things to make it interesting to the consumer—for instance, putting a pair of earrings on a hoodie. However my dream is to evolve the collection into more tech-related aesthetics, and I want to work on special fabrications that help us lead into what one would wear once living in "the system."
What is your definition of fashion?
HT: Fashion is like a curtain—you can use it to draw attention or hide. 
Would you ever have a drone walk in a fashion show?
HT: I would do a whole show of drones if given the chance. I tried to have drones flying with models down the runway last season, but it is hard to teach a model how to fly a drone.