Exclusive Premiere: Amélie Pichard - 'RECLUSE'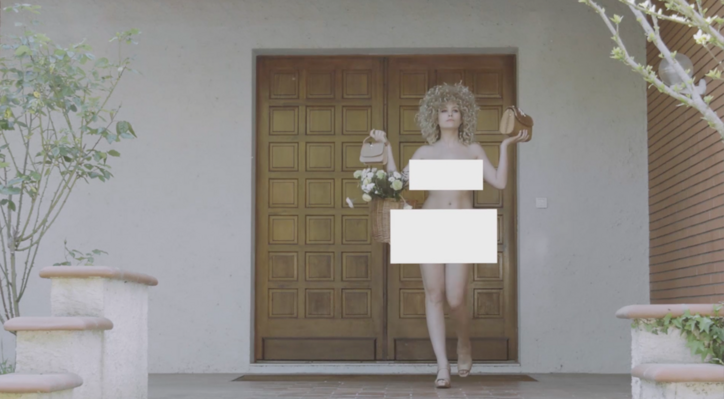 Playing the part of a bored city girl, Corine goes into hibernation: leaves Paris for the country, becomes an ecosexual, and rids of her electronics. Tired of the game of appearances, she dresses for no one but herself in Amelie Pichard's newest shoe and bag collection—singing, dancing, and reading on her own. Nature vs. modernity at its finest.
Is there a bigger meaning behind the no social-media theme?
There is always a bigger meaning behind my campaigns. But I don't want to be the one who gives people guidelines for their lives. I have feelings and I follow them. Last year when I started to think about my ss17 collection I felt a NEED to cut with social media life. Wanted to stop giving other people so much information... Then, I wanted to spotlight the cult of the look. A girl who want to DISAPPEAR, because she is exhausted by always having to be perfect in social media life! But, even alone, she will stay sophisticated, with a lot of make up, cause it's too late -- it's a part of her, she's contaminated by our modern culture!
With my last campaign "Le Bercail" I touched people because it was something very simple, and it touched our life's origin. The back to basics life. We need that in this crazy world! Breathe, love, have fun and look around at our beautiful world.
Accessories are the focal point of the video—but how did you come up with the story of Corine? Is she a fictional character or does she represent something more?
Corine is a real singer. My story was built, I told it to Bertrand and he answered me; "I know exactly where to shoot it! And I know who is the next Pichard girl"! It was Corine, a french singer who represents a very 70s girl. She's the strongest character that Pichard has ever shot. I love girls who seem very light, but raw inside and full of contradictions. Her sense of humor is very important of course as Pichard !
What is the inspiration behind the new collection of shoes and handbags, and how do you tie it to this video?
Nature ! We need more nature In our lives! I dream to buy a country house very soon, to have the time for retreat In the woods and my garden. I wanted to make a "back to basics" collection. Easy life shoes and bags. Always very strong...then I dreamed about my plexi heels with flowers inside very kitsch but beautiful, like stuff you can find at your grandma's house.
Any hidden motifs or symbols in the short film?
Lots of symbols. You need to find them. David Lynch never explain everything... Read what you want to read, but it will BE your own decision! Take your time, breathe and watch RECLUSE, be welcome on earth and feel like a plant!
How was the casting process and how did you decide who to work with on this?
I only work with people I love or people recommended by friends who are very chill. Of course they are always very talented. When I give my trust to them they are very free to give of their art! It's like love at first sight. I work with my instinct. We worked with a very small team. Only Rudy for the hair and Miwoo for the make up! Then Corine, Bertrand, his friend & myself! We had a full weekend all together in a secret place ;)
How would you describe the girl that wears Amelie Pichard accessories?
She's a girl, a woman, full of questions. Sometimes she is trusting, but the day after she changes her mind. Not because she's (totally) crazy, just because she's clever, and she follows her instincts. In France we have a quotation "il n'y a que les idiots qui ne changent pas d'avis". I love it. I don´t appreciate people who never change they minds. Be openminded to the world, and the world will offer you the moon.
Let's talk about your obsession with boobs a bit. How did that develop, and how are you incorporating that in your recent art?
Ha! I have been obsessed with my boobs from my 9 years old. I love what I don't have ! But what I love more is the poetry of the a woman's body! I love clichés and so I love when women are at the top of their femininity! I fell in love with Pamela Anderson when I was child, because she was for me a complete woman.