Exclusive Premiere: Asukal's 'Purity' EP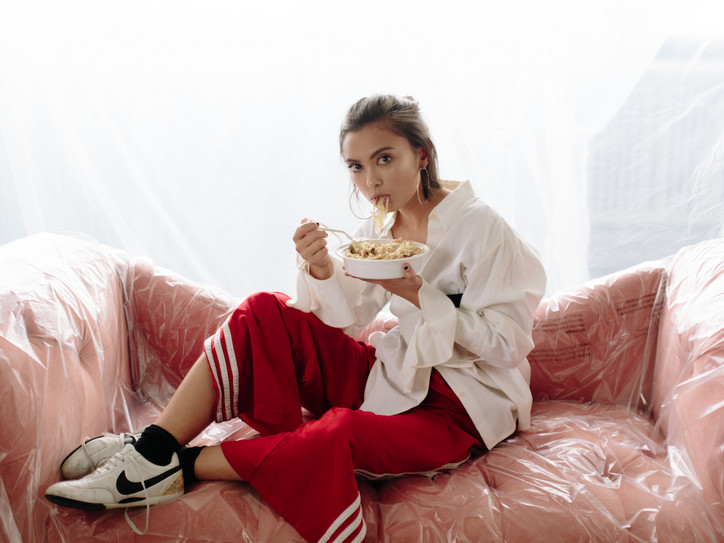 As a disclaimer, I've known Raquel Undheim long enough to understand how her music serves as narrative vehicle for her personal journey. As an only child growing up in Manila, the Philippines, Asukal (which translates to "sugar" in Tagalog) says she grew up using music as an outlet for all the hyperactivity going on in her head. After a series of relationships, a return to being single helped her recall what it was like to be alone with those thoughts. The result? A non-traditional post-breakup album that fuses Adele-esque lyrics with Polly Pocket energy.
Writing, recording, and producing all five tracks on the EP—which is also the inaugural release of new label imprint Screenager Records—Asukal introduces herself as an exciting new name to watch in music. office sat down with her to chat about her inspiration, process, and future projects.
I've always known you had an interest in music, but at what point would you say Purity became a real entity in your mind?
I went through a series of relationships that prevented me from pursuing my own dreams. I was supporting other people's dreams and living vicariously through them. After spending a long time being single, it just happened naturally. I learned enough about myself and the world around me to put it into a full EP.
So how did that experience translate into this genre of bubblegum-y electro-pop?
I'm a naturally colorful and bubbly person. But I felt like I always needed to surround myself with people. In this EP, I'm showcasing what my brain looks like when I'm alone at 2AM and consolidating that into five songs.
Purity is your debut EP, but it's also the first release for the label you're working with. How was that experience?
Yes! Screenager is a brand new label. It's branching off of Shifted Recording, a creative space for artists in Brooklyn. It's in Greenpoint; it's really cool. I'm literally the guinea pig, which is kind of weird, but I really liked working with them in in the studio and when they presented the option of signing me on, I thought it could be something really great.
Since you did everything, from the songwriting to singing and producing, did you have to learn any new skills to complete the project?
My whole thing was to produce it alone. But I was never opposed to asking for help on things like how to create a side chain.
What's your favorite track on the EP?
The single, "Still Think Bout U." When I was writing it, I wasn't even going to make it a song because it seemed so cheesy. But I have found...well, this also seems cheesy to say, but I have found power in vulnerability. It's releasing to be able to actually put your thoughts out there. For me, I'm the most proud of that song because it shows the most growth in my life. Production-wise, I also like "Did I C U Cri" and "How It's Gonna B."
Was using Tagalog in your artist name a conscious choice?
I did want to choose a Tagalog word, originally a Filipino dessert. I lived in the Philippines for the formative years of my life and I felt like a dessert would fit well with my production style and the genre of music that I make. I just ended up going with straight-up sugar.
Any artist you're bumping when you're not working on your own music?
SZA's last album is still on repeat. I love listening to really great female artist and producers.
What's next for you?
I want to do it all. I want merch. I want to throw sugar packets out. No but really, I have some shows in November. That feels weird to say.
Stream Purity below.