Expect the Unexpected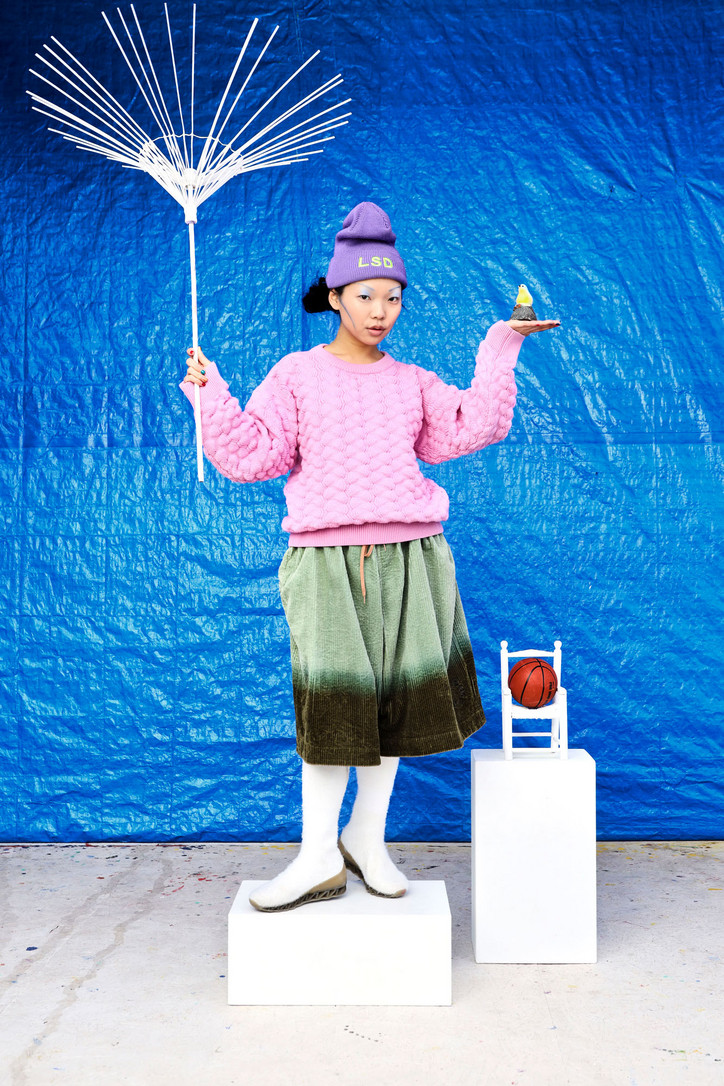 I know you have incorporated Japanese into your work for some time, how do you relate it to this new collection?
We made a Postmodern Zen sock trainer in a 'goat' furry yarn mounted on a mountain in Camper's new trainer factory in Vietnam on our classic wave sole.
What is your own connection to Japan as an artist and designer?
I've been producing since 15 years ago in Japan with onward Kashyama group. I've been linked to this country since the beginning. There are many Japanese fans, especially in Tokyo and Osaka.
This is the tenth anniversary of Himalayan. Why do you feel Camper's footwear makes a good palate for your designs?
We unintentionally developed a "classic." It's for a new generation of people who like design, and it connects Camper's customers with ours.The shoes were always meant to be unisex. Also it's essential to have shoes for the collection. Then the image is complete. Development always takes a long time, and it's cost intensive for trainer soles. Still after 10 years, we have improved/reinvented the construction of the sole and the upper. It's not easy.
Is there a reason this collection is entirely made in shades of black and white?
We needed neutral colors for the collection. Also, the sock trainers are inspired by black and white goats on a mountain and a Japanese Obi salt-and-pepper motive.
Who do you try to reach or speak to with your designs?
I try to tap into anybody who wants a furry sock trainer not on the market yet. It's something new.
There are so many themes, so many global references in the collection. If you had to put it into a sentence, how would you describe the statement your work is trying to make here?
The "imaginary" IKEA blue background of the photo shoot with the Venice beach basketball team was the mood I wanted—balancing and spinning balls as an imaginary equilibrium and connecting the looks with other found/chosen objects and furniture. A collection is, in itself, a performance.
Can you speak to the idea of "consumerism" that inspired your collection for PFW A/W '19?
We are all educated consumers. Also Zen Buddhism is linked to Postmodernism. The Consumer Zen is an aesthetic which has been going on for a long time. It's a circle in many senses, like the round TYPO consumer logo we created with the artist Stefan Maier. The photoshoot was at the painting studio of Christian Rosa in Beverly Hills. There's always a link to art and art in progress. It's never finished. It's also a distance in place and time.
Which ones are your favorites?
I'm now in New York to present the shoes with an installation at the CamperLab store on Bowery. I will be wearing the next/new collaboration already. It's a black sock trainer with a knitted carp fish structure and furry rib. It's a continuation from the last collection. Always give me the new stuff...