Sign up for our newsletter
Explorations of Infinity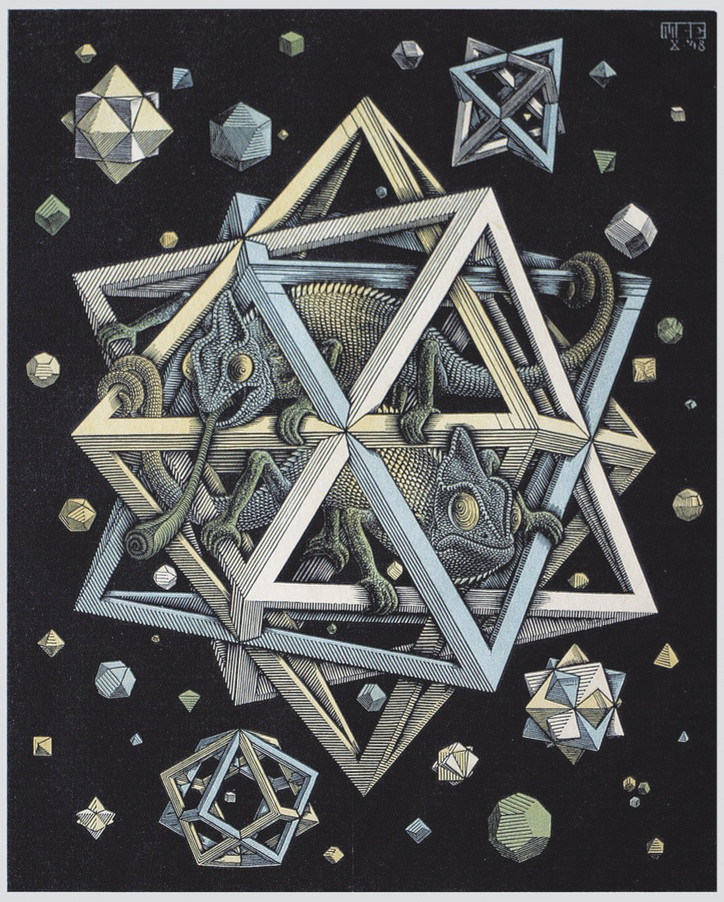 Anthony Jamari Thomas' Divine Intervention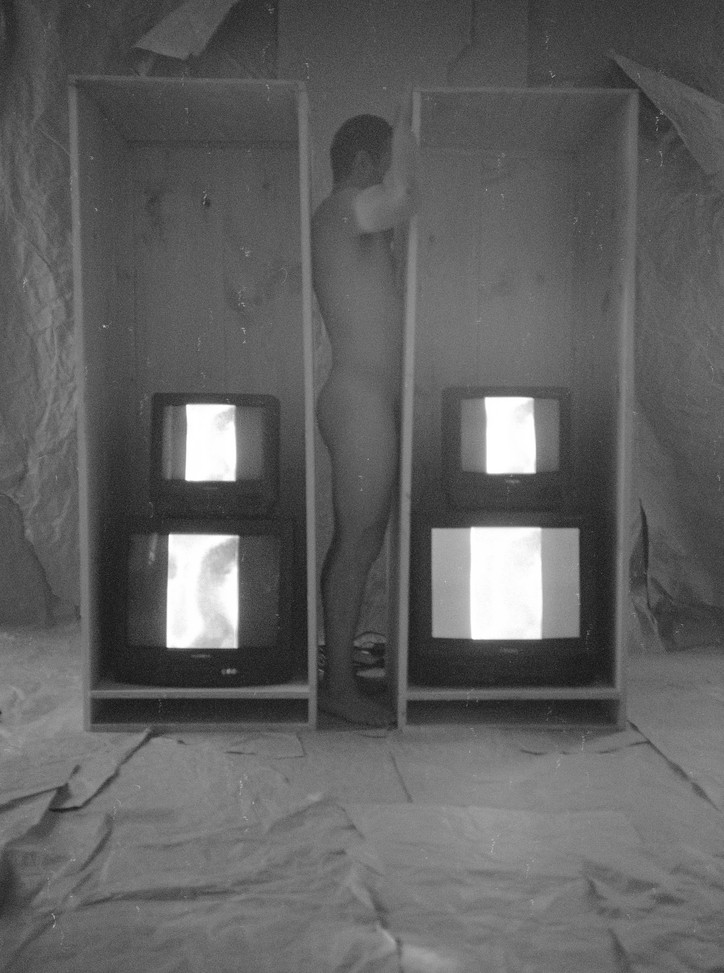 For artist Anthony Jamari Thomas, however, the story doesn't end there.
We live in a particularly repressive political moment, where those in positions of power have demonstrated time and time again that they do not deserve to have that power in the first place. One of the greatest examples of this has been the ongoing treatment of immigrants in this country. It is this very treatment that forms the conceptual crux of Thomas's new book, LAMB. Published by Paradigm, this publication is not only a bold exploration of the ways in which the migrant body is handled—both literally and symbolically—but an acknowledgement of the sacrifice and bravery inherent to migrancy itself.
In addition to the book, Thomas supplemented LAMB with a performance piece, in which he spent 24 hours inside a wooden box without food or water in protest of and in homage to the migrant experience, alongside alternative R&B artist BarringtonELECT, who curated the sounds and sang to enhance the atmosphere. One can always pledge allegiance to a worthy cause, but there will always be that conveniently comfortable distance that separates the one who has experienced the act and the one who protests for the one who has experienced it.
Thomas, in his own capacity, has worked to mend that distance, to step into the shoes of and to illuminate the experiences of the brown body, in the best way he knows how.
What initially sparked your interest in art?
When I was 17, I dealt with depression and anxiety on a great level. I wanted to take my own life—when I was 13, as well. Then, when I turned 21, I battled alcoholism and it took me a little bit to get sober. So, I wanted to find a way to be therapeutic about how I was dealing with my depression. I started to have suicidal ideations, and that's when I thought, 'Man, this has to get fixed.' I come from a Baptist Christian background, so therapy and all that other stuff doesn't really work—it's a 'We ain't paying for that' kind of situation. As a kid, I remember my mom told me once—and she's the most incredible person in the world—but she was like, 'Just go get some food, go to bed and when you wake up, you should be okay.' Of course, I knew that just wasn't going to be the end of it.
So, one day, while I was working on this project to honor my grandmother, I had like thirty cents on me, and someone told me to go buy a canvas and make a piece. When I did it, it felt so relieving. I never studied art, I never took studio art. I did art history for semester, and it was basically just memory, so I really wasn't learning anything.
Did you ever study art?
I did art history for a semester, but no I never did studio art. You just either got it or you don't. And I feel like god gave me this gift because I didn't have to seek any academic instruction. So, I'm just thankful that I can create as fluidly as I do, and to be able to make a reality for myself through it, because it saved me from the reality that I was in.
What to you is the correlation between body and power? Why is the body the most powerful instrument, or the most powerful, visceral medium of expression?
I think it's like an inner-chamber thing—the body has a way of relying on space, and space relies on the body. The crux of my work deals with the black body, and examining how the black body exists in space in relationship to institutions, to history. Our bodies have been placed in a very controversial time because there is this tension where we want to live in a contemporary way and try to understand what our blackness represents now. But we want to understand what it was before us, and what it represented before us, and the mythology behind the black body because you kind of don't know your beginnings until you find, and discover, and unearth—and it takes some work to do that.
I've understood the body as an object that transfers the spiritual and the divine—it transfers a lot of the things we can't see on the day-to-day. The body is a prime medium for all things—for policy, for socio-economic ideals. It's a vessel that can channel so much, but once you start adding a geography to it—where the body is placed, how big or small the body is in relation to its surrounding community—that's when you start to understand your own body and it's position of power within the place in which you are situated. So, I think the body and power go hand in hand, but they're not always bipartisan. Sometimes your body moves on it's own, and power happens to your body; then your body can posses that power, and power can take over your body—it's fluid, there's a synchronicity. Other times, the body and power are totally detached—that's the beauty of it. But power on its own is a crazy construct I'm still trying to figure out.
Yeah, power is completely relative so it's almost impossible to define it in a finite way. What place—fictional or non-fictional, symbolic or literal—is the single biggest source of inspiration to you?
My aunt's home. My Aunt Mary passed away April 21 at 2AM—I was the last person she saw before she died. She died twice in this lifetime actually—once, in '97 for ten minutes, and my mom brought her back to life with CPR. Then she unfortunately passed away in April. She was everything to our family. She was an archivist, the religious crux of the family—we all knew Christianity because of her, and she inherited Christianity because she grew up in the segregated South. The first political means of activism in the South against racism was religion—it was the church, a congregation of people that looked like you, speaking to a higher power that can hopefully save you from your reality. Then, she came to Bed-Stuy in '62. She had four sisters and they all passed through her house, because she was the first to move here from Virginia. So, the guest room of that house is where my mom grew up, and where she raised me. Her home has everything in it. We're talking 1962 to 2018, so there's family photo albums, memories, all types of doctorates and religious texts, and by the grace of God, when I was eleven years old, she left her home to me.
Now, it's my space, and the crazy thing is, the back room where my mom raised me is now where I paint—it's my studio. So, all of the things that I want to explore, all the things that I want to speak on, all the things that I'm curious about—they live in that home.
Nothing is chaotic, everything is divine intervention.
Like what?
The way my body performs in society, the way money performs in my community, the way space and owning property performs in my community—I contemplate these type of things in that space. There is some type of geographic social-engineering to how my people and I think, because if you place certain people of the same ethnicity within the same community and keep them there for a while through economic means—I'm talking about inner-city, underprivileged, underdeveloped youth—you can control how far these kids are allowed to dream. For me, that apartment is a space where I get to dream as big as possible, because my aunt took those risks.
So, the biggest thing for me—the biggest inspiration for my work—is just love, so much love. But I also want to expose the fallacies of man, and put those kind of points onto the scale. We are very beautiful and gifted beings, but we have tension, we have faults, we are of the flesh, and as you said, with flesh comes power. Sometimes you find yourself losing your power to other flesh, and the actions of other bodies. But that's why art is so dope—because you get to create your own atmosphere—an atmospheric value that no one can take away, because it's yours. So, I don't want to say it's fictional, but my inspiration comes from just having a space that my family owned that I can create in.
Now I understand why this idea of collective memory resonates so strongly with you and your work.
Yeah, because it was always odd to me to go to my aunt's and see black cabbage patch kids and those little dolls, and the little black babies praying and playing the drums. Then I would go to my grandmother's house in the projects and she had the same exact decorations. When you're in a specific community, there are certain things that we are just drawn to—things that we love to keep around that remind us of freedom, and spirit, and funk, and soul.
What about home as a concept—what is the significance of having a home? What to you makes something a home? And how is the concept of the home visualized and symbolized within your work?
With LAMB, the idea of the home was one of the biggest things. I really like the idea of photography in the sense that you can create an object, and once it's printed, or becomes digital, it becomes a landscape, it becomes a canvas, it becomes this modular thing. Whatever you place in the proximity of the object, it's either amplified or diminished. When you give photographs an arrangement, like you see on the wall, you get to see all these different algorithms in between—like jazz, the notes in between. So with LAMB, I was learning two things: the first being to make a photograph symbolic of something bigger than just a selfish vanity; the second was how to make a home for these people that I care so much about and respect, who are constantly moving in order for them to actually have a place—a living sustainability.
After I finished this project, I started to understand that there is a real sincerity behind the migrant body—it's not so politicized and abused and as flagrant as media paints it as. They're not victims in the sense that they're trying to find who they are, because in order for them to migrate in search of a better life, you have to know what you want out of life in the first place. You have to have an identity of hope to try to pursue a dream, then to have that dream taken away from you—taking children away from their families and placing them in these detention centers—the government is crushing dreams on a crazy level. I took the this idea and wove it into my own personal narrative, placing it within the context of my own brown body. Effectively, through history, I am told that I can't dream as much as I want to—I have to wait until somebody authorizes it, until somebody gives me the authority to say 'Dream, lil homie, do your thing.'
What I like about the idea of migrancy is that you are constantly moving, constantly adapting your dream to something new, and that's perseverance, that's sacrifice—that's survival. The home is important because you get to expand yourself, you get to stretch your skin out, and fill these spaces with your ideas. I've been blessed enough by god to have been raised in a home, and now, to get to work in that space as my studio. So, to think about bodies who want that—who thirst for that—bodies who not only want the typical American dream, they want the chance to have a dream in the first place, and they're being told no? I can't even fathom that.
Do you believe artists have an inherent political and/or cultural obligation to use their medium as an instrument of change?
I don't think it's an obligation—it's a choice. As an artist, I know that when you're down to the wire and just want to make some work, get your therapy down, you're not necessarily thinking about the world. At the same time, though, circumstances present themselves that compel you to make work that helps you to express yourself and comment on the world. My biggest thing is understanding the beautiful point where public and private meet—where your privatized life becomes something that is affected by public commentary. That's a choice you have to make—to yourself, 'Yo, I'm gonna make work that consistently speaks on things that I think are wrong, or things that I think are right.'
Some artists don't care to do that because they already know how deep and dark this thing goes, and they don't even want to try to go there, because once you do, if you're really about that money, you realize, 'Man, my collectors don't want to buy my work, because they think that they're doing some kind of rebellion or protest against the status quo.' There's a tension arises around purchasing a subversive piece, and who wants that static? Some people want the smoke—they really want to make a statement. For me, it's not really making a statement so much as the government and the political regimes my family has lived through, and the times now that have presented me with context and reference to support the things that I feel. I am contributing to the conversation by creating this whole book, but my motive was to illuminate the immigrant body, not to take the light away.
What do you think is the relationship between intention and reception?
Reception is a beautiful thing because you get to take it in, regardless of what the intent was. To go back to the body and power thing—once an action leaves the body and transfers to another one, you no longer care what the intent is, you just want to know, 'Why did you do that? Why did that happen?' That reflection is where a lot of reception gets fucked up. So, I try to stay more on the receiving side.
A lot taken away from me this year, and I fought hard to be where I am right now. I love all my brothers and sisters—my family—and that's why I think this book was so dope—because everybody gave to me without needing a reason to do so—everybody just came out. That's when you receive and don't question the intention behind what is being given. Nothing is chaotic, everything is divine intervention, everything is by god's design. I think if you spend more time trying to understand that you are a vessel worthy of receiving, even the bad things will help you live more righteously.
I think artistic creation is a process of self-discovery. Often you have this idea in your head, but when you embark on the journey of manifesting that idea, it's nothing like you thought it was going to be, but in the most beautiful way possible. Have you learned anything about yourself through the process of creating LAMB?
Honestly, I learned that I am a prophet through my work. I think god gave me a message and this was my way of delivering it to the world. I put a lot on the line for this, even having made this piece when I was in the depths of depression, and I think it's a beautiful thing for me, too, because now I know the power of my voice—I don't take this shit for granted.
Let's talk about your performance piece. Did you do anything specific as far as mental and physical preparation before the show?
For this, because we're going to be here for 24 hours, I had to fast. I fasted last week for four days, not eating throughout the day, and going to sleep around 7PM. My body felt so vulnerable and so weak, yet so strong—it was like my body was trying to chose which identity to have. Through the process, I was better able to understand the temptations of the body, and my body chose lust in the sense that the things I don't normally see as vices, such as food and rest, I never wanted more in my life. The reason I chose to be in this installation for as long as this, is because I felt throughout making the book, things were hella chaotic for me. I lost three family members over the summer and I was in a car accident. I also lost a very good relationship that I had because of a misunderstanding. Through all that, I was still able to make this book, and that, for me, is perseverance. I focused so hard on making this object real in my head that even though all this chaos was happening around me, I was still able to create LAMB.
What was the goal behind the installation?
I know there are children right now sitting in detention centers wondering where their moms and their pops are, and I think controlling visibility right now, as a brown body, and also as an immigrant, is incredibly important. On a personal level, my practice is pushing me to think about how to be still, understand chaos in a more strategic and divine way, while also representing these bodies that are being detained and completely mishandled. This is my protest, my sit-in for them. I know I'm just a 27-year-old young homie from Bed-Stuy, and I am so far removed from a 6-year-old Mexican girl trying to eat her scheduled breakfast in the morning. But tonight, we get to connect those worlds, and that's what I will be thinking about—how to really connect with that energy out there through god.
After we finish this, we're going to take that energy everywhere—we want it to be as revolutionary as possible. But the revolution isn't stated by the subject that is orchestrating the action—the revolution is defined by the people. So, we're waiting on the people to see what we're doing. We'll see what happens.
'LAMB' is out now via Paradigm Publishing.
Photos courtesy of the artist.
The Vanity of Medusa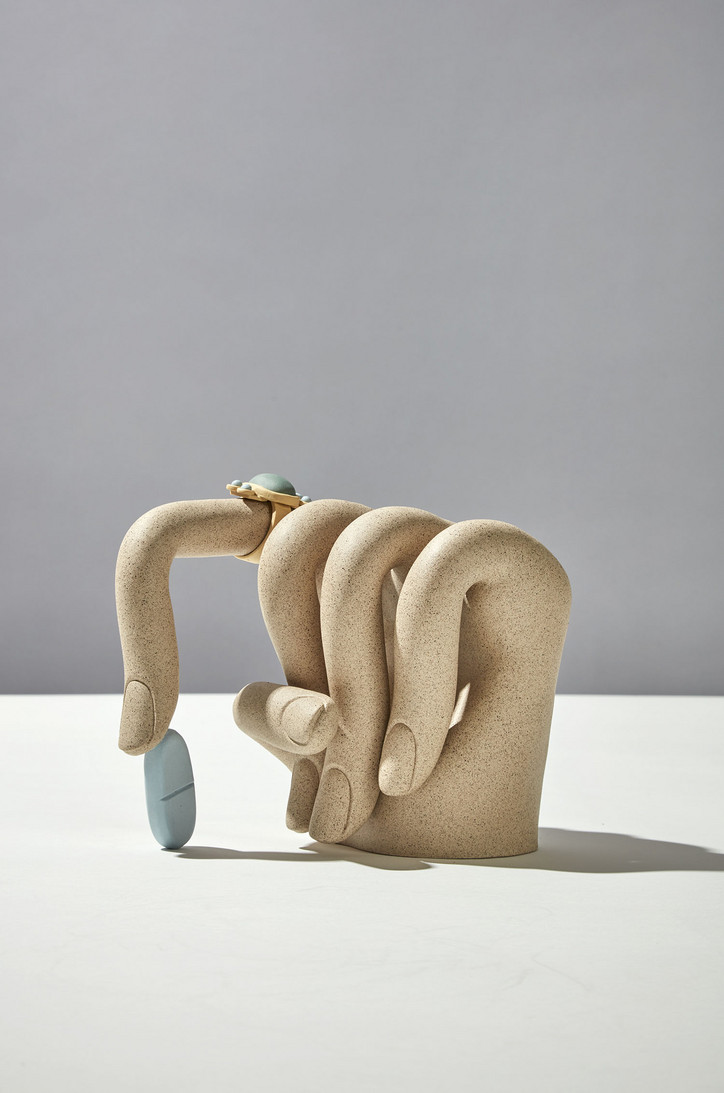 office met with the artists at the gallery to talk about the OG hysterical woman archetype and the curious case of the banana in Ms. Pac-Man. Read our interview, below.
Tell me about the show. How did you come up with the idea?
Smith: We're friends actually, and we've been involved in each other's art lives, sharing our work with each other. At one point we were kind of joking around at dinner, saying, 'When are we going to do our show together?'
Belanger: I visited Emily's studio and pointed out a painting and said, 'This is for our two-person show, right?' just joking around.
Smith: Then it became, 'Yeah, we really should do that. Why don't we do?'
Where did the concept come from, though?
Smith: I guess the vanity table is really one of the first pieces we thought about.
Belanger: Valentine from Perrotin, who gave us the go-ahead to do the show, brought us a model of the gallery space, so that we could start to think about what we wanted to do, and we decided we really wanted to make some work that directly interacted with each other's.
Smith: And this is the one where they most directly interact. We conceived of it together. I notice a lot of Genesis' sculptures are aggregates—multiple pieces together on a pedestal or on a table or something. I think she even said, 'I'd love to make a vanity,' and I said, 'I'd love to make the vanity mirror, but as a painting.' Then, as she was constructing her sculptures, I realized I wanted to directly reference them as being quote unquote 'reflected' in the mirror, which is, of course, just a painting—but the perfume bottle is reflected, various objects are reflected. There's a kind of absurdity—in the painting is a normal champagne bottle, but in the sculpture, it's quite surreal and strange. So, it's like a reverse Through the Looking Glass situation.
Who is the woman?
Smith: This is Medusa—the OG hysterical female archetype.
Belanger: We were looking at images of vanities, and the vanity is actually a vintage piece of furniture—rarely these days do you see a vanity set up in someone's house. So, we were finding images from old films where the character was this hysterical woman, with crazy lipstick, too many martinis—just a total disaster. The washed up disaster female of the modern era.
Her hairstyle reminds me of Who's Afraid of Virginia Woolf? But she's not necessarily hysterical.
Belanger: She is hysterical! The fighting that they do—it's just so unreasonable.
Smith: Medusa has been a bit of a recurring character in my work. The figure is an animated broom handle that transforms into all these different female archetypes in many different pieces I've made—it's a kind of series.
It felt vaguely familiar. Is it the broom from Fantasia?
Smith: Yeah, that's the broom, that's the origin. These are all oil paintings, and Genesis' work is all clay and stoneware.
Belanger: Right, and they're not painted, so any color is integral. But the pedestals are all covered in 100% wool. They're wearing coats.
I actually have a desk at home that I made into a kind of vanity because it's too low to actually sit at. But I love the concept of vanities, especially the word. Do you have one in your house?
Belanger: I live in a 420 square foot apartment, so I have no extra furniture. I barely have a couch.
Smith: But so, yeah, this was the first piece we worked on. There was also this one painting I began thinking about based on one at the The Met by Marie-Denise Viller, that's a portrait of another woman drawing. There's this kind of beautiful thing of one woman artist looking at another woman artist drawing—there's this incredible acknowledgement of being a female artist. It was made in 1801, and it's called 'Portrait of Charlotte Du Val D'Ognes.' It has this really wild backstory, which is that it has been misattributed to Jacques-Louis David, who's like the ultimate French painter, and it was finally uncovered in the 1960s that it was a female who painted this, but nobody knows who she was or her story. It turned out, she was actually this reputed salon painter. 
It's a beautiful painting that has this light coming from the window, which is one of my favorite kinds of lighting to paint because it positions the viewer on the other side. There's something about positioning the viewer as if they were behind something, like trying to paint from a new perspective. Anyway, I took my broom lady and put her in the place of the figure in the painting, and wrapped her in the domesticity—she's wrapped in the curtain which becomes her dress, and she's looking out the window instead of at the viewer. Then the chaise lounge—I knew that Genesis was going to build a chaise, so I wanted to make sure that's what she was sitting on.
I've always wanted one of those—like a fainting couch.
Belanger: It's perfect with the cigarette legs.
Above: Installation views of 'A Strange Relative.'
I noticed! So, you made it?
Belanger: Yeah. So, Emily had made some paintings that were also referencing more historical paintings and painted in a more classical style—sometimes her work is more pop, but not always. I was thinking it would be amazing if we had one of these more classical, art historical paintings as if it were in a grand living room, and what piece of furniture would be more perfect than a chaise lounge?
There's something about a chaise lounge.
Belanger: It's similar to a vanity in that it's a piece of furniture that's gendered. You never see a masculine study with a chaise lounge—I mean, that might not be entirely true because there's those Bauhaus ones, but then it's called a day bed.
Smith: And then there's the association of the couch with psychoanalysis.
Belanger: Lots of times, I want my objects to be an embodiment of our psychology. So, how does that manifest in a piece of furniture? I feel like this chaise lounge is a grand lady. And then the bouquet—I think about flowers all the time and how they are a gesture of so many different things: condolences, apology, celebration. But they're this gesture that's pretty weak—like, if someone dies, do flowers really do enough? I don't think so. They're a band-aid. This is called 'Double Standard,' and I was thinking about how men cheat on their wives and bring them flowers to apologize. It's just such a weak gesture—and what better thing than to be on this furniture embodiment of a woman?
I can't get over these fingers in the bouquet.
Belanger: They're crossed fingers, like she's keeping a secret, or she's insincere. Like when you promise something or say you're sorry and hold your crossed fingers behind your back. It also directly references the broom figures.
Belanger: Despite our intentions, our work already has a lot of parallels—it's already in conversation. We also have the same birthday.
When's your birthday?
Belanger: May 27th.
So, you're a Gemini? That's kind of perfect since you're kind of like twins.
Belanger: The light and the dark.
Who's light and who's dark?
Belanger: Well, I'm silver and she's black—just appearance, though. On the inside, we're both.
I love all of your still lives, as well—all of the fruit.
Belanger: I made my fruit sculptures inspired by Emily.
Smith: Last year, I made a painting with a specific frame. A lot of times, I paint a frame or border element in my work, which makes the painting sort of self-aware because it shows the boundaries, and these boundaries in our world are often invisible—it's a way of rendering them visible. Art history is a boundary—all the boundaries of agency. So, I did this smaller painting of fruit last year and when I painted the grapes, I made them hang out over the edge of the frame, and I couldn't really stop thinking about that as an important moment. Then I realized, 'What if I enlarged that scene, took away the painted frame and made that frame the shape of the painting itself?'
This arched shape at the top you see a lot in 19th century paintings, like sublime landscape paintings and symbolist paintings have this curve—even Casper David Friedrich had this curved top. So, basically, I kind of wanted to do my own version of a sublime landscape, but instead of it being great land of Manifest Destiny, it's just an incredibly large bowl of fruit.
It's not even a bowl—it's literally a landscape.
Smith: Yeah, it's like, 'Where's the end?' Perhaps there's no end—maybe they keep going. Fruit is so suggestive and metaphoric—they represent the body, they're sexual and they can be very funny.
Above: 'Well Appointed' and 'Daily Adoration' (detail) by Genesis Belanger.
You've also included the peach, which has taken on new meaning as an emoji...
Smith: Right, that's true! Actually, I left the banana out on purpose. I have done bananas in the past, but this time I thought it would be too far into emoji-land.
It has a color scheme as well, because of the lack of the banana—it's very purple and green, and they're so circular. So, a banana wouldn't make sense, aesthetically.
Smith: The other thing with this painting is the overall lighting situation, where the main light is behind the fruit, which gives it this weird sense of forever-ness, like it could keep going. I almost like to think that perhaps it's what's on the other side of the window in 'The Drawing Room.' There's something so satisfying about the grapes breaking the frame and dangling—a bunch of friends have made the joke that they're almost like testicles—just balls hanging from the bottom of the painting.
Belanger: If you think about those Manifest Destiny paintings too, they were talking about man's agency over all of the wild land—it's there to be reaped, and this is almost an exaggeration of the idea of a reaping.
Smith: That's funny, I almost called it 'The Reaping,' but then there's a movie called The Reaping and I was like, 'Nope, can't call it that.'
But Genesis, you do have bananas in your work(s).
Belanger: So, then my base is kind of that same idea but grasping all the fruits—just hoarding them. I love fruit because it's this way men talk about women. Like, 'She's so ripe,' and it's a reduction of a woman using fruit, and it's absurd, and ridiculous, and insulting, but also, hilarious—I think about that a lot. The banana is really important to me because—I don't know if you've noticed, but in Ms. Pac-Man the banana is worth as much as all the other fruits combined. The banana is the patriarchy in the Ms. Pac-Man game.
Do you play Ms. Pac-Man a lot?
Belanger: I used to be sort of obsessed. Also, if you think about it, Ms. Pac-Man is just Pac-Man in drag. It's like, drop a bow on it, now it's a girl! I actually made a video of Pac-Man magically transforming into Ms. Pac-Man by eating lipstick and a shoe. But the thing about food that's so true is that it's a metaphor that's used to dehumanize anybody who's the object of dehumanization, especially racially, when they talk about skin colors as if they were food.
Smith: Like, 'She's mocha,' or 'She's vanilla.'
Belanger: It reduces someone into just what is consumable—it turns them into a consumable thing.
It's desire—food and sex are like a hunger.
Belanger: The sandal with all the fruit in it I call 'Swollen,' and it's like you're stuffing as much consumable stuff into this tiny space until it's bloated.
It's cool, too, because the flowers and fruit decay. So, they're going to fall apart.
Belanger: Right. I also think about our obsession with youth all the time. I turned 40 this year—Emily is actually a year younger than me—and I would never give one of those years back.
I would never have guessed.
Smith: I don't know if we talked about this, but I painted the rings from Genesis' finger sculpture on Medusa's fingers, and I was just thinking about how when you look at Medusa, she turns you to stone, and all of the sculptures are made out of stone.
Belanger: That's why we needed her—before, she was going to be just the broom. But the giant fingers are the biggest ceramic piece I've ever made. I really love it when a portion of the body or an object becomes a stand-in for the body, and these fingers really started to feel like legs to me. The broom is a person, this is a person, it could be two people—it's the Gemini. I hadn't even realized that.
Smith: We're geniuses.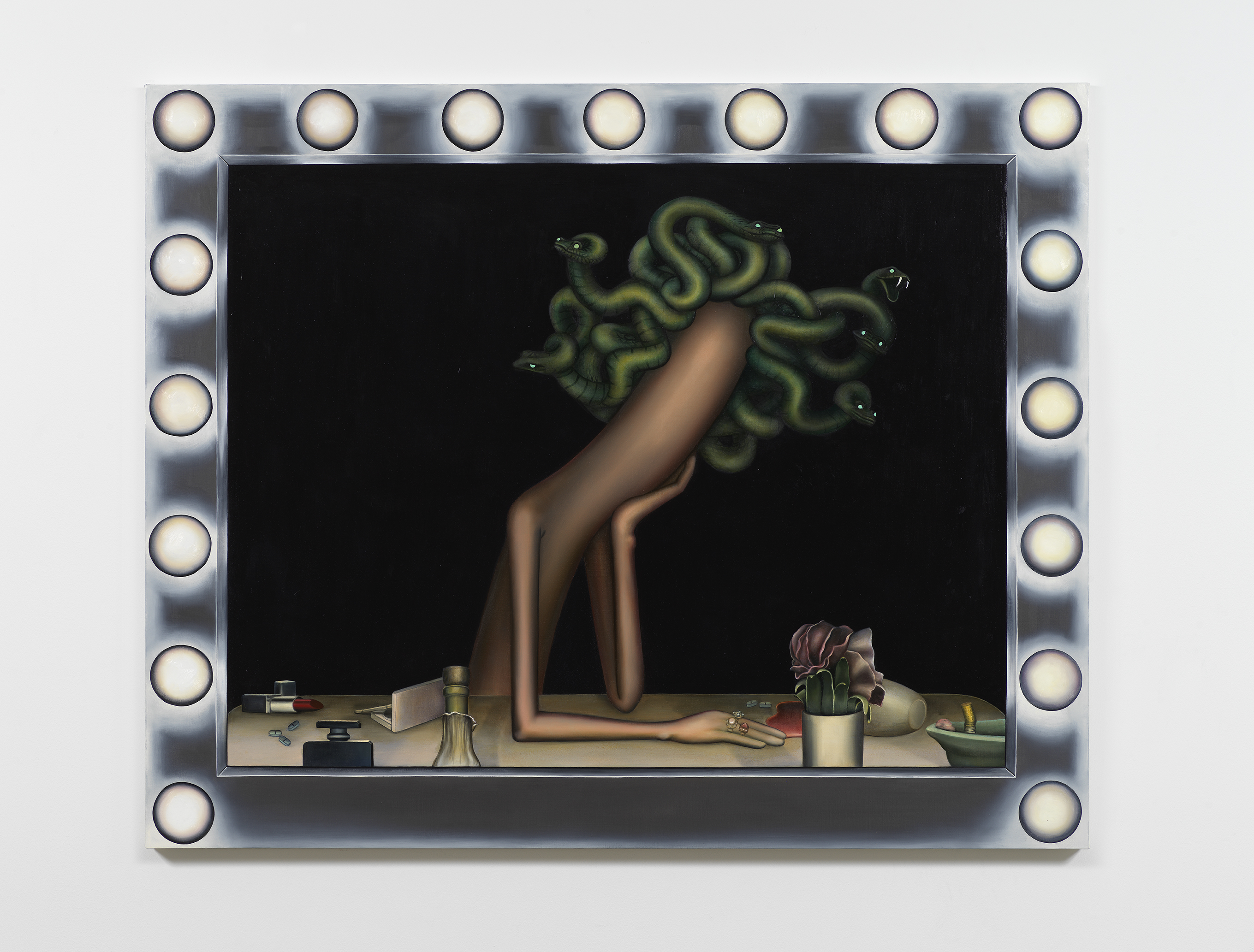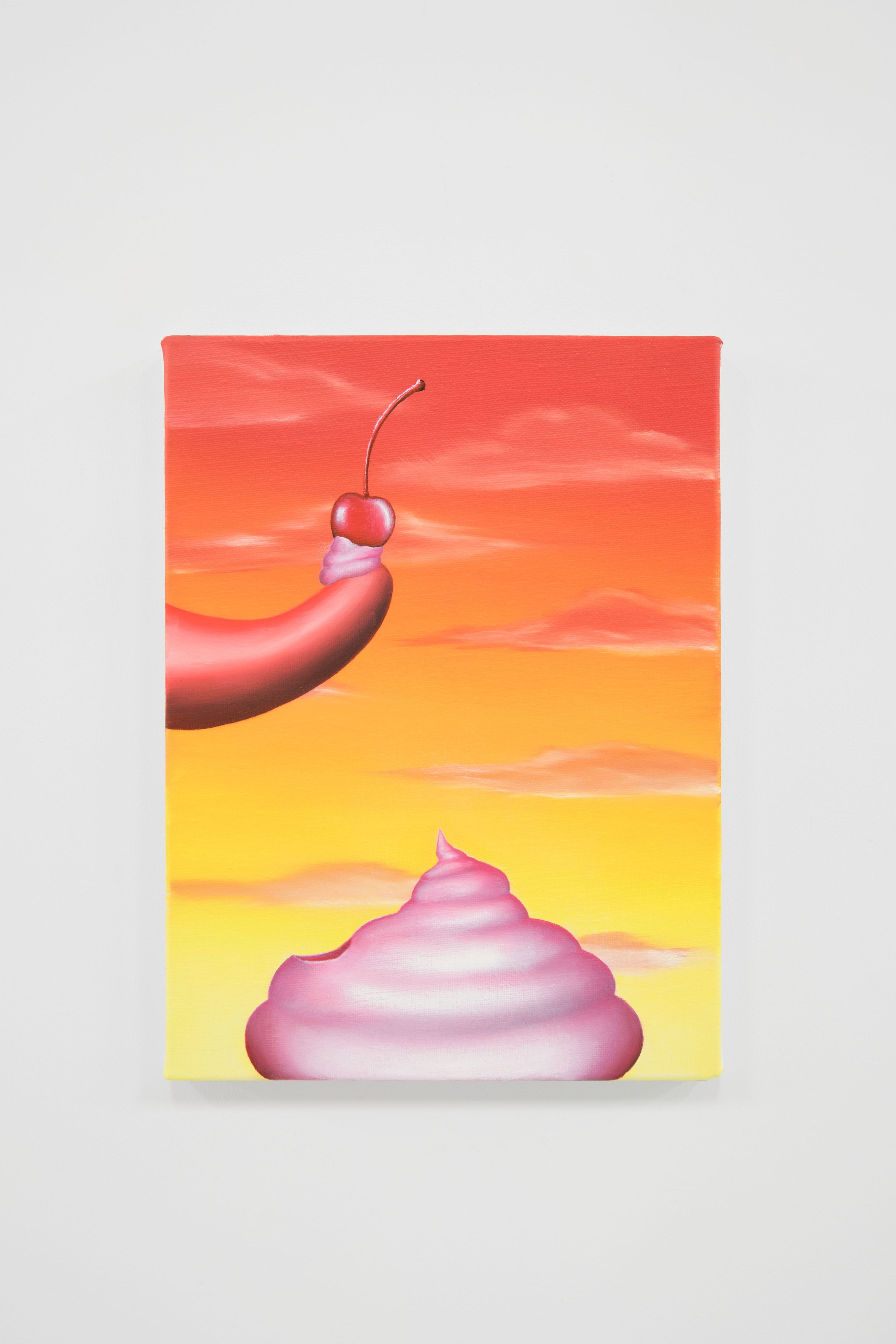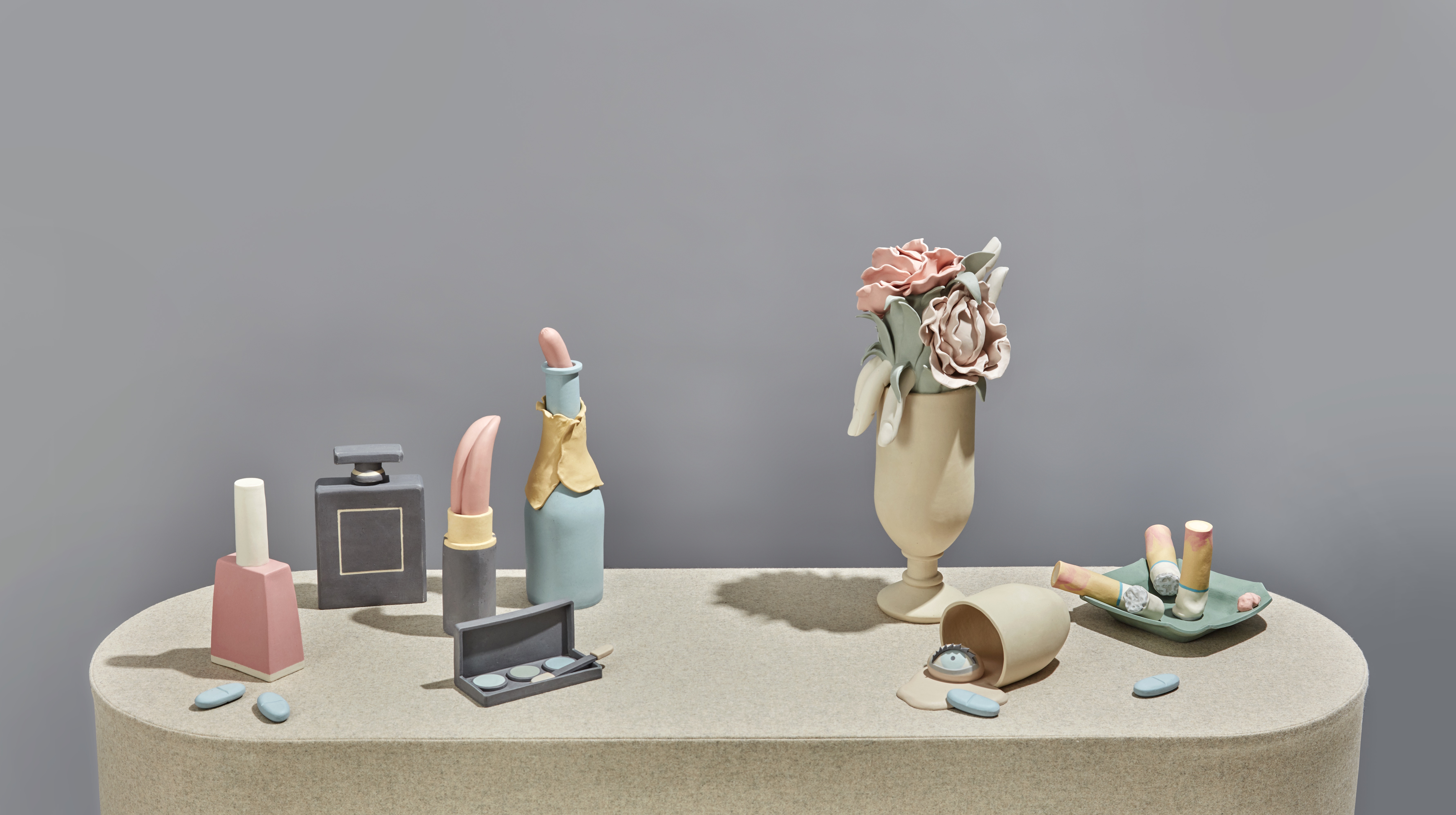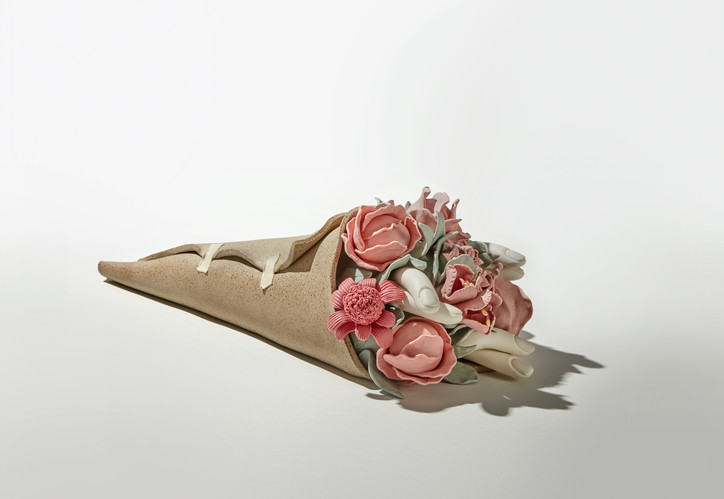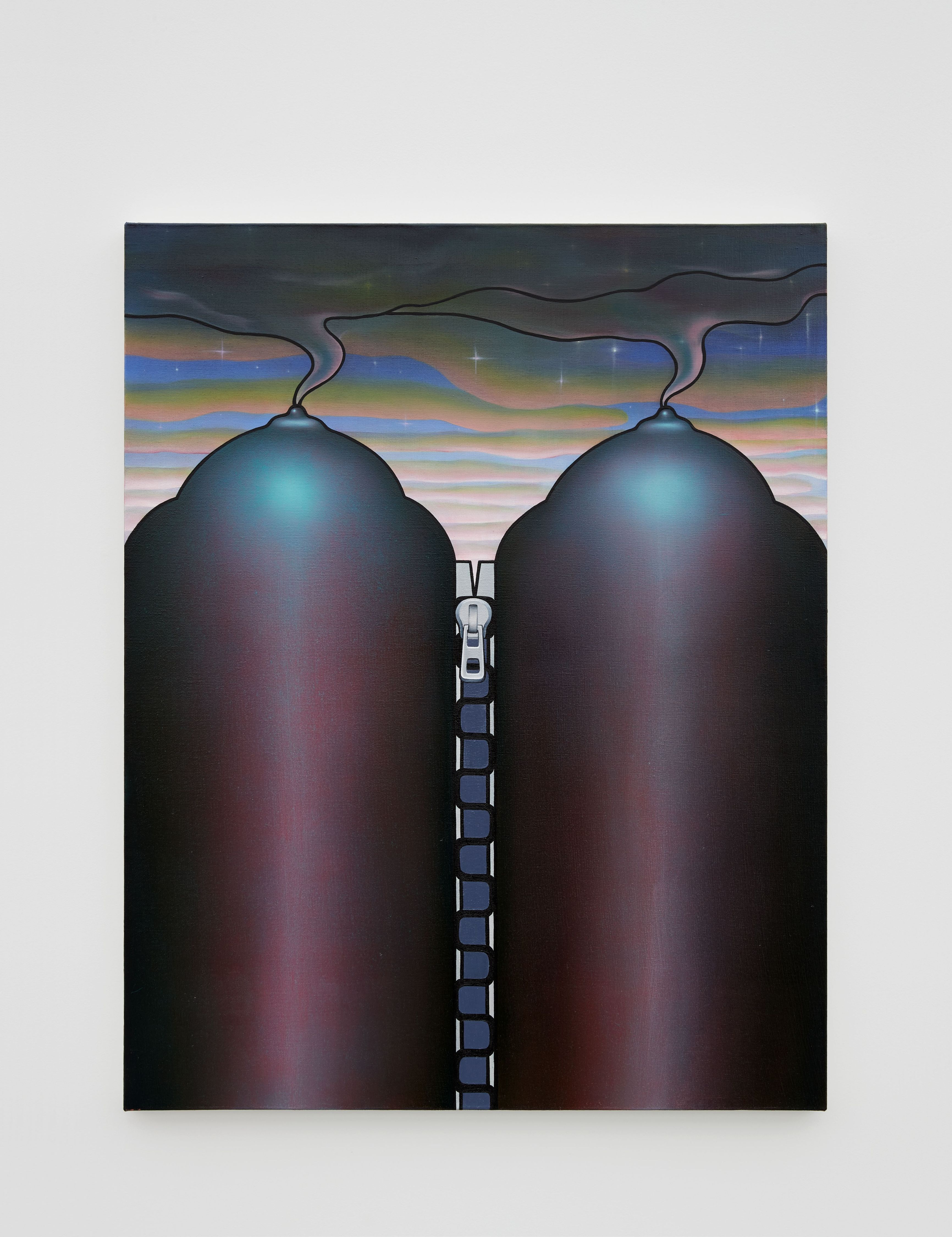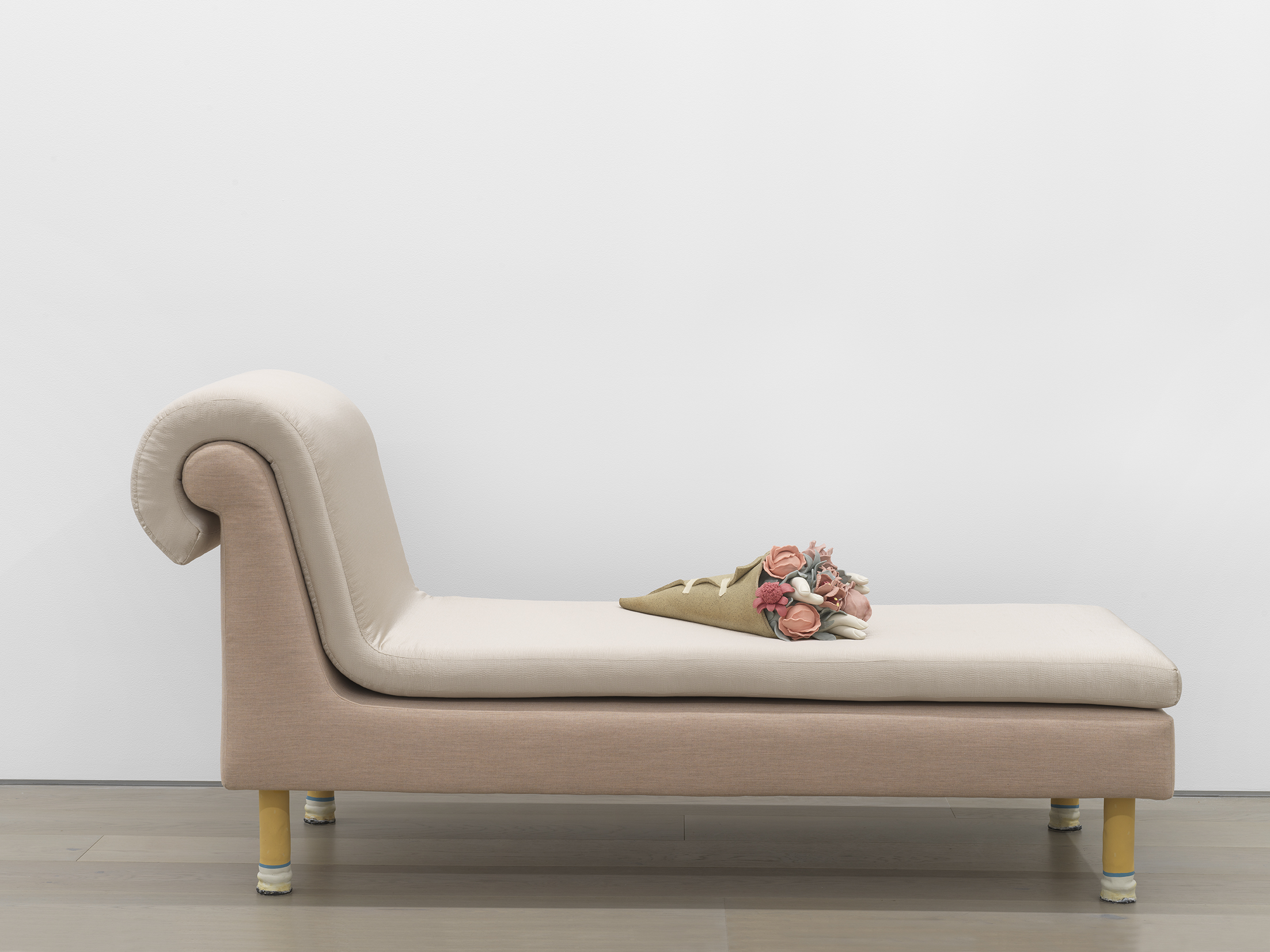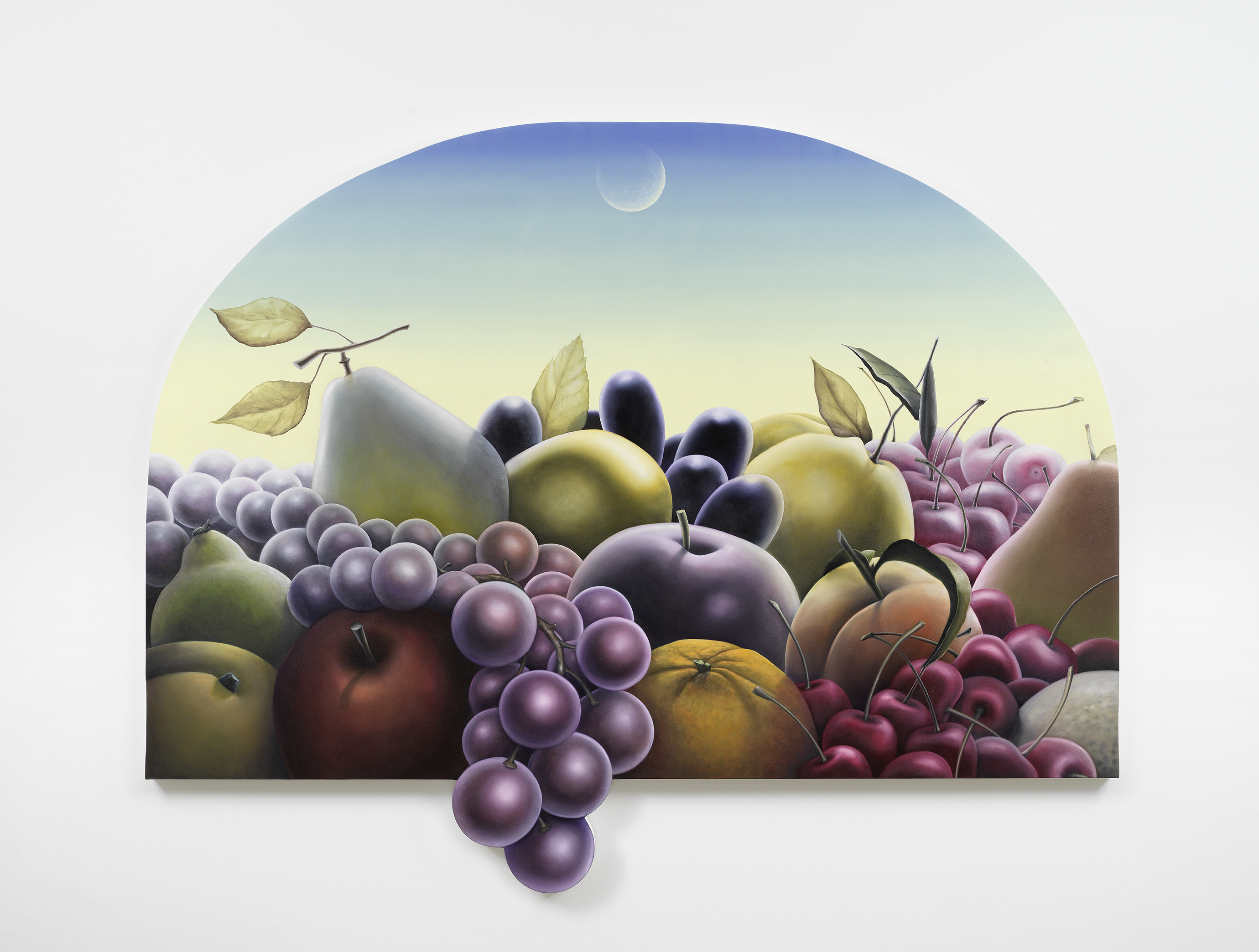 'A Strange Relative' is on view at Perrotin through December 22, 2018.
All images courtesy of the gallery.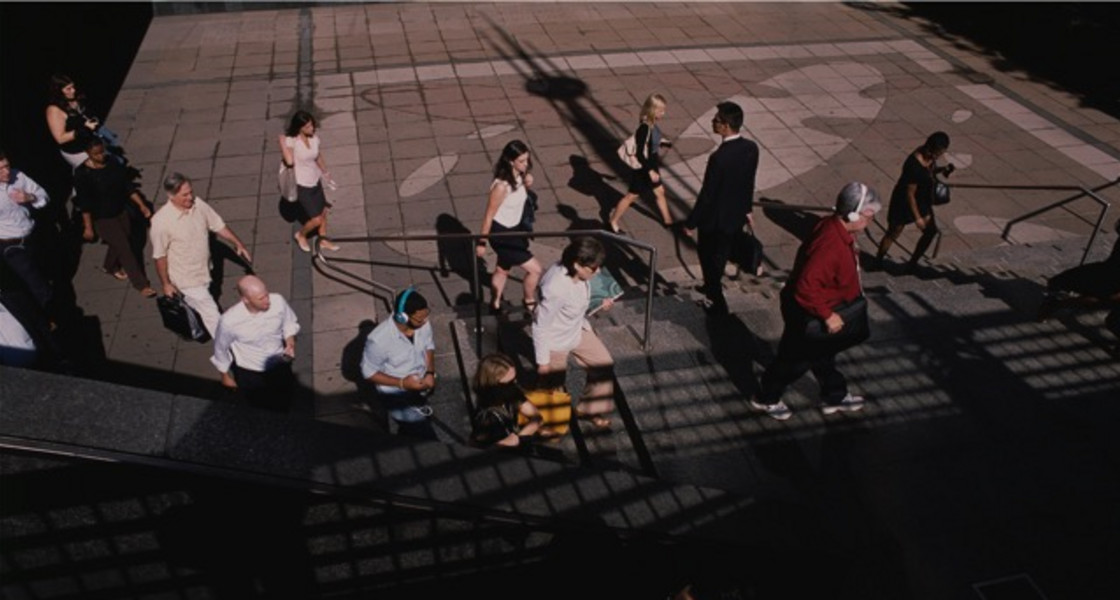 Ghosts Don't Walk In Staight Lines
On view at Red Hook Labs this weekend, office sat down with de Brauw and van de Wijngaard; the duo sounds off on the project, below.
In three words, how does New York make you feel?
Saskia de Brauw: I would say New York has a sense of freedom, night and insanity.
Vincent van de Wijngaard: If I were to describe it in three words, it would be: I feel home.
As a foreigner myself, I can totally relate to the need to slow things down sometimes, especially when you live in a city that moves at such a high speed, like your exhibition references. So, how do you think the city's pace affected the ways in which you interacted with your environment?
de Brauw: In New York, when you are doing something a little bit different, it's not that strange, because many people here are doing different things. So, walking more slowly is not even that weird—it makes certain people really angry, but many don't even realize they feel that way. I mean, there were parts of the route I walked that were really busy. So, I adapted my pace to the amount of people—the more people around, the slower I would walk. I didn't consider myself as an obstruction and I never wanted to be in the way of people, and I felt that I was only once—in a very, very busy area around Times Square where someone pushed me and got really annoyed with my walking. But most of the time, I was able to be present and just move around. So, that's something that's definitely the case in New York—there's space enough for everyone to have their own space, somehow.
Why did you start this project?
de Brauw: It was the moment before we moved to New York. When I was traveling a lot in the city with my work as a model,  I found it quite hard to be here—the high pace was something I couldn't really deal with. Then, these slow walks started to be an exercise for me to relax and be able to find my place in the city. After that, it kind of developed into this idea of, 'What if I would do that for an entire day? How would that feel? And should I make a project out of this?'   
What was the most surprising experience during your walk?
de Brauw: For me, it was when the experience of the walk at one point finally started to feel relaxing. Suddenly, I felt relaxed with what I was doing and my mind started to feel the same way. It's the moment where you get a flow in your head—where everything kind of makes sense; it's not busy with thoughts about what people might think or say, and the remarks just roll of you like water.
van de Wijngaard:  Essentially, I am a photographer who works on the streets. So, the whole fashion aspect of it came a lot later. But I am someone who walks a lot on the streets, and there is hardly anything I enjoy as much as walking around with a camera and just looking at things that peak my interest for a moment. When I do get interested in something, I usually wander around a little bit more and investigate—that's how we determined the certain routes that we followed in the film. But the walk is definitely the main subject—the film and photography are just evidence of it.
The project consists of the film, the exhibition and the book. Why did you choose those mediums?
van de Wijngaard: At one point, we sort of thought, 'What would be the ideal way to document this walk?' And of course, film is a good way to do it. So, the final film also includes a lot of Super 8 materials that function like flashbacks. Then we finally recorded and shot the final walk over a day, and those two were mixed in a chronological order. So, it's almost like when Saskia  passes a certain point on the road, there are these little inserts or breaks. Then we also had a lot of material that we had collected, like smaller interviews with people, and different quotes, and I had a lot of pictures. So, that's when we thought we should maybe consider doing a book—that's how it all came together.
You said you usually just find things or places that you like and wander around from there. But how did you decide on the actual route you took?
da Brauw: I just thought it was the most beautiful line that stretches from North to South—it basically takes us across the island that way. But for most of the route we follow Broadway, which is not a straight line on the grid. At one point, we do leave Broadway because we wanted to capture different neighborhoods and fields, and we really wanted to pass through Chinatown—so we do make a little detour. On our walk, we were avoiding the grid as much as possible, and tried to capture as many stories or interesting neighborhoods as we could.
What about the title Ghosts Don't Walk In Straight Lines—what does it mean?
de Brauw: It refers to a street in Chinatown called Doyers Street, which is actually a small bended ally. There's an old Chinese story that says that ghosts only move in straight lines. So, in this ally there where a lot of murders, but the bend in the ally happened to protect people from the ghosts of the people they murdered.
van de Wijngaard: It was more like, they had this alley with most extensive murders in the US, based in this little bend. The people committing those murders felt safe because they could never be seen by a ghost. So, there were these expanded network tunnels below the ground leading away from this little street, and some are still there today.
de Brauw: And our title is Ghosts Don't Walk In Straight Lines, so the reference starts from there and includes a reference to the ghosts of the past, our memories, and the stories we all have—that everyone in the city does.
It's 6AM, where in the city are you watching the sunrise?
de Brauw: Brooklyn.
What two totally normal things become really weird if you do them back to back?
de Brauw: In this case, the walking is something very normal, but when you change the pace of something that's very normal, it can become quite strange. But it can be anything I think—that's what performance art is really based on—doing something really normal but placing it in a different context, where it can become something strange.
Tell me about the Haider Ackermann dress in the film.
van de Wijngaard: We had this dress made for Saskia by Haider Ackermann, who we became friends with a couple of years ago while doing another short film. Haider designed the dress made of leftover pieces of textile which represent the patchwork of New York's different neighborhoods. The idea we had for the dress was that it would be really interesting if we actually could see the change of time in the dress, by how much it was worn and through the changes that happened when it was used. So, Haider ended up making the dress from all these leftovers and because of the length of it, it takes the dust from the route, and little objects and other things you find on the surface of the streets, with it.
We also collaborated with musician Jim Beard. I have been a big fan of his for a really long time. He did this record that I really like that uses a lot of sounds from the streets, which was actually something that we were doing, as well. So, we were recording sounds for ourselves that we liked, and we wanted to have a beautiful soundscape supporting the film. We also worked with graphic designer Matt Watkins, whose book we had that we really loved. It's a book by a filmmaker/photographer Will Wenders called Places, Strange and Quiet, and we just always went back to the book for inspiration because it's so simple and minimalistic—we wanted our book to be very precise and clean.
What do you want the viewers to take away from the project?
de Brauw: Emotion.
van de Wijngaard: I think there are many layers to look at. You can look at the book, you can look at the people that we saw on our walk. For me, the pace which we move around—the high speed—is, in a way, really what it questions. Also, what all people hopefully will see is the diversity of it and the richness of it, just like if you were wandering around in the city, finding all these stories and seeing all these people, just looking at the scenery.
'Ghosts Don't Walk In Straight Lines' is on view at Red Hook Labs through November 11. Photos courtesy of the gallery.