Sign up for our newsletter
Explorations of Infinity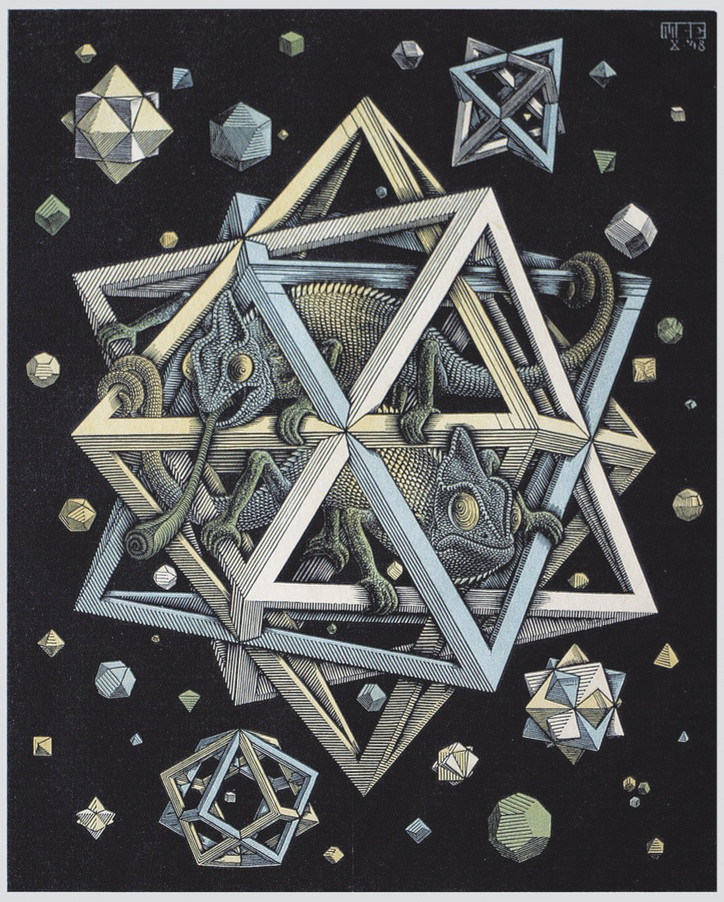 Last Call: January '20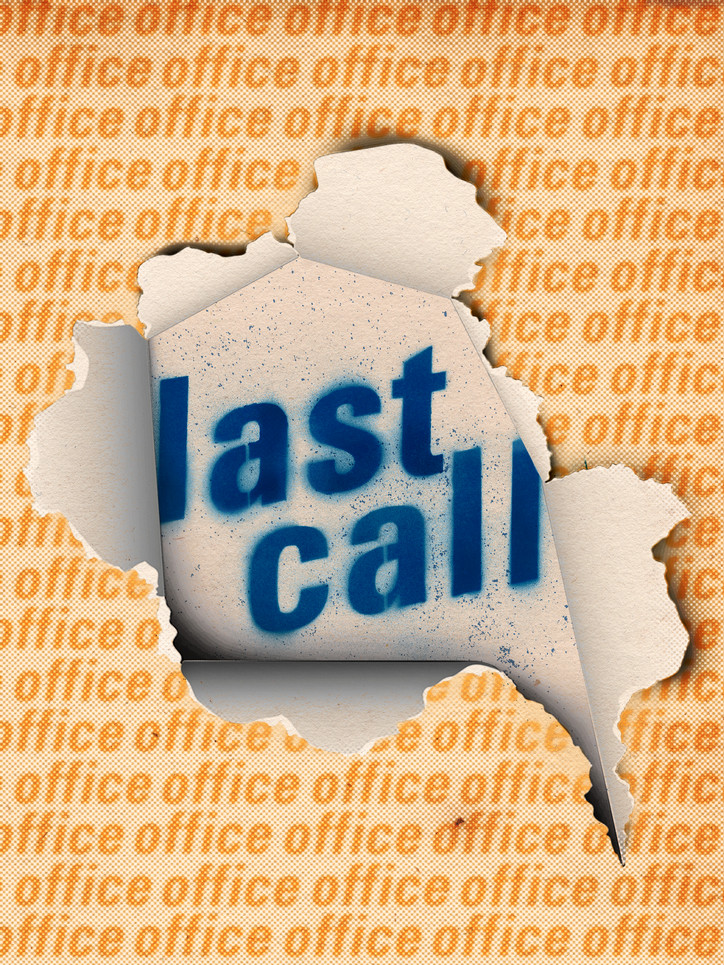 Palace of Errors — Closes February 2
Lila de Magalhaes — Deli Gallery
In a small, nearly-bare gallery space, the Brazilian-born, LA-based artist Lila de Magalhaes accomplishes something special—a deconstruction of consumption, abundance, and longing. 
Palace of Errors is as playful as it is erotic, tackling mass production within the context of sensual desire through a series of embroidered, dyed bedsheets and two sets of ceramics. One mother-of-pearl glazed group, titled Milky Gummy, offer curious little creatures, while another set of slate-gray sculptures, named Sssssss, Sssss, Sss, and Ss, are all, well, snakelike coils that wind into piles on Deli Gallery's floor. Each snake stares up at the lush tufts of vibrant fabric and the scenes threaded into soft-hued sheets.
de Magalhaes' show is precious and precocious, whimsical and unnerving all at once.
Photo courtesy Gustavo Murillo Fernández-Valdés
Insurgency of Life — Closes February 8
Goldin+Senneby — e-flux
When the Stockholm-based artist group Goldin+Senneby talk health care, it's a little more abstract (and compelling) than what you'll hear at the Democratic debates. At e-flux Gallery, they're reaching deeper underground, to examine the parasitic fungus that blooms from the head of a cicada; back in time, to the moment the artists' left foot went numb; and into the future, when robots perpetually shake phones in order to confuse, and ruin, the patient pedometer data harvested by insurance companies. 
Don't get that glazed-over look just yet—this isn't a health exhibit per say. It's about the reality of the human body, our relational dependencies, and the commercialization of conditions. And it's more off the wall than your average gallery, so to speak. Credential line ups for the exhibition cite x-ray physicists, biologists, mycologists, musicians, designers, and YouTube machines. Plus, if you see Insurgency of Life on January 30, you can also catch Triple Canopy's event Crying Pine Tree hosted by the artists.
Every Crack, Every _ _ _ _ — Closes February 9
Martin Beck, Amy Lien & Enzo Camacho, Elle Pérez, Charlotte Prodger, and José López Serra — 47 Canal
How do you quantify emptiness? What noise do you make in a quiet place? How gentle can (should) you be? Maybe more than anything else, 47 Canal's latest group of artists want to know the answer to the question: "What's been overlooked?" 
Every Crack, Every _ _ _ _ hosts a wide range of artists, including Martin Beck, Amy Lien & Enzo Camacho, Elle Pérez, Charlotte Prodger, and José López Serra, interpreting a variety of landscapes with an open mind. On the whole, it's an optimistic show. The artists each offer their own approach to trading ignorance for possibility, withdrawal for integration, eradication with regeneration.
There's something for everyone here. Perez's' intimate photography, collage work by Serra, Beck's sculptures, and videography by Prodger are all worth seeing on their own, but are only made more exciting in conversation with the work of their peers.
Currents: An Overwhelming Response — Closes February 9
Mimi Bai, Sera Boeno, Nikesha Breeze, Becky Brown, Caryl Burtner, Bernadette Despujols, Priscilla Dobler, Debora Hirsch, Elektra KB, Nsenga Knight, Le'Andra LeSeur, Nikki Luna, Stefana McClure, Rosemary Meza-DesPlas, Nelson Morales, Pamela Rush, Alicia Smith, Caroline Wayne, & Connie Zheng — A.I.R. Gallery
As you can imagine, an open call for artists to submit work on gaslighting in 2019 might get An Overwhelming Response. The 19 artists that Brooklyn's A.I.R. Gallery chose to show in their latest exhibition show work under a title referencing Le'Andra LeSeur's videos, which examines resistance to Black women who report sexual assaults. 
The entire exhibit is a multimedia homage to experiences of manipulated realities, and it's as full as you would hope and expect. Expect to be vindicated. Expect to feel hurt. And, breathe a sigh of relief, because Currents leaves us hopeful of healing. 
LINEAR MOMENTUM & THIS MUST BE THE PLACE — Closes February 16
Stephen Somple, Russel Tyler — The Hole
Stephen Somple and Russel Tyler, at first glance, have very little in common. But visit both solo shows at The Hole on Bowery and you'll find yourself happily exhausted by the endlessness of either artist. 
Somple's Linear Momentum is a room lined with gold and black brass hunks, often dented by the weight of his own body, thrown against the metal again and again and again. Tyler's fluorescent painted colorfields stand in stark, contained contrast, yet almost every single canvas is graced with the same line and circle forms. In either show, there's something physical at work echoing throughout the gallery space that's worth seeing for yourself in person.
Downtown with Dr. Dieter Buchhart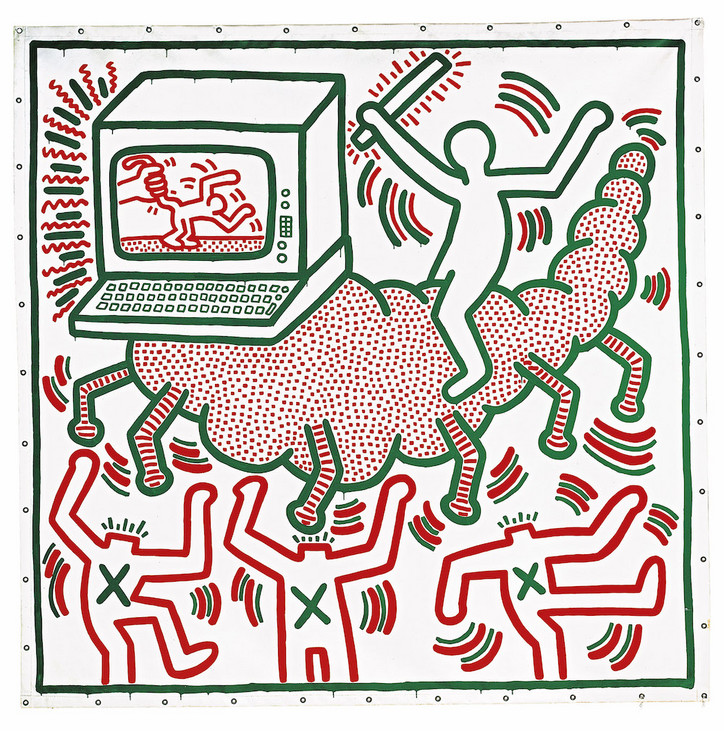 Keith Haring and Jean-Michel Basquiat at the opening reception for Julian Schnabel at the Whitney Museum of American Art, New York, 1987 © George Hirose.
Buchhart points out that being part of the "Downtown" scene in the '70s and '80s meant working in a variety of performative disciplines—both Basquiat and Haring worked as DJs, videographers and photographers, and in a variety of mediums as artists, especially collage work.  "The overcoming of traditional lines separating individual disciplines and cultural realms created a structural openness that led many of the artists of the Downtown scene, including Haring and Basquiat, to partake in artistic collaborations," Buchhart says. 
Left - Jean-Michel Basquiat. "Self portrait" (1984); Acrylic and oilstick on paper mounted on canvas, 98.7 x 71.1 cm. Private collection © Estate of Jean-Michel Basquiat. Licensed by Artestar, New York.
Right - Keith Haring. "Untitled" (1982); Synthetic polymer paint on vinyl tarpaulin with aluminium eyelets, 213.5 x 220.0 cm. J W Power Collection, University of Sydney, managed by Museum of Contemporary Art. Purchased 1982 © Keith Haring Foundation.
You've connected artists before that don't usually hang side by side. But the Keith Haring and Basquiat pairing is more of a no-brainer; they had shown together in their own lifetimes. What's new in the NGV exhibition?
As the exhibition title implies, we focused on the crossing paths of these two exceptional artists: the intersections in their lives, practices and ideas. Thanks to the generous support of The Keith Haring Foundation and The Estate of Jean-Michel Basquiat, we had access to an immense pool of archival materials that allowed us to document both their private and working relationship to an unprecedented extent. Interviews with their contemporaries—Patti Astor, George Condo, Diego Cortez, and Jenny Holzer—also gave us invaluable and previously unpublished insight.
Haring/Basquiat: Crossing Lines demonstrates how, despite having very distinct languages, the idiosyncratic imagery, radical ideas, and complex sociopolitical commentary of both artists created an indelible legacy that continues to influence contemporary visual and popular culture today. And while, as you say, it should be a "no-brainer" to explore this friendship (and rivalry!), Haring/Basquiat: Crossing Lines is a world premiere exhibition, the first large scale museum exhibition dedicated to these two outstanding figures of 20th century art.
What's the value of these connections in a time where both the works of both Basquiat and Haring are achieving popular success among younger generations? Is there anything people overlook about these artists now?
Interesting question. Today, both are considered among the most influential artists of not only the 1980s but more broadly of our time. Both are relevant to global youth culture today; in fact, they have never been more relevant. While Basquiat anticipated today's "always-on" culture of communication and contemporary knowledge spaces, Haring foreshadowed emojis with his image-word. This universal system of communication remains a positive, humanistic meme in the collective struggle against ignorance, fear, and silence.
An aspect that is perhaps overlooked is the importance and decisive nature of their artistic collaborations with other artists and performers from various backgrounds.
Left - Jean-Michel Basquiat. "Museum security (Broadway meltdown)" (1983); Acrylic, oilstick, and collage on canvas, 213.0 x 213.0 cm. Private collection © Estate of Jean-Michel Basquiat. Licensed by Artestar, New York.
Right - Keith Haring. "Prophets of rage" (1988); Acrylic on canvas, 304.8 x 457.2 cm. The Keith Haring Foundation, New York © Keith Haring Foundation.
Their works are like codes and keys to yesterday, today, and tomorrow.
What legacy have these artists left in the NYC art world?
Their legacy is not limited to the art world of New York City, but an integral part of art history as a whole. They were both visionaries that not only inspired subsequent generations of artists, but also anticipated the present. Their works are like codes and keys to yesterday, today, and tomorrow.
Is there any significance of the show's location in Melbourne? 
Keith Haring's visit to Melbourne in 1984 is well-documented, as is Basquiat's sampling from Aboriginal iconography. But these ties are not what speak so clearly for Melbourne as the ideal location for our ambitious presentation. We live in a global village, and Melbourne is an incredibly dynamic city and cultural hub.
What made both these artists so successful, even within their own lifetimes, and what draws you personally to their work?
I was first drawn to the works of Basquiat, because I saw the same energy in his works from the 1980s that I saw in the works of Edvard Munch from the 1880s. Munch was radical. He would scrape off all the paint from his canvases. He was like no other artist before him. I saw this same energy in Basquiat and started researching his work. Very soon, it was clear to me that he was not a neo-expressionist or expressionist at all. He was a very intellectual, conceptual artist. And that's what got me really interested. I became aware of Haring's oeuvre through my work on Basquiat and my research into the art of the 1980s. What especially caught my attention in Haring's work was his unique political line.
I believe that the key to the continued interest in Haring and Basquiat's art is the relevance of it. Their work is of our time.
Basquiat was one of the first Black American artists to gain a sort of superstar status. Haring's existence and production, on the other hand, was in some ways backed by the establishment. How does the exhibition engage with these themes?
Both Haring and Basquiat were most definitely considered superstars. While it is true that Basquiat, unlike Haring, did not have any formal art training, it is important to note that he was equally backed by the art world "establishment." The genius of both was noticed very quickly by the establishment, something that is reflected, for example, in the astounding number of international group and solo exhibitions that both participated in during their lifetimes.
Both artists received critical attention early on in their careers, although some projects they worked on were perhaps not fully appreciated by all of their contemporaries—Haring's progressive Pop Shop, for example, or Basquiat's collaborations with Andy Warhol and Francesco Clemente. The show includes many works which were first shown in some of the artist's most decisive early shows, works from the New York/New Wave exhibition, for example, or from their seminal presentations at the Fun Gallery.
You can see Crossing Lines at the National Gallery until April 13.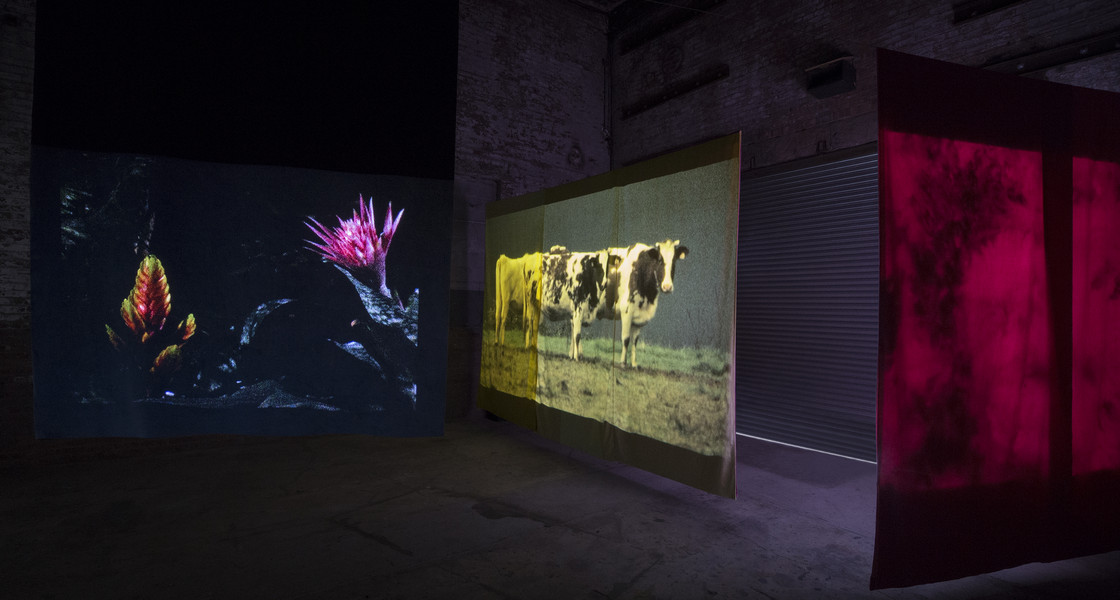 "Jacklighting"
Jacklighting is on view at The Chimney until February 23, 2020.