FatBoy's World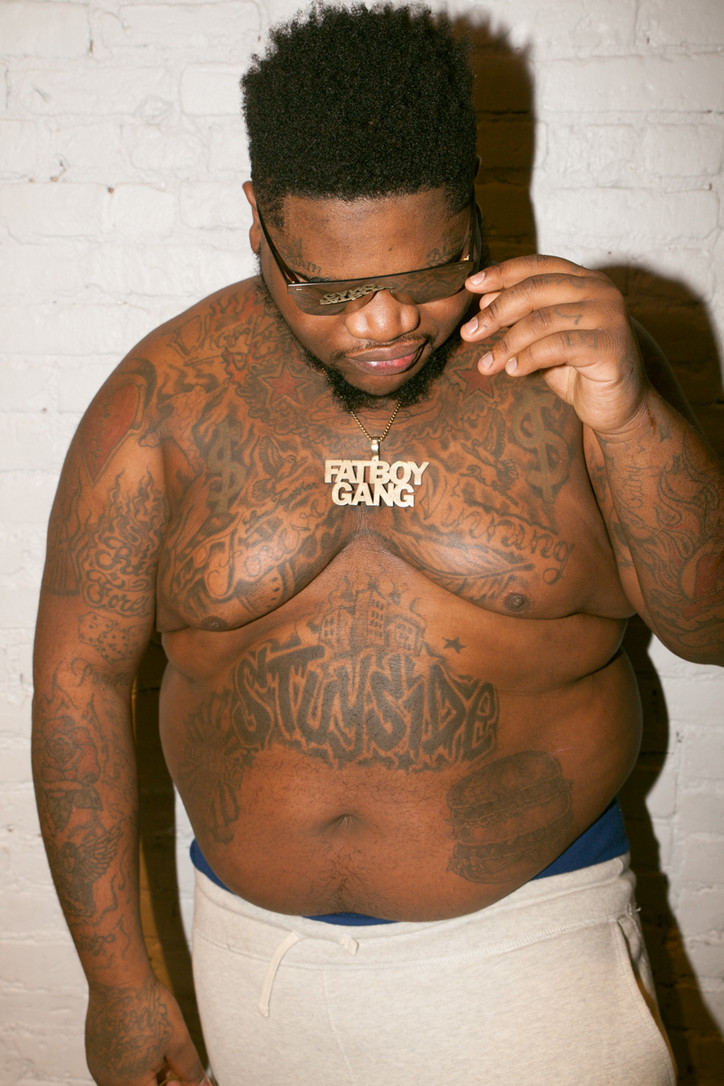 The clip that introduced me to FatBoy was of him standing in his boxers inside of a store window, posing with a mannequin, doing the mannequin challenge. Literal. Hilarious. Wild. A few months later, I was asked to interview him, I had no idea of what to expect. He was a ridiculous 3-hours late to the interview.
I figured he wasn't going to show and began packing my bag. As I was leaving, a black SUV pulls up, and out hops FatBoy—his smile huge and contagious. He is genuinely apologetic for being late. All is forgiven. We make our way up to the office. He wears a 90's Nikelodean cartoon tee. The vibrato in his voice ricochets off walls. He is bigger than life. Instantly, a lovable superhero.
His motto—"I want to make the world smile," and once you see him in action, you are a full-fledged believer that he will live up to his intentions. Not only does he make his online fans beam with glee, but last Christmas he threw his 1st annual toy drive for kids in his Irvington, New Jersey neighborhood. Imagine that impact. But he has always been a giver long before his internet success. He would give away clothes on the train to people who needed them, while commuting from the house of his girlfriend of 4 years to his mother's house. (See how I snuck that in there…Yes, he's taken, ladies.)
"I never wanna see nobody homeless or in a messed-up situation. Because I have been in a messed-up situation. I had a mother and father when I was coming up, but at the end of the day, it had been times when I was broke and didn't have no money and my mother had to pay bills." He emphasized that selling drugs was the easy way out. "It's harder to grind." Yet, he chose the hard way—grinding.FatBoy's New Year's resolutions? 1) Lose 20 pounds. 2) Get cast in a movie. "I'm an actor, entertainer, and a musician." He is also a fan of cartoons…so a FatBoy cartoon "without the N-word and cursing," might be on the horizon. The enthusiastic, comedic online personality stays true to character, but he is even more lovable in person!