Female Trouble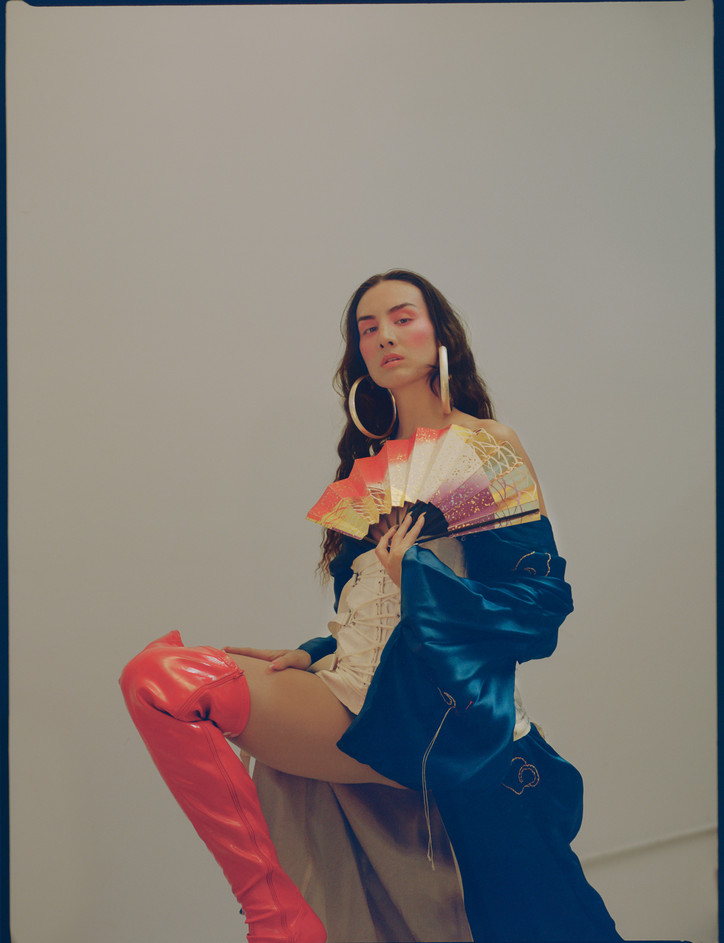 "Natalia brings out the drama in me," said Miyako. "I love shooting with her because we can do whatever we want and just have fun."
While Bellizzi has spent the past few years styling films like Good Time and music videos for artists like Jay-Z, Mantini has been shooting everyone from J.Lo to Barbie Ferreira. But no matter the subject—from high profile celebrities to Downtown cool kids—their vision never strays.
Peep their latest shoot exclusively for office, and read our interview with the best friends and collaborators, below.
What was the inspiration behind this shoot from each of your perspectives, as model and photographer?
Natalia Mantini: My inspiration was to have fun and not answer to anyone but ourselves about what we were making. I was feeling John Waters and aerobics videos mostly. I didn't want anything to feel constrained, and we are rarely serious when making things together. We take our work and influences very seriously, but we don't want any restrictions or outside trends to interfere. I prefer to be dancing and laughing the whole time. I wanted her to wear whatever she wanted to feel powerful and have fun. 'Freak what you feel' is often my inspiration when working with Miyako.
Miyako Bellizzi: It all started with a conversation about Natalia getting a new camera and how she wanted to shoot portraits of me with it. I was excited because I love medium format, and since she has taken portraits of me in the past, I thought it would be fun to do something a little different with this shoot—something fun and dramatic.
How would you each describe the work you're making right now?
Natalia Mantini: I'm focused on making work that is influenced by subcultures and communities that shaped me, my love and admiration for cinematography, my ancestry.
Miyako Bellizzi: I've been doing more cinema which involves me thinking about individual characters that reflect a mood or tone, rather than an overall theme for shoots. So, when I work on shoots, I implement that same idea.
How do your styles interact with one another?
Natalia Mantini: Miyako and I are both heavily influenced by punk, goth, new wave, Chicano culture and the Bay Area. There are a lot of similarities that we grew up around, even though I was in Los Angeles and she was in Oakland. We have a lot of parallels in what we were drawn to as kids—whether it's music, party scenes or film directors. We have an inclination towards the freakier side of things, and grew up idolizing similar iconic women. I think our styles just naturally mesh well and tap into what we both love about each other's culture and purity. I think we often validate each other's' style with appreciation.
Miyako Bellizzi: Natalia brings out the drama in me. We have the most fun together when we shoot. I love shooting with her because we can do whatever we want and just have fun with it. We play off one another's style and photo influences to create images that reflect us.
Who are some of your artistic influences?
Natalia Mantini: Lately I've been influenced by a lot of contemporary artists and musicians—Monica Garza, Mario Ayala, Cheyenne Julien, Jennifer Packer, Rhylli Ogiura from Krimewatch; the foto archive Veteranas and Rucas is huge for me; I love Wong Kar-wai. To get myself to a grounded place of figuring out what and why I'm making something, I like to listen to and read pieces by Penny Rimbaud. I am lucky enough to have some friends who work in film and am influenced and inspired by their process.
Miyako Bellizzi: Living in NYC is a constant inspiration for me. I take inspiration from everything I see—I'm inspired by real people mostly living their everyday lives. Friends who create art who inspire me are Emma Kohlmann, Heather Benjamin, Tamara Santibañez and Sonya Sombreuil. I love photography and some of my favorites are Mary Ellen Mark, Brassaï, Daidō Moriyama, Shōmei Tōmatsu, Robert Frank to name a few. I'm influenced by film, and directors I love stylistically are Wong Kar-wai, Godard, John Waters and my buds Josh and Benny Safdie.
What's your collaborative process like?
Natalia Mantini: It's fluid and fun—it feels like we're kids playing. We conceptualize everything together and feed off of one another's energy. I think we value each other's opinion.
Miyako Bellizzi: I'd say it was a mutual meeting of the minds that we built together by taking inspiration from ideas we both wanted to showcase. It became a melting idea from different eras, different styles and genres that we like to create something different from what we've seen before.
How does your friendship positively contribute to the work you create together?
Natalia Mantini: It makes it enjoyable and gives me a feeling of making something with a sibling. There's a sense of freedom and presence to what we're doing.
Miyako Bellizzi: We are a very good team because we enjoy and take references from similar ideas. We are first close friends, and creating images for fun and the drama of it is just another day in our life. It's amazing. We can bounce ideas off each other and laugh throughout the entire process. I think it shows in the images we create.
What's one way you've seen each other evolve as artists over the time you've known each other?
Natalia Mantini: Miyako has and continues to blow me away. I feel like her stage-mom. She has one of the most obviously pure and innovative ways of executing her style and I'm so happy it's being recognized in the way she deserves. I think what really hit me was when I went to see Good Time in theaters and saw her name on the opening credits. I started crying—I may have cried for an hour. I saw it twice in theaters. I could feel that the film had her touch in every scene, making it beautifully authentic. I couldn't be more impressed by her vision and the fact that she has built this all on her own.
Miyako Bellizzi: The last four to five years have been a rollercoaster for both Natalia and I in terms of highs and lows. We've lived together, we've worked together and have been on this journey together. I think about the times we were broke and had nowhere to publish our work—we'd still do shoots with the little money we had and figure out a way to publish our own magazine, Crave, with content that we wanted to share. I've seen her develop as a photographer and really find her niche over the last few years. I am so proud of Natalia and all of the beautiful women she's been able to photograph. She seems to only be getting better with age and I love seeing her process. Her passion to stay creative and inspired drives me to keep going. I'd say that's what friends are for: to push each other to be the best we can be. I feel that connection with her and it's really special.
What are your zodiac signs?
Natalia Mantini: I'm a Scorpio which some say you can tell by looking at me. I don't let it dictate my day-to-day, but I do like to connect with my astrologer friends to see what's going on with the moon.
Miyako Bellizzi: I'm very much a VIRGO.
What are your favorite New York spots to escape the chaos?
Natalia Mantini: Metrograph, Brooklyn Museum, Woodstock, NY and Dia: Beacon.
Miyako Bellizzi: The New York Buddhist Church, The Great Jones Spa, the beach and anywhere upstate.
What's your dream collab?
Natalia Mantini: I need to shoot Sade.
Miyako Bellizzi: Wong Kar-wai and Björk.
What are you watching right now?
Natalia Mantini: I don't watch TV shows, except for true crime docuseries.
Miyako Bellizzi: Sex in the City—again.
Who are your style icons?
Natalia Mantini: My ancestors, Edith "Little Edie" Bouvier Beale and Selena.
Miyako Bellizzi: My mother, Cher, Debi Mazar and Björk.