Sign up for our newsletter
Fine Art Through the iPhone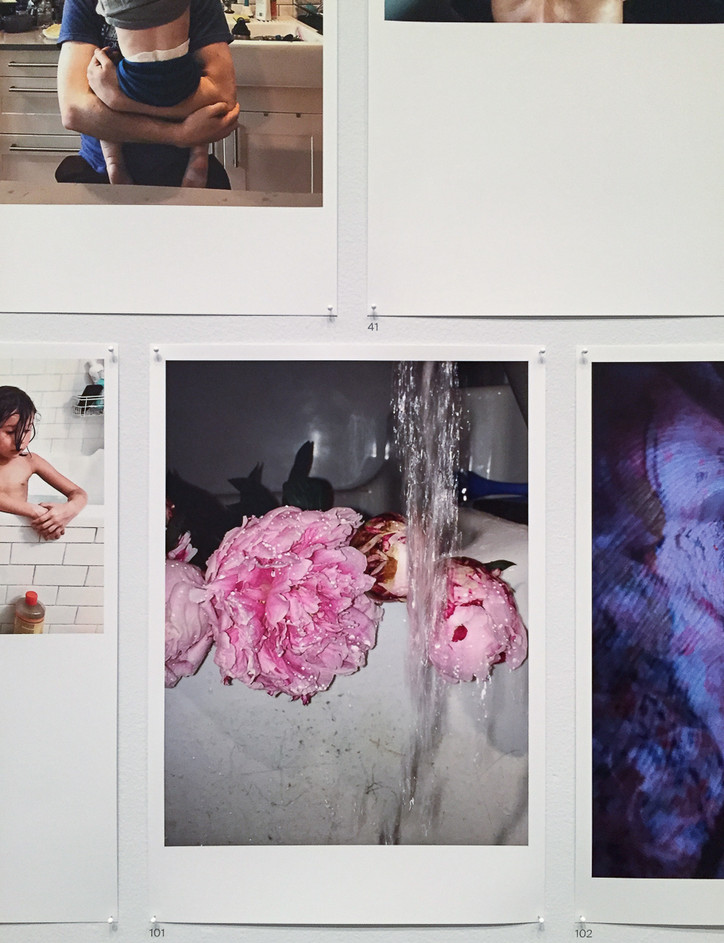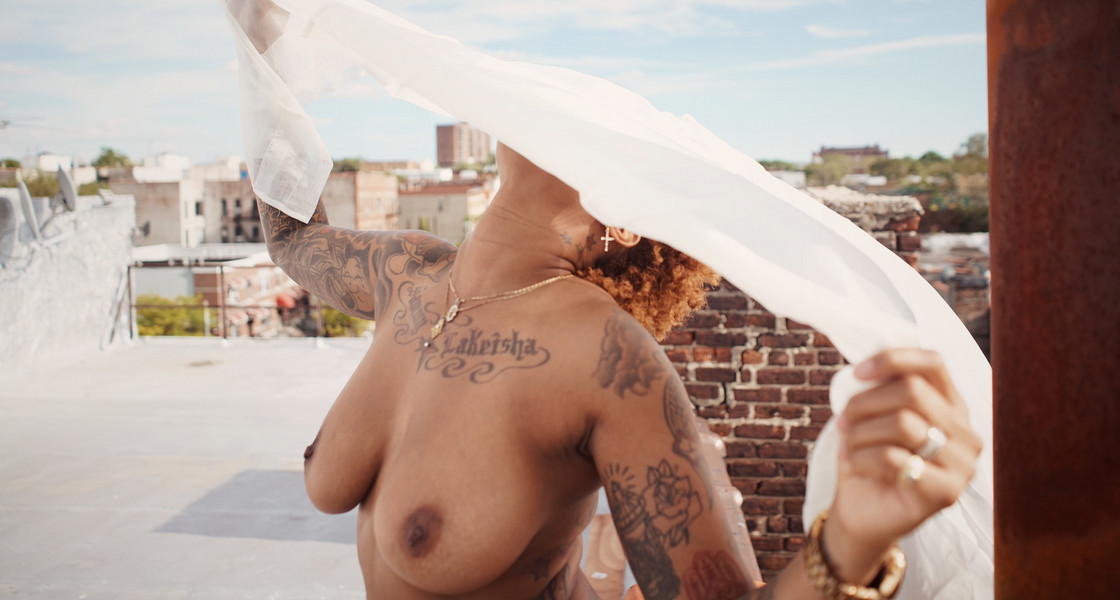 For Lovers Only
"To me, love is the ability to show another individual care and support, to show them they matter in this world—in your world. The concept of loving people is easy to me. However, so many people struggle with it. But honestly, love is freedom—and the moment you show it, it's such a beautiful feeling," said Dread, speaking to office about her recent art show in Brooklyn.
Dread's exhibition took place a few weeks ago inside a cozy showroom filled with over 100 people. At the gathering, Dread's photo series hung on display alongside a screening room for her short film, both paying homage to queer love. The series accentuates the individual and one's own intimate encounters with love. The film and photographs were vital for the viewers to completely understand Dread's depiction. Both art mediums complemented each other, similar to the way in which people bring forth love from one another. 
Dread's message is clear: Love is expressive—but can often be difficult to understand. Queer: For Lovers Only renders images that some know only as a feeling.  
office sat down with Dread to talk about her latest project. Check out the interview below.
Preferred pronouns? 
She/Her.
Explain the concept behind Queer: For Lovers Only.
Queer: For Lovers Only is a visual art project capturing queer individuals and couples within our community discussing love, relationships, being single and self-love. Over 25 people were captured in the form of photographic prints and featured in a short documentary film. The purpose of this series is to display representation of the Queer community in regards to all forms of love. My goal is to shed light on how and who we love, in hopes of allowing understanding and unity.
Why did you create this project?
I created this project to display representation of other queer lovers within my community. I like creating projects based around vulnerable topics, and love within the queer community is something that needs more representation. I think love between queer individuals is a bit different than heteronormative love, as it challenges gender roles. And I wanted to offer some understanding to people outside my community.
Are you part of the LGBTQ community as well?
I am indeed. I identify as a queer lesbian.
Where did you capture your images? 
Honestly, the majority of the images were captured on my roof in Bed-Stuy, Brooklyn. I rented out a studio in Long Island City for a few shoots and also shot on a secluded beach near Rockaway, Queens.
On one of your Instagram posts featuring a clip for your film, part of your caption said, "side note: this isn't a documentary about couples. it's just about queer ppl who love." Can you talk more about this?
Yes, of course. For some reason many couples kept contacting me to be a part of this series. I just wanted it to be known—this is not a documentary based solely on couples. Individuals not in a romantic relationship (such as myself) also love on a daily basis and are capable of giving and receiving love. I wanted to include all aspects of love: romantic love, self-love, past love, future love, etc.
Does the film feel like a separate entity to the photography series? What's their relationship to one another?
The film enhances the photographs. With photographs sometimes, we as viewers create our own stories. However, the film allows for a better understanding of the people captured in the series, as they are able to express themselves and tell their own stories. This project could not have been completed with just the film or just the photographs. I think they are both equally as important, and they really allow the viewers to understand what this series is about.
What was it like at the event/screening?
The event was incredible. I always have major anxiety the night of any solo exhibit, and this was no different. But so many people came out to show support, and the responses I received on the film and art were very positive and motivating. I was nervous, because this was my first time exhibiting at this particular venue. But the turn out was more than I expected, and everyone was so kind and loving.
Love is…
When I think of love, I don't necessarily think of romantic love. That's just one type of love. There is also the love I share with my friends, my family, the love I share with myself. I am absolutely in love with my friends, and I don't think being in love with people always has to be a sexual relationship. To me, love is the ability to show another individual care and support, to show them they matter in this world—in your world. The concept of loving people is easy to me. However, so many people struggle with it. But honestly, love is freedom—and the moment you show it, it's such a beautiful feeling.
Look Straight, Don't Smile
In this series, the photographer shows the generic passport photo—the unsmiling, straight-faced mugshots of his subjects. On the other side of it, we see the rest of the photo where silly and eccentric poses, props and people are used. In one unassuming passport photo of a man, the series subsequently unveils two vacuums suctioned onto his nipples. Siedentopf shocks his viewers while keeping things unavoidably amusing. You cannot help scrolling from picture to picture, breath baited while each quirky scenario unfolds.
In terms of finding his subjects, Siedentopf used a "wild mix" of friends and randoms—adding to the casual and erratic feel of the series. In a world where news and everyday life seems to get more sinister by the day, Siedentopf injects humor into the mundane routine of everyday life.
Affordable Fine Art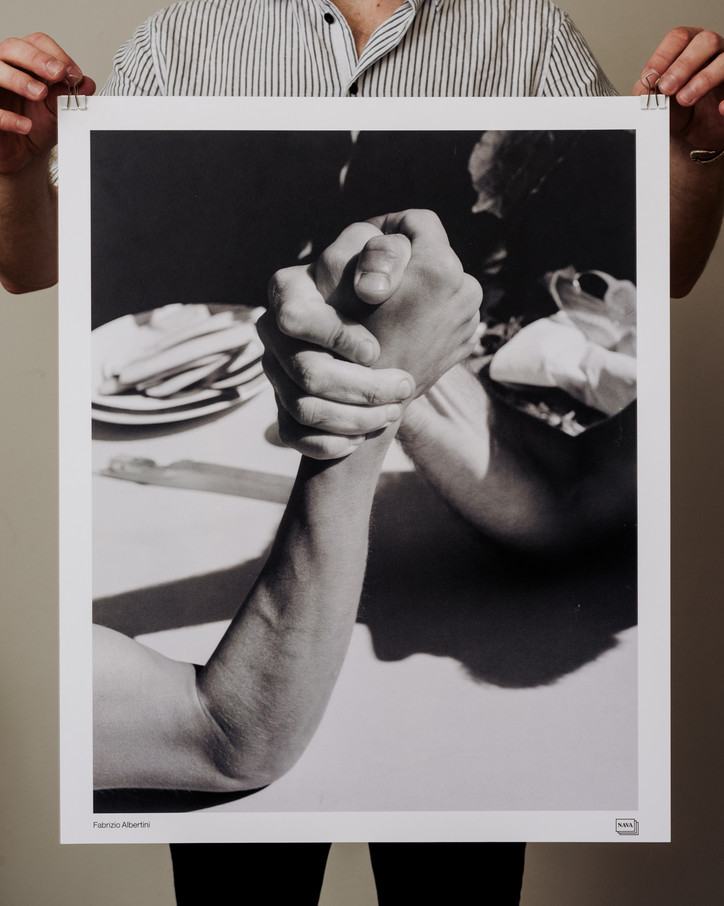 So the 26-year-old Chicago native came up with publishing open edition fine art posters––the printing process of which allows him to sell his pieces at an approachable price point for the people he wants to reach. Each poster is $40, and he splits the profits 50/50 with the artists behind them. Partnering with emerging and established artists alike, so far Bradley's printed the works of people like Tim Barber and Jean-Vincent Simonet.
"It's so fulfilling, it's so awesome to be able to pay artists money, especially when you know they're not doing well financially and have bills to pay and are trying to get their MFA, and 5 grand would mean so much to them," he said. "I really want to drive people toward an option that's more fine art-driven than design-driven like Society 6 or art.com, or any other frankly bullshit wall decor." In future print runs, Bradley hopes to work with a more diverse range of artists––from all over the world and of all different backgrounds and levels of training. And you can peruse Nava's current stock, here.