Sign up for our newsletter
Fine Art Through the iPhone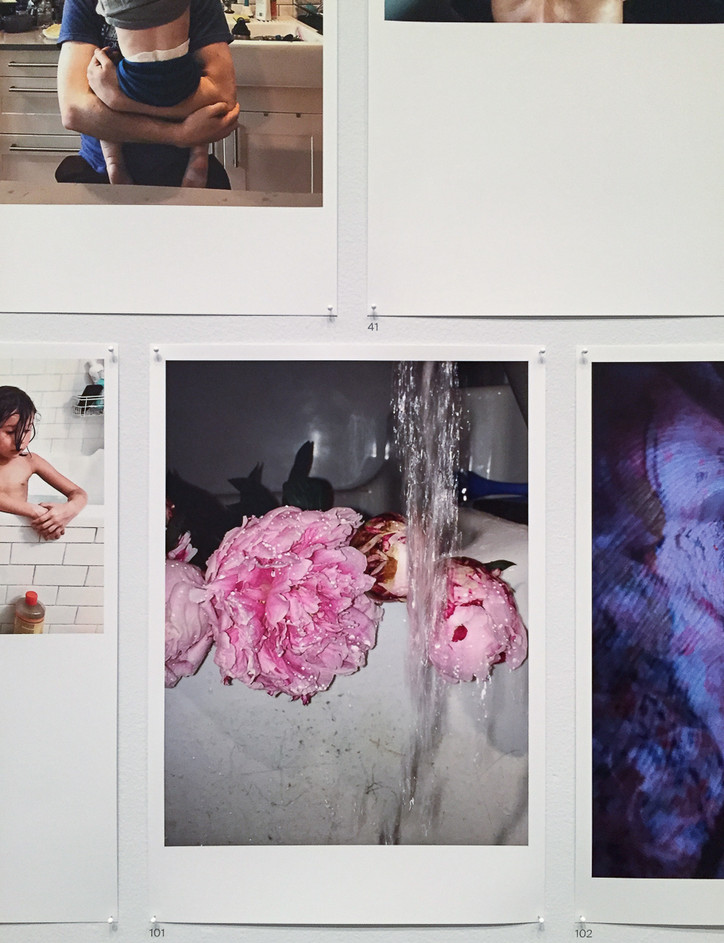 Stumble Upon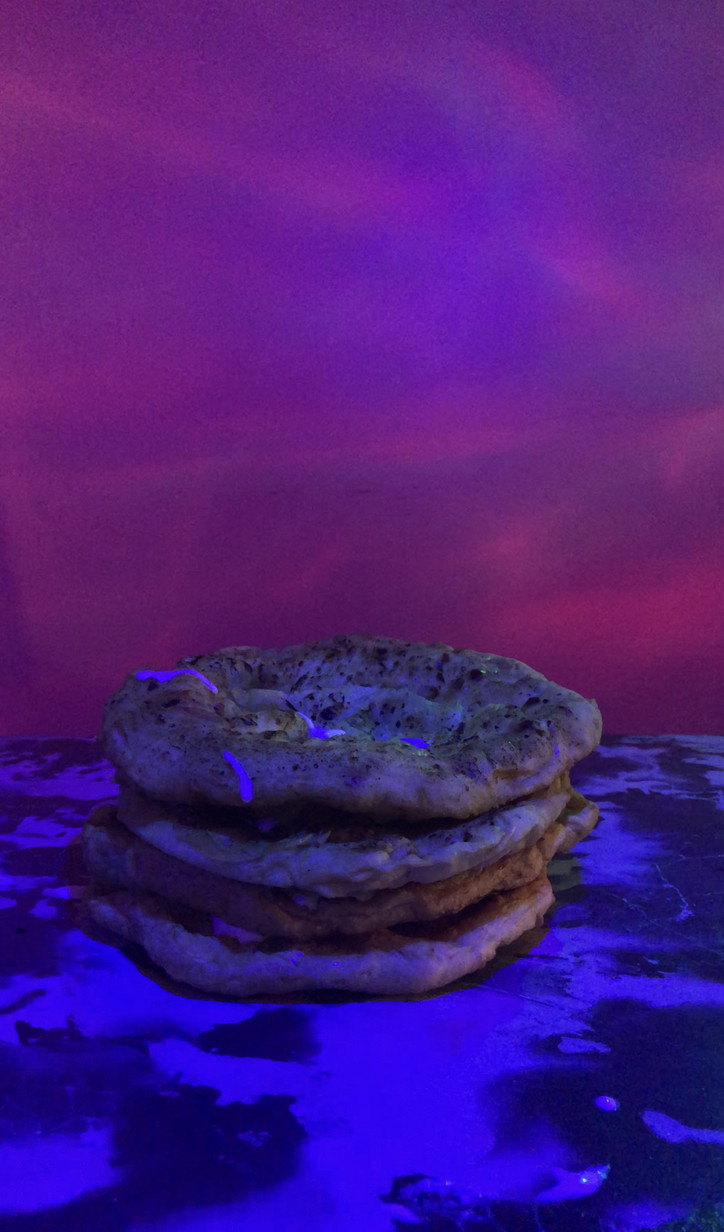 Tell me about the project.
The in-house art program is called Landscape. A portion of every ticket sale goes into the art fund, so music-goers become patrons of the arts. The program supports both temporary and permanent exhibitions, or "interventions." Murals, for example, are the more permanent works, and then other works change seasonally. The video residency, for example, in the dancefloor is a seasonal project. So, each season, a different artist takes over the video residency and, again, becomes totally embedded in the experience of dancing in a nightclub. The project space is a kind of gallery-like space that changes every season. Our summer season opens June 11th. The project space will be a tiny movie theater which showcases a wide range of video artists. I'm working with the associate director of Cristin Tierney Gallery, and she created a series of films for a Zaha Hadid building that opened in Chelsea that will be—a version of that will play for the opening of our summer exhibition. And the thing about the openings for the artist, which is June 11th, is it's actually the only time people can come and explore the building exclusively to see art. There's no gallery hours. In other words, outside of that time, you would just come to see music and then experience art. There's only one night a season where you come deliberately and intentionally to experience all of the new installations for the building.
Yeah, it's like a sneaky art attack.
Absolutely. It's really meant to kind of transform the building, beautify and enliven the building, and give people, in this case music-goers, an opportunity to interact with art in a very spontaneous and musical way that ruptures the social contract of seeing art in a formal gallery where you kind of pass through and leave. Again, we just walked into the bathroom and saw Madeline Manning's work, which is the toilet seats. I went to Japan, and I got really inspired, because there is an option every time you use the bathroom to turn on sound for politeness.
Above: 'My Neon Fortune Teller' by Dani B, and 'Eel Sewer' by Zoe Burke.
Wow, I love that.
Right? And then I got really inspired by it and thought like, why not do sound pieces in the bathroom? Why not do, you know, interventions? The bathroom is a great site, because it does also take you out of the regular space for a moment. It's a private time, so.
Well, and I feel like people are always doing that in bathrooms anyways by like writing on the wall.
Precisely.
Or, like maybe, yeah, people want it to be more fun.
Exactly. Are you familiar with Bread Face?
Above: Bread Face with her piece, 'Water Closet', and '179. Café Standard Breads,' by Bread Face (Install View).
Yeah.
So she's doing our next video piece. We're doing a commissioned video. She'll be essentially on the dancefloor with people. And then, she's also—I'll take you—she's doing an installation in one of the bathroom stalls. So, it's gonna be quite something.
This is quite the bathroom.
Yeah, so this is the main bathroom. At the very end, you will see these lights, these aquatic lights that can kind of beckon you over there in one of the stalls. She's gonna kind of take over the stall. There'll be sound. There'll be mirrors, and one piece, one bathroom stall essentially will be a Bread Face takeover.
Really? How funny. You could almost commission each stall. It's kind of like like that Broad City sort of thing where she's like, 'I have art on display at the sandwich shop' or whatever. This is similar because it's not a gallery.
Yeah, exactly. Right, but the difference is this isn't commercial—there is no commercial exchange, you know? We're not selling artwork. It's not like, 'Here, call this number or contact this person if you wanna buy.' These are just, again, ways to experience the building. And I think the architecture just plays such a key role here as you see as we're moving through. I mean, it's such a dynamic space.
Above: 'Disco Moss' by gloflo, and 'All Paths Lead Down the Toilet' by Madeline Manning.
It's fun. If I were here, my first thing would be to familiarize myself with where everything is, and then, in that, you'd be stumbling upon these artworks, so you'd be like, 'Oh well look at that!'
I think you just said the perfect phrase, which is 'stumbling upon,' and that is really how I envision this. I mean, I think of the building as like an exquisite corpse, where each corner, each wall, each section, artists can kind of build upon each other. I mean, we started with this mural and then this work works with digital glitches that we pasted onto this, you know. And then, we just completed this 36-foot mural by ARTBABYGIRL for the opening. She's one of our artists for the opening. In other words, gloflo is gonna be doing this. All the of art is in conversation with each other and with the building. It allows you to highlight things you may not have even like—'Oh wow, this structure is something that I didn't notice, and now it's highlighted.'
Yeah, it seems like it's also in conversation with Bushwick and Brooklyn. It just seems like the spirit of, you know, that sort of mural-ly just art-everywhere-all-time.
Completely, I mean, and you know, for example, Glori, AKA gloflo. I mean her studio is down the street. She's from New York. It really is also kind of supporting local artists, and that's the entire initiative too: emerging artists and really taking a look at and highlighting them. 
And what kind of events do they do, musically?
I mean, every single thing that you can possibly imagine.There is just a really playful and kind of performative element to these works, because they exist in a place that's crowded every night, that's rambunctious, that's spirited.
There is just a really playful and kind of performative element to these works, because they exist in a place that's crowded every night, that's rambunctious, that's spirited.
If the Shoe Fits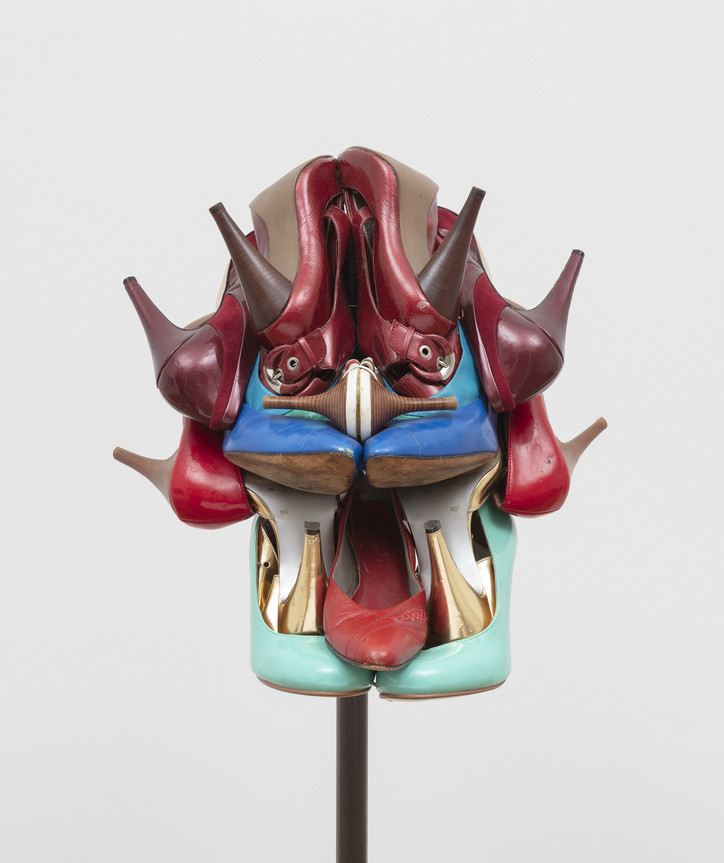 office caught up with the artist to discuss the wondrous possibilities of footwear, art, and puzzles.
Tell me about your work.
My work in general, since about 1989 or 90, has been about taking objects that clearly from Western culture and recasting them in a tribal narrative, often with things that look African art, but because of the idea of tribal, they start to look like other cultures as well, especially Mexico and Asia. In my mind or the back of my imagination I proceed as if I'm trying to extract the spirit from the original object, so I don't work with a sketch or a plan, I just play with them for hours until something emerges. So in the case of the shoe masks, I feel that each shoe had the personality and the history of the person who wore them—they're all used shoes, gently used I should say—and they kind of make their own personality, I just have to remain open to that and put them together.
Another aspect of that same work is that I'm very interested in making work that looks like they come from the past, the present, and the future—I call that collapsed time, where everything comes into a single point called the now. And that makes them look very futuristic, but they might be put together in such a way that reflects a more ancient tradition. I'm also interested in multiplying objects, so I do a lot of work with water bottles, which is the probably the most exact on my formula for analysis—I take a single water bottle and multiply it, so now it's a thousand or three thousand water bottles, and it becomes something else. In that case, I tell myself that I'm doing what nature does by taking a single molecule and multiplying it to make something completely new.
 I didn't even think of it as being tribal, but now that you say that it makes sense. I just saw the shoe faces and thought they were silly and refreshing.
Yeah, they just popped out. In the front of the gallery, I have a bronze, full-bodied figure. I think of them all as female because the shoes were females, so there's a female energy that I'm extracting from these objects.
Above: 'Eye Candy' and 'Black Panther'.
Yeah, it's amazing what you were able to create—it doesn't seem forced at all, either. Did you set out to make faces or a body, or is that just how it ended up? That's just what the shoes spoke to you?
In the beginning of the process, back in the late 80s or 90s I had a show in Philadelphia, and I wanted to make a bodysuit—my friend had given my five pairs of his sneakers and I needed so many more to cover the entire bodysuit, these were high-top, quality sneakers, I wanted the wearer to bounce up and down and see the shoes kick. So I went to a thrift store and I saw the high-heeled shoes. So, right away I switched from sneakers to high heels. I didn't know what I was going to make with them, but I knew they had great potential because they had great color, they had great shape, great history, great symbolism. I collected probably around 100 pairs at that time, and I played with them for about a month or two before I was able to recognize that the stiletto heel could be like a fang. And that led to the face aspect of it.
Now, at that time I made a chair out of high-heeled shoes because of Imelda Marcos, she had so many shoes, she was the wife of the President of the Philippines, so I made a throne for Imelda out of high-heeled shoes. And I made two faces, not masks for the wall but free-standing faces, and then many years went by, but in 2005 I received a fellowship at the University of Georgia—I was on campus for four years, they gave me a stipend, etc, but I didn't take any art supplies with me, not even paintbrushes. So while sitting at my empty studio there, I said, 'Maybe I'll take up the shoes again.' So I went to the local thrift store and told them that I wanted to make things out of shoes and that I would buy every shoe they had for fifty cents a pound, and they gave me like a million shoes, and the University of Georgia paid for them all at fifty cents a pound. So I continued with the shoes in 2005 with no real intention in mind. By the time this show came along, I knew I could make faces out of shoes—so I intended to make faces, I just didn't know what the faces would look like.
I would go into my studio and be confronted by rows and rows and tables and table of shoes, and I don't know what my intention is going to be, but I know I'm going to be there for three hours playing with the shoes. And some shoes suggest, perhaps a very long heal or a platform shoe might suggest a body, where as a pump might suggest a nose or an ear. So I let the shoes lead me to the final result.
It's interesting that it started out as sneakers and became high heels, because I feel like right now a lot of people who used to wear high heels are now wearing sneakers instead. You said the high heel has a lot of symbolism and power, what do you think those are?
The high heel for some women becomes a power shoe. This morning, I was at my fiancé's house and she gets up to go to work and I could hear her shoes coming down the hallway. It's almost like the drum announcing the coming of the king or queen. Even today with her colleagues it's like she can say she's high because she's wearing the high-heeled shoes. Those are some of the more positive symbolisms of the high-heeled shoe, but it also has the opposite suggestions as well. It could inhibit one's ability to run. And nowadays, with the branding and the depending on the maker of the shoe, it becomes a status symbol related to economics, like, 'Oh, she's wearing Jimmy Choo,' or whatever. And the designers sometimes do things to the shoes to suggest power or domination.
Above: 'Happy' and 'Street Dragon'.
Do you think you're playing into that with your tribal faces? 
Well I'm letting the shoe lead me. If the shoe is pointing that way, I go that way. I'm pulling out the spirit of the shoe, or the wearer of the shoe. I'm not really dictating anything. When I was a kid, I played with Erector Sets and Tinkertoys and things you put together, and these were essentially the same thing—it's like a puzzle but the box has no picture on it. I know there's something in there, so I'm just looking for what that is.
I can feel that from the sculptures. They look like puzzles almost.
Yeah, I really move them around until they fit perfectly on their own. I don't cut them or change them in any way. So if two fit together and suggest something, I go with that. I work on several at once, so I'm able to just move around the room and if it doesn't fit here, okay, move on to the next one. Another thing that attracted me to shoes, was in high school my major was fashion design, so that helped me to appreciate the beauty of the shoes as well.
Above: 'Woman In Heels' and 'Sole Flower'.
It's funny about shoes too, because they're definitely fabulous but of the articles of clothing that you wear they're kind of the grossest. That's the thing about shoes.
The good thing is that women will buy shoes and wear them twice with an outfit, and then not wear them a lot. So when I went to buy shoes, I looked for the ones that had been worn the least. I live in New Jersey, and my local thrift store gets new shoes from one of the chain stores that gives them to the thrift store—so I was able to buy a lot of new shoes as well for a really low price.
But they are the foundation. They're close to the Earth. And they have memory. I can see the shoe take the shape of the foot that's in it sometimes. So all those things are feeding my choices. Also, I'm not the first artist to use the shoe. Dalí made a hat out of a shoe. It's almost like a readymade with a history. I make a lot of pieces out of steam irons, and Man Ray did the famous piece with the flatiron.
'Bella Figura' is on view at Alexander and Bonin through June 22nd, 2019. All images courtesy the gallery. Lead image: 'Ashley Bikerton'.
Word Trash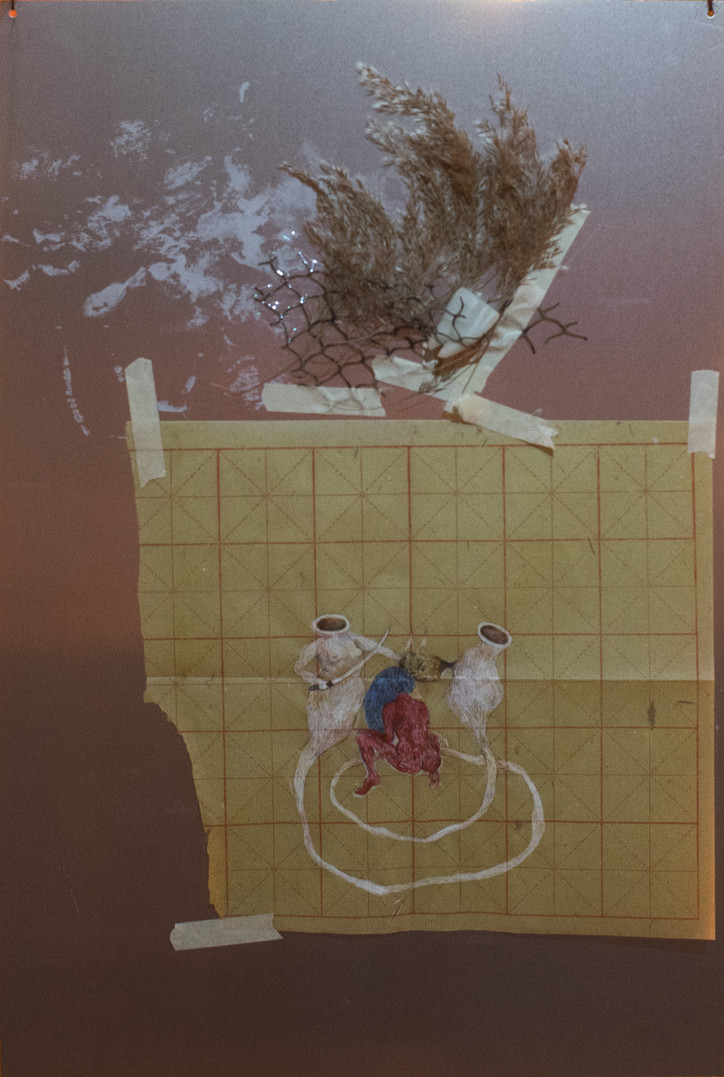 Other body parts emerge as well: ears are attached to slinking strings that resemble hanging moss. There is a peaceful afterglow of a potentially violent division of the body, which could also be a slow, marvelous decay—like the words that have been mistranslated into something potentially lovely, so the body is transformed through a chaotic time lapse.
Ouyang was thinking about something called 'shifting baseline syndrome,' a socio-ecological phenomenon where scientists are unable to accurately determine a species' population size, and often must determine their data based on word of mouth, literature and art from the area—basically, they must rely on cultural mythology. Science relying on ephemera elevates ephemera in a kind of magical way—it becomes worthy of inclusion in the hallowed realm of 'research.' Ouyang's work plays into this sense of expansive cross-disciplinary wonderment.
And then there's the durational performances. Not only has the artist altered the lighting of the gallery (the window is tainted orange, the fish-like sculptures lit in blue), included analogue writing samples alongside a screen that plays incredibly evocative poetic commands, but has extended her hand into an activated performance. Language is the focus—the structure of questions repeated, atonal songs chanted, and the bodies of the female performers bumping into the walls like stuck Sims characters evoke the strange cross between joy and confusion that bounce and play off the artworks and the small space. Words are like trash: they have incredible power when used the wrong way for the right reasons.
'fish mystery in the shift horizon' is on view at RUBBER FACTORY through June 22nd, don't miss the durational performance tomorrow at 5pm at the gallery. All images courtesy the gallery.