Sign up for our newsletter
Forest/Trees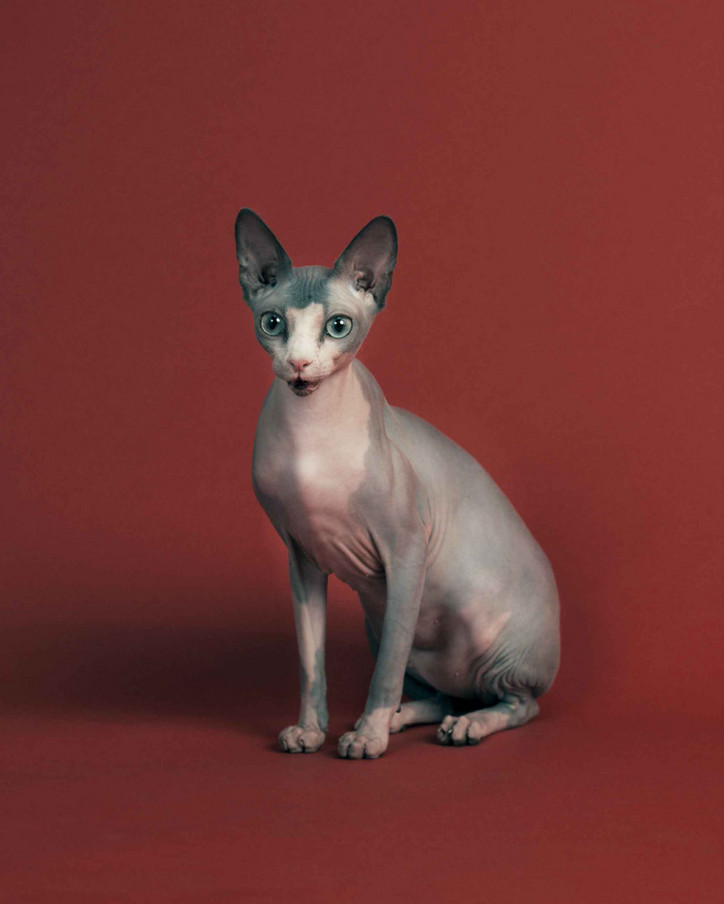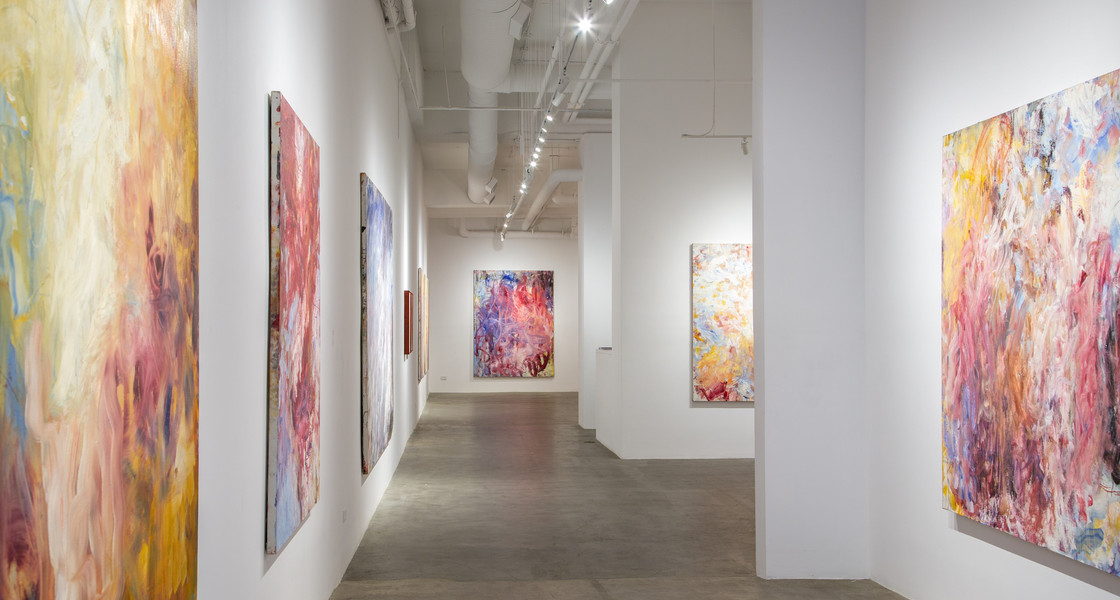 Frank Holliday, "SEE/SAW"
Stop by and stroll through the Mucciaccia Gallery to view "SEE/SAW" on view until April 25, 2020. 

Can you tell us a little bit about the "SEE/SAW" exhibition?
It's work from the last three years, and it's painting. It was done here in New York City, and it's landscape, figure and abstraction, very painterly. It's all about light, space and color—and color is an essential component.
Could you speak a little more to the role of color in this specific exhibition?
Well, I've developed my palette over all these years, and it's all about creating color chords. I mean, there's scientifically how you add colors around the wheel to formally—it makes light, you know? Then there's also using color emotionally. So I try to use both of them to create the light from within. I use color as light. So yeah, it's both emotional and scientific.
There's 28 pieces in total in this exhibition. Where did you find the inspiration for each piece?
I started painting, and at this point, I have a certain mark that my hand makes. There's a certain painting that's in me. I started doing watercolors in Australia, and then it kind of built from there. But I have to find the painting, and I have to look at it. I look at a painting as if it's a living being, and then the painting finally takes over. I don't have a concept for a painting; I have to find the painting. So I've developed my color and my palette, and my paintings are automatic. I have to find them very intuitively, but they're all consistent, if that makes any sense. I worked from moment to moment to moment.
Why did you decide to call it "SEE/SAW?"
When you're standing in front of a painting, you're seeing it. So, you're in the present moment. And then my paintings are open enough to where the color—I'm on the edge of the imagery. I'm on the edge of feeling. So you know when you look at clouds, and you like start making shapes? And then you start thinking about, "Oh, what I've seen before... What I saw... Oh this reminds me..." So it's really about the present of standing in front of the work, and the memory of what it triggers in the viewer, so it includes the viewer. It's abstraction, but I want you to have associations with it, associations with this color or associations with this space. That's why you "SEE/SAW"—plus it's a game. You go up and down and up and down until it becomes this continuous back and forth.
So the title is really a double entendre.
Yeah, absolutely.
When your viewers walk through the exhibition, what kind of music do you imagine them hearing?
Each one kind of has a different sound to it. Some of them are classical, and some of them would be very, like, slaughtery kind of stuff. And some would be very pastoral and pretty, and some of The Carpenters. Some may be Joni Mitchell, and some may be Nirvana. Some of them may be Maria Callas. I listened to all kinds of music, and I think each one would evoke different music. I don't think there's one kind of sound that would resonate for all of them, but actually, I've never really thought about it. It's a very interesting question.
What do you want your viewers to take away when they view your work?
I want them to feel beautiful and not stupid.
How long did each of them take you to procure?
They take me at least two years. It's a very slow process with the glazes, and I have to put it on, put it off, put it on and put it off. In order to get a finished painting, you have to eliminate so much, and it just takes a long time to build all the surfaces, to get the glow of the color and find the light. I kind of think of a painting like it's on a dimmer, and the lights are lowered. So, you have to find that light, and it takes a long time, like two years, to make a painting. I'm taking off as much as I'm putting on to create the harmony chord that is in depth, because it's transparency on top of transparency on top of transparency. But they take a long time. I have one painting in here that I've worked on for 10 years. I start paintings, and then they're not finished until they're finished, and that takes at least a year.
So you're working on several pieces at once?
I worked on like 20 at once. Well then, I went to Rome, and they got me the studio. They gave me 36 paintings all stretched, and I had to paint all of them at the same time in 12 months for museum show at the Villa Borghese. So yeah, I mean 'cause you put on a layer, and then it has to dry. It's kind of like you build the energy in the work, and it kind of builds and builds. And then finally, the whole body of work crescendos. And they all relate, they're all from the same family. They may be different songs, but it's a kind of a building of energy.
Other than color and the visceral effect of the paintings, is there anything else that ties it together?
Well, a lot of the history of painting. I love history, and I think my body—I was a dancer. I like how my body makes a mark and how I'll push something to the—I have to jump off the cliff. I don't want a good painting; I want to make a great painting. And in order for me to make a great painting, I have to risk everything all the time. So it's like really jumping off the cliff to where my body makes the move. It's not from my brain; it's from my body trying to survive. It's very, very risky, and I like the risk. It's very Thelma and Louise, you know. I want them to be very beautiful, but I also want them to be very risky. And I think people respond to that thrill. There's a thrill that I let the viewer have, the thrill that I have. And if I don't have the thrill, they ain't gonna have it.
On the topic of the duality of beauty and risk, your past work has referenced heaven and hell. Does duality tie specifically to this collection of work?
Yeah, in a way. I was in Rome, so I was like surrounded by heaven and hell and those tropes of gravity. There's gravity in my paintings, and I spin them so that they're weightless. And I like that heaven is an idea that you can never reach. Earth is where we kind of work out all of this battle of whatever it is. And then there's this gravity of hell that's pulling us down. So we're suspended between those places. And that's just the Christian language, but I think that it could translate to many different religions, because there's a spiritual aspect to them. It's all about being suspended in the middle, suspended in wanting and getting through it. Somebody said, my paintings can go from heaven to hell and in six feet. I also like that idea that you could have six feet, and you could have something that's so gruesome and something so beautiful on one surface at the same time. It's not like one emotion; you can somehow create emotion on a six-foot piece that you can go from such extremes. Everybody can relate to heaven and hell, and we all kind of get what that is.
If these 28 canvases were hanging in any space of your choosing, where would you see them all hanging?
[Laughs] At MOMA or at The Met. I'm very good friends with Heiner Friedrich who started [Dia Art Foundation]. His whole idea was that he wanted to create spaces where paintings would live, and it wouldn't be this temporary thing. It would be this permanent place. So you know, I see them in some beautiful place, some place where people are gonna love them and look at them and feel beautiful—some place where people are able to take a moment to get out of the craziness and contemplate.
The Patch of Blue the Prisoner Calls the Sky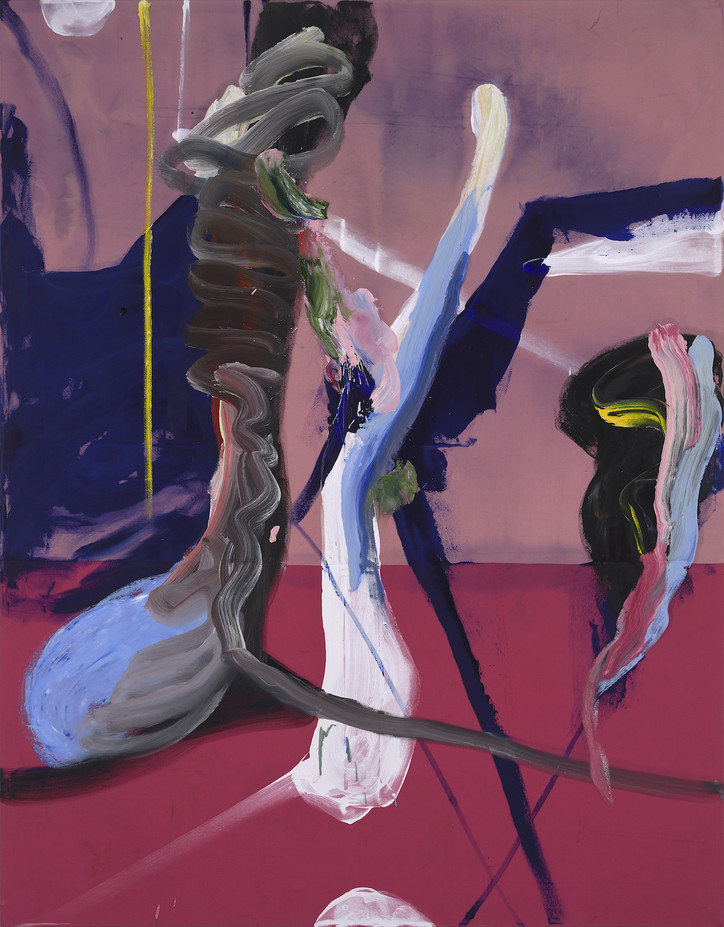 Cover image— "Untitled I," 2019
I am the artist Lance de los Reyes. I have a close brother Nemo Librizzi who has tolerated my flaws as I have matured into a man who loves his family/friends. Nemo had an idea for me to gather myself for a moment, as he gifted me the privilege along with office Magazine to write a POV on Julian Schnabel's new body of work and what the name Julian Schnabel means to me. I love and understand the gifted curse of being an artist, living up to the challenge of chaos and order that entertains those amused by our faith. I have based the contents of the following text off of my personal connection with and within the myth of Julian Schnabel. I would not be an artist today without this story. 
Left— "Preschool and Afterschool," 2018; Right— "Lagunillas III," 2018
Julian has a name that echoes throughout the creative art world, and when I watch his interviews and films, I hear the artist saying things I relate to such as the time he said, "I don't know what makes someone do something, but I believe probably the optimism, and love, and the blind faith that they had." Schnabel's new body of work at Pace Gallery is modern-day proof that a sophisticated renaissance master is among us. The paintings give birth to the idea of a human as a conduit and a conductor who is channeling landscapes that are represented by marks. These marks leave clues or hints of a conquest on the surface of the paintings, thus proving the legacy is fulfilled in this blind faith that Julian spoke about. I feel that Julian very much is proof that great forces are chosen to leave legacies. This is important to me as I constantly feel alone and, at the same time, protected by unseen forces. Julian Schnabel also said, "I mean I guess when god created the world, he maybe got a little tired at the end so he only put a certain amount of things in in the course of those seven days, and maybe poetry was something that he left out and he left that for humans to do." Representing transformation as a contributor to the challenge of becoming an archetype, I would set off for New York in the early 2000s. Being misunderstood, loved and hated, I have always studied the names I find worthy and that seem to hold space as their work creates memories, basically spiritual weight, in my mental rolodex. A shaman once whispered to me in a ceremony, "Lance a Shaman is a showman." 
Left— "Lagunillas II," 2018; Right— "The Patch of Blue the Prisoner Calls the Sky I," 2019
I believe that men and woman do the work of gods and that there are mothers who are guardians as none of us is greater than all of us. I also believe that the work proves love and life are to be shown the utmost respect as legacy, myth, and avant-garde are all being carried out and shown in humans through their work. I feel internally inspired by Julian as he also said in an interview, "It's a privilege to actually have the opportunity to engage in something that is the antithesis of reason." There is an innocence in the layers of paint gestures on these new paintings as ghostly forms seem to present themselves. The palette feels like the key to maps, as it is possible that there is a governing council above us, and they are amused by Julian's contributions to our modes of creation and have chosen him to represent the archetype of a human who does the work of the gods. What the name Julian Schnabel means to me is that we follow the path of least resistance and that we relearn the obligation to within the work of our heart and, somewhere during the process of life, realize that it's very simple. It is simply life and death, and everything in-between is the abstracted truth that gives birth to the spiritual territory we fight for to prove that legacy is a mere myth as we were once dared to create alchemy and, it's possible, we dared ourselves. As contemporary artists, it is important to pay respect to living masters while perfecting our own craft in contribution to the modes of creation.
Last Call: February '20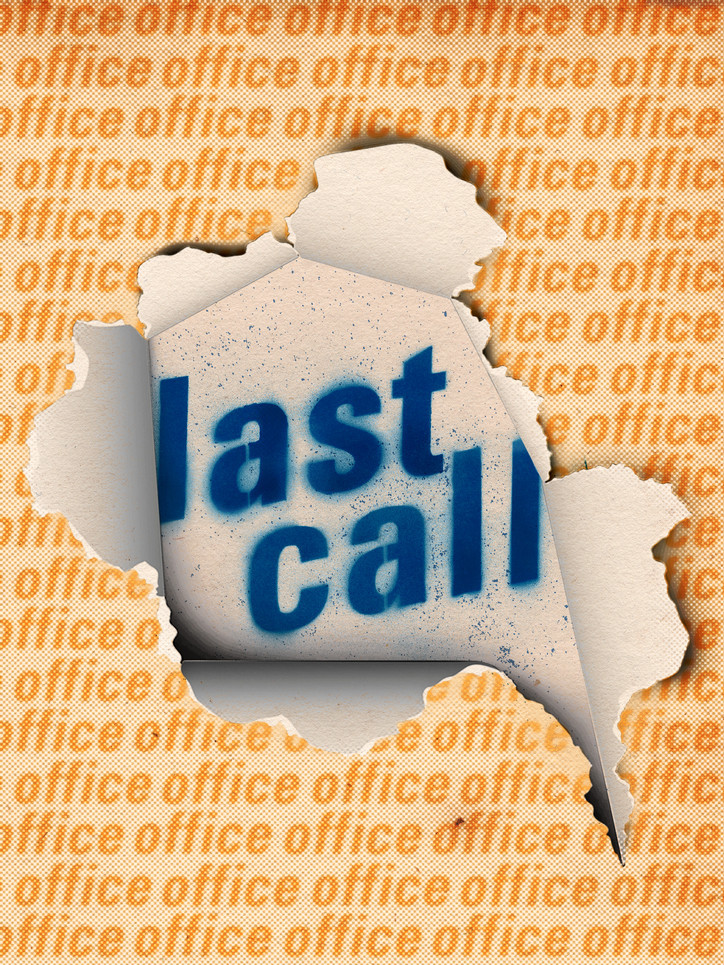 Juanita McNeely — James Fuentes Gallery  
When an injury to her spinal cord gave doctors cause to tell her she'd never be able to paint again, Juanita McNeely produced "Triskaidekaptych" in 1985. It's not a small-scaled clapback, but a momentous,13-panel work that spans the walls of the James Fuentes Gallery in the Lower East. 
Much of McNeely's life's work hinges on this tension between her disabling physical suffering and her huge artistic output, bridged by paintings that relive her agony.
While the force of overcoming her pain looms large throughout the gallery, so does the memory of violence and trauma, particularly that of womanhood. McNeely's 1969 painting "Is It Real? Yes, It Is!" confronts the reality of her abortion where the practice was illegal. In the painting, the cheeriness of the question-and-answer title readily belies the anguish fragmented by McNeely's memory or rendering. 
Though the subject matter is as difficult as it sounds, it's well worthwhile to catch Juanita McNeely this weekend before the installation closes.
Elements of Existence — Closes March 8
Henri Paul Broyard, Carlo D'Anselmi, Madeline Donahue, Hilary Doyle, Hank Ehrenfried, Emilia Olsen, Rachel Rickert, & Michael Craig Tracy — Public Swim
In 1922, American House & Garden journalist Mary Fanton Roberts asked us to "Consider What the Interior Door Contributes to the Comfort, Peace and Dignity of the House." Almost a hundred years later, the curators at the Lower East gallery Public Swim called on eight contemporary painters to reconsider the question in an exploration of the boundaries within private spaces. 
Michael Craig Tracy's Floor Corner, a painting which is exactly what it sounds like, illustrates one iteration of an answer perfectly—it's an unassuming shot of the floor that we can't help but think looks like a photo you would take on accident, as you pan your phone up to focus on the real subject, your dog maybe, or the setting sun outside your room window. 
And that's the beauty of Elements of Existence. You can't flip through paintings of Tracy's shoe rack, or Henri Paul Broyard's tableaus, as easily as you can scrolls through rows of disposable photos on your phone, yet the scenes are magnifications of the same. As paintings, their minutiae are imbued with an unspoken dedication and intention, and as a cohesive exhibition, they echo each other's treatment of intimacy. Rachel Rickert's high frequency solo shots and Carlo D'Aneslmi's honey-warm depictions of love, fate, and folks in quiet community resonate on the same spectrum, if at opposite ends from, Hank Ehrenfried's cold art gallery and reconstructions of photos "sent through WeChat." 
Among the displays of solitude Hilary Doyle's work stands out in the artist's uncanny rendering of familiar New York scenes; in multiple mediums Doyle probes the feeling of being alone on a subway car at dawn, the press of bodies walking up a flight of stairs, or the tension between two people in a public space. 

Among the shit that will put you in your bag you do not want to miss Madeline Donahue's sculptural ramen "sweater" works, fun, of-the-moment busts that balance out her freaky and lovely ceramic nude "Ladies". 
The Bully Pulpit — Closes March 14
Haley Morris-Cafiero — TJ Boulting
"The major problem is she's disgusting."
That's the matter-of-fact statement emblazoned on the front of Haley Morris-Cafiero's t-shirt in size 14 Arial font. Except it's not exactly Morris-Cafiero as herself but the artist dressed up in a wig and fake goatee, holding a hairless cat in imitation of the real-life troll who said those very words to her.
The photo and comment were spawned from Morris-Cafiero's street photography series Wait Watchers, where she captured the critical gazes of passerby fixated on her body. In her latest exhibition The Bully Pulpit, Morris-Cafiero uses the comments on her previous project as the starting point, from "Normal people are never going to want to fuck you, regardless of how much you complain" to "Your work opens you up to criticism." 
The Bully Pulpit is a perfect mirror for Morris-Cafiero to hold up to all the ugliness people throw at her. You'll walk away horrified that we still have to put up with this shit and endlessly grateful for the work itself. 
If this sounds incredible to you, the London gallery is holding a talk with Morris-Cafiero in conversation with Tate Modern curator Emma Lewis on March 5. 
A Charm Against All That — Closes March 14
Brandon Anschultz, Hélène Delprat, Harley Lafarrah Eaves, Trenton Doyle Hancock, Charline von Heyl — projects+gallery
As coronavirus whips across the globe and hurtles to our front doors, as we attempt to guide our parents into voting for our preferred presidential candidate, and Lady Gaga rules that the Earth is cancelled, you'd be forgiven for frantically refreshing your horoscope and holding tight to your good luck charms. 
That's the idea behind the St. Louis projects+gallery's latest exhibition: Sometimes, the best defense against things that remain outside the realm of control is to embrace superstition. A Charm Against All That solicits the work of five artists to draw on experiences of anxiety, protection, and forces of the occult.
The exhibition stands in conversation with a collection of Vodun fetish objects drawn from the Fon people, who were captured during the transatlantic slave trade and enslaved on Louisiana plantations not far from today's project+gallery. These sculptural pieces lend weight to the nightmarish paintings of Harley Lafarrah Eaves and the magical chaos of Hélène Delprat's work. A Charm Against All That is a great opportunity to see some of Trenton Doyle Hancock's work if you happen to end up passing through Missouri on a spring break road trip.