Fractured Bodies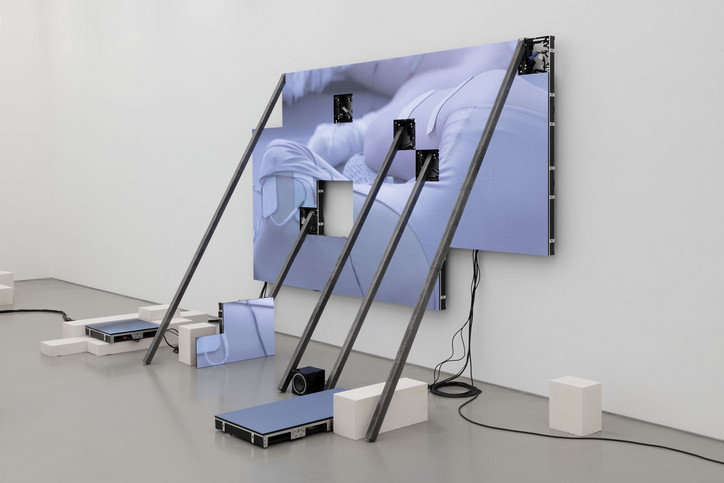 The answer to your first question is this: you're at the Perrotin Gallery in New York. But the better query here: what the hell is happening? It's hard to say. Between the exhibition title and the intentions behind Danish artist Jesper Just's "Corporealités," there are so many intriguing complexities that office decided to let the renowned artist speak for himself regarding his latest installation at 130 Orchard Street.
If you're looking for an art exhibition more immersive and literally stimulating than, say, ZeroSpace, check out the exhibition on display until February 15, 2020. But before you go, dive into the artist's own words below.
Interpassivity is defined online as "a state of passivity, particularly cognitive or emotional passivity, enabled or facilitated by the appearance or potential of interactivity." What does interpassivity mean to you?
Interpassivity is a term initially coined by Robert Pfaller and Zizek. It refers to human action and is based on outsourcing emotions and feelings—you could almost say it's like having someone or something external experiencing specific feelings on your behalf, a type of delegation. It's a state of passivity, especially emotional or cognitive, when there is the presence of and potential for interactivity. For me, interpassivity is a key concept in our day and age. I think less about what it means in a dictionary sense and more of what its implications are: why do we choose to delegate rather than participate? Why outsource experience or enjoyment? And beyond our own motivations to do so, what is the cultural or societal impetus at play? It especially comes into play with our current technology: as we use more elaborate, streamlined and efficient devices to multitask, it becomes increasingly ambiguous whether the technology is enhancing or supporting. At times, it seems as though it disconnects and disables us as often as it enables us through its intended means, and this produces an interesting effect on how we use and experience our bodies.
Before we start talking about all the different parts of this project—there are so many—how long did it take you to create the whole thing from start to finish?
While every work I create is autonomous, you could also view it as a continuum. Some parts are clearly transitions or departures in my practice; however, I started conceiving the specifics of this project about six months ago.  
You deconstruct and fracture various things in the making of the project. By doing so, you're able to highlight various elements of your art. Can you speak to that a bit?
As a point of departure, I knew I wanted to work with video in a spatial manner, using LED screens and fracturing them. This allows for the film to not only be presented in the space, but to undergo a fracturing that is simultaneous to the dismantling of the bodies on the screens. This dismantling is, in essence, a blurring, an attempt to expand the different kinds of categories of the body. Dancers' bodies are hyper-able bodies, but here they are passive, yet micro-managed by a MIDI program. In that sense, the work also speaks to an erasure of borders between the able and the disabled body, which enters into conversation around cyborgs, disability studies, and queer theory. 
There are wires attached to the muscles of the bodies that appear on the screens. The wires are then fed the music, which causes contractions when a node is played. At the same time, there are electrical wires on the exhibition floor in the space creating another circuit in space that supplies the LED panels with the images of dancers' bodies, filtered as detached parts. 
I've also been thinking of Bruno Latour a bit and when he said, "The distinction between objects and subjects is not primordial. It does not designate different domains in the world: it is rooted in the fracture of action."
What was it like to disassemble the LED panels?
With the LED panels and tiles, it was necessary to hack the circuits and the system, because it is not designed for this type of fracturing. We essentially had to manufacture and create custom-made cables in order to get the desired effect and make the material more workable. 
What about Fauré's Op.50 led to your decision to use it? Can you tell us about the very moment that you knew that you wanted to use it?
Fauré's Op. 50 is a sweeping Romantic composition that is both delicate and robust, highly emotional and very recognizable. It's a style somewhat associated with ballet and could be used in daily classes during barre exercises. The initial composition included a choral portion whose lyrics were a poem on the helplessness of man. I was interested in pairing this  layered music with very technical and pared-down visual elements, while still preserving a sense of lushness that is then deconstructed. The music is so emotional, but this affect then is transferred not into an emotional performance by the dancers, but instead manifests as controlled muscle contractions. In a way, it is similar to how a choreographer designates how they want a role or piece interpreted and performed, but here it is deconstructed.
Fauré was persuasive to me, because his music is often described as a bridge between Romanticism and Modernism. In some ways, my project links forces of the present day, while recalling this sense of helplessness. Technology and the artificial co-exist with the organic. The human body, whether real in the flesh or embodied and fetishized through the screen, is something both natural and manipulated in our times; it is idealized and erased while still possessing agency and acceptance. The human body is also subject to impossible standards and bias.
How was it working with August Rosenbaum to engineer Op. 50 and, again, take it apart it so that it had the effect you wanted it to possess?
Working with August is always a pleasure, because he understands so much of what I want without a need for explicit communication for every detail. I find most of my successful collaborations are like that: there is an unspoken understanding and shared conceptualization of the project. That being said, it required a great deal of experimentation down to the finish line as we also had to program it with the electronic stimulation devices. It's a bit like doing a synth patch, but obviously it's not using typical channels, and it was a lot of trial and error.
What was really interesting about working with August to deconstruct the music was that it was midi-programming. And when listening while testing and shooting, we only heard a fragment of the piece, certain notes, which were linked to the e-stim devices. It was not until day of install that we finally heard the piece coming back together, as a whole. Once you take one LED sculpture out of the circuit or system, certain notes will then be missing. So the fragmentation is not only visual, but also musical. It works together but also independently. 
How did you get involved with the American Ballet Theater for this project?
I first collaborated with American Ballet Theatre for Interpassivities during its restaging at BAM. Initially, I had staged and premiered it in Copenhagen with dancers from the Royal Danish Ballet. The process to restage was very intimate and intensive, because even though we referenced the pre-existing choreography, it had to be adapted for a new space and new bodies. It was very collaborative and that forged strong bonds. When I conceived of this new project, I knew that there were some dancers with whom I wanted to work again, and I was eager to also find new dancers from the company to bring in. ABT is one the world's foremost ballet companies—they're utmost professionals at the top of the top.
What was it like working with the dancers and directing them for an experience they might not have necessarily expected? Were they surprised?
Again, I had previously collaborated with a few of the featured dancers during Interpassivities. I would imagine this process was familiar and perhaps even somewhat simpler for them, as we were not intensively searching for solutions with difficult partnering and a shifting set like we were with Interpassivities. For this piece, I wasn't really directing or controlling—it was actually an erasure of that control and the role of the choreographer. I micromanaged their muscles through these devices, but had no control over how they would contract, or what it ultimately might look like. I could only arrange their body positions and camera angles, but the rest was somewhat up to chance. In this sense, the direction was entirely done by software. 
That being said, dancers are used to performing. With this project, they had to be filmed, which was a new experience for some of them. Shooting, especially with this level of detail, can be tedious and taxing in a different way. Also, each dancer needed the e-stim tested on them individually, as each individual requires a slightly different positioning and strength of electric output to produce the desired muscle contraction. Ballet dancers are some of the most highly trained and disciplined people on the planet, which made this process of experimentation and requirement for meticulous focus during shooting much easier than it would have with actors. Their bodies are their instruments and for most of them, a new challenge is readily accepted. 
The visuals for this piece rely on electric stimulation therapy, which is a therapeutic treatment that applies electrical stimulation in treating muscle spasms and pain. How did you decide to incorporate this into this project?
I discovered e-stim therapy around the time that I began researching this idea of interpassivity, although I may have encountered it even earlier when researching for Servitudes as one of the films featured a type passive motion therapeutic device. I was not only curious regarding how it related to injury and the body, but how it created a very distinct rhythm or choreography. In this instance, who was the choreographer, and who was the performer? I realized it could create a scenario in which bodies functioned as a type of circuit, as though they were a machine, but a machine that only functions through a collaborative, yet passive, presence. Its power would not be felt by the participants, but only through the viewers who can realize it as a whole. I was instantly intrigued how this might implicate or possibly rearrange power structures and the potential of performance. 
The installation sounds like a maze of sorts. You have previously mentioned before that you decided to arrange the gallery space to force your viewers to think about ableism. Is there a particular reason that you decided to focus on that issue? 
Architecture and infrastructure are mainly constructed for the able-bodied. It's one of the most invisible forms of discrimination. As I often first consider place and space, and I use architecture as a mediator, this silent but omnipresent condition is something that I feel is natural to draw attention to, but in a way that is discretely challenging rather than explanatory or pedantic. 
What do you want your viewers to take away after they visit?
I would hope that this immersive experience somehow points back to their individual bodies and that the experience will sit with them physically after, not just cerebrally.