FUCK YEAH MATTY MATHESON!!!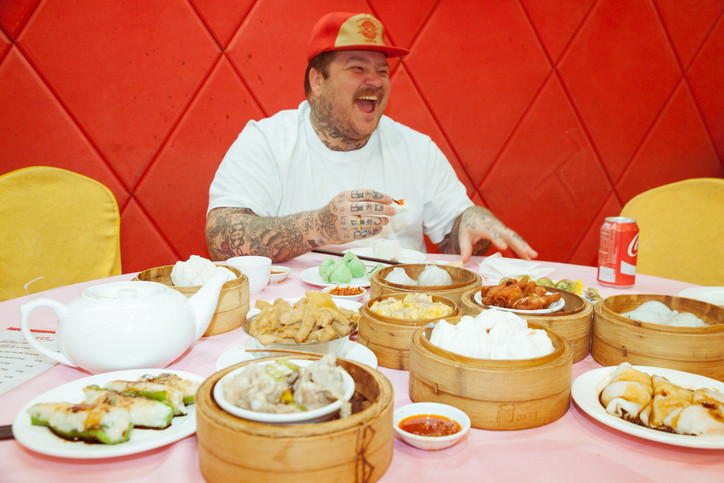 Enthusiasm is a trademark for the 35-year-old Matty, whose TV show, a cooking and travel program in its third season that smacks of a younger, hipper, and much more heavily tattooed Anthony Bourdain, is frequently punctuated with yelling. Every episode starts with a bang: "I'm Matty Matheson, and this is Dead Set on Life!" he roars. "EVERGLAAAAADES!" he screams from a boat in the, uh, Everglades. "Weed for sale? Hell yeah! NO!" he whoops from the Venice Boardwalk. "Whoooooo" is to Matty as "werk" is to RuPaul. Sometimes it even makes his throat hurt. "I've gotten lightheaded," he said. "It depends. When I did the Everglades thing, it was loud, and I got dizzy as fuck. I can yell at any time. I'm a good yeller."
The yelling is essential. Dead Set on Life is entirely centered around Matty's outsized personality. "It's about food," he said. "It's about fucking ripping around in cars and motorcycles. It's just about fucking smashing stuff."
In each episode, Matty travels to a different locale and samples the local cuisine: bagels in Montreal (he called New York bagels "rolls with holes"); restaurants in Vietnam with his mentor Rang Nguyen, aka Master Rang; prime rib in Vegas (one of which was served to Matty practically raw. He gave it a kinder edit to "not be an asshole"). This season includes trips to the Australian outback and Iceland, where Matty ate the famed fermented shark. "It's like eating a cheesy square of piss," he said. Sounds disgusting, I said. "It's just something I'm not used to or that's part of my heritage," he was quick to explain. "So it's not disgusting. It's just not something that I'm used to."
The whole show is marked with that kind of respect. Matty is just pumped to try stuff, whether it comes from a high-end bistro or a convenience store. And he doesn't forget his roots: Master Rang, who trained him, is regularly, deferentially featured, and the very first episode shows Matty going back to his hometown, a small town in Ontario called Fort Erie. While he's been a high-profile guy for some time—Matty opened his Toronto restaurant, Parts and Labour, back in 2010, has a huge internet presence, and appeared in various Vice videos before the launch of Dead Set on Life—Fort Erie only just honored him with an article in the local paper, written by the drummer in his high school hardcore band. It really impressed his in-laws.
There is something else Matty's known for: wild partying and addiction issues that culminated in a heart attack at the age of 29. He's been in recovery for a few years now, but he is always asked to discuss it, by reporters and fans alike. The TV show even seemed to play off of it: the season one and two opening credits literally featured Matty popping up from a coffin. It's an image that's pretty close to home: Matty's partying, often at punk shows in the Parts and Labour basement, eventually hit a wall. "A lot of people [in the restaurant industry] just drink and can manage," he said. "Personally, I couldn't manage anymore.  I lost grip. I lost touch.  I became like, unhinged.  I became a complete psycho, and the only thing that mattered was partying and drinking, and then all of a sudden it switched from being manageable to being unmanageable."
"I was lying, I was stealing, I was manipulating, I was fucking taking steaks and giving them to drug dealers for fucking coke or whatever, and I was just doing a lot of drugs," he continued. "For a few years, I was [doing] two-three grams a day.  It was a lot of drugs, plus everything else. It wasn't just coke—I drank like 20 beers, a bottle of whiskey, and a bottle of vodka.  And then you'd do a fucking eightball and then you'd do three MDMAs and then you'd do ecstasy and then you'd fucking do mushrooms at 5:00 in the morning because someone had mushrooms. You keep going and going and going, and then you just kind of lose grip. How could I be a real chef and maintain all that? I got into a position where I was going to lose the girl, lose the job, lose everything, and I was done."
Matty relapsed after the heart attack, but he's now been in recovery for a few years. "No one's going to stop doing drugs the way I was doing drugs unless they really wanted to," he said. "And that's the biggest thing. People are always like, 'How did you do it?'  I'm like, 'I was done.' I was tired, I was tired of lying, I was tired of fucking stealing and manipulating people. I turned into a different person."
In the years since getting sober, Matty married his high school sweetheart, Trish Spencer, and they had a baby, Macarthur. Even though it was the site of some dark moments, he continued on at Parts and Labour ("I didn't go to rehab, I just went to meetings and shit, so I just kept going to work"), although he made a rule of never staying at the restaurant past 11 PM. And his personal successes have gotten bigger and bigger. The restaurant—left in the hands of Matty's trusted chef de cuisine, Brent Pierssens, when he travels—is popular and well-reviewed (minus a shitty early one from the Toronto Star). People love the show. Fans love everything about Matty, including his streetwear-infused style, which he describes as "a big fat guy who just got some money and can buy some clothes. My one friend always said that I look like a fat rich kid who gets everything he wants for Christmas." He even released a capsule collection with StreetX in March, which sold out almost immediately—there is also a video of him modeling the merchandise that needs to be seen.
My one friend always said that I look like a fat rich kid who gets everything he wants for Christmas.
People feel close to Matty. He's one of those charismatic figures who seems both accessible and larger than life, like a beloved comedian. He also displays inherent kindness and good manners on his show—the nice Canadian stereotype is real. And between his overall vibes and the very public story of his struggles with drugs and alcohol, fans and followers (of which he has over 200k on Instagram alone) often reach out with tales of their own problems. "It's crazy and amazing, and people contact me about body image positivity shit," he said. "It's cool to have these chubby fucking kids in high school reaching out to me.  Like, 'I'll take my shirt off in gym class now because of you.' Shit like that's pretty fucking hype."
Fans often reach out with questions about addiction, which are harder. "Drug shit is such an individual thing," said Matty. "People hit me up like, 'What do you do?'  I'm like, 'Go to a fucking meeting.' I don't know." It's not really possible to diagnose someone over a DM. But Matty is still happy to share. "I think it's cool that people talk about that kind of shit, because who gives a fuck?" he said. "But I don't talk about the program. I talk about myself."

Watch Dead Set on LifeThursdays at 10 PM on Viceland.