FUSHION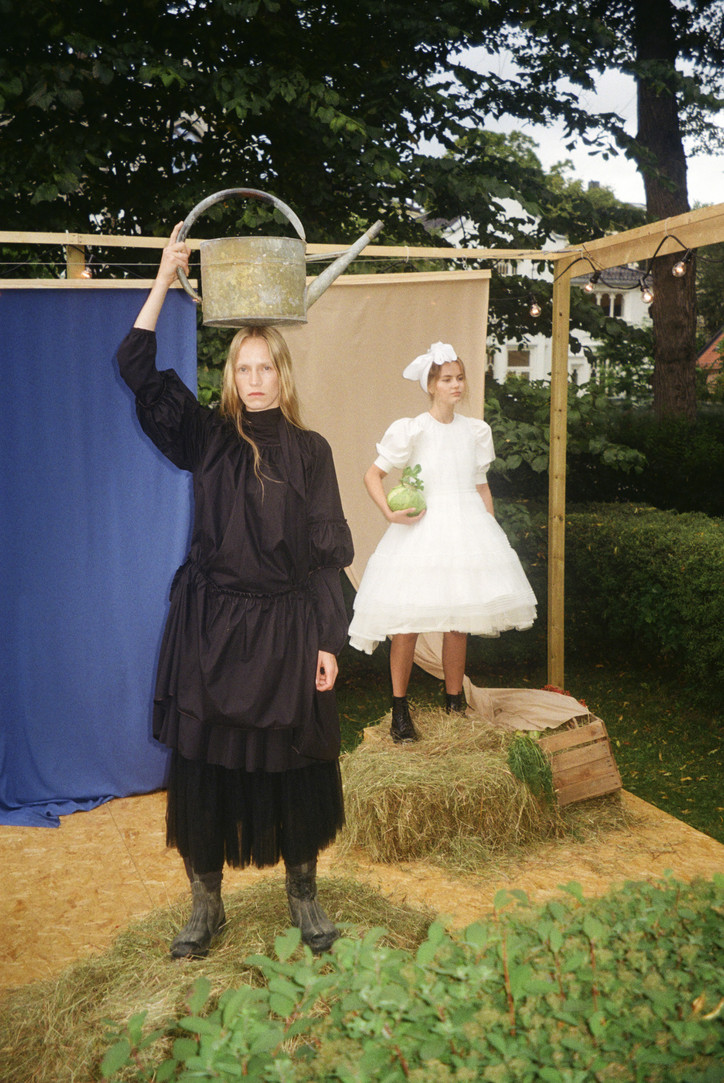 While unique in their individual approach to design, each label that showed during FUSHION expressed an active dedication towards environmental sustainability. Each artist brought their worldwide perspective to an audience that may not have otherwise been exposed to the experiences and challenges of their fellow Norwegians.
Peep our recap of the festival below and live vicariously through our photo diary of the whole experience.
Vi elsker FUSHION!
Day 1 of FUSHION kicked off with a joint presentation by designer Elisabeth Stray Pedersen and minimalist label Moiré. Staged against the stunning backdrop of Hole in the Woods, a painting exhibition by artist Andreas Siqueland, models for Pedersen and Moiré performed slow-motion movements which allowed each garment to be viewed at a detailed pace. With a thematic focus on curtailing overproduction and building an environmentally-conscious wardrobe, the creators' combined vision was emblematic of the festival's overall theme of sustainability.  

From there we caught a well-choreographed runway show titled As You See It  from designer Tonje Plur, whose incorporation of natural elements gave us Midsommar vibes in the best way possible. The evening included a gallery opening for design duo Holzweiler in collaboration with artist Ali Gallefoss. Bestowing a large selection of their existing scarf designs to Gallefoss, Holzweiler allowed the artist to repurpose their garments into a new form, giving the surplus products a new life as opposed to continuing the cycle of overproduced fashion.
Rounding out the day was an immersive gallery installation from Ethiopian artist Wendimagegn Belete. Based in Norway for the past four years, Belete's work incorporated elements of video, painting, text, found materials, and archival photography in order to address the unique history of his home country and push against stereotypes of Africa in general. Speaking about the exhibition Belete said, "The moment that I arrived in Europe I started to realize how Ethiopia has been portrayed and how Africa has been portrayed. From where I grew up, there's a lot to know, a lot to tell about Ethiopia and Africa in general. It's not about that sensational figure of the starving child. I want to engage this by collecting archives that could tell about the past." The work shown by Belete at FUSHION addressed Italy's two failed attempts at colonizing Ethiopia in the 19th and 20th centuries.
That night we partied with Costume Magazine and printer gods Epson as they gave out awards to celebrate designers who incorporate digital print into their work.
Day 2 of the festival started in the world of Mardou & Dean Souterrain, where founder and creative director Ingrid Bredholt showed a captivating presentation of her designs via photographs and audio-visual installation created alongside artist Victor Nicolai. Titled The Butterfly Kiss, 35mm images of Ingrid's clothing modeled by an obscured figure were printed with scanned details of butterfly wings and installed throughout a subterranean gallery space. Speaking with Ingrid during the presentation, the designer emphasized "I think people today, especially young people, are always wanting to be so prepared and so tough. I wanted to show something more vulnerable." We also tried out Bredholt's collaboration with Norweigan chair design house Varier which were displayed in a space one floor up from the installation - mad comfy! 
After a short detour to the Ekebergparken Sculpture Park, office pulled up to the Avenue S/S 2020 runway show which was held at the gorgeous Villa Stenersen. Designers Ingvild Abrahamsen, Gustaf Gyllenhammar, and Espen Follestad delivered a strong collection of menswear and womenswear which saw models descending the villa's picturesque steps in looks reminiscent of desconstucted 80's and 90's Scandanavian clubwear. Following the show we snapped pictures of the models and ate fresh apples from the Villa's surrounding orchard. 
Jetting back to the city's Barcode district, we stopped for a look at designer Anne Karine Thorbjørnsen's latest collection which was presented via photographs by Märta Thisner. 

From there we sat in deferential silence as cross-disciplinary, Sudanese-born artist Ahmed Umar gave a presentation of sculpture and live performance titled If you no longer have a family, make your own with clay. Lit only by candlelight, Umar filled his gallery space with clay figures representing the atrocities faced by citizens of his home country during the ongoing Sudanese revolution, as well as the feeling of being disowned by family and friends after coming out as gay; "[This performance is] not only about me. The first performance was 100% about me but now it's about the revolution in Sudan. We don't have a lot of media coverage; the world basically doesn't care about what's happening there. The revolution started in December of last year and there were many killings because people said 'No, we don't want a dictatorship'. Sudan is a country that's struggling very much to gain democracy and democracy will come with a result to all of us; it's not just Sudan. Humans share the planet and we should take care of each other."
Underscoring this message was Umar's invitation to the audience to make their own clay figures to be added to performance as seen fit. There were tears and hugs all throughout the crowd as people allowed themselves to feel what others felt in another part of the world.
Day 3 was an odyssey around town that started with a trip to see photographer Vitaboy's print show, held at the Norwegian Rain space in downtown Oslo. Working in the lanes of fashion and portraiture, Vitaboy's eye for captivating subjects and settings held a strong commercial appeal while maintaining a raw, expressive attitude. 
Up next was a journey to the countryside with designer Catherine Hammel, whose presentation titled The Urban Farmer transported viewers to a pastoral world where clothing not only looks beautiful but functions to be used while working with one's hands and harvesting from the Earth. This was emphasized with the casting of actual farmers who tended the land where the presentation was staged alongside models and friends of the house. Maintaining the festival's underlying theme of sartorial sustainability, Hammel spoke about the importance of cultivating a curtated and versatile wardrobe; "We wanted to emphasize the quality of life here [in Norway]. It's always about being comfortable. My aim is not to have too much; to have clothes that can fit in many different situations. I love fashion but our brand is about other things too. We have to be loyal to that. This is an opportunity to show our clothes in real life." 
Back in the city center, designer Michael Olestad presented Session; a spectacular preview of his S/S 2020 womenswear collection. Staged as an AA-style meeting, a small group models wordlessly sat in a circle of chairs while periodically getting up to replace themselves with framed photographs of the collection. Working with photographer Jakob Landvik, Olestad's models were stoic yet exuded a vibrant presence somewhere between Michèle Lamy and Angelina Jolie's character Lisa Rowe from Girl, Interrupted. The wise casting of models across a broad age range gave the collection a timeless yet aspirational energy. With the full collection debuting later this month in Paris, we are stoked to see the completed vision come to life. 
As the sun began its hours-long process of setting over Oslo, we caught one last presentation from designer Sara Skogøy whose show was titled Single by Sunrise - Confessions of a Woo-Girl. A handful of gorgeous models lounged in a 60's-style beach scene like they had just stepped off a Pan Am flight to paradise. Standout looks from the playfully campy collection included a flame-printed beach robe with feather details and a 'beaded' bikini coverup made from red acrylic nails. The whole affair had us planning our own Syden-style getaway complete with sunbeds, cheap cocktails, and a view of the wide blue sea. 

Before partying our way into the weekend with a wrap event hosted by Team Models, we caught one last exhibition from German artist Frederik Heyman. While not physically present at the show, Heyman's digitally-altered sculptural pieces played on screens that ushered the audience into his stylishly baroque world of Cronenberg-esque sensuality. We'll never watch Salò the same way again!