The Future is Behind You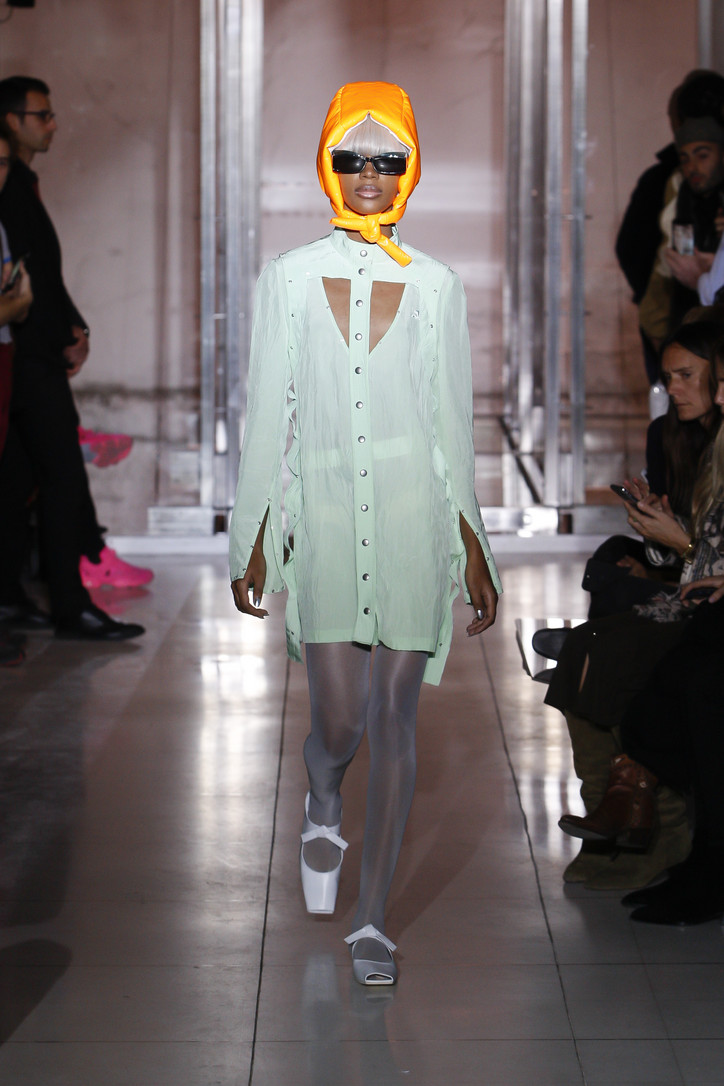 Zobel also took a new direction when it came to her vision for S/S '19. Though, of course, the collection was still filled with Courrèges classics, like vinyl, and their trademark racing jackets, there was an all around effortlessness—and infusion of materials—that was totally new for the brand. Even those signature moto jackets felt fresh, done in paint-splattered and tie-dyed colors like silver and orange, or elongated into ankle-length versions in light pink.
But Zobel's overhaul of Courrèges doesn't just involve changing fabric or its aesthetic. Her plan for bringing the label into the present, and hopefully, future also extends into what goes on behind the scenes:
In the 1960s, founder André Courrèges looked to the endless possibilities of space travel as a potent symbol of progress. Today, Artistic Director Yolanda Zobel's focus is closer to home—to the here and now. To us, the statement continued. And to the introduction of Courrèges to a younger and more international audience. As the embodiment of a global message of our time—transcending fashion and the brand's French roots.
That's why Courrèges is now committed to using its resources and influence to operate as a positive catalyst for ideas and solutions. To create an accepting and sustainable culture and global community; and to share its philosophy through meaningful collaborations with artists, institutions and other brands.
That's also why the new Courrèges is stripping back its veneer to reveal work-in-progress operations—highlighting actions and processes as much as product; showing that the raw, the real and the imperfect are as valued as the final article.
André Courrèges made clothes that suggested new modalities and relations between the sexes, classes and tribes. Today, Yolanda Zobel's collections for Courrèges blur gender, race, ethnicity and age. Hers are clothes and accessories that are both structured and undone. Flowing, feminine yet unflinching and forward-thinking. Focused and new but imperfect and distressed to reflect our time.
Unlike a lot of designers who take a spot as the head of an iconic brand, and struggle with the delicate and intricate dance of trying to balance that brand's legacy and their own voice as a designer, Zobel seems to have a clear grasp on exactly what she wants for Courrèges—and how to do it.
We accept that while fashion (and indeed the above text) sometimes offers big statements, issues manifestos, and talks of the future, Yolanda Zobel and Courrèges are, above all, committed to genuine convictions and straightforward actions more than words, the statement concludes.
No mimics. No grand gestures. Just doing.
The Future is Behind You.
See some highlights from the collection, below.
Photos courtesy of the brand.