Sign up for our newsletter
Ganni in NYC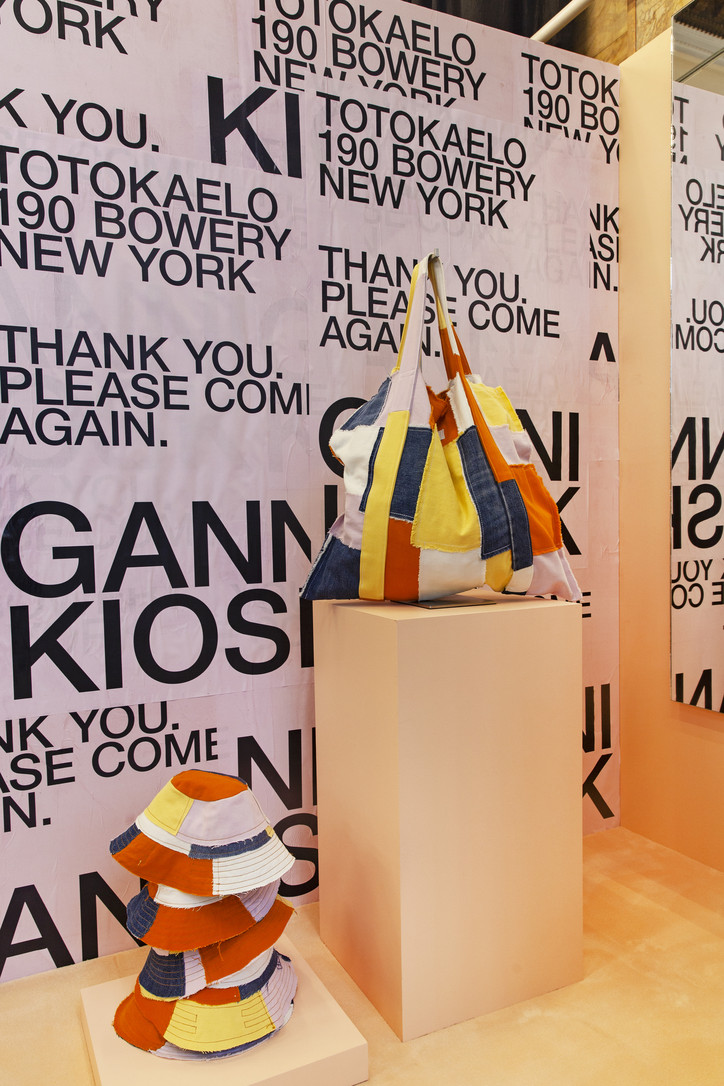 Photos by Jessica Nash; courtesy of Ganni.
Why Did They Kill Bambi?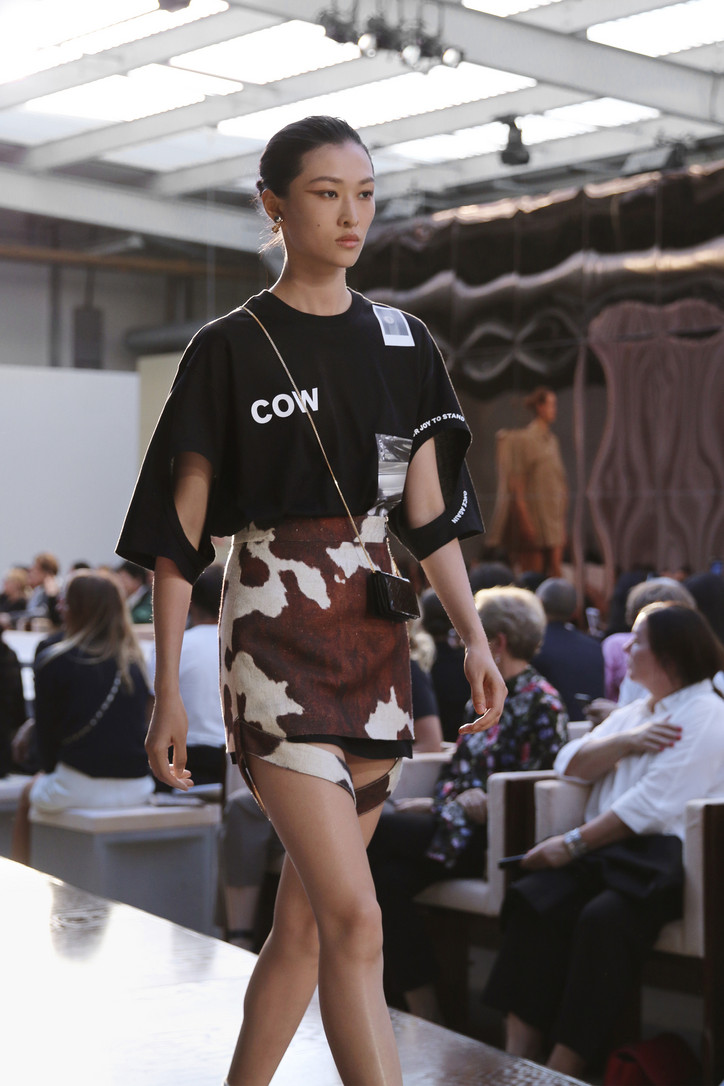 Monday's show took place in the hanger-like South London Mail, where soft khaki seats surrounded an extra long elevated catwalk. Pillars were mirrored and the space was divided by wooden walls, window panes and translucent panels. As the show was about to begin, what appeared to be solid roof peeled away, revealing a giant glass ceiling that let the mid-afternoon light in.
Compression sleeves with printed squares, and shirts and pants with vintage photographs, sheer polka dots over animal print (animal prints appeared throughout the show—not least of all a deer patterned shirt that read "WHY DID THEY KILL BAMBI?"), and thigh harnesses were among many unusual decidedly non-Burberry, but very Tisci-esque touches. Not to mention the embrace of the logo trend, which seems to be going nowhere.
The men's suiting, which is generally not the most thrilling moment of any show, was actually aa standout—inventive and new in simple details like three button closures and chest-mounted bands for ties—while remaining timeless and unaffected.
Another exciting invention were belts and bands that stretched high on the chest, breathing new energy and strangeness into Burberry.
And of course, the brand's signature trench coats made an appearance, revamped with an array of new detailing, including chains, detached feathers and snakeskin-embossed leather.
In a lot of ways, the show almost felt split—the first looks were very traditional Burberry, but as models continued down the runway, Tisci's influence became more and more apparent. And while some reviewers have called the show's 134 looks unfocused, there was not a dull moment, and contending with the brand's legacy while invigorating it with a unique, contemporary creative vision is certainly no easy task. Not to mention the introduction of evening wear—primarily in the form of simple, refined black jersey dresses.
As for accessories—they were also mixed. While there was some exciting new footwear (including a pair of faux crocodile pumps that are already available at the London store), the bags left something more to be desired—though there's definitely a certain kind of (great?) novelty in Burberry making oversized fanny packs. And post-show, no one can stop talking about the fake passports that hung around the models' necks.
It was particularly exciting to see Tisci's embrace and revamp of Burberry's trademark check, which the brand has been pulling away from in recent years over its associations with knockoffs and classist fears of footballers in brown, white and red bringing down the brand's cachet. Turned into stripes and deconstructed into multi-patterned shirts, Tisci remixed it into a new, cool, distinctive tartan.
While exhaustively going through each look would be well…exhausting, suffice to say we're liking the new direction. And you can peep some of our favorites, below.
Photos courtesy of the brand.
Alyx x Nick Knight
Launched in 2015, Williams founded Alyx with the help of Slam Jam's Luca Benini, bolstering an age-old affinity with streetwear to springboard a hardened, unapologetic womenswear brand. Following the debut of his first menswear collection in 2017, Williams' collections have garnered an illustrious reputation for seamlessly cross-pollinating influences from his native California with the global subcultures that stimulate us all.
For his Spring '18 collection, Williams looked to British heritage brand Mackintosh for their killer craftsmanship, which dates back to 1823. Using the collaboration "as a way to honor this heritage and use their fabrication and development alongside our own design elements and hardware to create unique pieces which well represent both collaborators," said Williams, the collection also features popper vent technology and buckle-up legs that redefine functionality—and not just for the runway.
As for Nick Knight's contribution: "Nick and I are both long-time fans of Mackintosh and their craftsmanship," Williams explained. "As we have been both friends and collaborators for some time, it felt like the perfect opportunity to bring all three parties together for this limited coat."

While he would be more commonly associated with his 1982 book, Skinheads, or his subversive early-adoption of digital fashion photography, the exclusive imagery he created for this collab sets an entirely new tone for Nick Knight. Using techniques he's been perfecting for a number of years now, the image is an abstract water painting on photosensitive materials that's equally dark and beautiful. And because—on top of the quality of the collab—people always want what they can't have, the Nick Knight x Mackintosh x Alyx capsule is bound to sell out, like, fast.
Nick Knight for Mackintosh x Alyx is available exclusively at the Mackintosh flagship in London.
Photos by Nick Knight; Model: George Jones (Wilhelmina); courtesy of Mackintosh.
Fashion East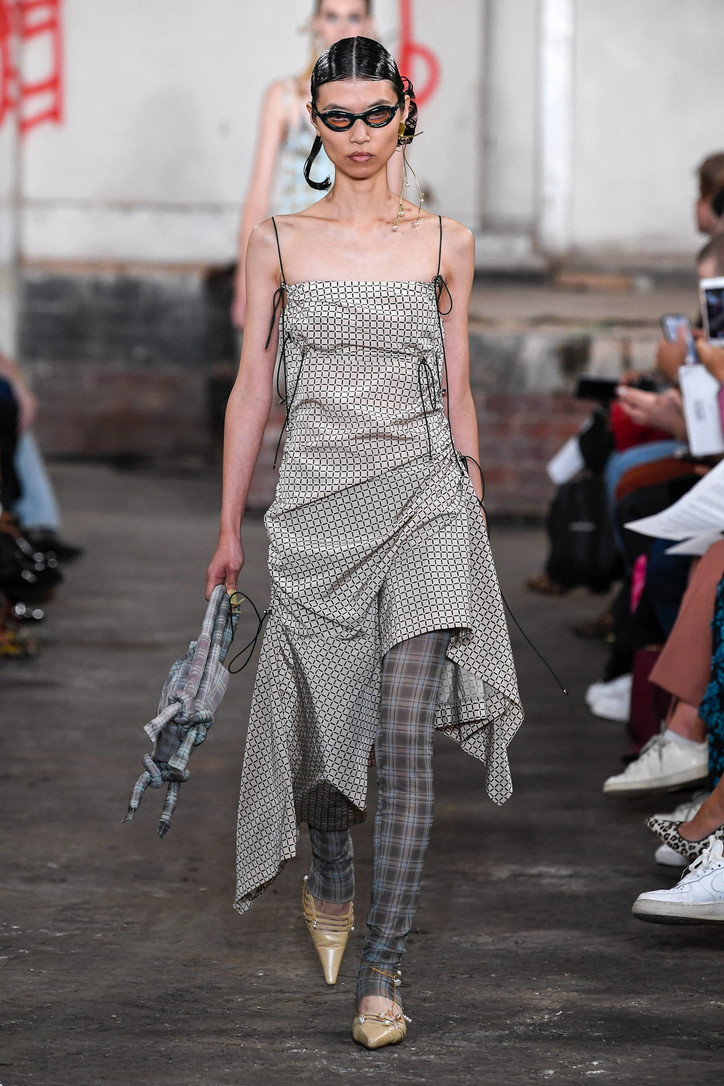 Some dresses clung tight and were pulled together with a complex array of adjustable toggles, while others went for asymmetrical openings paired with cutaway lycra leggings. The matching accessories were made in collaborations with Slim Barrett, for jewelry, and General Eyewear, for sunglasses.
Yuhan Wang followed with a much more subdued presentation—but no less stunning. Light, nearly sheer, fabrics in blues and pinks and shocking green chrysanthemum prints (drawn by Wang herself) fell effortlessly, sighing and swelling down towards the ground in lazy sashes. Hats and bags sagged, as if relaxing on holiday. The models even walked slowly, all bringing to mind a Watteau painting, or the feeling of smoking a joint along the Côte d'Azur. (Wang herself cites portraits of Regency women, as well as Chinese sartorial vernaculars, as major influences for the collection.)
Of course, despite the lolling evocations, the collection was undeniably contemporary and filled with life. Deconstructions and slashes appeared on a yellow satin dress, and sheer white fabric revealed everything, displaying Wang's interest in "the language of déshabillé." Lime green clashed against pink on asymmetrical dresses and shimmering lime stockings popped when paired with red heels. Highly distressed webs were layered over midriff-revealing two pieces and dresses that, truthfully, ended up revealing more than they concealed. However, despite the seeming decay of these later knit pieces, there was no darkness here—only pure jouissance.
The final designer at this season's Fashion East presentation was ASAI whose collection gave off sci-fi goth vibes. But however otherworldly the works appear, they're firmly grounded in reality. Inspired by a trip to Vietnam by designer A Sai Ta, a second generation Londoner of British-Vietnamese-Chinese heritage, this season's collection confronts war and trauma, as well as the strength and feelings of love born from it, melding original, hyper-modern style with inspiration from military garb and traditional dress. 
There is a certain violence to the collection—army green and deconstructed tactical garments make repeated appearances and the designer refers to grommets edged by fringes that proliferate across one dress as "bulletholes." Draping recalls the robes of Thích Quảng Đức, a monk who self-immolated in protest of the South Vietnamese government.
Much of the fabric appears as a dark hologram, such as the opening shimmering zebra print jacquard coat, and colors pop explosively. Pants which feature the detailing of boots stitched into their fabric up their knees appear in a variety of hues and dresses turn models into "human vases," recalling the blue and white glazed porcelains that also inspired the jewelry by Claire Barrow that adorned many of the models. And this is to describe just some of what ASAI put on display in a collection that masterfully embraced the complications of history and of the present to blend a wide array of references, histories and affects into very wearable, but unapologetically hardcore garments.
Peep some of our favorite looks from all three designers, below.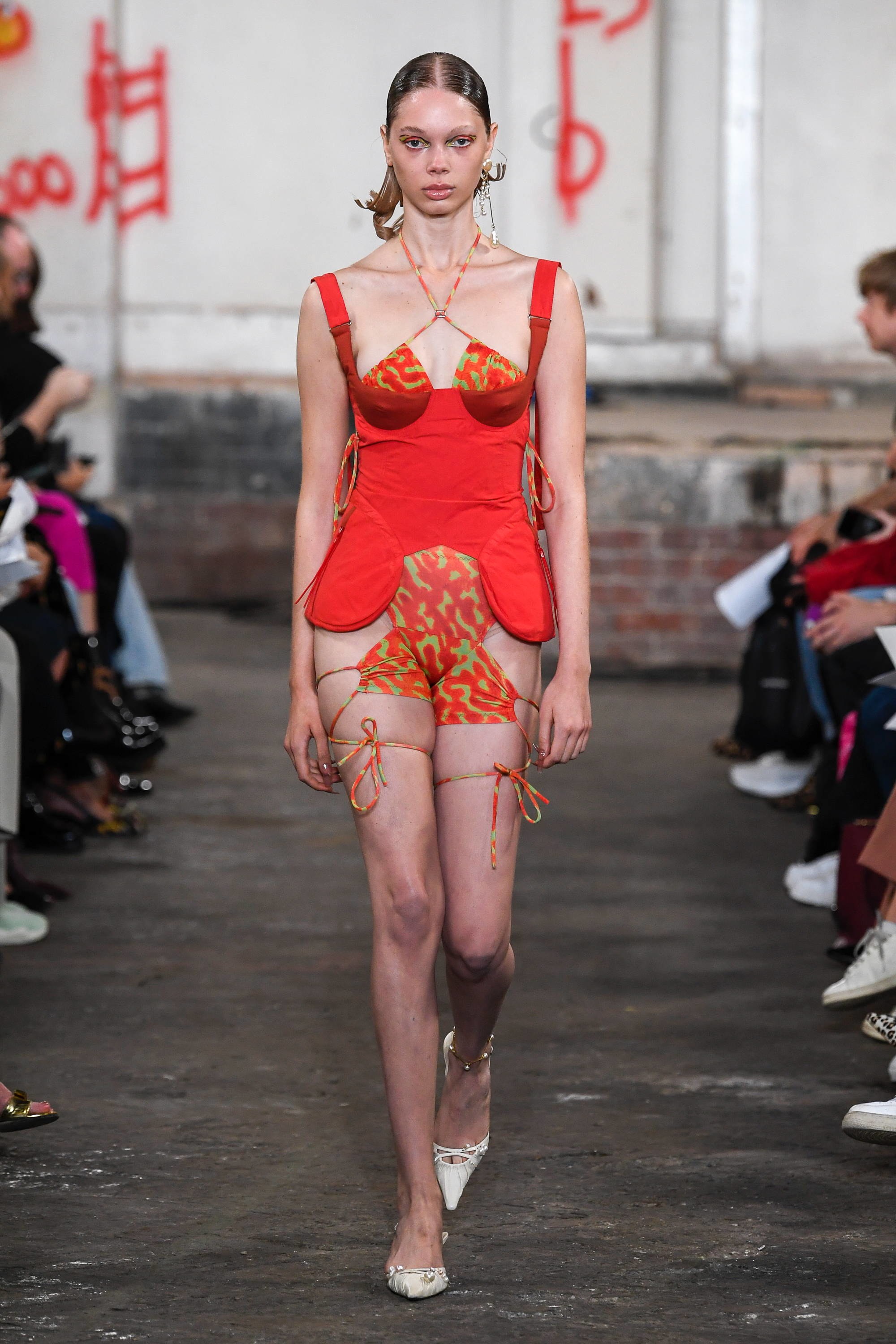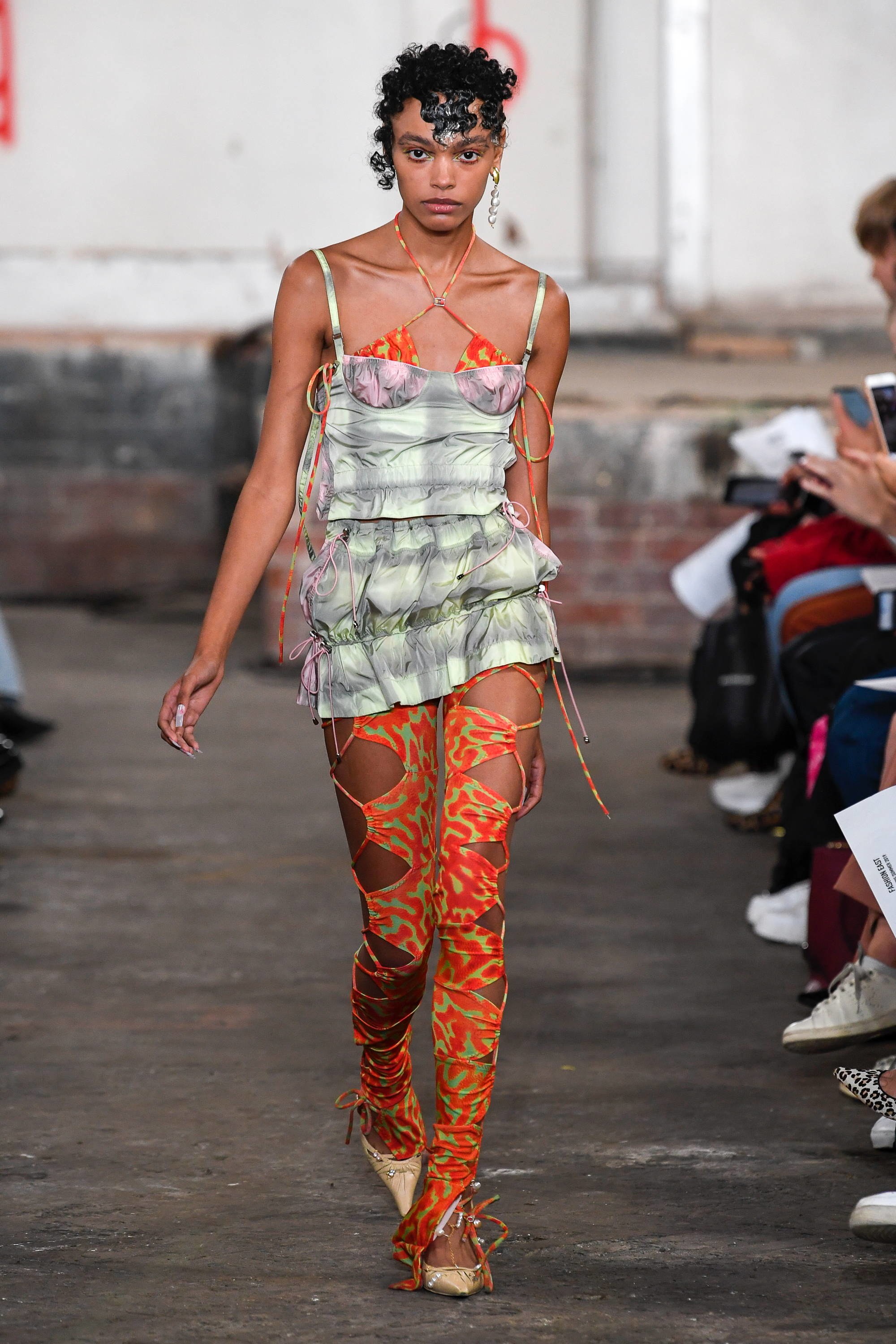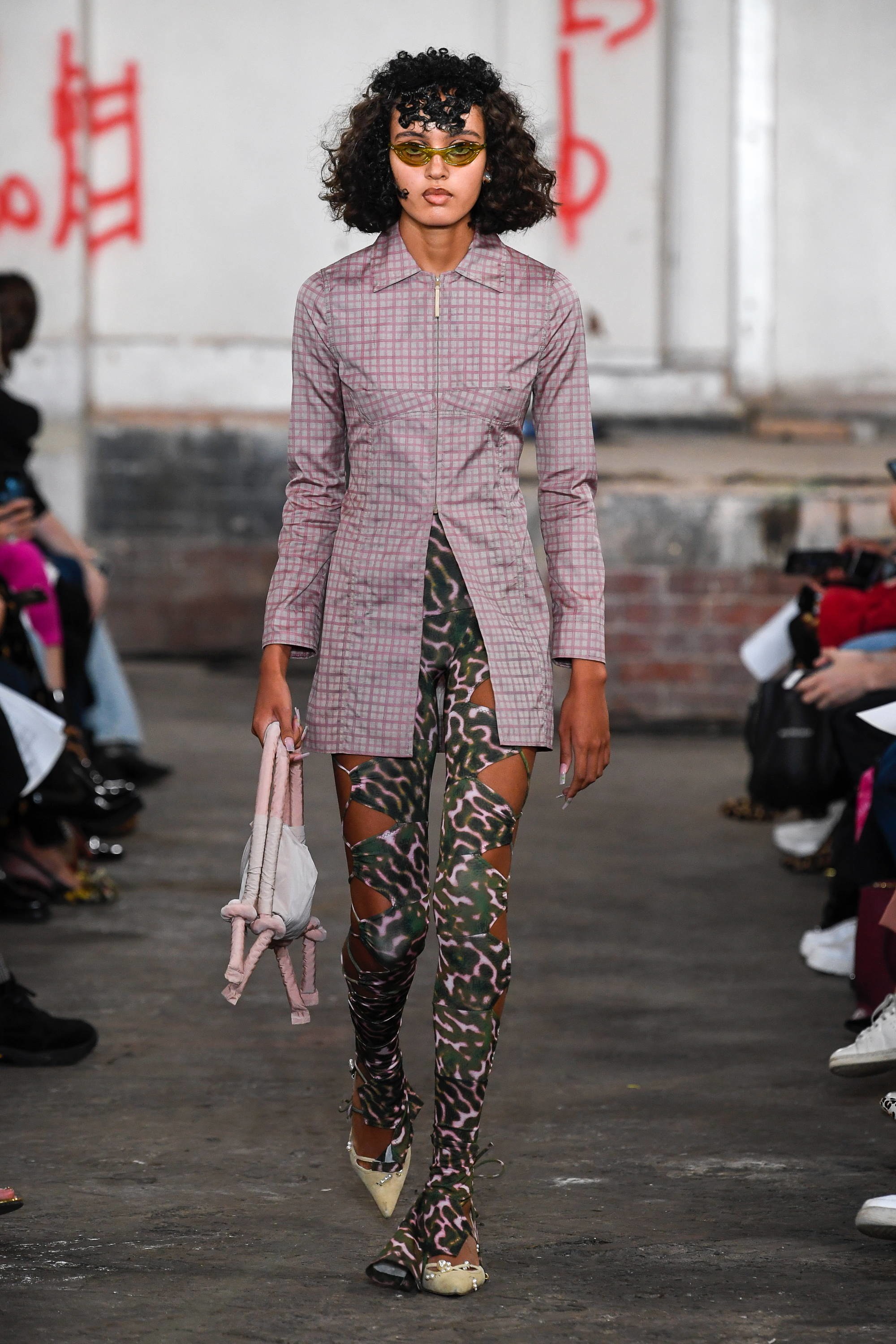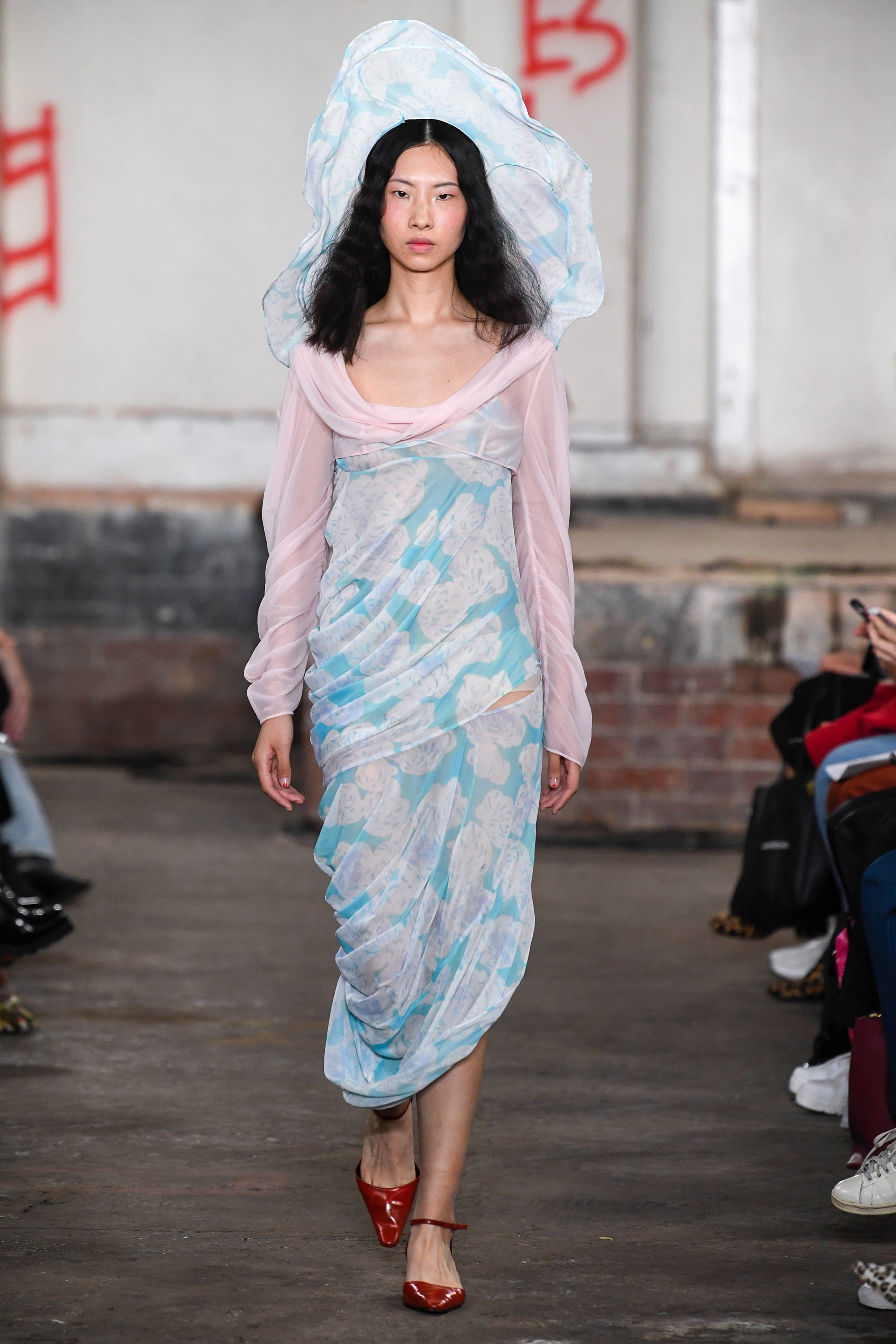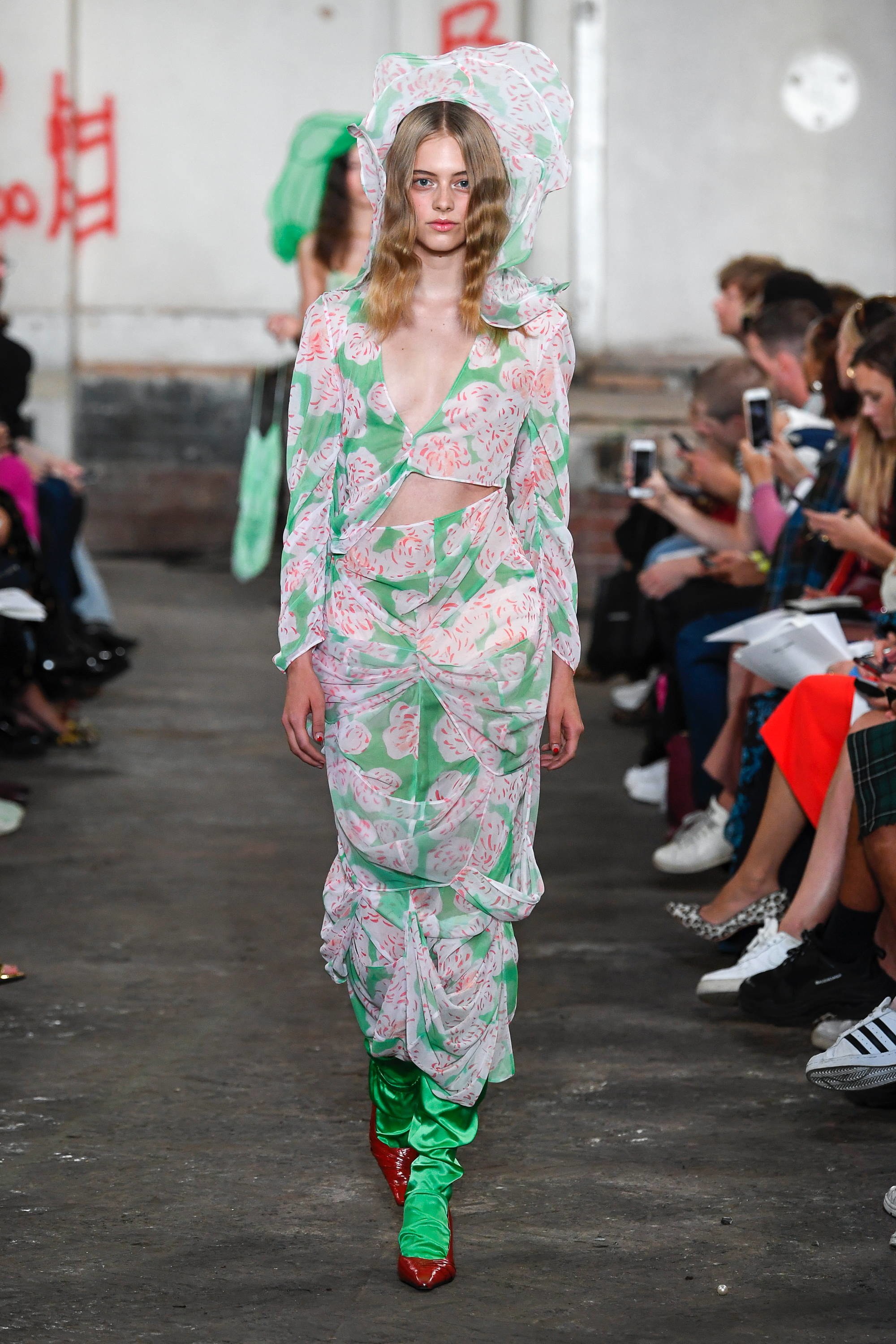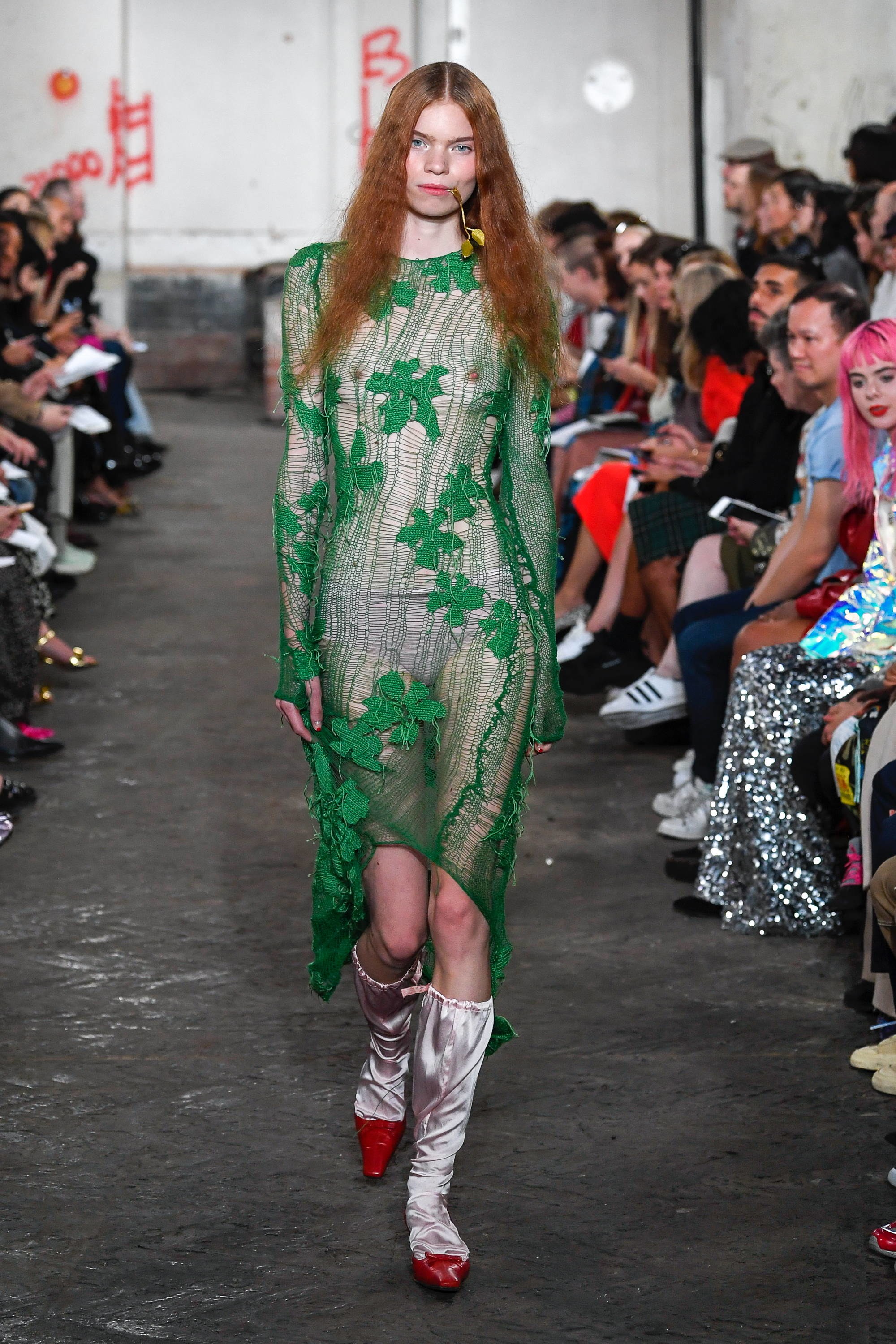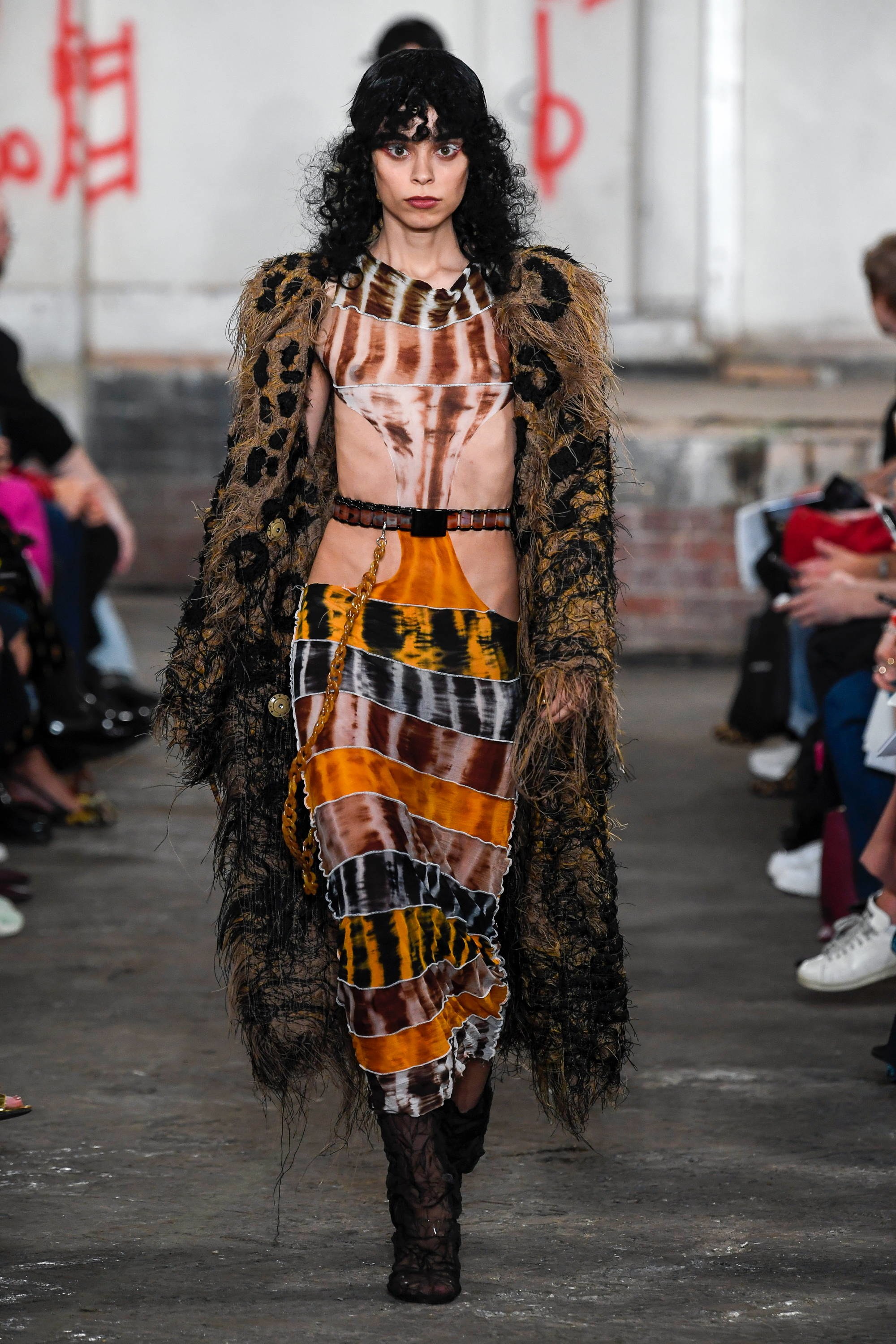 Photos courtesy of Fashion East.