Gavin Turek: disco inferno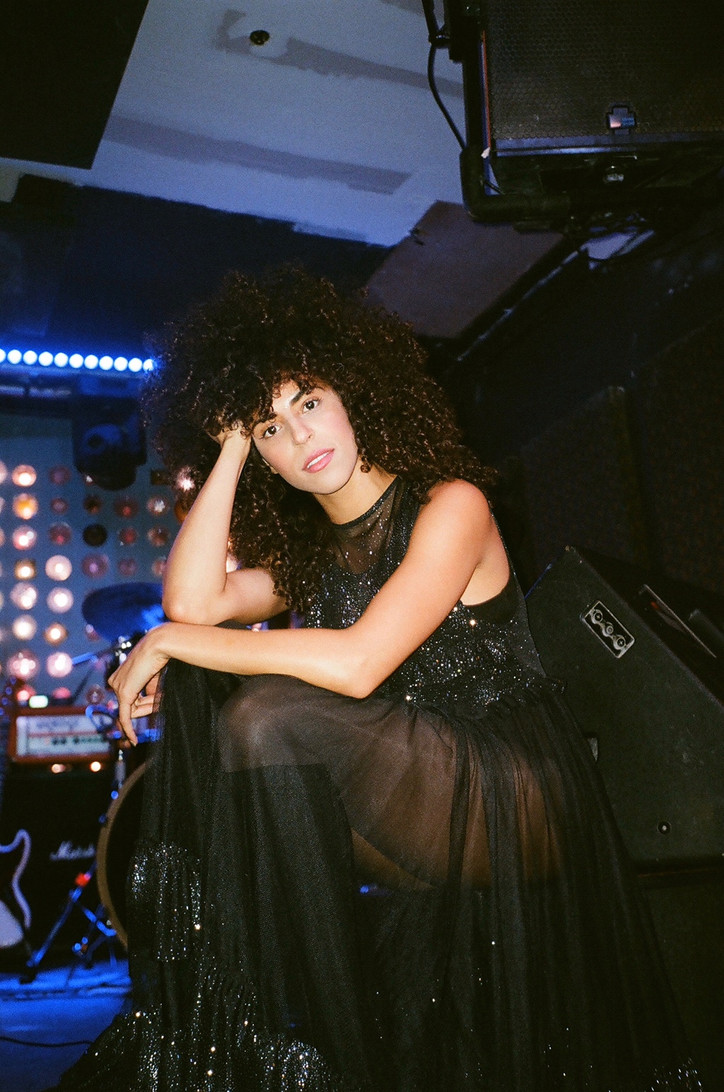 Your disco sound is so unique, and it feels like a throwback but still new and fun. What attracts you to that genre?
For me, my whole relationship with music, ever since I was kid, was just about how it made me feel. And when I listen to disco and soul and Chaka Khan—all these great artists like Diana Ross and Donna Summer—I just remember that feeling that I felt. It was what I connected with the most for some reason. And maybe it's just because I'm naturally a more upbeat person and I love to dance, obviously, and I really connected with the image of what a disco diva looks like. [Laughs] I always just really loved those elements of freedom and fantasy.
I've experimented so much in music. I've been doing it since I was fifteen years old. I've dabbled in all different kinds of genres, and worked with a bunch of different producers and writers that all have their own niches. And now with what's going on in the world, I think people really need that element of escapism in their lives somehow. I'm so into giving people the opportunity to kind of get lost in music, in dance, in kind of letting go. Disco-influenced sounds and that genre in general can get you lost and caught up in some happy stuff.
Could you tell me about other kinds of music you've experimented with?
I started off in little R&B girl groups in high school. [Laughs] It was a great experience, and that's when I started thinking really seriously about songwriting. I learned so much about harmonizing and vocal producing, and I was just so young and wanted to soak up everything. Being in the studio and getting to record at that young age is such a great opportunity, and I really embraced it. And once I got to college, I certainly got more experimental in terms of what I wanted to sound like on my own. I've always been into indie rock and folk music, so I kind of tried to do a singer-songwriter thing for a while. [Laughs] I definitely experimented across the board. But I thought about what feeling I wanted to have when making and performing music, and what feeling I wanted people listening to walk away with.
For me, getting back to those basics really helped me streamline and hone in on the sound and my writing style. As an artist I think you can really be all over the place, especially when you're like me and you listen to all different kinds of music. I've always been like that. But when I started to hone in on the intention for my music and the performance experience, I was like oh, ok, this makes a lot of sense. This connects with me, and I think this will connect with other people. It's been a very trial-and-error process over the years, and I'm grateful that I've found a producer [Chris Hart] that I feel really understands what I wanted and how to make it, with retro and modern elements at the same time.
I guess it pays off to be dramatic!
Photo by Tiger Tiger Studios
You've said you related to the look of a disco queen, which is pretty clear. Your performance outfits are incredible. Could you tell me a bit about them?
So I really love to dance, and I grew up getting most of my training in dance. I went to school for dance in high school, and I've just danced pretty much every day since I was eight years old. I was really obsessive, and I always thought that I was going to pursue that as my career.
I had the opportunity to go abroad when I was in college, and I chose to go to Ghana for the majority of the time because I was introduced to West African dance, and I just thought it would be the perfect opportunity to learn about traditional dances. I focused on traditional dances of the northern region of Ghana, in a town called Tamale. I got to dance and really just learn and be inspired and train with one of the dance groups in that town—the best one, in my opinion. It was a really life-changing experience. They trained me six hours a day, every day, for two months, and it was so amazing.
So when I got back and I was trying to figure out what kind of music I wanted to do and how I wanted to present myself, I decided to start doing shows. And because I had just returned from this incredible experience, I wanted to incorporate some of what I learned. It was ingrained in me, it was in my body, so it was very natural to replicate elements of what I learned in Ghana onstage. In my favorite dance there, a part of doing the dance involved this thick tassel belt that enhances all of your movements. So when I got back and I was trying to decide what I was going to wear when I was performing, I decided to incorporate that with fringe. It was that practical. I wasn't trying to evoke Tina Turner or anyone, I just wanted to accentuate my movements the way they did in Ghana. And now that's kind of evolved into me designing these different kind of costumes, it's a whole process. [Laughs]
Then lyrically, was there a particular inspiration behind the songs?
Because I write everything, I think inevitably it's going to be some kind of time capsule for that particular period of time in my life. And I like that! I like bringing in what I'm thinking and what I'm going through into sessions, and when I'm writing a song, I just like being honest and personal. Even if it's just fun, it's still coming from a personal, honest place. For one example, the day when I wrote "On the Line," the first song on the EP, I was so frustrated with pursuing music, and I was so discouraged with my career path. [Laughs] I guess everyone can relate to that.
But I was just feeling really discouraged and really down on where I was in my life. I was looking around, and everyone else my age seemed to be getting married and having kids and at a certain point in their careers. And I was so not choosing to do that. [Laughs] But was that ok? Or could my alternative path work out? And that's honestly where I was at, and I was just trying to lyrically express that as much as possible. It was therapeutic songwriting! [Laughs] And then "The Distance" was literally about an LDR, a long-distance relationship. So it's all very honest, and the inspiration is just personal crap. [Laughs] I guess it pays off to be dramatic! And hopefully other people can relate to it in some way.
It's so relatable! You're saying all this and I'm nodding along endlessly. And this is a silly question, but have you ever seen the movie On the Line?
No, I've never heard of it!
Well there is this very terrible Lance Bass movie from 1999 called On the Line.
No way! That's amazing! I hope people think I got the title from the movie! I love Lance Bass!
[Laughs] So, what are you up to now? Touring?
In between me going on tour with Tuxedo, the brainchild side project of Mayer Hawthorne and Jake One, I have some festival dates and some one-offs throughout the summer. I contributed to both Tuxedo records and I've been in the live band since the beginning, so I'm going to join them for a full US tour in May and June, and then I'll do some solo gigs on my off-days from that. I'm just going to be touring a lot, and when I'm home recording and figuring out what's next, whether it's an album or an EP. I want to get something out pretty soon and just keep on performing! And I'll probably do a small headline tour again in the fall. So that's it!
Catch Gavin on 4/27 at The Changing Same in San Jose, CA, on 5/27 at the Ace Hotel in Palm Springs, CA, and on 6/25 at Mamby Festival in Chicago, IL. She'll also be joining Tuxedo on tour (dates here). Good Look for You is available on iTunes.