Get on Board with Friends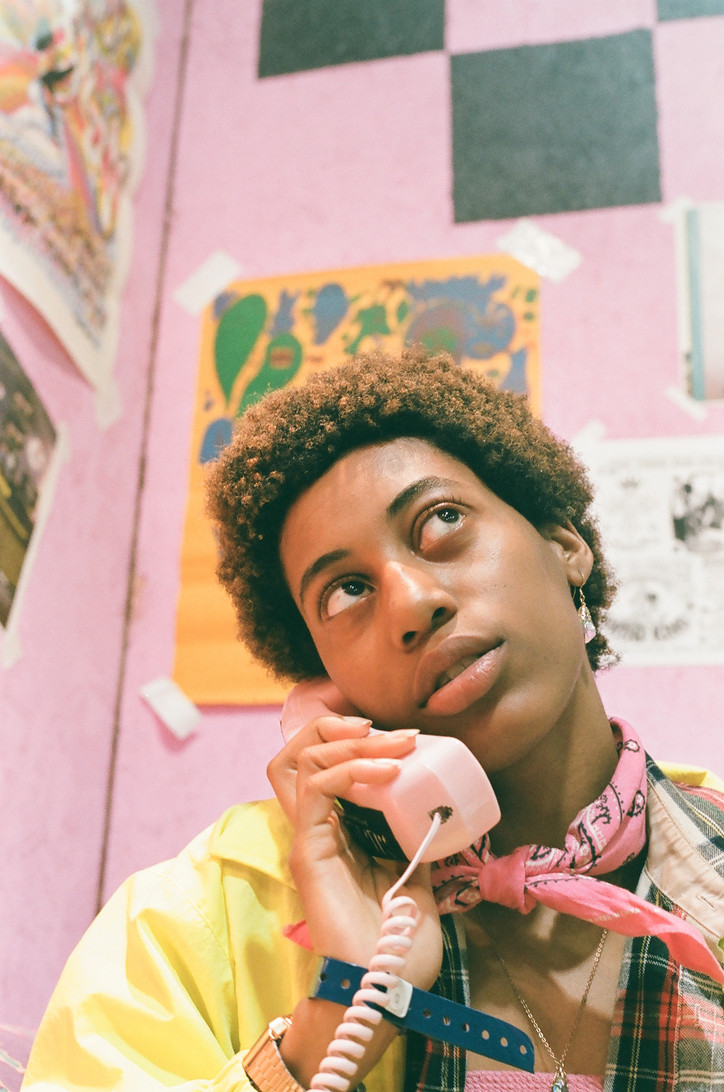 I'd first found out about Skate Kitchen by way of the short film they'd been featured in for Miu Miu, by Crystal Moselle. And it was the first time I'd felt like those times I'd had way back when had wholly changed.
Skate culture is an undeniably stylish circle, and the fact that today's fashion industry is focusing on streetwear more than ever before has brought this to the next level. Additionally, with the work of femme fighters like the Skate Kitchen crew, there's an entirely new facet to what the joined forces of fashion, feminism, and athleticism are able to achieve.
This week, we got to experience this phenomenon ourselves. The Brooklyn House of Vans held an event alongside Friends NYC, the shop located in Brooklyn offering us the best Britney Spears-style clothing we could ever hope to find in the city— and in 2018! The event included pop-ups from other local shops, a skate lesson by Skate Kitchen, and a live show featuring The Kills. 
Throwback trends are undeniably trendy, and though there are definitely decades with moments we should avoid coming back to (see: '80s, Devo) the '90s Avril Lavigne aesthetics feel forever fresh, and it might not necessarily be due to the actual design. The aesthetic is approachable to those of us who want to return to the excitement of our youth, of the pop culture that pushed us thus far— but it also applies to a new wave of women who are able to step beyond the skatepark sidelines and embrace the strength and status that women of all ages have working towards today. 
We got to talk to the ladies leading this movement, the founders of Friends NYC, who are fueling this new generation of bad-ass girls being taught by Skate Kitchen--offering them a sporty, stylish, statement wardrobe that speaks to the strong work these young women in skateboarding stand for. Hear from Friends and Skate Kitchen below for more on what the future holds for the fusion of fashion and female skating.
What's your determining factor for what you stock? What's the Friends aesthetic approach?
Friends NYC It's all about a vibe. When first started, we went for a '90s aesthetic, because that's when we grew up, what we knew. So, initially, it was vintage— and then it expanded from there. Other brands like Lazy Oaf and Dickies, stuff that kind of just goes with the community, which is pretty young and trend-driven.
Why do you think the 90s is such a popular period for kids, who may have not even experienced that era?
I don't know! For me, it makes sense because that's when I was a child, so I'm obviously nostalgic about it, but I guess aesthetically it's just cool, and also the Britany Spears-style irony is big.
It's a multi-faceted market— there are people our age, who go for nostalgia. Then the younger consumers are about trends, which are cyclical, and currently they're into the '90s, but who knows when they'll move onto the next decade.
Yes! I see them getting into '70s stuff too now, so we're tapping into that aesthetic as well.
What's your favorite thing that you have here?
That's tough. I'm into stoner stuff, so maybe these Beer Can Grinders. I'm pretty obsessed with them.
Where are you from?
I'm from Canada, actually. I came here to get my masters degree at FIT for fashion industry and fashion curation, so I worked at the costume institute at the MET for a few years, but I randomly got into this and I just totally changed gears.
Good call, I worked at galleries for a while. I mean, I love it because it gives you a really good background, but it'll also drive you crazy. This seems better because you're not going by a "formula", you're curating your own aesthetic.
Completely. My background does have similarities to what I am doing currently. And Mary went to school for art, and was a designer, so between the two of us it does bring a unique perspective.
So. This event is about celebrating women skating. What is your role?
Skate Kitchen Well, one thing is that we're coming here to teach girls how to skate.
It's insane. All these girls are so cute.
They're amazing, the world is changing. Yo— mad girls are riding skateboards now.
It seems like it's shifted, at least from my point of view. When I was in high school the stereotypical "Skaters" were "Outsiders", but now it seems like they're the "Cool Kids." And that's actually quite awesome. Fuck. I wish I had learned how to skate. Do you think that skate fashion is changing also?
Definitely, we did a shoot, an editorial, and we were wearing like Off-White and Miu Miu and we were skating in the clothes. More high-fashion brands are reaching out to skaters, I don't know, in terms of culture maybe.
Do you feel like they've appropriated at all?
No. They get real skaters. Of course there are some because they will hire models to just hold a skateboard. It depends on what you're doing, like the ones that reach out to actual skaters. And actual skaters are all of a sudden more common than the alternative. We advocate for everybody to skate. We want to expand the horizons.