Gus Dapperton Grows Up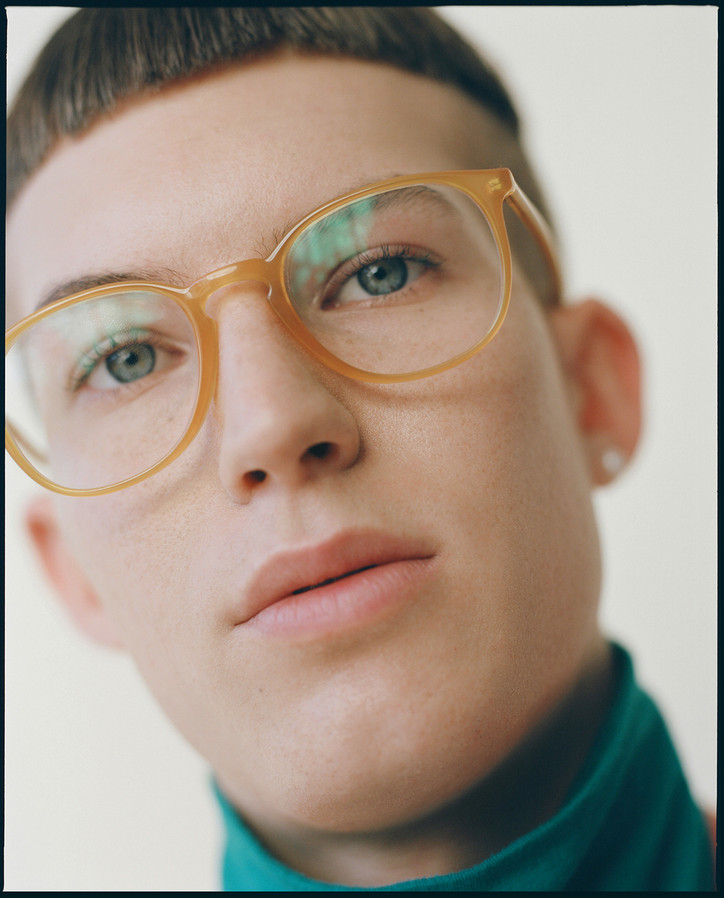 You feel his soul when he sings, which is all the more remarkable considering, as of last year, Gus was still a student at Philadelphia's Drexel University studying music technology, recording songs in his dorm room.
His new collection of songs, of which "Prune" is the first piece, differs from August's Yellow and Such in its commitment to live instrumentation instead of analog. But the subject matter, says Gus, is the same: "It's a continuation of the last project, which is basically heartache and heartbreak," he tells me, smiling wryly.
Glasses by RetroSuperFuture
Gus's image is so curated that, to someone unfamiliar with his music, it runs the risk of feeling inauthentic. He only has six songs to his name. His music videos are mini works of art; his clothes are immaculately chosen; his hair is trimmed to a perfect bowl cut, balanced out by vintage, oversized yellow glasses. It all feels too precious, sometimes.
But this response to Gus's art misses the point: in a generation hooked on instant gratification, Gus is obsessed with detail, and is staunchly sincere. He never rushes his art; "Prune" took a year to write, he tells me. He's really just a goofy kid from Warwick, NY with an uncommon devotion to music and a love of women's clothes. He paints his nails, wears eye makeup, and rocks a pearl earring. He loves billowy 70s pants and thrift store blouses. Gus identifies as straight and cis, and while his look—and it is definitely a lewk—radiates non-traditional masculinity, it's a lot simpler than that. "I've just found what I'm overall happy with," he tells me, mulling over an oversized 80s men's blazer in between shots at an East Williamsburg studio.
Jacket by Romeo Gigli at James Veloria, Glasses by RetroSuperFuture
The stoicism slips away when he performs and, more specifically, dances. Gus is a dancer. His moves, as showcased in this year's fantastic "I'm Just Snacking" video (directed by his friend and collaborator, Matthew Dillon Cohen), are a mix of amateur tap dancing, interpretive arm flailing, and Night at the Roxbury head nodding. "Prune" has a lot of dancing, too, which only adds to the video's youthful exuberance. But like all of Gus and Cohen's work, the video for "Prune" is self-aware, doubling down on and exaggerating Gus's endearing youth and gawkiness: we get Gus dancing through a high school filled with color-coordinated janitors, driving in a car with friends (all brilliantly sporting Gus's signature bowlcut) and, most lovingly, dancing for his real-life girlfriend, model Barbie Ferreira.
If Gus is calm, pensive, and careful with his words, Barbie is his perfectly constructed opposite. Overflowing with laughter, gregarious, and unashamedly brash, Barbie is a millennial force to be reckoned with: with nearly half a million followers on Instagram, her own forthcoming VICE show, and an ever growing fan base devoted to her body positivity, gorgeous selfies, and insightful takes on modern relationships, Barbie is, on the surface, an unlikely partner for Gus. But the second he's brought up, Barbie can't stop herself from gushing. "I love his music. I listen to his music all day," she says to me, giggling. "His new EP is on repeat—it's kind of embarrassing, because he can see exactly how many plays are on the songs, and they're almost all mine." She hung for hours as Gus went through different looks with the photographer, occasionally giving her approval on an outfit, doting proudly. She's obsessed with him, and the feeling is mutual.
I really moved there to make music. I just go get a bagel in the morning, come back, make music, make a quesadilla for lunch, get a falafel sandwich for dinner.
When it's time for me to ask Gus about Barbie, he flashes a huge smile, making him look 16. "I was a big fan of Barbie before I met her. I would put demos up on Soundcloud and upload a random picture of someone that I was really infatuated with. And I had a picture up of Barbie for a while," he says, glancing repeatedly over at her. "And then I slid into his DMs!" Barbie cackles from the couch, and the two of them burst into laughter.
It's moments like these when I have to remind myself that they could both be college students. Gus's band, for that matter, is even younger: when you see them on stage, like I did this summer at Sunnyvale in Brooklyn, they look like a bunch of high schoolers about to perform at a talent show. And, actually, that's not far off. "Yes, I am the oldest one," Gus says, beaming. The thought of Gus being the oldest at anything makes me very self-conscious about my age. "It's nice. Because although I'm young, I am a little bit more assertive about the decisions that are being made with music and my own lifestyle, so I can help mentor my band at least. We're very excited." His band includes three high schoolers—they're about to embark on their first tour, and the band members all took semesters off from classes—and features his little sister on keys. Add another title to the list: Gus Dapperton, the blouse-wearing, model-dating, street-dancing, heartache-expounding heartthrob, and, now, a shepard for cute, geeky, high school musicians.
Jacket by Marc Anthony George Archive, Glasses by RetroSuperFuture
"I'm working with booking agencies now. I have a manager and a lawyer," Gus says, not unproudly. Barbie and Gus might be leading adult lives, but at heart, they're still kids. His routine in Philly is equal parts mature artist and emancipated child: "I really moved there to make music. I just go get a bagel in the morning, come back, make music, make a quesadilla for lunch, get a falafel sandwich for dinner." He struggles to find an answer when I ask him about his downtime. "He likes movies!" Barbie shouts, and Gus nods, smiling. As for the two of them, they keep it simple. "We, uh, get breakfast a lot," he says, bashfully hiking up his shirt collar to cover a hickey on his neck. I feel self-conscious about my age again.
"We would go out together more, but Barbie doesn't have a fake ID, and she isn't 21 yet," he tells me. I ask if he's 21; I can't remember. "No," he says, grinning mischievously. "But I have a good fake."