Gussy Up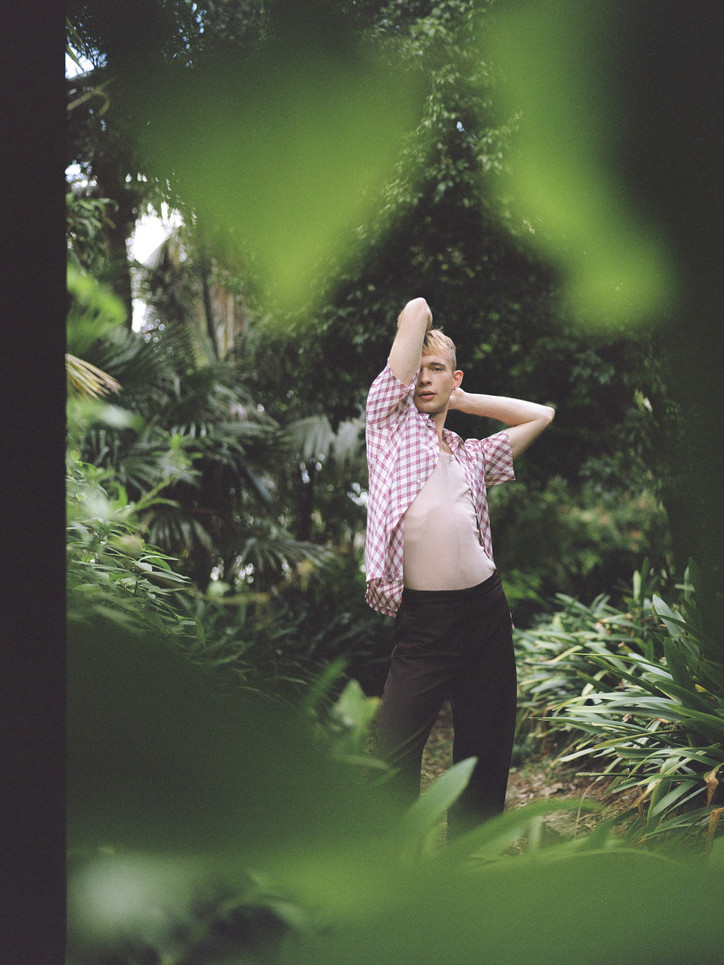 "I see it all [the song, the video, the clothing] as different components of the same storytelling. I like to flesh an idea out with these different tools because each part is an opportunity to reveal a bit more of my position to people," Gussy tells me over email. "I like the music video because of how it allows me to compose with images." For their live performances — at least those that I have been fortunate to see — Gussy's look transforms. They hinge on the way their body (classically trained in dance) reacts to the music, moving intuitively to the beat in a strapless dress and knee-high boots. It's just as electric to watch, but Gussy unlocks a different code of gestures and temperament; they seem even more poised and stripped back singing live. The power of their work lies in its wavering contradictions; its unspooling multitudes.
Sydney was once a city renowned for its club scene. Oxford Street, a metropolitan thoroughfare, was known as the Gay Golden Mile in its heyday. In February 2014, the State Government — provoked by two fatal, and completely random, one-punch attacks that occurred in the infamous Kings Cross neighborhood — implemented lockout laws: bars and clubs closed their doors at 1.30am, and a call for last drinks for whoever was still inside at 3am. The contentious decision received notable dissent from two of Sydney's richest cultural hubs: the live music scene and the queer community, whose late-night visibility and profit would undoubtedly disintegrate. As a queer performing artist, though, Gussy is skeptical of the conflation.
            "I think it's important to recognize that queer people can make community outside of the club," they note. "Scene and community mean different things to me. A council that preferences gentrification and corporations over art and entertainment and fun is somewhat unsurprising to me, considering the country I live in."
This tension between community and isolation has an influence on Gussy's craft, particularly given the current climate of the music industry. "I don't find my environment to be imprinted on my music in any tangible way… I've taken in sounds from around me because of proximity to other artists — and because my music is often co-produced with other people — but we are far less localized as artists today." Such isolation may be particularly felt in a country as far removed as Australia, but the more international commercialization of queer artists — Janelle Monae, Christine and the Queens, Sophie and Kim Petras, to name a few — is still a profound and exciting rupture of the heteronormative zeitgeist. "I think it definitely instills confidence in emerging artists to see their experiences reflected and upheld in the industry," Gussy says, although believes that the influence is more a result of their dynamic talent, rather than their explorations of gender identity. "I don't think [these artists] are beholden to a narrative of queerness… their music speaks for itself entirely."
I think it's important to recognize that queer people can make community outside of the club...scene and community mean different things to me.
Gussy's new EP, Tantrum, released later this year, comes after a two-year hiatus, and marks a new age for their sound. "I really sense a shift in how I feel about making music." They acknowledge, too, the pertinent pressure to keep up appearances. "Maintaining self confidence [is hard]... I also really suffer from perfectionist's procrastination, but I'm ready to let it go." They've collaborated with Australian-based producers—Jikuroux from Sydney and CORIN from Melbourne—to tap into more of a club-ready vibe, but assure that their self-described "Neue emo lyrics" remain all over the record. "This feels like a really natural progression for me and I'm excited to put it out," Gussy says. I, and all their other fans, wait eagerly for a new incarnation of their work; a mirror that reflects another fragment of their complex and evolving style.
Follow Gussy for more updates on Tantrum.