High Highs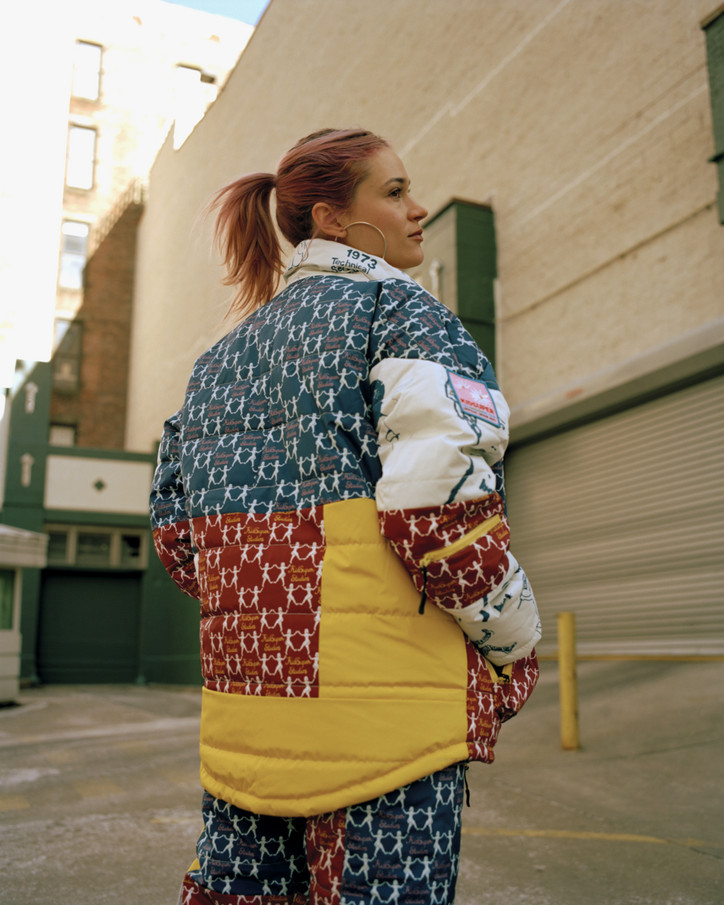 Growing up in the Bay Area, the French-Algerian singer-songwriter fell into music as naturally as you can—through choir and school talent shows. At 15, she auditioned for American Idol by singing JoJo, and though she didn't make it past the initial casting, her recent track record proves it was only their loss. She's killing it right now. Fresh off a collaboration with Blood Orange on her latest EP Ocean Beach, Zouaï just co-won a Grammy for her writing on H.E.R.'s "Best R&B Album" track, "Still Down." And she hasn't even released her first record yet.
Back at the office, we're standing outside in the cold while she poses for photos. She's humble, but it's clear that the 23-year-old artist has worked hard to get where she is, even though it wasn't that long ago she was working at restaurants around the city to survive, and felt like an outsider in the music industry. "I always was like, 'I want to be in the [scene] but I'm not gonna force myself into it,'" she says. But now, with her debut album slated for release this spring and a headline tour on the horizon, she's very much in it—and on a high high.
Your lyrics are very simple and real—it's almost like a diary entry to me. I'm curious lyrically where your mind goes when you're writing.
Usually, I decide what I want to say first and write it down in the most simple way, then I kind of try to make it more poetic. I think it's good to have themes in music. There are certain words I find coming back in different songs that are completely different—it's like you're painting a picture. Some songs are more visual than others. On my album that's coming out this year, there are songs that are super visual.
How long have you been in New York?
It's been four years. I was working at a restaurant for a while. For the first two years I didn't know anybody, I was just making music in my room and producing myself. Then I found a producer and that's when I started working more in the R&B world. It was amazing learning how to write songs, and then I found my team—my manager Doug brought me to KidSuper and that's where I met Stelios, my producer—and that's when I really got introduced to the New York scene. Before that, I was just in New York, but not in the thing. I always was like, 'I want to be in the thing but I'm not gonna force myself into it.'
Were you releasing music online before?
I had one song on SoundCloud, "Trippin,'" that I made in France—I lived there for about eight months. I took it down because I got this big thing where I was flown to LA and I had a big opportunity, but I realized I didn't have enough music. So, I was like, 'I gotta take this seriously and make more music.'
It sounds like you're a bit of a perfectionist with your approach.
When you know you have what it takes or you believe in yourself and know you really can go all the way, you're not gonna settle because the first opportunity presents itself. You have to be like, 'Okay, if this already presented itself, imagine what's going to happen.' That's the beauty of life—every day you wake up and the craziest thing can happen to you. I mean, JoJo just fucking tweeted at me and followed me.
That's amazing—she's definitely making a comeback right now.

She's my idol. When I was little, because I wanted to be a singer, [listening to JoJo] I was like, 'Holy shit.' She was so young and her runs were amazing. I auditioned for American Idol with "How to Touch a Girl" when I was 15.
Are you gonna collab with JoJo?
I mean, right? JoLo! I would love to, though, honestly. I'd work with her for her album. We'll see.
When it comes to writing, what's your process?
It really depends. Obviously there's writer's block, where you're not inspired and can't write anything. But the best moments for me are when I'm sad—that's why "High Highs to Low Lows" was so special. If you're not experiencing, it's not easy to write. I'm not good at making up stories. But I think I get inspired pretty often.
What kind of transformations do you feel you've undergone? Being in New York for a few years changes people a lot. But musically, and just within yourself?
I've gotten smarter about trusting people and realizing that people really might not have good intentions—their egos get in the way of things. It's about having a good awareness of people's character. But I have become a little less stressed, because [life] is really stressful. I just got my own apartment—my life is finally really adult now. The only thing that's not independent of my mom is my health insurance. So, I think it's pretty cool that I'm able to support myself now with my passion—I would say that's a big change. I don't have to worry anymore about buying salad—I don't have to work at a restaurant anymore.
I wanted to ask about the Ocean Beach EP— how do the two songs tie together?
To me, those two songs stand alone. But the reason I put them together is that they're both about feeling jaded and lost and reminiscing. They're also easier to listen to, they're lighter vibes than what I've made in the past. I wanted to put out a song that I produced just to be like, 'Hey, I can do this, too.' And the Dev feature was special because he posted himself listening to "Blue" on his [Instagram] story in February, and he kept commenting on my pictures and was really sweet. He came to the studio, and he's a fan, and we're all fans.
The song ["Jade"] was already done and I had a verse, but I was like, 'I don't really like my verse, would you want to get on it?' and he was like, 'Me? You would want me?' He can write music in his brain where he sees the final product right away. He knew exactly where he was going to do everything and all his ad-libs, whereas I make it up as I go. So, it was really cool to see, and I was really happy with the result. I feel like that song is kind of out of my world and kind of out of his world, too. But it works.
It's not confined to either of your typical sounds—you guys really created something different but so complementary. What is the song about?
The first sentence is 'Not that four-letter word,' meaning it's not about love—it's 'Jade,' which personifies being jaded. So, Jade is your ego. It's a girl or a guy's name—it's that person that's in you that brings you down. It's a cloud over your head. 'You follow me every day, I could never hide from you' is about depression. At the same time, I've had people tell me, 'There's this person who doesn't like me,' and they think it's a love song, and that works too. But this is just how I saw it, and when I told Dev that, he related. That's why he jumped on it.
How do you feel like the EP compares to some of your older releases?
I used to put so much weight on what I was releasing because there was so little. But I wasn't as worried about these. I was like, 'Let me just put these out into the world.' It's different from what I've done, so if people don't like it that's okay. It was just a vibe. I used to put out songs and not have anything else to put out—we used to put them out as we go. Now, I have 15 songs that are done. So, I'm not thinking as much about the songs, I'm thinking about the bigger picture. But people are resonating [with them] and that's all that matters.
How would you describe the music on your forthcoming album? What can we expect?
It's a journey; just a bunch of different vibes. You know how some albums have the same vibe throughout the whole thing? This one, every song is different. I made most of them in January last year knowing I was going to keep them for the album. So, it's really fun and it's really special, I think. It's going to be great.
Is this album all you?
It's all me—just me and Stelios right now. Who knows what'll happen, though. I think people were assuming I'd be dropping an album right after releasing "High Highs," but I was like, 'Oh no. This is the song I made.'
You're just growing. It's all in real time.
That's why the music is in real time—my life is moving so fast. When I did "High Highs" I had $100 in my bank account and I was living with my mom or at KidSuper with a bunch of dudes. And now I'm at my own place and I can relax a little bit. But that only happened a year ago, so I don't even know what's gonna happen after I put this out.
How've the places you've lived informed your music?
The Bay Area gave me my love of rap and hip hop and R&B. That's just in me, from the radio, from the people around me. My mom listens to classic French music and I've also discovered it myself. That's also in me, the melodies, thinking of things more poetically. I think French is more poetic, in general. My dad is Algerian, so he played some Rai music, which is traditional Algerian music, and I try to put that into a lot of my songs. But New York has the gritty, grungy vibe which I enjoy and I think that comes out in the music. "High Highs" we recorded in the KidSuper basement. It was super gritty and not that clear—sometimes we even have clicks in my voice—and there are certain things that make it more lo-fi, but that's kinda my vibe: a mix of lo-fi and high fashion shit. It's all high highs to low lows. I love that contrast.
What's next for you?
My album, tour, music videos; then I have some amazing things coming out—shoots and stuff. Other than that, I think I'll just find more every day. Something's gonna happen. You never know what. But I can feel a real energy shift recently and I'm excited.
What kind of shift?
I just feel like I leveled up a little. I mean, I'm always gonna be the same, but I feel like people are starting to catch on. Shit takes time. I'm not worried as much song-to-song—I'm seeing bigger picture now.


Watch the new "Lose Yourself" music video here.