How Doth the Plastic Robot Beast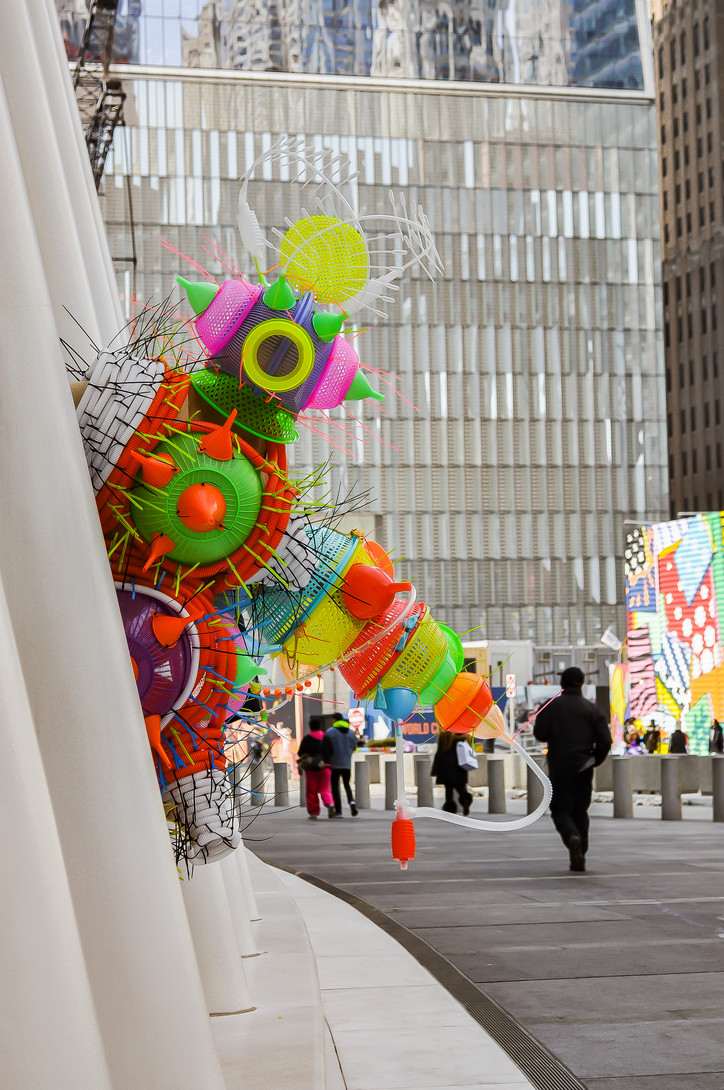 What are these creatures and where do they come from?
These strange characters came into being as a survival or adaptive response to living in harsh or new, unfamiliar terrain. They manifest through the accumulation of material culture scavenged from navigating through spaces that provide very specific functions like market and industrial districts, 99 cent stores, and recycling centers.
What is their purpose in life?
They simply try to make spaces for themselves in often disadvantageous urban conditions manifested in DIY retro sci-fi space suits meant for exploration as well as protection. In a way, their physicality is a result of how they respond to and what they find in their changing environments.
Above: 'Lu M'bhat at the edge of the world' and 'Venus of Jackson Heights'
If your imagination were a planet, what kind would it be?
A planet that has the crucial ingredients to support life. This life may be different from what is presented as the ideal, but it is a unique and beautiful life nonetheless.
How would you describe your wardrobe? your lifestyle?
Very practical and straightforward. I wear clothes that I don't have to worry about getting dirty or torn due to my habit of constantly making things, lugging materials around the city, or climbing scaffoldings to install something.
Above: 'Lu M'Bhat' and 'Tug Li Bong Arguing With Sky'
Where did the materials to make these come from? How did you find them?
Initially I resisted traditional European art mediums because they were expensive, but also because I was exposed at an early age to how regular Filipinos transform everyday and often discarded objects into decor for their homes, jeepneys, sari-sari stores, and for the Christmas season. There is this inherent impulse for us to transform spaces as an extension of our need to celebrate life and abundance even though the majority of Filipinos live in poverty. I've since applied this principle of responding to what is available and oftentimes familiar.
If these characters could speak, what would they say?
That everyone has the capacity to transform and reclaim existing spaces for themselves in the same way that space explorers attempt to colonize harsh environments.
Everyone has the capacity to transform and reclaim existing spaces.
Above: 'Ma. Buhyan Crossing the Horizon' and 'Where am we'
Which is more important: art or life?
Art is irrelevant to life because life will always find a way, but if we're talking about human life we'll see that throughout human history we've always produced art, which makes one conclude that it is an enduring impulse for humankind because it is what fills the spaces between the practical functions of eating and sleeping.
All images courtesy of Alpha'a, a new digital art collecting platform, and Pintô International, a non-profit committed to contemporary Philippine art. Lead image: 'Ma. Buhyan journeys to the afterlife'.